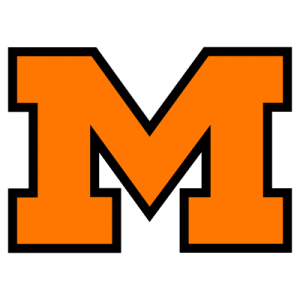 Tigers of old defeat Big Red 33-8
ALL-AMERICAN CONFERENCE
Warren Harding, 2-0; Canton McKinley, 1-1;
Niles McKinley, 1-0; Massillon, 1-1;
Alliance, 0-2; Steubenville, 0-2.
By CHUCK HESS, JR.
Independent Sports Editor
"We wanted it real bad and went out and got it," senior Tiger Co-Captain Greg Wood said. "Massillon is coming back!"
It was the Tigers of old whom we saw annihilate the Steubenville Big Red 33-8 before 11,275 Tiger stadium fans Friday night. The licking could have been worse had Washington High coach Chuck Shuff not taken his first string out with one minute left in the third quarter.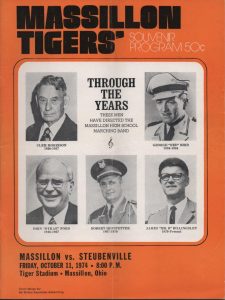 THE TIGERS put together a tremendous combination of interior blocking and the running of senior tailback and Co-Captain Mark Streeter, junior fullback Bill Harmon and junior tailback Tom Grizzard to get their third victory in six starts. Steubenville dropped to 4-2.
The win gave the Orange and Black a 1-1 All-American Conference record and put them in fourth place. Steubenville, with an 0-2 mark, dropped into the cellar.
Steubenville coach Tom Gardner had been afraid of the Tigers' outside running. Shuff had not thought the Orange and Black could control the line of scrimmage as they d id against the bigger Steubenville hordes and neither did Gardner.
"I don't know what to say to our kids," Gardner said. "Massillon wanted it worse than we did. You doubled us on the wing, ran the sweep inside and outside and we didn't adjust well."
The Obiemen scored 27 of their points in the first half. Streeter scored on a pair of four-yard pitch runs inside tackle, picked up 157 yards in 15 carries and sat out the second half. Harmon tallied on a one-yard off tackle blast, a 10-yard run up the middle and picked up 80 net yards in 13 carries.
JUNIOR TAILBACK Tom Grizzard scored on a three-yard pitch around end and picked up 96 yards on six carries.
Senior Dave Dowd kicked one conversion and quarterback Wood passed for the other to senior split end Eddie 'Tinker" Bell.
"We had the desire all season long, but we didn't put it together until tonight," Streeter said. "A six-year-old could have run through the holes we had."
"We had good practices this week," Shuff said. "It pays off when you've got them going out there and really wanting it. The second efforts tonight were tremendous. I didn't know that we would be able to control the line of scrimmage as we did. They gave us several defensive adjustments and we picked them up real well."
Shuff was, of course, happy with the running of Streeter and Harmon and the downfield and crossfield blocking which he said started to come last week.
"TO BEAT a strong team like Steubenville should really give us some momentum," Shuff said.
"We finally started to execute on the offensive line like the way we've been trying to do since the start of the season," said tackle Coach Chuck Utterback. "The kids wanted it pretty bad."
"Everybody really wanted the game," Harmon, who also did some fine blocking, said. "They gave me the holes this week. That's all I need."
"Each of us tried to go out and get an extra-effort block," senior center Dan Nagle said.
"We had a great effort," senior Co-Captain Tim Gutshall said. "I wish we could have put it together before."
THE TIGERS dominated the statistics, rolling up 242 net yards to Steubenville's 53 in the first half and converting four of five third-down situations to Steubenville's two of six. They picked up 215 net yards to Steubenville's 136 in the second half, converting one of three third-down situations to the Big Red's two of six.
Streeter carried six times on the Tigers' first touchdown drive, an 81-yard, 11-play job in the first quarter. Included was a 28-yard pitch sweep.
The second drive was a 51-yard, five-play affair, following a short first period Steubenville punt after the Big Red had been put into a hole by the first of junior Keith Harmon's 50.5 average kickoffs.
Streeter raced 32 yards on a pitch inside tackle to the Steubenville 14 to set up the score which came 37 seconds inside the second stanza.
Streeter's 27-yard option run to the Steubenville 17 and five carries set up the third score which came on a 59-yard, nine-play drive.
GUTSHALL PICKED off a Big Red pass on the Steubenville 37 and the Tigers were off on a four-play 33-yard TD jaunt, punctuated by Keith Harmon's 11-yard pass catch and 10-yard run through the center.
The final TD came on a 76-yard, three-play drive late in the third quarter. Grizzard took a pitch around and rambled for 62 yards before he was brought down by Senior tackle Steve Trbovich on the Steubenville 10. Harmon blasted through the center on the next play for the score.
Steubenville was led by senior fullback Keith Steward who picked up 55 net yards in 15 carries, but didn't figure in their only score. Junior quarterback Gary Williams, subbing for senior Andy Bryan who played only part of the time because of a knee injury suffered last week against Toledo Woodward, passed 16 yards to senior split end Dave Brockway. He lateralled to junior tailback Eric Byron on the 25 and Byron scored. Williams hit senior split end Bruce Fraser for the conversion.
Bryans absence also brought into play substitute punter senior Doug Jarvis.
Tigers jar Steubenville
By Hymie Williams
Plain Dealer Bureau
MASSILLON – Reminiscent of Massillon teams of old, the Tigers dismissed their early season problems and routed Steubenville's Big Red, 33-8, Friday night at Tiger Stadium in an All-American Conference game before 11,275.
The victory hoisted the Tigers' season mark to 3-3 and it may be now the Tigers are prepared to make a robust finish to the campaign, with yet some of the season's most important games in the offing.
Steubenville, which hasn't defeated Massillon since 1962, never had a chance against the Bengals. The Big Red, now 4-2 tallied its lone touchdown late in the final period on a 41-yard pass play.
Massillon 170-pound tailback Mark Streeter came into his own Friday night with a sparkling running display, which must have buoyed Massillon hopes that the rest of the season will be better.
Streeter, who did not play offensively in the second half, played key roles in the first three Massillon touchdowns as the Big Red defenders were futile in their efforts to repel his rushes. Streeter scored twice and had 147 yards.
Fullback Billy Harmon, a brawny 230-pound senior, shared the rushing fireworks with Streeter as he scored three touchdowns.
Massillon drove 84 yards for its first touchdown which came at 3:19 of the opening stanza. Harmon and Streeter collaborated in running blasts, with Streeter gaining the final four for the touchdown.
The Bengals, with their best performance of the season, tallied again in the second period on a 50-yard march. Key play was a 40-yard dash by Streeter, with Streeter finally taking the ball across from the four.
An aerial from quarterback Greg Wood to end Eddie Bell was good for the PAT.
Streeter, who collected 148 yards in the first half with some exciting running, carried five times in the seven plays it required for the next touchdown.
Harmon climaxed the drive with a blast through the middle from the two.
GRIDSTICK
M S
First downs – rushing 18 5
First downs – passing 2 3
First downs – penalties 1 2
Total first downs 21 10
Yards gained rushing 438 140
Yards lost rushing 12 19
Net yds. gained rushing 426 121
Net yds. gained passing 31 68
Total yards gained 457 189
Passes completed 3-10 3-8
Passes intercepted by 2 0
Yardage on passes intercepted 13 0
Kickoff average (yards) 6-50.5 5-32.5
Kickoff returns (yards) 21 76
Punt average (yards) 0 5-32.2
Punt returns (yards) 19 0
Had punts blocked 0 0
Lost fumbled ball 2-4 1-4
Yards penalized 6-75 5-60
Touchdowns rushing 5 0
Touchdown passes 0 1
Total number of plays 61 44
Possession time 24:55 23:05