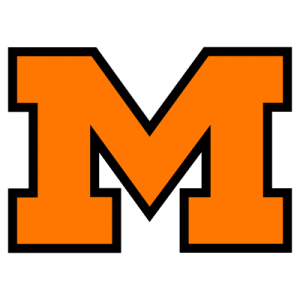 Jim Smith's night as Tigers win 30-6
Gets good blocking, aids WHS bounce-back
By CHUCK HESS, JR.
It was Jim Smith's show Friday night at Tiger stadium.
Aided by fine blocking – especially down field – the big senior tailback ran wild as the Washington high eleven downed a bigger Cuyahoga Falls eleven 30-6.
The non-league win, before 11,277 on Dad's night, represented a comeback from last week's loss at Warren to a 7-2 record. Falls came out with the same record and had a
six-game winning streak.
* * *
THE BLACK Tigers were without the services of their outstanding senior fullback Doug Root from the third play on, when he injured an ankle. A sprain is suspected but X-rays were taken after Falls arrived home last night because a break wasn't ruled out.
So the big back battle never materialized but Smith went on to his finest performance of his career, picking up 179 net yards in 22 carries, to account for all but eight of his team's ground total. He scored three of the Tigertowners' four touchdowns – all on beautiful, long runs and added a two-pointer.
Normally, Massillon grinds out the yardage, but it was Falls which did the three yards-and-a-cloud of dust bit this time, using almost twice as many plays as the WHS squad and out gaining the Orange and Black by 16 yards on the ground.
However, the Tigers had their best night in the air with 91 yards to roll up more total yardage.
Smith had 125 of his total in the first half but Falls made some alterations during the intermission and held him to 54 yards thereafter. Coaches Bob Seaman of Massillon and Terry Ross of Falls differed on the reason with Ross picking the firing of his linebackers more often and Seaman tabbing the inability of his line to pick up the inside stunts.
* * *
WHILE SMITH was displaying his foot fireworks, the Tigers' defense couldn't keep Falls from mounting long drives. But once inside the 20, in Seaman's words, "Our defense got tough."
Twice in the second period senior safety Chuck Stoner picked off Falls' passes to half possible scoring drives and put Massillon on the road to touchdowns.
Falls had second and 10 on the Massillon 13 when Stoner hauled in a Rick Prunty aerial in the end zone and raced 66 yards to the Falls 34. On the next play, Smith took a pitch to the left end and scored with 8:11 remaining. He missed the conversion, trying to go over right tackle.
On the fourth and 10 on the Massillon 32, Stoner pilfered another Falls' aerial at the 17 and raced 20 yards to the 37. With Smith carrying six consecutive times and taking an option pitch right and from the 42 cutting back across the field on the final play, the Tigers had another score with 15 seconds left.
Quarterback Marc Malinowski's attempted pass to wingback Mark McDew for the conversion failed but he had two other key catches on the night.
* * *
TIGHT END Mike James may get credit for key blocks on both TD runs when the movies are graded.
McDew's first big catch caught everybody by surprise when Malinowski passed on first down from his own 29 in the first quarter. McDew completed the "M & M Special" with a running catch on the Falls 40 and went the rest of the way for the 77-yard score.
Smith converted off right tackle.
He got his final score after McDew had caught a 14-yard third down, fourth quarter pass to give the Tigers a first down on the Falls 30. Three plays later, Smith went 33 yards off left guard on a handback trap to make it 28-6 with 5:56 remaining in the game.
Malinowski skirted left end for the conversion.
* * *
THE TIGERS' other score came on a first quarter safety. Keith Autrey blocked a punt from the end zone, sending it behind the goal post. A snap over the punter's head and into the end zone on the fly from the 29 was the break the Tigers needed. The time was 0:28.
Falls' tally came on a 10-play drive aided by the 15-yard personal foul and five-yard illegal procedure penalties. Larry Valentine, converted from a quarterback to a fullback last week, scored off left tackle from the one with 11:19 left in the game.
McDew knocked down Prunty's pass intended for Valentine on the PATs attempt.
"I thought our down field blocking was real good," Seaman said. "The running wasn't too bad either." Ross also felt the Tigers' down field blocking was "great."
"We came back real strong tonight," Seaman said. "Those early scores and especially that long pass to McDew helped."
"We missed our big boy," Ross commented. "It changed our game plan. I think we would have scored a few more times if we had had him. Once he's gotten into the open, those guys wouldn't have caught him. We would have controlled the ball well with him in there."
FALLS – 6
Ends – Caldwell, Wiant, Parker, Mercer.
Tackles – Lipinski, Richardson, Vujanov.
Guards – Weahry, Ray, Heideman, Wasnac, Whitney,
Hannan.
Centers – Saylor, Meyers, Kuhn.
Quarterbacks – Prunty, Chaboudy.
Halfbacks – R. and K. Parsons, Farabee, Neiman, Phillips,
Kaser, Ispan.
Fullbacks – Root, Valentine.
MASSILLON – 30
Ends – Dampier, James, Robinson, Engler, Cline, Conley,
Couto, McLin.
Tackles – Laase, McGeorge, Harris, Dorman, Midgley, Doll.
Guards – Whitfield, Harig, Hout, Indorf, Arnott, Ferguson,
Miller, Fichter.
Center – Cocklin.
Quarterbacks – Malinowski, Fromholtz, Lombardi.
Halfbacks – Smith, McDew, Shumar, K. Autrey, Stoner,
Hodgson, Sheaters, Gamble.
Fullbacks – M. Autrey, Streeter, Johnson.
Falls 0 0 0 6 – 6
Massillon 10 12 0 8 – 30
Touchdowns: Massillon – Smith 3 (34, 42 and 32-yard runs);
McDew (77-yard, pass-run from Malinowski).
Falls – Valetine (one-yard run).
Extra points: Massillon – Smith 2 (run).
Safety – K. Autrey blocked punt in end zone.
INDIVIDUAL RUSHING
Massillon
Player Att. Net. Ave.
Malinowski 8 -5 0
M. Autrey 2 8 4
Smith 22 179 8.1
McDew 1 -3 0
Streeter 2 8 4
Falls
Player Att. Net. Ave.
Root 3 20 6.7
Neiman 13 33 2.5
Phillips 14 62 4.4
Valentine 20 67 3.4
Parsons 5 21 4.2
OFFICIALS
Referee – Harvey Hodgson, Jr.
Umpire – Ross Kemper.
Head Linesman – Del Groezinger.
Field Judge – Hugh Davis.
THE GRIDSTICK
M F
First downs – rushing 8 14
First downs – passing 2 1
First downs – penalties 0 2
Total first downs 10 17
Yards gained rushing 218 209
Yards lost rushing 31 6
Net yards gained rushing 187 203
Net yards gained passing 21 20
Total yards gained 278 223
Passes completed 2-7 3-17
Passes intercepted by 2 2
Yardage on passes intercepted 79 15
Kickoff average (yards) 4-42.5 2-19.5
Kickoff returns (yards) 19 70
Punt average (yards) 4-31.8 6-31.0
Punt return (yards) 15 2
Had punts blocked 0 1
Lost fumbled ball 0-2 0-1
Yards Penalized 5-44 3-25
Total number of plays 47 79