Tigers beat Big Red
in 20-12 thriller
Fourth quarter drive turns tide for WHS
By CHUCK HESS, JR.
It was one of those games during which you'd like to jump out of your skin or see the nearest doctor for a tranquilizer.
Using a great fourth quarter drive, the Massillon Tigers came roaring back from a 12-point deadlock to a 20-12 win over long-time rival Steubenville at rain-soaked Tiger stadium Friday night.
The season's smallest crowd (10,500) was held spellbound until the final tick of the clock wrote a finish to a great effort on the part of two powerful football teams.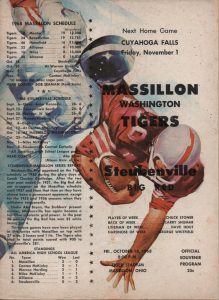 The win was the sixth consecutive for the Washington high eleven since an opening game defeat to Mentor and gave the Tigers a 3-0 slate in the All-American conference (AAC), putting them two victories away from third consecutive title and their fifth in the six-year history of the league.
* * *
THE BIG RED'S third loss in seven games left them alone in the AAC cellar with an 0-3 rating since alliance (0-2) played out of the league.
Steubenville's lefty quarterback Craig Misselwitz found end Bob Washington, all alone in the center of the end zone on a fourth down pass from the five to know the count with 7:10 left in the game.
After Misselwitz missed end Ron Styles on the conversion try, Marc Malinowski ran back the kickoff 22 yards to start a 51-yard pay dirt drive, which chopped six minutes, two seconds off the clock.
Tailback Jim Smith carried on 10 of the 13 plays gaining yardage in excruciatingly short snatches. He fumbled on the two but tight end Tom Robinson recovered on a disputed call.
"There was nobody else around," Robbie said later. "I saw the ball lying there and grabbed it."
* * *
ON THE next play Smith scored the last of his three right-side, off-tackle touchdowns from the two. Time remaining was 1:02 as quarterback Marc Malinowski faked to Smith and skirted right end for the 19th and 20th points.
Smith intercepted on the 50 shortly thereafter to end Steubenville's final effort.
"A combination of things occurred on that last touchdown desire," Bryan explained. "I think it was the blocking of the fullbacks and wingbacks that was as effective as Smith's running."
Seaman remarked, "That's probably true and the line did not do that bad of a job either. We wanted that touchdown badly and blocked like crazy."
Smith's other off –tackle scores were from the one and two in that order. Near the end of the first quarter, Keith Autrey's disputed fumble, Keith Autrey's disputed fumble recovery on the Steubenville 45 sent the Tigers to their first score with a non-frequent Malinowski to Smith pass-run combination for 12 yards, helping to set up the tally, which came with 6:48 left in the second canto.
Malinowski's pass to tight end Mike James was no good.
* * *
EARLIER LONG drives by both teams had fizzled, Chuck Stoner's fumble recovery on the Massillon 24 halting the Stubbers.
Dave Doll grabbed off a fumble on the Big Red 17 shortly after the second half kickoff. Smith's second tally came with 9:15 remaining in the period.
McDew missed on a left tackle conversion try.
Gary Rapella snared a Tiger fumble on Massillon's 33, took advantage of a personal foul penalty and sent fullback Bob Sims in on fourth down from the half-yard line with 3:07 left in the third chapter. Steubenville had had a first down on the two.
"I think we had it stopped," Seaman said, "but Sims appeared to roll off the pile and into the end zone. They did a good job pounding at us."
* * *
MISSELWITZ' PASS to Dennis Madama on the conversion attempt was nixed by Keith Autrey and Bert Dampier.
After one post-kickoff series, Steubenville got its 45-yard final scoring drive underway. A 15-yard Misselwitz to Ray Culbreath pass on the nine helped set up the score.
"I rhought we had Washington covered," Seaman explained, "but we gave them too long to throw the ball" – a major Tiger fault all season.
The big back battle never materialized as Smith carried 28 times for a net 119 yards to preserve his margin over Sims for first place in the AAC. The Big Red piledriver carried 19 times for 87 yards but Bryan mixed things up between his backs with all of them giving a fine performance.
"I'll say again," Seaman reiterated. "It takes a heckuva fine team to turn the momentum of the game as we did.
* * *
HE SAID that Sims was a fine back that Steubenville gave a great effort.
Both coaches said their game plans had been changed due to the rain, with Seaman having decided to run outside and Bryan hoping to rely on a pro-type offense because of Altoona's success in throwing against Massillon with a wide formation last week. Neither wanted to speculate on what difference the changes made.
Seaman thought an opponent's line once again beat his to the punch in the first half.
Bryan preferred not to comment on why the Big Red declined a procedure penalty against Massillon on a play which saw the Tigers move to the one and then score their first TD.
"I don't think I've ever seen us lose a game before when I was able to tell the kids I was real proud of them," he said. "They put forth a real great effort."
STEUBENVILLE – 12
Ends – Washington, Styles, DeLeonardis, Spencer,
Mavromatis, Radakoyich, Wesley.
Tackles – Brown, Muklewitz.
Guards – Patterson, Jakcson, Trimmer, Magyar.
Centers – Barren, Monroe.
Quarterbacks – C. Misselwitz, Repella.
Halfbacks – R. and E. Culbreath, Mitchell, Madama,
K. Smith, Perine.
Fullbacks – Sims, Williams.
MASSILLON – 20
Ends – James, Engler, Robinson, Dampier, Conley, Dorman,
Cline, Jackson.
Tackles – Harris, Laase, McGeorge, Midgley, Doll.
Guards – Couto, Harig, Whitfield, Hout, Indorf, Arnott.
Center – Cocklin.
Quarterbacks – Malinowski, Fromholtz, Lombardi.
Halfbacks – J. Smith, McDew, Shumar, K. Autrey, Stoner,
McLin, Sheaters, Miller, Gamble, Hodgson.
Fullbacks – M. Autrey, Streeter, Johnson.
Steubenville 0 0 6 6 – 12
Massillon 0 6 6 8 – 20
Touchdowns:
Massillon – Smith 3 (one and two, two-yard runs);
Steubenville – Sims (half-yard run); Washington (five-yard pass from Misselwitz).
Extra points: Massillon – Malinowski 2 (run).
INDIVIDUAL RUSHING
Massillon
Player Att. Net. Ave.
Malinowski 7 5 0
M. Autrey 5 34 6.8
J. Smith 28 119 7.3
McDew 10 38 3.8
Streeter 8 49 6.1
Steubenville
Player Att. Net. Ave.
Misselwitz 0 0 0
Sims 19 87 4.6
K. Smith 8 23 2.9
Mitchell 8 25 3.1
Culbreath 8 26 3.3
OFFICIALS
Referee – John Cseh.
Umpire – Harold Rolph.
Head Linesman – Chuck Hinkle.
Field Judge – Beauford Hatfield.
THE GRIDSTICK
M S
First downs – rushing 17 12
First downs – passing 1 3
First downs – penalties 0 2
Total first downs 18 17
Yards gained rushing 258 171
Yards lost rushing 22 11
Net yards gained rushing 236 160
Net yards gained passing 12 38
Total yards gained 248 196
Passes attempted 4-1 14-4
Passes intercepted by 1 0
Yardage on passes intercepted 4 0
Kickoff average (yards) 4—45.2 3-41.1
Kickoff returns (yards) 26 15
Punt average (yards) 3-43 2-41.5
Punt return (yards) 0 7
Lost fumbled ball 2-4 3-4
Yards penalized 3-33 1-15
Touchdowns rushing 3 1
Total number of plays 65 61