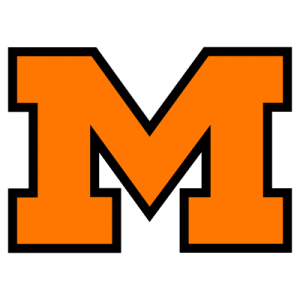 Tigers In Comeback Beat Mansfield 38-0
Bengals Mix Passes Into Power Football To Down Old Rival
By CHUCK HESS, JR.
Power football straight up the middle and a bruising defense.
These are the characteristics of present day Massillon Tiger football. And the Bengals parlayed the combination into a 38-0 win over longtime rival Mansfield high school before a small crowd of only 9,116 at Tiger stadium Friday night.
It was a roaring comeback from last week's defeat by Akron Garfield and gave the Bengals' morale a big boost for their game with undefeated Alliance here next Friday. As Coach Leo Strang said, "There's only one game on the schedule I'm worried about now Alliance. I'll think about the rest of them after next Friday. I hope we are healthy for that one. We couldn't use Perry (Will) tonight. He has a bruised hip. Lawrence (Jim) is in Kentucky due to a death in the family."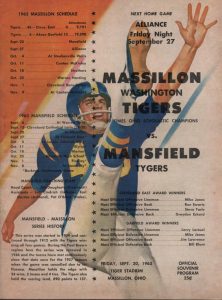 Perry is the Tigers' first string short side end. Lawrence is the starting fullback.
* * *
LAWRENCE'S absence gave junior fullback Bobby Hewitt a chance to get back into the starting alignment where he was in the season opener. He took full advantage of the situation with some fine running, including scoring two touchdowns and a conversion.
He combined with senior tailback Terry Getz to do most of the Tigers' ball-carrying most effectively. Time and again they broke through the Tygers' defensive line thanks to some good holes opened up by Bengal blockers.
Getz scored only a conversion but was instrumental in all of the TD drives with his running and blocking.
He played his finest game of his career and Strang praised him for it. "He ran and blocked extremely well," the WHS mentor said, "He was very valuable tonight. So was Hewitt. In fact, it was a fine team effort."
Senior short side end Floyd (Duke) Pierce scored two touchdowns on passes. Senior quarterback Ron Swartz scored another.
The other conversions were by senior quarterback Tom Gatsios on the keeper and on a flat pass to Bill (Rabbit) Blunt from Swartz.
The Tiger offensive machine rolled up 297 yards to 153 for Mansfield. The rushing statistics were 241 and 70. Mansfield was able to get only 26 yards on the ground in the second half but 53 in the air to beat the Bengals in that department 85-56. Massillon led in first downs 10 to three.
In commenting on his charges' running game, Strang said, "We worked all week on it and accomplished what we set out to do."
Mansfield got out of its own territory only four times during the night while Massillon played in enemy land a good part of the time. One of the Tygers' four advances beyond the 50 was due to a fumble recovery by end Art Gaverick in the second quarter. Mansfield got the ball on the Tigers' 33-yard line but got only to the 25 thanks to the stout Orange and Black defense.
* * *
MANSFIELD LOST the ball on downs at the Massillon 35 in the third quarter and on the Tigers' four in the final canto, the last failure being due to an incomplete pass. Mansfield had driven from its 37.
The only other long drive of the Tygers came in the second quarter. Senior cornerback Gardy Eckard intercepted a pass on his 15 to stop that one. Mansfield had started on its 25 and had progressed to the Massillon 40.
Had Mansfield's passing been a little more on the target – the Tygers completed only five of 14 – Massillon would not have had a shut out. It had lapses several times on pass defense. But Mansfield receivers dropped passes while in the open. The Tigers secondary was playing in close at the time.
Massillon scored five of the nine times it got its hands on the ball. The Tigers wasted little time in getting started, scoring three touchdowns in the first quarter, two of them by capitalizing on Mansfield fumbles caused by crunching tackles inside Tyger territory.
GAME STATISTICS
Mass East
First downs, rushing 14 4
First downs, passing 4 3
First downs, penalties 2 0
Total first downs 20 7
Yards gained rushing 259 91
Yards lost rushing 18 21
Net yards gained rushing 241 70
Yards gained passing 56 83
Total yards gained 297 153
Passes attempted 9 14
Passes completed 4 5
Passes intercepted by 1 1
Times kicked off 6 1
Kickoff average (yards) 47.8 37.0
Kickoff returns (yards) 11 92
Times punte 0 1
Punt average (yards) 0 42
Punt returns (yards) 6 0
Had punts blocked 0 0
Fumbles 3 2
Lost fumbled ball 2 2
Penalties 2 6
Yards penalized. 17 70
Two Early Fumbles Hurt Cause Of Visiting Team
"The first fumble hurt," said Mansfield Coach Jim Dougherty, "The second killed us. We were beaten by a good hard-hitting, well-coached football team tonight. We missed our first team quarterback Willie Hawthorne, who is in the hospital." (The senior signal-caller, leading Mansfield ground gainer, has a throat infection.)
PIERCE PICKED up the first Mansfield bobble on the Tygers' 33. The Bengals took the ball on in staying on the ground. It took them five plays. They got help from a personal fouL penalty which put the ball on Mansfield's 12.
After Hewitt had run from there to the three, senior quarterback Ron Swartz carried on two straight plays, finally sneaking over from the one with 6:47 remaining in the quarter. Getz ran the conversion.
Mansfield ran one play after the kickoff and then the second fumble occurred. Butch Hose grabbed this one off to give the Tigers possession on the 16. It took Massillon two plays to score this time.
Swartz ran to the 13. Hewitt took off around the left end and went in at 5:26. Getz failed to convert this time.
Late in the period the Orange and Black took over when Mansfield was forced to punt. The Tigers moved from their 38 – a distance of 62 yards – in seven plays with three first downs.
Getz and Hewitt took turns denting the Mansfield line. Hewitt ran the last two plays, from the 15 to the seven and then in, the last one around the left side at 11:13 of the second period. Swartz passed to senior wingback Bill Blunt for the conversion.
The Tigers had another chance, taking over on their 26 after stopping a Mansfield drive. The Tigers drove to the Mansfield 22, making good use of timeouts and running out of bounds to stop the clock. But Dwight McCollum intercepted a pass on his eight and returned to the 38 where the half ended.
Orange Takes Kickoff And Marches To Touchdown
The Orange and Black took the opening kickoff of the second half and marched right down the field. They moved from their 34 to the Mansfield 20 in five plays with four first downs. Hewitt contributed a 23-yard run to help the situation.
On first down from the 20 Swartz hit Pierce for the score with nine minutes remaining in the third canto. Hewitt converted.
Near the end of the quarter Massillon took over on its 35 after a Mansfield fourth down pass failed to pick up enough yardage. It took WHS 10 plays and our first downs to score.
Runs of 14 and nine yards by Getz helped the Bengal cause. So did a 15-yard Mansfield penalty for a personal foul which put the ball on the Tyger 20, first down.
A few seconds later Massillon was set back from the six to the 15 for holding on first down. Then senior quarterback Tom Gatsios hit Pierce for the Tigers' final tally at 0:06. Gatsuis converted on the keeper.
The Bengals failed to get out of their own territory in the final period.
MANSFIELD – 0
Ends – Gonzales, Prats, Fenderson, Swarn and Gaverick.
Taciles – Williams and C. Coe.
Guards – Cindrich and Jividen.
Centers – Horvath and D. Coe.
Quarterbacks – Dean and Dougherty.
Halfbacks – Hutchins, Schnuerer, McCollom, Sewell, Harris and Marsh.
Fullbacks – R. Parr and Lindsay.
MASSILLON – 38
Ends – Pierce, Jones, McAllister, Goodnough, Hose, Gilmore, D. Alexander and Franklin.
Tackles – Lash, Morgan, Tarle, Miller, Binge, Passalacqua and Paul.
Guards – Larsuel, Castile, Swisher, Paflas, Muhlbach, Rivera, Roderick, Rearick, T. Whitfield, D. Whitfield and Manson.
Centers – Scassa, Frank and Rambaud.
Quarterbacks – Swartz, Gatsios, Kanner and Freig.
Halfbacks – Blunt, Getz, Rink, Eckard, Harris, Schenkenberger and Shanor.
Fullbacks – Hewitt and Lemon.
Massillon 14 8 16 0 38
Touchdowns:
Hewitt (13 and 7-yard runs); Swartz (1-yard sneak), Pierce (20-yard pass from Swartz and six-yard pass from Gatsios).
Points after touchdowns:
Hewitt (run), Getz (run), Blunt (pass from Swartz).
Officials
Referee – Jim Langhurst (Willard).
Umpire – A.N. Smith (Elyria).
Head Linesman – Russ Kemper (Cincinnati).
Field Judge – Harvey Hodgson, Jr. (Massillon).