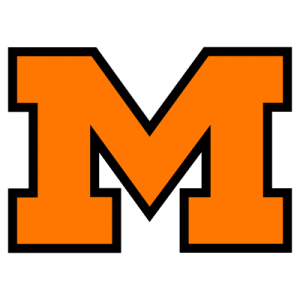 Warren Hands Tigers Fourth Defeat 20-7
Bengals' Wide-Open Game Plans Bog Down In Harding Field Mud
By CHUCK HESS, JR.
The weatherman refused to cooperate with the Massillon Tigers Friday night at Warren and took one half of their offense away. With no passing game possible and unable to consistently get through a line which outweighed them about 18 pounds per man, the Washington high school football team dropped a 20-7 decision to the Black Panthers.
"A crowd of 14,500 fans – more than capacity for Harding field – watched as the two teams battled each other in a sea of mud. The game was close for three quarters. But the Panthers scored a clinching touchdown in the final stanza.
The loss dropped the Bengals back to a .500 season with a 4-4 mark. The last time a Massillon team lost four games in one season was in 1947 when the Orange and Black ended with a 6-4 record.
Coach Leo Strang has failed to win at Warren in three tries.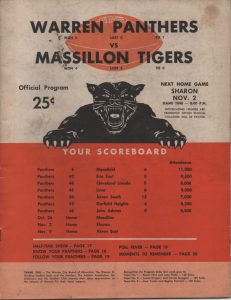 Warren now stands at seven wins and an opening game tie. The Panthers are still very much in the running for the state championship.
* * *
FIVE INCHES of snow were cleared off the field in the morning. A drizzle fell in the afternoon making playing conditions almost impossible.
"It was the worst field I've ever seen," said Strang. "We worked all week on a wide open game and then we get this kind of mess. We gave it a real effort though."
The skipper thought that Warren had a "good, big, strong team." Their penetration on defense was good," he said. "That caused a couple of our fumbles. They hit us as we were handing off."
Commenting on his defense, Strang said, "Due to their heavier line we had to gamble on defense and got caught zigging when we should have zagged at times. They caught us on a deal to the opposite direction on their second score. We were dealing on almost every play."
Warren Coach Ben Wilson refused to single out any one person for praise, saying, "We had a real team effort." He patted Massillon on the back with, "They did a good job. Strang deserves a lot of credit for the coaching he had done on the Tigers. They've come a long way.
* * *
MOST OF THE football was played from tackle to tackle with both teams punching out short gainers after short gainers. The footing was too treacherous and the ball too wet for much else. This is what Warren is good at. The playing conditions were made to order for the Panthers.
They ground out 240 net yards rushing to Massillon's 132 which pretty much tells the story. Both teams lost almost an equal amount of yardage, the Orange and Black 22, Warren 23. Where Warren got the five and six-yard gains, Massillon got only ones and twos. First downs had Warren ahead 9-6. One of Massillon's came via a penalty.
There was no passing yardage which isn't out of the ordinary for Warren because the Panther are a strictly power team. But the Tigers have thrown a good deal this year. Warren didn't try any passes. Massillon threw only three but failed to connect.
The play that was a big turning point for Massillon came in the third period. Junior linebacker Paul Fabianich recovered a Warren fumble on the Panthers' 27. And the Tigers moved to the seven in eight plays and two first downs with senior quarterback Mike Koenig, senior tailback Ron Davis and sophomore fullback Jim Lawrence taking turns diving straight ahead.
With fourth-and-seven and Warren leading 12-7, Koenig tried to pass. His cold hands and the slippery ball never permitted him to get the pigskin to junior tailback Bill Blunt who made a good try but couldn't hold on. The Bengals never got within striking distance again.
Had they gotten this score and an extra point or points to go ahead, the outcome might have been different. But it wasn't to be as the Orange and Black got out of its territory only six of the 12 times it had its hands on the ball. Warren was on the Massillon side of the 50 on eight of 13 chances.
However, five of these occurrences came on four fumbles and a blocked punt. Two of Warren's scores came after fumble recoveries.
* * *
THE FIRST incident came early in the initial quarter. Koenig attempted a pass from his 49 on second-and-nine. He was hit hard by an onrushing lineman, the ball was jarred from his hand and rolled back to the 38 where senior tackle Carl Cohen fell on it.
It took Warren four plays to score. Senior halfback Reedy Thomas raced around left end to the 18 and a first down. A five-yard motion penalty occurred. Then Thomas skirted the same end on second-and-11 from the 19 with 8:06 remaining in the period. His run for the conversion failed.
Massillon elected to kick from its own 49 on third-and-12. Senior center Denny Yanta broke through and became the first one to block a Wil Paisley punt this year. Warren took over on the 39 but lost the ball on downs.
The Orange and Black got the ball back on its nine after the punt and got its only sustained drive of the night going. The Tigers picked up three first downs and moved to the Warren 46 in eight plays. Davis, Koenig and Lawrence again did a lot of running from tackle to tackle. A 10-yard loss forced a punt from the Tiger 44 on the ninth play.
Blunt ran back the Panthers' next punt 15 yards to the Warren 35. But disaster struck again a minute later. Yanta recovered a fumble on his 30 on second down.
* * *
WARREN ran three plays, fumbled, and senior halfback Ron Sullivan recovered a fumble on the Panthers' 41. He kept on running but the defensive team can't advance a fumble.
The Tigers fumbled on the next play. Senior fullback Darryl Zupancic recovered on the Massillon 41. Warren got nowhere on its next series. Neither did Massillon.
Then the Wilsonmen took over on their 32 following a punt. Senior halfback Wendell Smith streaked off right tackle for a 68-yard score. The score came at 2:56. Junior halfback Charlie Williams failed on the conversion.
The Tigers' lone score came on its next series. Taking over on its own 44, the Orange and Blafck moved for the tally in four plays and two first downs with 50 seconds remaining in the half. The big play was Davis' 46-yard run off left guard on the dive from the Warren 49 to the 43. Senior halfback Wendell Smith just made the tackle from behind on the three.
Junior tailback Terry Getz scored from the three off left tackle. Senior Wil Paisley booted the extra point.
* * *
WARREN DROVE from its 13 to the Massillon 21 late in the third canto and early in the fourth in 10 plays with three first downs. Thomas did most of the running on slant plays off the left side of the line.
Smith made one long run on a slant the other way from the Warren 15 to the Massillon 44, a distance of 41 yards. Thomas had a run of 14 yards from the Tigers' 32 to the 18 on another slant play.
Late in the fourth period senior end Charlie Grounds hopped on a Massillon fumble on the Orange and Black's eight following a Warren drive from the Tigers' 33 to the 11 after a bad punt. The fumble came on first down.
Then Zupancic went over three plays later on third-and-inches at 3:34. Quarterback Bill Mink, a senior, added the conversion for the final 20-7 score.
The Bengals now return home for their final three games of the season, starting next Friday with Cleveland Benedictine. Akron Garfield and Canton Lincoln follow in that order.
MASSILLON – 7
Ends – McAllister, Jones and Franklin.
Tackles – Profant, Clendening, Mercer, Tarle, Miller, Fabianich and Morgan.
Guards – Castile, Geckler, McDew, Paflas, Mathias, Roderick, Rivera and Swisher.
Centers – Bradley, Scassa and Paisley.
Quarterbacks – Koenig and Swartz.
Halfbacks – Getz, Blunt, Davis and Eckard.
Fullbacks – Lawrence, Toles and Sullivan.
WARREN – 20
Ends – Snyder, Grounds, Keller, Ferrance and Ochtyun.
Tackles – Fender, Cohen and Crites.
Guards – Measures, Windle, Salem and Hood.
Centers – Yanta, Kostraba, Maudy and Crawford.
Quarterbacks – Mink and Stredney.
Halfbacks – Williams, Grishon, Thomas, Shimko, Turner, Owens and Pagano.
Fullbacks – Zupancic and Koscaka.
Massillon 0 7 0 0 7
Warren 6 6 0 8 20
Touchdowns:
Massillon – Getz (three-yard run).
Warren – Thomas (19-yard run); Smith (66-yard run); Zupancic (one-yard run)
Points after touchdown:
Massillon – Paisley (kick).
Warren – Mink (run).
Officials
Referee – Fritz Graf (Akron).
Umpire – Clyde Moore (Rittman).
Head Linesman – Bud Shopbell (Canton).
Field Judge – Andy Chiebeck (Louisville).
GAME STATISTICS
Mass. Opp.
First downs – rushing 5 9
First downs – passing 0 0
First downs – penalties 1 0
Total first downs 6 9
Yards gained rushing 154 263
Yards lost rushing 22 23
Net yards gained rushing 132 240
Yards gained passing 0 0
Total yards gained 132 240
Passes attempted 3 0
Passes completed 0 0
Passes intercepted by 0 0
Times kicked off 2 3
Kickoff average (yards) 29.5 34.0
Kickoff returns (yards) 64 37
Times punted 3 3
Punt average (yards) 31.0 35.2
Punt returns (yards) 30 0
Had punts blocked 1 0
Fumbles 4 2
Lost fumbled ball 4 2
Penalties 1 1
Yards penalized 5 5