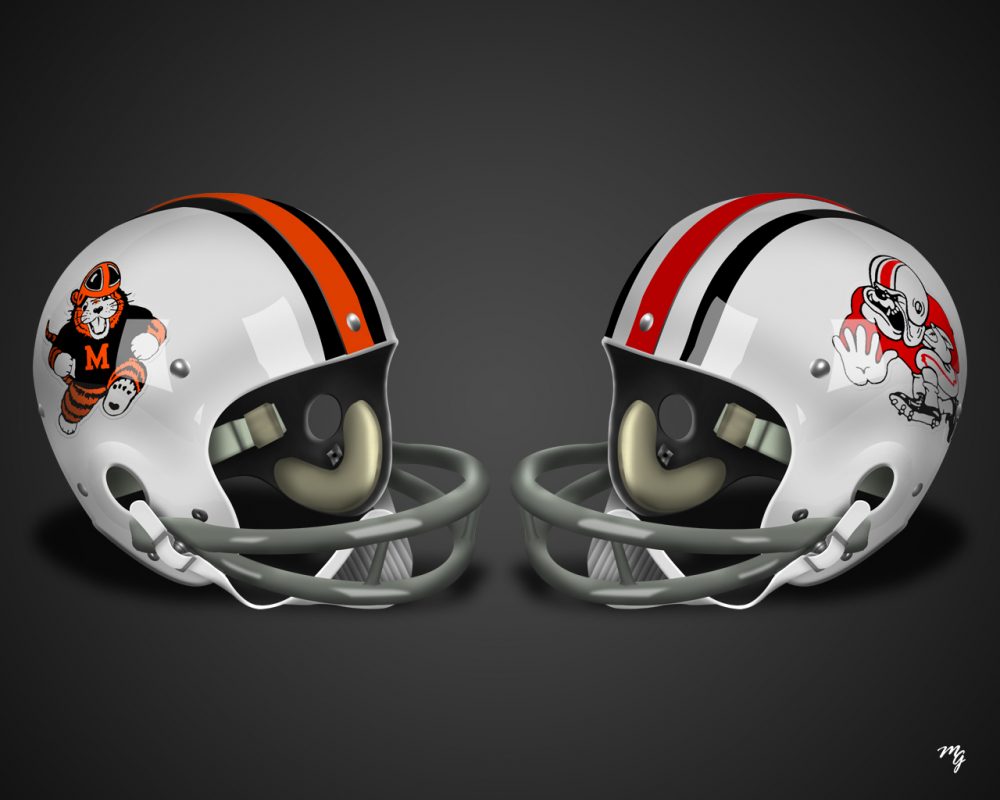 Workmanlike Tigers Make It A Perfect Year
Massillon Stouties Roast Bulldogs 20-0 In Defensive-Minded Hassle
By CHARLIE POWELL
Workmanlike.
That is as good a word as any to use in describing the superlative piece of machinery which combined to hold the "Indian sign" over the Canton McKinley Bulldogs last Saturday afternoon.
The mighty Massillon Tigers did no extraordinary things, they simply did the ordinary thing extraordinarily well as they put the Bulldogs through the meat-grinder, 20-0 before nearly 19,000 fans at sunny Fawcett stadium.
There were not twisting, 80-yard runs, no fourth-down scoring passes, no whopping, long punt or kickoff return. Just work. Much like other people perform in the mills.
The bountiful Tigers tore off the tackles and up the middle most of the afternoon as they enjoyed an early Thanksgiving Day – stuffing the Bulldogs and roasting'em well.
The Cantonians must have felt like they had eaten a mess of those contaminated cranberries that slipped by the spying crews.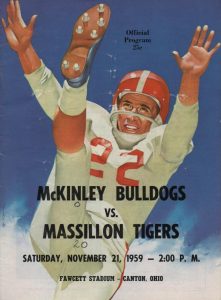 The grind-em out offense combined with an impregnable defense proved that the Tigers could get the job done one way or the other. All season long, when the occasion demanded, they either banged inside the flanks, threw the long stroke or pulled off some
hipper-dipper. Versatility and variance were bywords.
It was this kind of a team which will go down in Washington high gridiron annals as one of the greatest.
The sweet smell of success over 10 weekends brought Tigertown its first unbeaten season since 1953, this was the sixth highest scoring club in all history, the eighth to splurge to over 400 points in a single season.
* * *
HEADMASTER LEO Strang's merry-makers averaged six touchdowns a game, held their eminent opponents to just 46 points, only Akron Garfield scored more than one touchdown against them and the Bulldogs became the fifth foe to draw a blank in the scoring column.
Balance, depth and poise of a champion w ere the big reasons why the Tigers came through with Massillon's 16th unbeaten and 12th perfect record team in history. They worked, worried and whaled into their job with one goal on the horizon – an unsullied record – and they got it – and they earned it.
Teamwork, as always, paid off handsomely. Everybody who had a part in this spectacular season, from Coach Strang and his aide-de-camps on down to the little people behind the scenes, deserve the heartiest compliments.
This team had a whole lot of everything.
It had a world of balance in the leather-lugging department. When tricky Art Hastings wasn't whirling and weaving, piston legged Bill Finney was flashing downfield. And when speedy Jim Wood wasn't on the go, that reliable junior, Martin Gugov was like Popeye's can of spinach or the U.S. cavalry showing up in a western movie…help came when needed.
It had Joe Sparma, the hand-is-quicker-than-the-eye quarterback…he had no peer in the state. A non-worrier and team-steadier, the confident field general threw 15 touchdown passes this season to bring his career total to 32 pay off pitches.
* * *
GUGOV SCORED 88 points, Hastings chalked up 86 and Finney and Wood each checked in with 64. Hastings carried 116 times for 1,244 yards, an average of 10.7 yards per try. Finney toted 87 times for 608 yards. Wood collared 481 yards in 39 tries and Gugov was called on 50 times and picked up 480 yards.
Yep, this team had everything. It had sharp blocking, especially improved downfield blocking, with Virgil Bukuts, Jim Houston, Wendell Snodgrass, Don Appleby, and Bob Barkman as possibly the standouts. It had smart, teeth-loosing defensive play led by Gugov, Houston, Hase McKey, "Sluggo" Bednar, Frank Midure, Terry Snyder, Gary Wells, Jay B. Willey, Nick Daugenti, and Bob Oliver.
While of offense averaged 8.1 yards per play, the defense allowed the opposition just 2.8 yards per try.
We think you will agree, the Tigers had all the earmarks of a true champion.
They may not be officially crowned the state champ but in this book, and probably yours too, they are the very best in Buckeyeland.
It took some doing to wade through such formidable opposition without a loss. The orange and black knocked down, Alliance, Steubenville and Warren, when they were ranked in the top 10 and two other victims, Cleveland Benedictine and McKinley, were accorded berths in the second ten over the season.
McKinley tried to show Massillon was not unbeatable but the Tigers had too many guns in their arsenal. Thus they keep the Nickel Plate Road victory bell for a third straight year. The series record now reads Massillon 32 wins, 27 losses and five tie scores.
For two years under Strang, the Bengals arte 18-1-1. It was Leo's second unbeaten team, his 1955 Upper Sandusky array having tifted nine straight scalps.
* * *
McKINELY HAD scored at least two touchdowns in eight of its nine previous games. (Steubenville triumphed, in the rain and mud, 15-0) but the Bulldog offense was practically nil against the Orangemen.
The host club gained 96 yards but the Tigers, led by Bednar (he waits and pounces like a burglar) and Gugov (he surely can wreck those end runs!), tossed Bulldog runners for losses amounting to 29 yards. For 35 plays the losing side made 67 yards, an average of a mere 1.9 per play.
McKinley never got off a pass. Quarterback Dave Sitzman went back three times but Massillon never gave him a chance to get rid of the ball.
The Bulldogs made only five first downs – three of them in the last quarter.
Meanwhile, the tenacious Tigers reeled off 15 first downs, made 242 yards rushing and Sparma hit on two of seven passes for 21 yards. One pass was caught out of bunds and another hit the intended receiver on the headgear.
Hastings, the driving junior, clicked off 108 yards in 17 carries. Gugov made 68 yards in 14 tries and Finney picked up 53 yards in 15 stabs.
The Tigers reached the promised-land in the second, third and fourth periods, going 75 yards in 15 plays during the second round, 59 yards in 11 plays during the third panel and 21 yards in five plays during the last chapter. The final TD came after that ferocious middle guard McKey, recovered an enemy fumble.
McKinley only once threatened and that was in the second quarter when a Massillon fumble was recovered by Fullback Wrentie Martin at the Bengal 34.
THE FUMBLE occurred on the first play of the second stanza and in the next four plays, the red and black was unable to get a first down.
Halfback Stanley Wilcoxen carried twice for six yards before Sitzman, unable to find the receiver open on a jump pass, ran and was stopped by Houston after a pickup of a yard. With fourth and three at the 27, Wilcoxen rode off the right side on a trap play but found no trap, consequently no hole, and he was grassed a yard shy of the first down.
The Tigers marched 61 yards the first time they got the ball as a 16-yard run by Hastings and a 10-yard smash by Gugov sparkled. But at the 22 they lost the ball on a fumble and they had to wait until the second period before breaking a scoreless deadlock.
After halting the Bulldogs at their own 25, the Orangemen knuckled down, Hastings, Finney, Sparma and Gugov lugging the ball goalward. Hastings inserted a 15-yard run and only a tackle from behind by Bill Babics, a fine end, kept him from going all the way. Finney got off a 10-yarder and would have scored from 14 yards out except that he was tripped up at the last second by End Frank Smith.
From the one Finney scored off right tackle as Wood made the key block. Gugov hit the same spot for the bonus points and at 2:58 in the quarter it was 8-0.
Following the score, McKinley made three yards in three plays and Sitzman was stopped after two on fourth-and-seven. Massillon still had time for a giant-sized try.
With time running out, Wood caught the Sparma pass out of bounds at the Bulldog 22 and on the last play of the half, Martin managed to knock Sparma's pass away from Oliver.
To start the second half, the Tigers received and they promptly added another six points. This 59-yard foray highlighted a 14-yard Sparma to Wood pass and Hastings' twisting
10-yard jaunt.
Gugov scored on a beauty from the nine. He took a pitch out to the right, got a nice block from Barkman, leaped over one would-be tackler and kept his footing to step in and hike the count to 14-0 at 6:25. Finney then was stopped a yard away from two more markers.
McKINLEY THEN had to punt and Daugenti, the boy who came here from Cleveland this year, put on a nifty return of 35 yards to the Bulldog 34. Nick fought off three defenders and Willey applied a crunching block but their efforts were wiped out because the Tigers were called for clipping.
However, they advanced 43 yards on the last eight plays of the quarter as Hastings ignited the drive by breezing for 25 yards.
But this bid was thwarted by linebacker Dan Mussulin who picked off a Sparma pass from the 20 (it was intended for sub halfback Bob Herring, but too short) and McKinley remained in contention.
An exchange of punts followed and with 8:40 remaining, the hosts got moving. After two first downs though, Sitzman, swarmed under as he tried to pass, fumbled and the ball was grabbed on the fly by McKey who churned four yards to the McKinley 21.
Finney gained eight, Gugov five in two tries and Finney came back for seven before Hastings wedging through center, made the final yard at 1:50. Gugov was stopped short on the PAT attempt but it didn't matter, the Tigers were in.
On the ensuing kickoff, Gugov recovered what appeared to be a fumble but the ball was ruled dead. After Jimmy Robinson's combine made a first down, Massillon cheerleaders hauled out and displayed a big sign, "State Champions!" and two plays later the 64th
Tiger-Bulldog game was history.
THE CANTONIANS defensed the Tigers pretty well but it wasn't enough. The loss gave McKinley a record of six victories against four losses for the season.
Massillon has held the upper hand 10 times in the last 12 years and the Tigers now have shut out their top rival 13 times during the ancient series.
A Happy Ending
MASSILLON
ENDS – McKey, Barkman, Zumbrunn, Oliver, Pierce.
TACKLES – Appleby, Bukuts, Wells, Haines.
GUARDS – Houston, Willey, Bednar, Midure, Anzalone.
CENTERS – Snodgrass, Snyder.
QUARTERBACK – Sparma.
HALFBACKS – Finney, Wood, Gugov, Daugenti, Herring.
FULLBACKS – Hastings, Hershberger, Toles.
CANTON McKINLEY
ENDS – Babics, Vince, Smith.
TACKLES – Agnes, Guedel, Dragomier, Blackman, Ryjowski.
GUARDS – Mussulin, Shipp, Turpin.
CENTER – Kutrieb.
QUARTERBACK – Sitzman.
HALFBACKS – Wilcoxen, Warren, Thomas.
FULLBACKS – Martin, Mathieu.
Scoring by quarters.
Massillon 0 8 6 6 20
McKinley 0 0 0 0 0
Massillon scoring:
Touchdowns – Finney (R-1); Gugov (R-9); Hastings (R-1).
Extra Points – Gugov (run).
Statistics
Mass. McKin.
First downs, rushing 14 5
First downs, passing 1 0
First downs, penalties 0 0
Total first downs 15 5
Yards gained rushing 245 96
Yards lost rushing 3 29
Net yards gained rushing 242 67
Yards gained passing 21 0
Total yards gained 268 67
Passes attempted 7 0
Passes completed 2 0
Passes intercepted by 0 1
Times kicked off 4 1
Kickoff average (yards) 41.0 50.0
Kickoff returns (yards) 26 45
Times punted 1 4
Punt average (yards) 37.0 34.5
Punt returns (yards 28 0
Fumbles 3 2
Lost fumbled ball 2 1
Penalties 1 5
Yards penalized 15 25
THE EMERY WHEEL
By Lut Emery
Will the Tigers be named state champions in the Associated Press poll this week?
In our mind and in the mind of every Massillonian and for that matter most residents of Stark County, the Tigers are champs regardless of how they are voted in the poll.
Their 10-game sweep concluded Saturday with a 20-0 victory over Canton McKinley should be convincing to a majority of the state's sports writers and sportscasters, we believe, but there was rigging the past two weeks in several spots, which if carried on again this week would make the Tigers' hopes for a state title via AP recognition almost futile.
* * *
THERE HAVE been suggestions that we fight fire with fire, and attempt to enlist our friends to rig the poll in favor of Massillon.
Not desiring to get our hands dirtied in the already muddy water, we will have no part of it.
We have cast our ballot as have most of the state's sportswriters and radio sportscasters. Naturally, we voted our Tigers first. They are the only ranking team in the state that has won 10 straight this season, and against tougher opposition than the other ranked teams have faced.
After re-examining the scores, we voted undefeated Kettering Fairmount second, which is a change from last week, when we cast our second place ballot for Springfield.
Springfield, which we vote third, and Kettering, played two common foes, Middletown and Dayton Chaminade. Kettering looked the better against Middletown, winning 26-0 while Springfield won 38-26. Springfield made the better showing against Chaminade, winning 60-0 while Kettering won 22-0.
Springfield at no time during the season met a team in the top 10 of the AP ratings, while Kettering knocked Troy out of the top 10 with an 8-0 victory.
* * *
FRANKLY WE feel the Associated Press poll no longer serves its purpose, as a result of the rigging this year, and should be thrown out as a basis for selecting a state champion until some better plan can be devised.
A few writers and sportscasters have put Fritz Howell, sports editor of the Associated Press and conductor of the poll on the spot. Two weeks ago Howell tossed all ballots into the waste paper basket when 14 writers and radio commentators failed to list Massillon on their 10-team ballot/
Last week Howell resumed the poll. The rigging continued but not on as large a scale. One writer didn't put the Tigers in the first 10, a number of others including one block of eight placed them eighth or ninth – and most of this conniving came from northwest and northeast Ohio – not from Springfield and not from the cities of Tiger opponents.
The rigging started three weeks ago. The Tigers who had been in front from the start of the season led by 83 points on Oct. 27.
The Tigers knocked off sixth ranked Warren, but their lead in the poll dropped to 36 points. Next they beat Barberton 90-0 and that was the week Howell tossed the poll away.
When the poll was resumed last week, the count showed Springfield had gone around Massillon to lead by 45 points.
Maybe the Tigers- 20-0 victory over McKinley will change the sentiment of those who ganged up on them the past two weeks.
We'll just have to wait and see.
* * *
IN THE MEATIME our congratulations go to Coach Leo Strang and his staff for a job well done this fall. They and their fancy Tigers have given Washington high school its first undefeated season since Chuck Mather's romp in 1953.