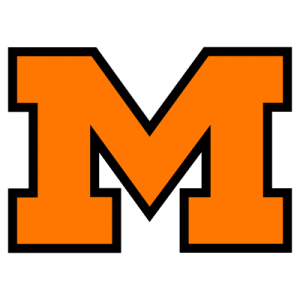 10 Players Score As Tigers Scuttle Magics
90-Point Total Misses Massillon's One-Game Record by 4 Markers
By CHARLIE POWELL
Even a team of horses couldn't have slowed down the mighty Massillon Tigers Friday night.
This pigskin powerhouse, only two games away from Massillon's first undefeated season since 1953 and an apparent state championship, blitzed Barberton's Magics 90-0 before 8,197 fans at Tiger stadium where Tiger fans yelled for more right down to the fading seconds.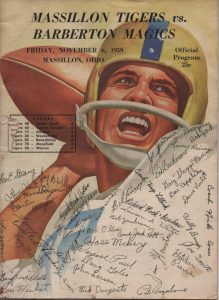 When sub halfback Bob Herring scooted 65 yards to pay dirt with only 28 seconds remaining and Martin Gogov followed with a blast for two bonus points, the Bengals became Tiger town's fourth team ever to score over 80 points in a single game.
They ran over, through and around the woefully weak Magics and a sharp passing attack added kindling to the fire as they finished with the second highest one-game scoring avalanche in Tiger grid annals.
Only the unbeaten 1922 combine had a more astronomical figure, 94-0 over Akron North and only the 1918 team (82-0 over Uhrichsville) and the 1923 array (by the same score over Salem) ever tallied more than 80 markers in a single engagement.
* * *
THE TENACIOUS Tigers, winners of eight in a row this season and 11 dating back to 1958, are the highest scoring Washington high school outfit since 1953 (399 points in 10 games) and seem a lead-pipe cinch to reach the charmed 400-point circle in the two remaining games.
They have rattled off 375 points for an average of 46.8 points per tilt and are destined to become the ninth 400-point team in all history, the previous teams being those of the 1934, 35, 36, 39, 40, 49, 50 and 52 campaigns. Most points scored in a single: 483 by the '35 crew.
The win was Massillon's 11th straight over Barberton and put the series standing at 23 victories, four losses and one tie. It was Barberton's worst licking by the Tigers, the biggest margin heretofore being 54-0 in the 1934 fray.
The Tiger express gained 608 yards (to 93) and 10 different players figured in the scoring led by that adept Art Hastings and speedster Jim Wood.
Hastings, his best effort being on a second half kickoff return of 82 yards, hit in for three touchdowns and Wood made two, both on passes. Art got two more points on a conversion run to bring his season total to 88. Wood twice converted on runs and brought his mark to 66.
Smoothie Joe Sparma pegged two six-point aerials, one to Wood and the other to End Bob Barkman while Wood made his other TD on a toss from sub quarterback John Larson. Sparma, who completed four aerials for 112 yards, also sneaked across for a TD.
Sub, halfback Martin Gugov, one of seven boys having single touchdowns, added four conversion runs to finish with 14 points.
With the help of his 65-yard payoff prance, scatback Herring wound up with 108 yards in five carries to lead the leather-luggers.
* * *
HOWEVER, HASTINGS, Wood, Gugov and Bill Finney (one touchdown churned off lots of yardage). Hastings accumulated 98 in seven trips, Wood 76 in eight, Gugov 63 in nine and Finney 50 in seven.
Another sub, small but strong Doug Toles, carted four times for 42 yards and made one touchdown. The other TD was reeled off by nimble-footed, Nick Daugenti on a six-yard run in his only try,
On the other hand ,the out-manned Magics had a meager 56 yards rushing and five of 17 passes added another 37.
Their best bid came early in the final quarter. A 14-yard run by Halfback Tracy Marsh helped them advance to the Bengal 23. But sophomore End Larry Ehmer tossed Quarterback Ron Molloric for a four-yard loss and on the next play, Molloric fumbled as Tackle Ken Herndon put the squeeze on and Jay B. Willey recovered for the Tigers.
Barberton became a loser for the fifth time in eight starts. Two wins and a tie are on the "black" side of the ledger.
The Magics never had a chance after the first period in which the host team made 24 points. In the second, third and fourth quarters the Tigers added 22 markers.
Leo Strang's boys splurged to 436 yards in 40 rushing plays while the passing of Sparma and Larson (six for 16) tacked up an additional 172 yards. Further more, the Orangemen had possession 16 times and failed to score only four times.
The scoring summary:
FIRST QUARTER – Barberton received, had to punt on fourth down and John Mackovic, rushed by McKey, kicked high but not far, the ball being grounded at the Magic 32. On the very first play for the Tigers, Sparma faded back, passed to Barkman on a "perfect" 32-yard scoring play at 10:15. Finney made it 8-0 on a slant off tackle. A minute later McKey intercepted a pass and Massillon took over at the opponents' 40. With Finney rambling for 24 on a sweep, the Tigers reached the five before Hastings tallied standing up on a five-yard scoring play at 5:07. Gugov ran the extra points. Barberton again had to punt. Daugenti returned 10 yards to the Tiger 35, and Wood promptly zipped 50 yards, fighting and twisting the last 10. From the two, Sparma sneaked across behind Guard Jim Houston. At 1:27, Hastings converted on a run.
SECOND QUARTER – On the first play, Barkman recovered a fumble as Frank Midure banged into Jim Whitman. Tigers moved 21 yards before Larson, on the first play he was in the game, passed to Wood for 33 yards and another score at 9:52. This was another picture pass with Wood catching on the dead run. Several minutes later Bednar recovered a fumble at the Tiger 32. Hastings legged for 26 before Sparma unlimbered his arm again, tossing to Wood who raced 26 yards to complete a 43-yard maneuver at 6:25. Wood also ran the points. On the second play after the kickoff, Wally Brugh recovered still another Magic fumble at the Barberton 24. Toles scored by smashing off the right side from five yards out after previously gaining 17 yards on a sweep. Gugov ran across two more points with 4:35 left in the half.
THIRD QUARTER – Barberton's Jack Romain kicked off, the ball going to Wood who reversed to Hastings at the 18. Art sped down the east sidelines and with Midure slowing up the last defender just enough, Hastings went all the way, 82 yards for another TD. Time left: 11:43. Three plays after the kickoff Bednar intercepted a pass and Massillon had possession at the enemy 28. Hastings bolted off left tackle, got a fine block from Tackle Virgil Bukuts, cut away from two would-be tacklers and scored again. Gugov converted on an off-tackle smash at 9:52. Late in the period, the Tigers marched 51 yards to pay dirt with the big gains being a 20-yarder by Hastings and an 18-yard burst by Toles. From the five, Finney roared through right tackle to score at 2:25 and Herring made the conversion points standing up.
FOURTH QUARTER – After Willey recovered a fumble on the third play of the final stanza, the orange and black rolled 65 yards in 10 plays. Enroute Hastings made 15 before stumbling and Gugov barreled for 16. The 12-yard touchdown run was made by Gugov at right tackle and at 5:39, Baker passed to McKey to make it 76-0. After the kickoff Barberton had to punt, Daugenti returned 10 yards to the Tiger 48. Gugov gained 15 on a sweep, Larson passed to Oliver for 27 and Daugenti then scored at 1:59 on a six-yard burst off the right side. With 34 seconds remaining, Massillon got the ball at its 20 after a Barberton punt rolled into the end zone. With the fans yelling "Go, Go, Go!" a pass failed and with the opposition looking for another pass, Herring ripped off the left side and dashed 65 yards to score. With 16 seconds left, Gugov rammed through the right side and that was it, 90-0.
How Sweet It Is!
MASSILLON
ENDS – Barkman, Zumbrunn, McKey, Oliver, Bodiford, Pierce, Royer, Ehmer, Ivan.
TACKLES – Appleby, Bukuts, Brugh, Herndon, Wells, Haines, Spees, Herbst, Paul.
GUARDS – Bednar, Houston, Willey, Anzalone, King, Crenshaw, White.
CENTERS – Snyder, Snodgrass, Demis, Radel.
QUARTERBACKS – Sparma, Larson, Null, Baker.
HALFBACKS – Finney, Wood, Daugenti, Gugov, Herring, Kurzen, Philpott.
FULLBACKS – Hastings, Hershberger, Toles.
BARBERTON
ENDS – Toth, C. Smeller, Jernigay, Boley.
TACKLES – Postak, Linkowski, Muckelroy, Chordas, Adkins, Jung, Jensen, Gross, Brown.
GUARDS – Carey, Theriault, Skinner, Kotnick, Smith, Johnson, Ferguson.
CENTERS – Lutz, Wiant, Away.
QUARTERBACKS – Molloric, Mackovic, G. Smeller.
HALFBACKS – Onusic, Romain, Marsh, Dukes, Young, Biggs, Debevic.
FULLBACKS – Whitman, Sabo, Mesek.
Scoring by quarters:
Massillon 24 22 22 22 90
Barberton 0 0 0 0 0
Scoring:
Massillon touchdowns –
Hastings (Kickoff return 82, R-5, R-28); Wood (P-33, P-43); Barkman (P-32); Sparma (R-2); Toles (R-5); Finney (R-5); Gugov (R-12); Daugenti (R-6); Herring (R-65).
Extra points –
Wood (2) runs; Gugov (4) runs; Hastings (1) run; Herring (1) run; McKey (1) pass.
OFFICIALS
Referee – George Ellis.
Head Linesman – Clarence Rich.
Umpire – John Russ.
Field Judge – Bill Holzworth.
STATISTICS
Mass. Barb.
First downs, rushing 18 5
First downs, passing 3 2
First downs, penalties 1 0
Total first downs 22 7
Yards gained rushing 444 106
Yards lost rushing 8 50
Net yards gained rushing 436 56
Yards gained passing 172 37
Total yards gained 608 93
Passes attempted 16 17
Passes completed 6 5
Passes intercepted by 3 1
Times kicked off 13 1
Kickoff average (yards) 40 42
Kickoff returns (yards) 72 21.3
Times punted 0 8
Punt average (yards) 0 26.6
Punt returns (yards) 34 0
Had punts blocked 0 0
Fumbles 3 6
Lost fumbled ball 2 5
Penalties 3 6
Yards penalized 25 36½
Massillon Raps Barberton, 90-0
Tigers Roll Up Highest Score Since 1922;
Hastings Tallies Three
Plain Dealer Canton Bureau
MASSILLON, O. – Massillon's top-rated Tigers put on one of the hottest offensive showings in their history before 8,197 frigid fans here last night as they buried Barberton's Magics, 90-0.
The triumph was the eighth straight for the Bengals, and it was their biggest since the 1922 Massillon team blasted Akron North, 94-0. That was the all-time high score for the Tigers.
The Tigers erupted for 12 touchdowns. Nine players took part in the scoring parade. Art Hastings led the way with three tallies and Jim Wood had two.
Massillon scored three times in every quarter. A 32-yard Joe Sparma to Bob Barkman pass gave the Tigers a tally on their first scrimmage play of the game. A few moments later, Hastings went five yards through center. Then Sparma capped a 65-yard drive with a one-yard quarterback sneak.
Wood caught both his touchdown passes in the second period. One was a 43-yarder from Sparma and the other a 32-yard toss from substitute quarterback John Larson. Doug Toles blasted over from five yards out to give Massillon a 46-0 halftime advantage.
Barberton kicked off to open the second half and Hastings took a handoff and sped 78 yards down the sidelines. Just two minutes later, after a pass interception, Hastings went 28 yards for this third tally. Bill Finney ended the third period with a five-yard touchdown burst.
Martin Gugov went 12 yards and Nick Daugenti five for the Tigers in the last quarter, then Bob Herring wound things up with just 16 seconds to play when he raced 65 yards into the end zone.
The Tigers racked up 608 total yards against Barberton, while holding the Magics to 93.
But Barberton never stopped scrapping. The Magics are made up primarily of underclassmen.
End Jerry Toth sparked Barberton on defense, while fullback Jim Whitman led the Magic ball carriers with 52 yards in 14 carries.
Barberton now has a 2-5-1 record for the season. It has lost 19 times, won 3 and gained one tie in its long series with Massillon.
Magic Coach Raps Massillon's Strang
Hits 'Pouring It On" In Wake Of 90- Rout
By PHIL DIETRICH
Somewhere between the sixth and the 90th point in Friday nights' stunning loss to Massillon Washington, Barberton High's Tom Phillips made up his mind.
"There definitely is going to be something done about that 90-0 trimming," he said bluntly. "Barberton must decide. Do we take such beatings – at a price – or do we find our own level of competition?"
"A lot of Barberton people feel we should play and beat Massillon. Perhaps we should, but now is the time to decide. It's not fair to the kids to take a merciless beating like that. How do you go about reconciling the work that went into preparing for a game that turned out like that one."
"It is bad for squad morale, bad for the coach's confidence in his own ability – bad for football itself!"
Thirty-five-year old Tom Phillips in his first season as varsity coach of the Magics, was angry for his players and angry for himself. He took a deep breath and leveled the verbal finger squarely at Massillon grid boss Leo Strang.
"That's what happens when you have a coach who obviously wants to get to the top fast," he said gruffly. "Barberton was just another rung in the ladder to get him there."
"He knew early we didn't have a chance. So what happened? In the second quarter we made two first downs. He immediately rushed in another defensive unit to stop us."
With 22 seconds to go in the first half and the score 46-0 he still had Hastings (Art), Sparma (Joe) and his other guns in there."
"I've taken trimmings before – although never this bad – including a couple from Massillon. There is a difference, though, primarily in coaches. Did you ever hear of a coach running up 90 points before while using only part of his squad."
"He had every reason to use them all, too. It was Dads' Night at the stadium."
It was pointed out by Barberton Athletic Director Karl Harter that Massillon's point standing in the high school football polls served as a challenge to the Tiger team and coaches and affected Friday night's score. Phillips agreed.
"No doubt about it," he said. "Springfield has been gaining on Massillon, which lost ground last week despite that one-sided win over Warren."
"This goes a bit deeper, though. Other Massillon coaches – Tom Harp, for example – didn't believe in pouring it on. In the long run Massillon will suffer. You won't resign yourself to the nine beatings you'll take before you beat'em once – not when the beatings are like last night's."
"Canton Lincoln finally dropped'em and there will be more. I had calls from as far away as Niles – from friends and acquaintances who wanted to say how sorry they were to hear about that score – sorry for me and sorry for football."
Harter took a more philosophical view. His experience runs through much of the 23-game Barberton-Massillon series – and the 19 Tiger victories.
"Certainly, Massillon was intent on getting points," he said. "I hold the polls to blame. They create pressure on teams and coaches. It is bad for high school football."
"You can't take it away from Massillon's team. They have speed and depth and marvelous balance. I've never seen a better Massillon team. They can score any way they want to score."
"Phillips used all his kids and fortunately none of them were injured."
Not physically, perhaps, but Phillips seems to detect cracks in the morale.
He said he plans to do something about it, but soon!
LOOKING' EM OVER
with CHARLIE POWELL
THE BARBERTON coach Tom "Red" Phillips, was a very upset man after his team was given a pummeling Friday night. He refused to shake hands with Tiger Coach Leo Strang and he waved his players off the field before they could go through the usual post-game compliments.
The Magic mentor would not allow newsmen in the team dressing quarters and as one reporter tried to get in, a voice from within the locker room said "Go see Strang."
In the Tiger dressing room, Strang showed he was upset too.
He explained that all 43 Tigers dressed for the night got into the game and that all but two or three played in all four quarters.
* * *
SIX SOPHOMORES got to suit up with the varsity for the first time this year and two of them were plugging away even before the first period was concluded. The sophs were Quarterback Bob Baker, Halfback Fred Philpott, Center Ed Radel, Tackle Dan Spees and Ends Larry Ehmer and Ken Ivan.
"We can't tell them not to play to the hilt or not to try to score" commented Strang, who was carried off the field by a few players.
Actually, Leo didn't have much to say about the landslide. What can a guy say about a game like that?
"I was pleased in that the boys showed they wanted to play their best football and that so many got a chance to score."
"It also gave us an excellent opportunity to look at some of the kids who will be coming back next year," he added.
* * *
THE 90-POINT total was Leo's personal high. One of his Upper Sandusky teams paddled Mifflin 86-0 several years ago.
The barreling Bengals used spread formation plays more than usual as they toyed with the visiting club. By actual count, they used 25 different plays to slice out a whopping 608 yards net gain.
Much will be said, and written, and rightly so, about the offense so we'll take an opportunity to plug the Tiger defense.
It has allowed only four touchdowns and an average of 101 yards per game!
Last night the Magics made only 56 yards on the ground and 37 in the air. Massillon's ball-hawkers intercepted three passes and recovered five fumbles.
* * *
PASSES WERE intercepted by Hase McKey, "Sluggo" Bednar (after the ball was deflected by Frank Midure) and sub Joe Smith while enemy fumbles were pounced on by Bednar, Bob Barkman, Wally Brugh, Gary Wells and Jay B. Willey.
Barberton had only two plays good for over 10 yards all night. Keep it up you Tigers!
* * *
THE VICTORY should increase Massillon's stock with some of the voters in the scholastic poll.
Second place Springfield, which trailed the Tigers by 36 points this week, finally beat Lima after being behind 6-0 in the first half. When the score was announced at Tiger stadium, Massillon fans let out a real roar. But there was not much noise when Bob Smith gave the 22-6 score.
* * *
THE CROWD included Dennison university's gridders who play at Akron today.
Ex-Tiger Al Slicker was among the group but Al, who had worked his way up to a regular job as an offensive guard, won't get to play because of a torn ligament in his right knee. He is expected to be back in the starting lineup for the Big Red's season finale against Ohio Wesleyan, Nov. 14.