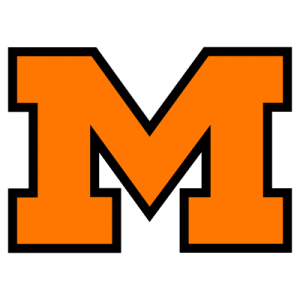 Mud-Loving Tigers Swamp Mansfield 70-0
'Beat Warren!' Is Battle Cry After Bengals Hit Highest Score Since '40
By CHARLIE POWELL
The trial runs are over for that good football ship, the Massillon Tiger.
The "real!" thing will be Massillon versus Warren Harding next Friday night. Somewhere in the neighborhood of 10 o'clock on Oct. 30 Tiger football fans will know whether their team is "for real" or just another challenger.
BEAT WARREN!
That's the old battle cry from now until the big one at Tiger stadium next Friday night.
* * *
BEAT WARREN – That is what the Orangemen will have to do to prove they have the makin's of a football team that belongs at the summit.
In their final dress rehearsal last night, the host Tigers stormed over Mansfield an
out-maneuvered and out-manned Mansfield club, 70-0, and in a driving rain and storm at that.
* * *
THERE SEEMED to be no looking ahead to Warren on the part of the Tigers who diligently went to work, put the handwriting on the wall by half time, and breezed home before 7,473 fans, many of whom took a soaking while watching, waiting to see how high the score would zoom.
Zoom it did as the Leo Strang coached charges displayed a relentless attack – their most devastating of the season – in maintaining a spotless record.
With nimble, footed Fullback Art Hastings and swiftie Jim Wood leading the surge, the Tigers rolled to a net gain of 576 yards – 469 through the mid and 107 through the rain drops.
After a slow start ("only" eight points in the first period), the home-towners skyrocketed the count to 30-0 by intermission, added three tallies in the third chukker and two in the last round. Ten different boys worked their way into the scoring act and all 39 boys who suited up saw action.
* * *
DESPITE the rain and heavy going, the Tigers did not fumble once all night…and helped themselves to the ball four times when the visitors coughed them the oval.
The win was the sixth of the season and put the series record at 21 victories, two losses and four ties.
It was Mansfield's worst beating at the hands of Massillon since Paul Browns, 1939 powerhouse applied a 73-0 haymaker. It was Massillon's highest score since 1940 when another Brown team smacked Erie, Pa. East high 74-0.
It brought the current Tiger teams' total for six games to 247 markers and this figure can be compared to the 10-game tally of 227 points by the 1956 Tigers, the 221 total of the '57 team and the 220 final aggregate by last year's crew.
This is the highest scoring Massillon team since 1953. That '53 combine of Chuck Mather's scored 399 points during the year and after six games had zeroed in for 243 markers.
* * *
AGAINST the Tygers, who now have dropped six in a row, the orange and black hit the jackpot on long drives, long runs, short runs and Sparma's passes. Although Hastings and Wood came through with big gallops there were, as in all such games, heroes a plenty. Wearing the halos too were the horses in the trenches.
They made holes you could drive a truck through. They were the big reasons for a third shut-out of the year because the defense never let the Mansfielders keep possession for too long at a time.
However, one Mansfield boy stood out. Henry Weaver, only a sophomore. He was hard to stop. All he did was carry the ball 22 times for 72 yards.
Try as they did, the invading boys didn't have the blocking and tackling – or lads who could travel like Hastings, or Wood and the rest.
Hastings, scoring on runs of 80 and 43 yards, made 181 yards in nine trips. Wood, hitting in after touchdown sorties of 76 and 70 yards, toted only four times and accounted for 164 yards.
* * *
MAKING singel touchdowns were Sparma, Bob Oliver, Martin Gugov, Bob Barkman and Doug Toles. Sparma sneaked across from a yard out and threw pay off strikes to Oliver (32 yards) and Barkman (34 yards) while Gugov tallied on a 17-yard jaunt and Toles on a three-yard run.
Both teams substituted freely with Massillon's second string line taking the field after the Tigers' second touchdown.
During the second half the subs kept going in and out. A boy with a clean uniform could hardly be recognized after he had been in for a couple of plays.
Mansfield played nothing but sophomore and juniors the whole last half.
Here is the scoring summary:
FIRST PERIOD – The second time Massillon had possession it marched 67 yards, getting short yardage consistently after Hastings started the drive with a quick-hitting dash of 33 yards. On third down at the one, Sparma sneaked across at 2:02, then did the same thing for two more points.
SECOND PERIOD – On the first play, Mansfield punted, the ball going out of the end zone, and on the next play Hastings ripped off the right side, wriggled free at the 30, "beat" the last defender at the Tyger 30 and legged it for a TD at 11:39. Gugov was stopped short on the PAT attempt. Mansfield was stopped on a fourth-and-one situation at the Massillon 37 and four plays later Hastings slipped off the left, got away from one would-be tackler at the 36, another at the 20, and went in at 3:46, a 43-yard run. Finney made the extra points on a run. Following a Tyger punt, Hastings made 12 in two carries, then Wood carried for the first time. He cut off left tackle, veered to the right and was gone, 76 yards, and after Finney made the PAT, the Tigers led 30-0 at 0:44.
THIRD PERIOD – Hastings returned the kickoff to the Tiger 30 before Wood, the second time he carried the ball, raced 70 yards for a touchdown, out-running the defenders the last 30 yards. Finney made the extra points at 11:27. Hase KcKey recovered a fumble at the Mansfield 36 and from the 34, Sparma passed to Barkman who got behind the safetyman at the six, and scored at 8:54. Sparma passed to McKey for two more markers. After the kickoff, Mansfield was forced to punt. A 37-yard run by Finney, then four yards by Hastings, put the ball at the enemy 32. Touchdown came when Sparma passed to Oliver, behind the Mansfield defenders at the goal-line Hastings ran across the conversion points and it was 54-0 at 5:51. Gugov recovered a fumble on the next to last play of the quarter. Sub quarterback John Larson pitched to Toles for 41 yards.
FOURTH PERIOD – On first play with ball at three, Toles rammed for a TD off right tackle. Sub Don Kurzen took a pitchout and went in for two more points at 11:57. Oliver recovered a fumble on the kickoff return but the Tigers stalled at the five. Then Mansfield made its best advance, going to the Tiger 30 before the ball was lost on a fumble. Larry Haines recovering. Wood's 16-yard run set up the touchdown, made on a 17-yard pass play, Sparma to Barkman, run by Gugov who went in standing up. Finney's run made it 70-0 at 2:30.
Real Mudders!
MASSILLON
ENDS – Barkman, McKey, Zumbrunn, Bodiford, Royer, Oliver, Pierce.
TACKLES – Appleby, Bukuts, Wells, Paul, Herbst, Haines, Herndon.
GUARDS – Houston, Willey, Bednar, Midure, White, Crenshaw, Anzalone, Brugh.
CENTERS – Snodgrass, Snyder, Demis.
QUARTERBACKS – Sparma, Larson, Null, Smith.
HALFBACKS – Finney, Wood, Daugenti, Herring, Gugov, Kurzen.
FULLBACKS – Hastings, Hershberger, Dean, Toles.
MANSFIELD
ENDS – Schadek, Nagle, Kehr, Buckley.
TACKLES – Conrad, Welker, Bernat, Lutz, Shasky, Henson, Myers, Norris.
GUARDS – Beer, Stander, Cook, Miller, Cowan, Reedy, Hartman.
CENTERS – Goetti, Welker, Nestich, Keplinger.
QUARTERBACKS – Rainey, Stickrod.
HALFBACKS – Pate, Carter, Brooks, Weaver, Keiser, Ott.
FULLBACKS – Taylor, Franklin, Cole, Phillips.
Scoring by quarters
Massillon 8 22 24 16 70
Mansfield 0 0 0 0 0
Touchdowns: Massillon – Sparma (1-run); Hastings (80-run, 43-run); Wood (76-run, 70-run); Oliver (32-pass); Toles (3-run); Gugov (17-run); Barkman (34-pass).
Extra points – Sparma (run); Finney (4-run); Hastings (run); McKey (pass); Kurzen (run).
OFFICIALS
Referee – George Ellis.
Head Linesman – Ron Dotson.
Umpire – Phil Dienoff.
Field Judge – C.W. Rupp.
Statistics
Mass. Mans.
First downs – rushing 12 9
First downs – Passing 2 0
First downs – penalties 1 1
Total first downs 15 10
Yards gained rushing 478 196
Yards lost rushing 9 38
Net yards gained rushing 469 158
Yards gained passing 107 0
Total yards gained 576 158
Passes attempted 9 4
Passes completed 3 0
Passes intercepted by 1 1
Times kicked off 10 1
Kickoff average (yards) 37.4 42
Kickoff returns (yards) 13 122
Times punted 1 4
Punt average (yards) 36 45.5
Punt returns (yards) 10 0
Had punts blocked 0 0
Fumbles 0 5
Lost fumbled ball 0 4
Penalties 5 4
Yards penalized 35 32.5
Mansfield Club Annihilated By Bengals' Might
In 70-0 Blitz
By RICH MOORE
Repository Bureau Writer
MASSILLON – As expected, the top-rated Massillon Tigers put on quite a touchdown parade to swamp the Mansfield Tygers, 70-0, here Friday night.
Mixing long runs and high-flying aerials, the rampaging Tigers made it look easy in rolling to their sixth straight win against no losses.
A rain-soaked crowd of 7,473 faithful fans saw Massillon roll up 576 yards, the highest total this season, in scoring nine touchdowns, also the highest number of the campaign.
Mansfield remains winless in six tries. The Tygers' lack of experience was a big factor. Only 11 seniors are on the roster.
In the entire second half, only junior and sophomores were pitted against the Massillon powerhouse.
The 70 points scored by Massillon, overshadowing the 65-0 romp over Canton Lincoln earlier this year, is the most points chalked up by a Tiger team since 1940. Then Erie (O.) East lost 74-0.
In the 22-game series between the two schools which began in 1936, only the 1939 squad, which won 73-0 produced more points against a Mansfield team.
* * *
MASSILLON HOLDS a wide margin of victories over the Tygers since initiation of the rivalry. Mansfield has won only twice – 16-12 in 1949 and 14-6 in 1956 – and four contests have ended in ties.
Massillon Coach Leo Strang was happy last night.
"We're well pleased with the kids playing like that with the field so muddy," he said.
Strang also was thankful no serious injuries occurred. Only one player was hurt. Tackle Virgil Bukuts will miss a couple days of practice because of a hip bruise. Otherwise, the squad will be healthy, barring practice mishap, when it takes on Warren next Friday night.
Strang had little else to say, except to look ahead and express hope that his Bengals will "gain 500 yards again next week."
* * *
IN THE VISITORS' shower room, Tyger Coach Bob Pierson, commented on his squad's youngsters, their scrappy spirit and wondered where his next job was coming from.
"The way the wolves are howling, I'll probably be in 'Podunk" next year – maybe before next year," he sighed.
The Tygers' major problem is lack of experience, he said.
"We're just too young. We definitely do not have the material to play the schedule we have this year," Pierson said.
* * *
ART HASTINGS, Jim Wood and Bill Finney were the big guns in the Massillon offense. Hastings, in nine carries, gained 182 yards for an average of 20.2.
Wood packed the mail only four times, but averaged 41 yards per tote with a total of 164 yards. Finney's work for the night, though small by comparison with his mates, totaled 81 yards in eight runs for an average of 10.1.
Henry Weaver, sophomore halfback, was a real workhorse for Mansfield. He gained 79 of Mansfield's 158 net yards in 23 carries and lost ground only once.
While the host Tigers scored in each period, the "rudely-treated" visitors got no closer to the chalk line than the Massillon 35.
* * *
IN THE AERIAL department Massillon posted 107 yards with three connections in nine tries against no completions in four heaves for Mansfield.
In scoring for Massillon, Hastings hit pay dirt on runs of 80 and 44 yards. Wood scored twice on runs of 76 and 70 yards.
A one-yard quarterback sneak by Joe Sparma lit the rocket in the first quarter to begin the parade.
Doug Toles added to the deluge with a 3-yard scoot. Martin Gugov circled left end for a 16-yard scoring jaunt for the night's finale.
Going to the air in the third quarter, Sparma lofted scoring arcs of 33 yards to Bob Barkman and 32 yards to Bob Oliver.
MASSILLON – 70
E – McKey, Houston, Oliver, Pierce, Barkman, Zumbrunn, Royer, Bodiford.
T – Snyder, Bukuts, Herbst, Haines, Appleby, Paul, Herndon, Wells.
G – Bednar, Midure, Willey, Brugh, Crenshaw, Anzalone, White.
C – Snodgrass, Demis.
QB – Sparma, Larson, Null, Smith.
HB – Wood, Finney, Kurzen, Herring, Gugov, Daugenti.
FB – Hastings, Toles, Dean, Hershberger.
MANSFIELD – 0
E – Schadek, Collins, Buckley, Kehr, Nagle.
T – Lutz, Conrad, Myers, Shasky, Henson, Norris, Welker.
G – Cook, Hartman, Miller, Stander, Cowan, Reedy, Beer.
C – Goetti, Nestich, Keplinger.
QB – Rainey, Stickrod.
HB – Ott, Carter, Weaver, Pate, Keiser, Brooks.
FB – Cole, Taylor, Franklin, Phillips,
Massillon 8 22 24 16 70
TD – Sparma, Hastings 2, Wood 2, Barkman, Oliver, Toles, Gugov.
PAT – Sparma (run); Finney 4 (runs); McKey (pass); Hastings (run);
Kurzen (run).