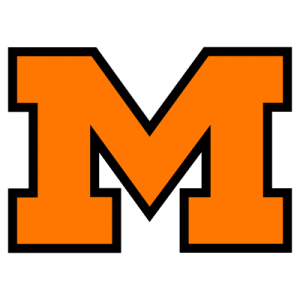 Tigers Rely On Power In Winning Fifth
One Pass, Two Long Drives Net 20-8 Win Over Mansfield Team
By CHARLIE POWELL
Mansfield didn't have Clyde Beatty to transform the Massillon Tiger into an obedient, tame little pussy cat.
Neither did it have enough strong-armed warriors to corral the Tiger Friday night when the Tiger went on the prowl three times and crushed the enemy under foot, 20-8, to retain its position among the gridiron elite.
Over 12,000 fans at Mansfield's Arlin field saw the host Tygers fall into a well-laid trap. The orange and black set up the Mansfielders with fancy overtures from the spread formation and when they figured the Tigers were serious about their efforts, they girded their defense to stop the same, and promptly pulled their noose tighter.
Massillon's stouties switched to ram'em football and just plain, straight, ordinary football paid off in a fifth triumph – a triumph coupled with an upset of Warren Harding that certainly will usher the Tigers into the top seat in the Ohio scholastic title chase.
* * *
THE TIGERS trailed Warren by a slight point margin in the state poll last week. By the early part of next week, voters can be expected to make Massillon No. 1.
In losing, 8-0 to Central Catholic's courageous Crusaders on the home sod last night, the Warren Panthers went down to their first loss of the season. That setback took some glitter off next week's Massillon-Warren conflict – but not much.
Warren still must be considered a threat and a victory next Friday at Warren will be a "must" for Leo Strang's steadily-improved array. A single loss probably would snuff out all titular hopes what with the way Cleveland Cathedral Latin, Alliance, and some of the other are going.
Following last night's tussle, Mansfield coaches indicated they would favor Massillon over Warren but the Panthers will be in a mighty revengeful mood next week. They should be in a lot better shape physically and when it comes to mental attitude, Gene Slaughter and his assistants should have not trouble at all keying their charges to the right pitch – because Warren has been pointing for the Tigers ever since last year's clock controversy.
Massillon's latest victim gave it a good try but the Strang gang was not to be denied once the off-tackle slants and power plays up the middle started to click.
Trying to pin down Coach Strang for comments after action ceased was like trying to stop a very angry bull in a china shop. He was very happy, indeed, but between bursts of joy he emphasized that this hard-fighting Mansfield club was vanquished only because of a
grade-A team effort.
* * *
"ALL OF THEM played a whale of a game. Our blocking was real sharp on those power plays, the ball carriers never stopped plugging and the defense never let down a bit."
"And you know," he said, "Our fancy stuff might have gone had we been more settled down at the start."
In a more serious mood, he recalled the Warren upset and added, "Warren will come back fighting mad next week. They'll be twice as tough for us."
Mansfield proved to be a pesky team. The Tom Pierson-coached team gave ground begrudgingly but the Massillon defense contained their offense very well except for the last three and a half minutes of the game.
The red and white averaged only three yards per rushing play and a heads-up Tiger pass defense crimped the aerial warfare.
Pierson, whose team opened the door to its only score against a sub-studded Bengal eleven, said Mansfield was beaten by a "very fine football team…maybe the very best."
At times the Tiger offensive machine didn't look like one of the best but on three occasions it was more than adequate.
* * *
END BILL ZORN, one of the many defensive stickouts, partially blocked a Mansfield punt in the second period and Corky Pledgure returned the short kick 17 yards to the enemy 19.
In five plays Massillon broke the ice. Dave Dean, Art Hastings and Jim Snively moved the pigskin to the 14 from which point a pass brought on the first touchdown. On fourth down, Quarterback Joe Sparma whipped the ball to big Bob Vogel who made a great catch a yard away from the final stripe. He turned and took one step over the goal line before being pushed back into the playing area but the Tigers had six points at 5:57 – and still six after a pass on the extra point try failed by an inch.
That was the only big noise of the first half but the first time the orange got possession in the second half, it banged through the Tyger line for another touchdown.
After a punt, Massillon drilled 70 yards in 14 plays with Dean tallying on a smash at right guard from the one at 1:32. Enroute the quick-moving Hastings rambled on runs of 13 and 19 yards and Dean got off a 12-yard gainer. Halfback Jerry Allen, who missed the Steubenville and Benedictine games because of an injury, came in to hit off tackle to make the score 14-0.
After the kickoff the red and white was stymied and on the first play of the final period, Tom Schadek kicked to his own 40. Hastings promptly dashed for 17 and the Tigers were on their way once again.
This drive covered 15 plays with Dean, Allen, Hastings and Snively carrying. From the two Sparma kept, blasted over left guard and into pay dirt and it was still 20 to zero after Hase KcKey's placement was blocked.
Mansfield took the kickoff and rolled 64 yards with Taylor, Monk, Ragsdale and Howard lugging the leather. With 14 seconds remaining, Ragsdale tallied off tackle and then ran across the two extra points. After the kickoff it was all history.
* * *
THE VICTORY was the 16th for Massillon in the series. Mansfield has won twice while four battles ended in a tie. The current Tyger combine now has won four and lost two.
Sparma's touchdown pass was his only completion in four second period attempts. There was only one pass tried in the second half. Had the Tigers been forced to the air more often, Sparma might have riddled the home town forces because the receivers were getting behind the defenders.
After the first period most of the Massillon plays were directed between the ends. A sweep was called a few times in order to keep the defense guessing.
Hastings and Dean were the leading gainers for the orange with Hastings making 85 yards in 12 tries for an average of seven yards per try and Dean picking up 78 yards in 17 carries for 4.5 average. Snively carted nine times for 39 yards.
Keep It Up
MASSILLON
Ends – Vogel, Mitchell, Zorn, Oliver, Zumbrunn.
Tackles – Bordner, Donat, Appleby, Snodgrass, Herndon, Haines.
Guards – Karrenbauer, Slicker, Bednar, Perry, Kasunick, Placevk.
Centers – Shilling, Snyder.
Quarterbacks – Sparma, Finney.
Halfbacks – Snively, Wood, Pledgure, Clark, Allen, Radtke, Morrow, Hershberger.
Fullbacks – Dean, McKey, Hastings.
MANSFIELD
Ends – Hayden, Proto, Schadek, McGinty.
Tackles – Lehr, Cole.
Guards – Roth, Schmahl, Conrad, Mrray.
Centers – Scott, Goettle.
Quarterback – Monk.
Halfbacks – Ragsdale, Howard, Marsh, Sams.
Fullbacks – Taylor, Weaver.
Scoring by quarters:
Massillon 0 6 8 6 20
Mansfield 0 0 0 8 8
Massillon scoring:
Touchdowns – Vogel (14-pass); Dean (1-run); Sparma (2-run).
Extra points – Allen (run).
Mansfield scoring:
Touchdown – Ragsdale (1-run)
Extra points – Ragsdale (run)
OFFICIALS
Referee – George Ellis.
Umpire – Don McPhee.
Head Linesman – Bob McPhee.
Field Judge – Jim Langhurst
STATISTICS
Mass. Man.
First Downs – Rushing 11 9
First Downs – Passing 1 0
First Downs – Penalties 0 0
Total First Downs 12 9
Number of Rushing Plays 45 49
Yards Gained – Running Plays 205 164
Yards Lost – Running Plays 1 24
Net Yardage – Running 204 140
Passes Attempted 5 8
Passes Completed 1 2
Passes Had Intercepted 0 0
Yards Gained –Passing 14 10
Net Yardage – Running
and Passing 218 150
Number of Kickoff Returns 1 4
Yardage – Kickoff Returns 8 50
Average Length of Kickoff
Returns 8 12.5
Number of Punt Returns 1 1
Yardage – Punt Returns 5 7
Number of Punts 4 5
Total Yard on Punts 96 128
Average Length of Punts 24.5 25.6
Number of Penalties 5 3
Yards Lost on Penalties 25 25
Number of Fumbles 1 2
Own Fumbles Recovered 1 2
Ball Lost on Fumbles 0 0