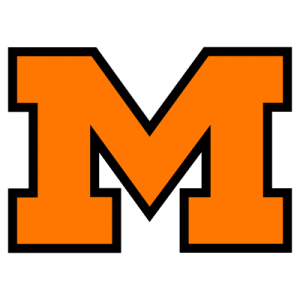 Tigers Grind Out 20-0 Victory Over Lincoln
Bengals Shore Up Defense But Move Slowly On Ground
By CHARLIE POWELL
Absence of a breakaway runner that smacks of a Homer Floyd or an Ivory Benjamin was never more conclusive when Washington high's Tigers met Canton Lincoln at Tiger stadium Friday night.
Only twice did a ball carrier make over 10 yards on a single effort but grind'em out thrusts, a couple of dandy passes and a defense that made the Lions yell "uncle" were more than enough as the Bengals uncorked a 20-0 triumph before 11,783 fans.
Indeed, Leo Strang's charges enjoyed a big statistical bulge over the Lions, who have yet to beat a Massillon team in 14 tries. The Tigers controlled the football, running 58 plays to Lincoln's 36, gained 251 yards to 89 and were stopped without a first down on just one series of plays.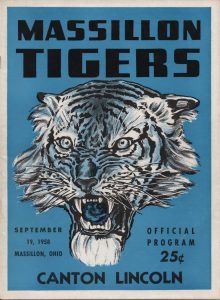 And indeed this Lincoln team, literally playing its heart out, had the Bengals well scouted.
* * *
BUT ON ENDLESS occasions the line blocked, and the leather luggers got through an opening only to wind up with short yardage. The downfield blocking wasn't the world's worst, either, however the runners, seemingly were intent on trying to ram the tackler down or were cutting inside when they might have been heading away from the mass of young humanity.
For the second straight week Fullback Dave Dean was the wheel-horse, carting 25 times and gaining 93 yards and hitting in for one touchdown. The veteran Corky Pledgure, still not in the best of shape, had a good night as he ripped off 54 yards in 10 carries and hard-nosed Jim Hershberger ran seven times for 28 yards.
Pledgure winged for 20 yards once, Hershberger got off a 13-yarder and wingback Corny Clark raced for 11 yards once but that was the extend of any long gains.
Coach Strang, visibly upset by the inability of the runners to be loose as a goose in the open field, did not blame all on the boys, however.
"We have to keep remembering that only a few of these boys have had much varsity experience. They are still learning and believe me, they are looking better every week."
"It takes time and a little patience. We looked a little better tonight. I thought the defense was fine, didn't you?"
To this, everybody must nod their heads in agreement. The defense was very good.
* * *
THE LINCOLN TEAM, losing its second straight start, made only five first downs and its best gain went for eight yards. The Tigers did a good job containing such dangerous ball toters as swivel-hipped Art DeOrio and hard-running George Saimes.
"We will keep trying to improve the defense, too, but we've got to emphasize the running game right now," Strang said.
Lithe Tom Spencer, who started at tailback; sophomore Art Hastings, who went in at fullback for a few plays in the final period and Clark, who showed nice speed on end sweeps apparently will rate a lot of attention next week.
Clark was helped by "surprise" plays that went to the left side. But the slim senior, who has had most of his duty confined to defense, displayed lots of courage as he barreled across for two extra points after Massillon's first touchdown.
The first TD, coming with 5:06 remaining in the second quarter, was made by Pledgure. He tallied on a sweep from the one after the Bengals had marched 63 yards in 14 plays.
* * *
A THIRD PERIOD score climaxed a drive of 63 yards in 10 plays and came on the best play of the night. With the ball at the 22, Quarterback Joe Sparma after faking beautifully, whipped a jump pass to big Bob Vogel at the eight. Bob made a nice catch of the hard-thrown ball and there just wasn't any stopping him.
Following the kickoff, Lincoln failed for a first down at the Tiger 33 and the hosts went all the way, the drive carrying over into the final round. After 14 plays and a total of 66 yards, Dean cracked across from the one.
The first quarter was almost void of consistent gains. On the last play of that session Spencer gained three yards to his own 39 and the second quarter started with the orange and black determined and destined to break the deadlock.
Pledgure and Dean did most of the work and Pledgure circled left end for the score from one yard out. On the conversion attempt, Clark took a pitch-out and sailed around left end, driving in to make it 8-0.
* * *
LINCOLN HAD the ball for only sic plays in the second panel and only nine plays in the third period. Shortly after the second half got under way, Clark returned a punt 20 yards to his own 37 and the Tigers stepped on the gas. Sparma pitched handsomely to Vogel for 14 yards and Clark zipped for 11 on a pitch-out (with Guard Gail Karrenbauer making the key block) to help put the oval at the Lion 22. Then with Bill Zorn flanked right, Sparma hit the glue-fingered Vogel and at 5:42 it was 14-0. Sparma intended to put his foot to the football on the try for the extra points but a bad pass from center nixed the deal.
A 20-yard kickoff return by Dave English helped Lincoln reach Massillon territory but the Lion bid flunked at the Bengal 33. Hershberger and Dean gained 25 yards on the last five plays of the quarter and the Tigers continued to advance the pigskin in the final canto.
It was Dean, Pledgure, Hastings and Sparma stepping to the one before Dean ploughed through the middle for the Tigers' third and final six-pointer at 5:57. On the conversion attempt, the Lions put on a big rush and spoiled any chance for a placement by Sparma.
The maroon-shirted team made two first downs after the kickoff but was forced to relinquish possession at the orange 33 and two plays with one responsible for eight yards via a Sparma-to-Vogel connection, it was all over – and Alliance next for the Strang gang.
EIGHT TO GO
MASSILLON
Ends – Zorn, Vogel, Oliver, Barkman, Mitchell.
Tackles – Bordner, Donat, Herndon, Haines, Clicker.
Guards – Karrenbauer, Perry, Bednar, J. Kasunick.
Centers – Shilling, Snyder, Cooley.
Quarterbacks – Sparma, Finney, Snivley.
Halfbacks – Wood, Clark, Spencer, Radtke, Herhsberger, Pledgure.
Fullbacks – Dean, McKey, Morrow, Hastings.
CANTON LINCOLN
Ends – Dan English, Okey, Tabellion.
Tackles – Pikna, Caughey.
Guards – Thompson, Paratore, Frazier, Parrish.
Center – Brandstetter.
Quarterbacks – W. Billings, Crewse.
Halfbacks – Dave English, DeOrio, Wilson.
Fullback – Saimes.
Scoring by quarters:
Massillon 0 8 6 6 20
Lincoln 0 0 0 0 0
Massillon scoring:
Touchdowns – Pledgure run-1; Dean run-1; Vogel pass-22.
Extra points – Clark 2, run.
OFFICIALS
Referee – Mack Schaffer.
Umpire – Steve Hering.
Head Linesman – Octavia Sirgo.
Field Judge – Dick Klar.
STATISTICS
M L
First Downs – Rushing 14 5
First Downs – Passing 2 0
First Downs – Penalties 0 0
Total First Downs 16 5
Number of Rushing Plays 58 36
Yards Gained – Running
Plays 228 102
Yards Lost – Running
Plays 21 13
Net Yardage – Running 207 89
Passes Attempted 5 3
Passes Completed 3 0
Passes Had Intercepted 0 0
Yards Returned –
Intercepted Passes 0 0
Yards Gained – Passing 44 0
Net Yardage – Running and
Passing 251 89
Number of Kickoff Returns 1 4
Yardage – Kickoff Returns 26 66
Average Length of Kickoff
Returns 26 16.6
Number of Punt Returns 3 1
Yardage – Punt Returns 33 14
Average Length of Punt
Returns 11 14
Number of Punts 2 4
Average Length of Punts 31 27.7
Number of Fumbles 1 2
Own Fumbles Recovered 1 2
Ball Lost on Fumbles 0 0
Number of Penalties 0 1
Yards lost on Penalties 0 5