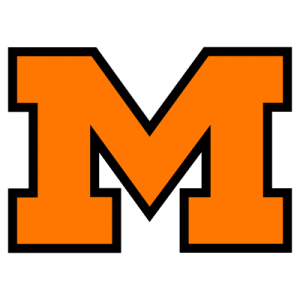 Warren's Rugged Presidents Lambast Tigers 32-12
SECOND LOSS OF YEAR FOR LOCALS
Powerful, Speedy Trumbull County Outfit Packs Too Much Stuff For Heavily Outweighed Massillonians' 20,000 See Contest
By FRED J. BECKER
It was again safe to walk the streets of Massillon this morning – those big, bad Presidents of Warren high school had left town and returned to their haunts over in Trumbull county. We took a look at those big fellows from eastern Ohio Friday night when they were turned loose in Tiger stadium and we hope we don't have to look at them again for a long, long time. Gosh, now we know why chills run up and down the spines of Canton McKinley's Bulldogs and their followers every time some one mentions the name Warren. Awful feeling, isn't it?
Those big, bad fellows from Warren didn't do right by our little Washington high school Tigers last night. They messed up our Tigers something terrible and transformed them from a snarling, ferocious jungle cat into a meek, badly mauled little pussy cat.
Capacity Crowd Sees Tigers Lose
They just can't do that to our Tigers, we said, but they did to the tune of 32-12 inflicting on the orange and black its worst defeat since the close of the 1942 season when the Canton Bulldogs came to Massillon and chalked up a 35-0 triumph. It was Massillon's second reverse of the 1944 campaign, Cleveland Cathedral Latin's Lions humbling the local lads 6-0 in the second game of the season.
More than 20,000 fans jammed their way into every available inch of seating space in Tiger stadium last night. It was the biggest crowd to see an Ohio high school football game this fall. And what a football team they saw in action – meaning those big, rugged, speedy Presidents.
Warren Has Power
Coach J. O. (Henie) Beck's gridders invaded Massillon with a record of 4 victories, a defeat and a tie.
And after watching them do a workmanlike job of taking the Tigers apart we wonder how any team ever tied the Presidents, let alone defeat them. Campbell Memorial tied Warren 13-13 just a week ago and early in the season Cleveland East Tech scored a 13-7 victory over them. The Presidents must have been well fed and in a rather playful mood those 2 nights. They were anything but playful last night and Coach Elwood Kammer's Tigers didn't have what it takes to stop a team as good as the Presidents were last night.
Big and powerful, with speed that was amazing, those Trumbull county gridders scattered Massillon's badly outweighed but game as they make'em little youngsters all over the gridiron as easily as a tornado knocks over everything in its path.
Smashing through and around the Tigers with the speed of lightning and the power of a block buster, the Warren aggregation rolled to 5 touchdowns, scoring in every quarter, once in the first, twice in the second ,and once in each the third and fourth periods. It was not until the fourth quarter that the Tigers even came near the Warren goal and in that final hectic stanza they punched out a pair of touchdowns for themselves to gain some measure of consolation out of the rout.
In sweeping to that 32-12 conquest of the Tigers, Warren scored its first points against a Massillon team since 1937 and chalked up its first victory in the Tiger-President rivalry since 1932. Warren has experienced many long, lean years since way back in 1932 but this victory they scored last night makes up for all the pushing around they have taken in recent years.
This year is also the first time since 1933 that Massillon has lost more than one game in a season. Back in 1933 Barberton and Canton McKinley inflicted defeats on the Tigers. The orange and black lost one game in 1934, that to Canton McKinley and then went undefeated until 1937 when New Castle, Pa., turned the trick and Mansfield was able to gain a tie. From then on until 1941 the Tigers had nothing but victories but in that season Mansfield again managed to tie the locals and in 1942 Canton McKinley chalked up its resounding 35-0 triumph. Now comes 1944 and in 7 games the Tigers find themselves on the short end twice with the annual duel with the Bulldogs still 3 weeks away.
Four Defeats In 97 Games
Since 1935 the Tigers have played 97 games and 93 of them have been Massillon victories. The record shows but 4 defeats and 2 ties over that span of years.
A good big fellow is always better than a good little fellow and that was the case out at Tiger stadium last night. The Warren Presidents were the good big fellows and the Tigers were the good little fellows and there wasn't much anyone could do to avert the beating the orange and black soaked up. They were just outclassed. The President's had just too much stuff. The Tigers made a fight of it al the way but they needed many more pounds of weight and speed that was comparable to that unleashed by the fleet-footed, hard driving Presidents.
You can't take anything away from the Warren gridders. Any team that plays football the way they played it last night deserves to win. They had everything and they were a much more formidable looking ball club than Cathedral Latin's Lions who blasted out a 6-0 verdict over the Tigers earlier in the campaign.
With a hard, fast charging line that ripped the Tiger forward wall to shreds, particularly in the first half, Warren's speedy, hard hitting ball toters had nothing to do but race through the holes they found in Massillon's defense and keep on running until some member of Massillon's secondary caught up with them and finally succeeded in bringing them down.
Warren's line spelled the difference between victory and defeat. It gave a great exhibition of how a line should perform and out played the Tiger forwards at most every stage of the game. Outstanding for the Presidents were Dan Bevan and John Stocz, a pair of giant tackles and Jack Polena at center.
Star Ball Luggers
And don't forget those Warren ball luggers, Leonard Corbia, giant Negro end, who runs with the speed of the wind once he's out in the open, twice breezed by the Tigers as if they were standing still on long romps across the Massillon goal. He was ably aided and abetted by Captain Ed Kvesich, a rugged, smashing fullback, seldom stopped without gain and Don Spencer, a crafty halfback who knows how to pick'em up and lay'em down and who can shit and dart like nobody's business.
The only thing the Tigers had last night that prevented the contest, from becoming a shambles was a forward passing attack which was better than any they have shown at any other time this season. Without that aerial threat the Presidents might still be running up touchdowns.
After a bad showing in the first half, the Tigers pulled themselves together and made it a ballgame in the last two periods.
But Warren with a 3 touchdown lead, amassed in the first two quarters, was too far ahead and too rugged for the orange and black to overcome.
The Tigers tried hard and gave everything they had but just didn't have enough ammunition to halt the invaders. If the Tiger line could have played on more even terms with Warren's big forwards and if the orange and black's tackling had been better it might have made some difference on the final result. Massillon's interference and blocking also was conspicuous by its absence. Warren's big forwards came roaring through the line before the Tigers could even form any sort of protection for their ball carriers.
Although the Tigers were handed a crushing defeat the statistics do not show them too badly outplayed not nearly as badly as the score would indicate.
Warren made 14 first downs to 10 for the Tigers. The invaders had a gross gain of 382 yards from all types of plays with a loss of 14 for a net of 368 yards. The Tigers had a gross yardage of 225 with a loss of 27, leaving them a net of 208.
Tiger Aerial Game Clicks
The Tigers tried 15 passes and completed 7 for 124 yards with 2 intercepted, one of the interceptions giving Warren a touchdown. Warren tried but 3 passes and completed 2 for 18 yards.
The first time Warren secured possession of the ball it was plain to be seen that the Tigers really had something on their hands in trying to stop that withering Warren running attack.
The first Warren touchdown came about midway in the opening quarter and the Presidents moved 44 yards without a break in only 6 plays.
Gaining the ball on Massillon's 44 following a punt, Kvesich lugged the leather to Massillon's 10 in 3 plays. An offside penalty set the Presidents back to the 15 but Kvesich smashed to the 9 and then smashed right through center and over for Warren's first set of counters. Spencer missed the try for extra point from placement.
Warren's second touchdown came much quicker than the first, only one play being required, that an end around sweep he dashed into the open behind fine interference and then outraced the Tigers in a sizzling romp of 45 yards and a touchdown. This time Spencer made good on his placekick and Warren was leading by 13 points.
Turning Point Of Game
What might be considered the turning point of the ball game occurred just as the second quarter ended. Another fumble by Williams gave Massillon the ball on its 32. The Tigers made a first down and then Paul Cary tossed an 18 yard pass to Wilmer Luke to put the bal on Warren's 25 but here the Tiger attack bogged down and Warren gained possession of the ball. The orange and black this time managed to check the Warren charge and Spencer punted to Massillon's 47. Cary tossed a pass to Webb for 19 yards putting the ball on Warren's 34 and then tried it again but this time his heave was wide of the mark.
Spencer intercepted the ball on his 5 and running craftily behind hastily formed but effective interference raced 95 yards down the west sideline and across the Massillon goal for Warren's third touchdown. Again Spencer failed to convert.
The play was one of those important breaks which often spells the difference between victory and defeat. Had Cary's pass gone to Webb, its intended receiver, it would have meant a touchdown for the Tigers because Bert was well out in the open and only a few yards from pay dirt. As it was the pass was intercepted by Spencer and he converted it into a touchdown for Warren.
The third quarter was unusual in that Massillon had possession of the ball for only one play but still managed to keep the Presidents from scoring more than one touchdown. The invaders, however, were in Massillon territory most of the time. A Warren touchdown was averted when Luke intercepted a pass on his goal line and Keller kicked out from behind the line but the Tigers couldn't keep Warren away from pay dirt all the time and late in the period the Presidents traveled 58 yards in 8 plays for their fourth score, the points coming when Spencer tossed a short pass to Williams from the 10 yard line with Williams going over. Spencer again failed to convert.
Tigers Finally Score
The fourth quarter finally saw Massillon break into the scoring column. Trailing by 25 points the Tigers still fought a ding dong battle with the giant Presidents and when Coggins, a substitute back, fumbled on his 4 yard line Bill Gable pounced on the ball and Massilon was on the way to its first touchdown. Don Sedjo, who had replaced Pedrotty in the second quarter and who hammered out some consistent gains through the Warren line, was called upon to carry the ball and he rammed through right tackle and across for the Tigers first points. He failed, however, on a plunge for the extra point.
But Warren was not yet through scoring, particularly the fleet-footed Mr. Corbin. Getting the ball on their 36 yard line after the kick off which went out of bounds the Presidents moved 64 yards in 4 plays. Spencer and Kvesich picked up a first down and then Kvesich was tossed for a 4 yard loss. On that next play Corbin was given the ball on his specialty, an end around and how he went around that end just like something shot out of a cannon and the next time the Tigers caught up with him he was back of their goal line. The run was good for 58 yards.
But the Tigers came right back to score their second touchdown. They took the kickoff on their 44 where it went out of bounds and showed the fans still remaining in the stands they also could march, traveling 56 yards in 6 plays for a touchdown.
Webb flipped a pass to Sedjo for 14 yards. Cary tossed one to Luke for 31 yards, Luke going to the 8 before being downed. Sedjo and Cary then alternated in ramming the Warren line and on the fourth play Cary went over from the 6-inch line for the score. Webb's attempt to run the ball over for the extra point failed and the score stood 32-12 Warren.
This One Hurts
Massillon, 12 Pos. Warren, 32
Gable LE Corbin
Green LT Bevan
Heltzel LG Cupples
Bonk C Polena
Brooks RG Blakely
Gibson RT Stocz
Luke RE Nadar
Keller QB Bollas
Cary LH Spencer
Webb RH Williams
Pedrotty FB Kvesich
Score by quarters:
Massillon 0 0 0 12 12
Warren 6 13 6 7 32
Touchdowns:
Massillon – Sedjo; Cary.
Warren – Kvesich; Corbin 2; Spencer; Williams.
Points after touchdown:
Warren – Spencer 2 (placekick).
Substitutions:
Massillon – Ielsch, lt; Sedjo, fb; McGuire, lh; Clark, le; Zeller, le; Giloff, qb; Cicchinell, lg.
Warren – Busby, fb; Lefhgeber, le; Aurand, le; Murray, re; Spelich, rt; Coggins, rh; Fritz, rh; L. Reed, lh.
Referee – Lobach.
Umpire – Rupp.
Head Linesman – Groff.
Field Judge – Shafer,
Statistics
Mass. Warren
Total first downs 10 14
Yards gained by rushing 101 364
Yards lost by rushing 27 14
Net yards gained by rushing 74 350
Forward passes attempted 15 3
Forward passes completed 7 2
Yards gained by passing 124 18
Total net yardage,
rushing and passing 198 368
Passes had intercepted 2 0
Number of punts 4 2
Average distance of punts 37 35
Number of kickoffs 3 5
Average distance, kickoffs 25 22
Number of fumbles 3 3
Times ball lost on fumbles 2 3
Number of penalties against 4 11
Yards lost by penalties 20 85