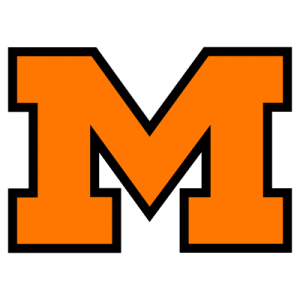 Tigers Romp Over Mansfield 33-0, For Sixth Triumph
SECOND STRINGERS PLAY GOOD GAME
Early Passing Attack Sends Orange And Black Out In Front Early In Game; Massillon's Hard Tackling Stops Visitors
By FRED J. BECKER
Independent Sports Editor
As Tiger battled Tyger at Tiger stadium Friday night almost 14,000 fans left the battleground late in the evening convinced that the Tiger to string along with is the Tiger with an "i" in his name. That's the Washington high school Tiger of Massillon gridiron fame and the toughest Tiger in or out of captivity to tame.
The weatherman was kind – no rain until the game was almost over and the Massillon Tiger was in fine fettle, so much so that he made mincemeat of the visiting Mansfield high school Tygers in a great display of offensive and defensive ability while chalking up Massillon's sixth straight triumph of the 1943 campaign by a 33-0 score.
TIGERS SCORE IN EVERY QUARTER
Rolling up five touchdowns and scoring in every quarter, Coach Elwood Kammer's aggregation Friday night gave another demonstration of power and resourcefulness which should at this date at least, establish them as the outstanding schoolboy aggregation in Ohio.
Although his regulars played as a team less than a quarter of list nights fry there was no question at any time of Massillon's superiority over the Mansfield gridders who have as they only claim to fame the fact that twice within the last seven years they have been able to hold the Massillon Tiger to two tie scores, those games being played in 1941 and 1937.
Massillon's second team played nearly the entire second half and this is the first time this season Kammer was able to give his regulars any considerable rest. Third stringers were manhandling the invaders when the game ended.
GREAT DEFENSIVE PLAYING
It was a game marked by some great defensive playing on the part of the orange and black, their tackling probably being the most vicious they have displayed all season, with Dick Arrington, Bob Williams, Bob Wallace, Glenn Keller and Don Sedjo rocking the Mansfield backs time after time with their teeth-rattling tackles.
As a whole the Tigers last night gave a thrilling exhibition of power and ability, probably their best of the season, and for once the record of first downs does not give a true picture of Massillon's superiority over the Richland county lads. Massillon made 12 first downs while Mansfield had 10. This would indicate a rather close engagement, but it was anything but that with Mansfield only twice getting inside the local team's 40-yard line and never being able to set up a scoring threat.
The figures, which really show Massillon's decisive edge over Mansfield, are those covering the yardage gained. In this department the Tigers covered Mansfield more completely than a tent covers a circus. Kammer's aggregation had a total gross yardage of 418 from all plays with a net loss of 35 yards, giving the Massillonians a net yardage of 318. Mansfield picked up 102 yards from all plays with a net loss of 25, leaving the visitors only 72 yards as their net gain.
With a dry field underneath and no rain coming from above, the Tigers took to the aerial game Friday in a big way, uncovering their biggest overhead attack of the season. They attempted 15 passes, completing seven, for a total gain of 175 yards, which is a pretty good forward passing mark. Mansfield attempted nine passes, completing only three for but 18 yards with Massillon intercepting two.
Offensively Captain Bob Wallace, Romeo Pellegrini and Henry Mastriann played their usual good games with Wallace continuing to show improvement as a ball toter. The boy is really beginning to turn on the speed and he has plenty of drive. Mastriann left the game early in the second quarter, having his bad side bumped again. Glenn Keller, in addition to carrying out his blocking assignments, also showed himself an adept ball lugger, scoring one of Massillon's touchdowns.
SEDJO, TURKALL SHINE
Outstanding offensively for the second team was Don Sedjo, who replaced Mastriann at fullback, and Vic Turkall, whose running, passing and punting provided some of the highlights of the encounter. Sedjo may not be a very big lad but he has intestinal fortitude aplenty and lots of what it takes to smash his way though an opposing line.
Wearing tan uniforms against which it was hard to detect the ball, Mansfield displayed at times a deceptive ground attack but had only one man in the backfield who made any impression on the Tigers. He was Mike Zivkoff, a mighty fine ball carrier, who made the most of Mansfield's gains. Mike would look good on any team. Bill Lewis, big, rangy end, distinguished himself by his excellent punting.
The Tigers having read quite a lot about Mansfield's famous goal line stands this season, particularly against Springfield a week ago, decided that if the Tygers were tough that way there were other ways to soften them up and this they did in a hurry, uncorking a deadly forward passing attack that paved the way for two quick touchdowns in the first period and had Mansfield reeling against the ropes almost as soon as the battle began.
Those deadly Massillon aerials propelled by the accurate tossing arm of Romeo Pellegrini and some clever catching by Bob Wallace and Tom Jasinski punched big holes in the Mansfield defense early in the game and set up the Tygers for the knockout wallops which were to follow in the next three periods.
The brilliance of Massillon's offense last night is best shown by the distances they traveled for their touchdowns. The first Massillon touchdown came on nine plays after an unbroken march of 55 yards. The second was engineered in one play and covered 74 yards. The third came on eight plays in which the Tigers traveled 56 yards without a halt. The fourth was chalked up on three plays and covered a march of 45 yards. The fifth took three plays and completed a march of 52 yards.
These figures show that once the Tigers gained possession of the ball they were really intent on going places, which they did, much to the delight of their Massillon supporters and to the dismay of more than a 1,000 Mansfield rooters who really thought their team was good enough this year to provide the Massillonians with an argument.
Kammer's boys were out for blood last night and so Mansfield will have to wait at least another year before getting a chance to humble the Tigers.
SCORE EARLY IN GAME
The Tigers received the opening kickoff, taking the ball on their 45 and marching it right down the field for a touchdown in nine plays. Don Willmot received Bill Lewis opening kick and lugged the ball back from his 15 to the Massillon 45 before being downed. Willmot, by the way, was one of the major casualties in last night's duel, sustaining a wrenched back.
Bob Wallace smashed through his left tackle on the first offensive play for 12 yards to Mansfield's 44 before Russ McBridge pulled him down. Pellegrini hit through right tackle for six before McBride stopped him. Mastriann plugged through the center of the line for five and first down on Mansfield's 32. Pellegrini ran wide at right end without gain, being stopped by Zivkoff. Mastriann made eight at the line but the play was called back and Massillon penalized five for backs in motion, putting the ball on Mansfield's 37.
Pellegrini passed to Jasinski but Massillon was guilty of clipping and a 15-yard penalty took the ball back to the Tigers' 49 yard stripe.
Then Pellegrini faded back and tossed a long pass to Tom Jaskinski, the big Massillon end outdistancing the Mansfield safety man to make a beautiful catch and racing to Mansfield's two yard line before being pulled down. It was good for a gain of 47 yards.
Mastriann was called upon to crack the Mansfield line and scored a touchdown. His attempted place kick was wide.
Jasinski kicked off to Mansfield and the visitors threw their biggest scare of the night into the Tiger camp. Schmidt took the kick and on a pretty fake reverse steamed down the field to the Massillon 30 before being tossed. It was a beautiful run but went for naught when officials ruled a Mansfield player had been offside on the kickoff and called for another kickoff. That was the nearest the Tygers got to Massillon's goal line all night, except just as the game ended.
It was late in the first quarter when the Tigers wracked up their second touchdown and again a beautiful forward pass was the scoring medium.
Lewis punted to Pellegrini who took the ball on his 15 and raced it back to the Massillon
26-yard line. Only one play was required to gain the score. Once again Pellegrini faded back and tossed a pass, a long one, which went right into the waiting arms of Captain Wallace, who had outrun the Mansfield safety-man. Wallace too the ball on Mansfield's 40 and with a clear field ahead, ambled over the chalk lines and across Mansfield's goal without a hand being laid on him. Pellegrini's pass to Wallace covered 34 yards. Once again Mastriann failed to convert from placement.
It was here that Kammer began sending in his second stringers. Belch taking over for Arrington who had played a great game but who has been nursing a bad leg for the past two weeks. Mastriann had his side bumped early in the second period and Sedjo replaced him.
56 YARD MARCH
Massillon's third touchdown came after a march and 56 yards about midway in the second period. Pellegrini took a Lewis punt on his 35 and ran it back to his 44. In eight plays the Tigers had their third set of counters. Arrington came back in the game and Pellegrini, running around his right end without interference, went for a first down to Mansfield's 46. Sedjo smacked the line for six and Wallace scampered to Mansfield's 21 on a brilliant dash only to lose the gain when a Massillon back was ruled in motion. The ball was called back and a five yard penalty put the ball on the visitors' 45. But Captain Wallace was not to be denied his chance to run. Taking the ball and cutting through left tackle, Bob reversed his field, cut sharply to his right and raced down the field to the Mansfield 15 for a gain of 30 yards. Sedjo hit the line for five and Wallace made six at left tackle. Pellegrini on a reverse missed first down by inches.
Then Wallace grabbed the leather and running wide around left end dashed through an almost clear field for the remaining distance and the third Massillon touchdown. Vic Turkall who replaced Pellegrini after the touchdown made good on the kick from placement to boost the Tiger count to 19.
Five second stringers, Turkall, Sedjo, Dick Ielsch, Wilmer Luke, and Bob Belch were in the lineup when play was resumed in their third quarter and the regulars who started this period were soon pulled by Kammer, putting a complete second team on the field and these boys took care of the fireworks in fine shape until late in the game when they were replaced by third stringers.
Tom Jasinski paved the way for the fourth Tiger touchdown by making a beautiful catch as he intercepted a pass by McBride on the Massillon 45. Sedjo and Turkall combined to make life miserable for Mansfield and Keller applied the finishing touches to give Massillon its fourth touchdown in three plays.
Sedjo rammed through a big hole in the middle of the line for 11 yards. Then Turkall, running behind excellent interference and blocking raced through right tackle and romped down the field to the four-yard line before being pulled down from behind. Keller went around right end for the score. Turkall's attempted placekick was blocked but Wallace picked up the ball and ran through the Mansfield team for the extra point, boosting Massillon's total to 26.
TURKALL ON RAMPAGE
Turkall was the big noise in the Tigers' fourth touchdown, which came about midway in the fourth quarter. Lewis punted to Vic who made a nifty return of 25 yards before being run out of bounds on Mansfield's 47. Then he took the leather and carefully picking his way he raced around right end and down to the 19 yard line before being stopped, a gain of 35 yards on a fine run. Webb at left end picked up six yards and then Turkall once again threaded his way through right tackle and across the goal on a 13-yard dash. Three plays were all that were needed to tally the points.
Turkall made good on his placekick and Massillon was heading the procession with 33 points. Massillon's third stringers took over after the kickoff and finished the game. Zivkoff and Lewis had lugged the leather to Massillon's 25 as the gun ended the battle.
Mansfield's best offensive showing came in the third quarter soon after Kammer sent his entire second team into the game. The Massillon lads hadn't a chance to get their bearings before Zivkoff, Roland Schmidt and Dominic Musille romped through them to the Massillon 30 but the Tigers stiffened here and took the ball away from the visitors as the period ended. After that the second stringers were as complete masters of the invading Tygers as had been the regulars.
A Torrid Tiger
Massillon – 33 Pos. Mansfield – 0
Willmot LE S. Musille
Arrington LT Komjenovich
Tonges LG Schafer
Williams C Miller
Gable RG Parry
Berger RT Eizel
Jasinski RE Lewis
Keller QB McBride
Pellegrini LHB Zivkoff
Wallace RHB Schmidt
Mastriann FB D. Musille
Score by quarters:
Massillon 12 7 7 7 – 33
Touchdowns: Mastriann, Wallace 2, Keller, Turkall
Points after touchdown: Turkall 2, (place kick) Wallace (run)
Substitutions: Massillon – Luke, Belch, Sedjo, Heltzel, Turkall, Profant, Pedrotty, Webb, Clark, Ielsch, Richards, Cincchinelli, Stevens, Weekes, Slusser, Edie, McGuire, Rouhier, Green, Bonk, Matako, Millar, Makowski.
Mansfield – Jacobs, Dent, Hartig, Konjenovich.
Referee: Lobach.
Umpire: Gross.
Headlinesman: Boone.
Field judge: Shafer.
Statistics
Tigers M'field
Total first downs 12 10
Yards gained by rushing 242 34
Yards lost by rushing 35 25
Net yards gained by rushing 208 59
Forward passes attempted 15 9
Forward passes completed 7 3
Yards gained by passes 175 18
Total net yards rushing
and passing 383 77
Passes had intercepted 0 2
Number of punts 5 7
Average distance of punts 36 40
Number of kickoffs 6 1
Average distance of kicks 34 47
Number of fumbles 1 2
Times ball lost on fumbles 0 1
Number of penalties against 8 2
Yards lost by penalties 50 20