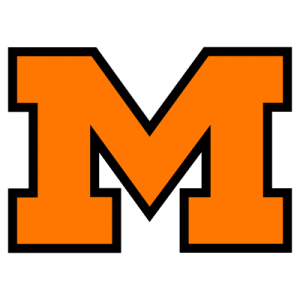 15,000 Watch Tigers
BRILLIANT ATTCK RIPS FOE APART
Orange And Black In Great Reversal of Form And With Deadly Passing Attack Smashes To Third Triumph And Biggest Win Of Season
By FRED J. BECKER
Independent Sports Editor
The only Tigers four-legged variety we know about are those we've seen in a circus menagerie. They're big, power looking beasts arrayed in a sleek coat of orange and black with a ferocious twinkle in their eyes. They're nice to look at but we have always been glad a sturdy cage of steel bars has separated us. We have never had a yearning to meet one out in the open.
Now Massillon is the habitat of another type of Tiger – two-legged variety – commonly known as the Football Tiger. They turn him loose about once a week each fall on what they call a gridiron and brother, when he's in the mood he's just as ferocious as the four-legged variety must be when he's roaming the jungles. If you don't believe it drop a note to Akron St. Vincent's high school where you probably will be quickly informed that the only safe place for any Tiger – four-legged or two-legged – is behind steel bars, at all times.
Irish Are Badly Mauled
And they should know for they tangled with the two-legged Tiger as recently as Friday night out at Tiger stadium and the boys who tried to stop him will be a long, long time recovering from the artistic mauling they took. The scars of their wounds will leave an imprint on the pages of football history for years to come.
All of the above is a preamble to the statement that the Tigers of Washington high school, in a blood thirsty, savage mood, last night, ripped apart what had been touted as a sturdy, formidable Akron St. Vincent's football team 46 – 0 in an almost unbelievable display of football ability that left a great gathering of at least 15,000 frenzied fans pop-eyed and pinching themselves when it was over to make sure that what they had just witnessed had been real and not a dream.
Third Straight Win
It was Massillon's third straight victory of the 1943 campaign and the biggest crowd of the season sat in on the kill. The two previous Tiger victories had not been impressive or inspiring. They had been achieved in a more or less ordinary manner by what appeared to be an ordinary football team. The impression prevailed that if those Tigers ever really got in the mood to go places they could.
Well the impression was quite correct for last night the Tigers were in that kind of a mood and the manner in which they manhandled the green and white clad Irish of Akron must strike terror in the hearts of the opponents still remaining on the Massillon schedule.
Those Tigers have everything it takes to be a mighty fine football team. They showed it last night and when the chips are down they'll do to string along with.
And after that convincing triumph is there any one round brave enough to say that scholastic football as played in Akron has any right to be compared with that played in Massillon? The Tigers Friday night certainly made monkeys of we typewriter jockeys and a lot of others who for a week had been predicting that St. Vincent's had at least an even chance of winning. But we don't mind. The Tigers, by their none too impressive showing in their first two games had paved the way for those predictions and then thoroughly aroused that such a situation could exist went out and showed what they really could do when faced with a possible defeat and the shattering blow to Tiger prestige which would follow such a defeat.
Brilliant Passing Attack
The Tigers last night looked and acted the part of a great football team. They did everything and did it right. Offensively they smashed through the sturdy St. Vincent's line and skirted the ends almost at will and they had something else – a forward passing attack that clicked with amazing regularity and precision.
Up until last night the Tigers aerial attack had been almost nil. They had completed but one pass in two games and that brought them exactly nothing. But it was a different story Friday night –quite a different story.
Seven touchdowns were rolled up by Coach Elwood Kammer's amazing lads and forward passes set up or were directly responsible for four of them. Two sets of counters were made on aerial heaves, two others were made possible by successful passes, one came through rushing, one an intercepted pass and a blocked punt paved the way for the other.
Defensively the Tigers were supreme. The invading Irish were inside Massillon's 20 yard line only twice, getting the ball to the 15 in the second 2quarter by recovering a Massillon fumble and in the fourth quarter getting as far as the nine yard line through the help of a long forward pass.
For two weeks Massillon fans have been waiting for Captain Bob Wallace to take off the wraps and go to town. Bob this fall was moved from the line to a backfield post and in the first two games the Tiger leader's offensive playing left a lot to be desired. But last night young Mr. Wallace really took off the wraps and proved that the Tiger coaches were right when then decided to shift him to the backfield. On the strength of his showing last night Wallace is a pretty fair man in a ball totin' job. The Massillon captain ran the ends for big gains, caught passes, and played quite a defensive game, blocking two punts, one setting up a Massillon touchdown.
Tigers Perform Well
But don't forget the other three boys in the Tiger backfield – Romeo Pellegrini, Henry Mastriann, and Glenn Keller. They did all right – quite – all right. Pellegrini, who sparked the Tigers in their first two games by his long runs, went to pitching forward passes in a big way last night and he tossed plenty of strikes into the waiting arms of Tom Jasinski, Don Willmot and Wallace. Mastriann played his usual steady game, smashing through the Akron line for numerous gains and Keller was in there all the way doing a good job of blocking on offense and a fine piece of work on defense.
The same was true of the line. The forward wall ripped huge holes in the Irish defenses for the Massillon backs to ramble through and on defense they completely smothered Akron's attempts to gain. A lot had been said about the speed of John Schlosser and Jim Wilhite, Akron's two standout backs, once they got by the line of scrimmage.
Well maybe that's true but last night the Tigers didn't give them a chance to turn loose their speed. The Akronites were generally smothered long before they ever had a chance to get out in the open.
That sturdy Tiger line did its job in a most effective manner from Jasinski on the one flank to Willmot on the other. The Tiger ends really showed their worth last night. They got out in the open to receive Pellegrini's accurate passes and their defensive performance was fine. Dick Arrington and Bob Belch and Larry Berger on the tackles, Julius Tonges and Bill Gable on the guards and Bob Williams at center were just too many Tigers for the Irish to handle.
It has always been said that Pellegrini could toss passes if he was afforded the right kind of protection and the receivers got out where they should be. Well Pellegrini got the right kind of protection last night and the receivers were where they should be and Romeo had himself a great time pitching strikes.
Tigers Score In Every Quarter
Massillon scored on touchdown in the first quarter, three in the second, one in the third and two in the fourth. Statistics readily show the Tiger superiority. Massillon made 15 first downs to seven for St. Vincent's. The Tigers completed seven of 15 passes for 156 yards, two of which were good for touchdowns. Akron tried 16, completed five for 83 yards. Massillon intercepted four Akron passes while one Tiger aerial was intercepted by the Irish.
The Tigers had a net gain of 402 yards from all types of plays while Akron had only 83.
It took the Tigers a little better than eight minutes to ring up their first set of counters. Massillon received but was forced to punt and Schlosser reeled off a first down in three plays. Bill Latham, however, lost 15 on a bad pass from center and Russ Smith, St. Vincent's little southpaw passer and kicker and a mighty game little kid, lost seven more on another bad pass. Then Wallace busted through to block Smith's punt, the ball going to Massillon on Akron's 17. The Irish once again checked the Tigers and held for downs, taking the ball on their 15. A 15-yard penalty for holding took the ball back to St. Vincent's 3 and then Smith punted from behind his goal line to the Irish 43-yard line.
Mastriann Scores First
Here the Tiger machine began to function. Pellegrini swept around right end for nine, Mastriann plugged the line for six and a first down. He rambled through the Akronites for 11 more on the next play to put the ball on the 17. Again Mastriann hit for five and Pellegrini went for two. The Tiger fullback on a spinner drove to the Akron four yard line but the play was called back and a five yard penalty on Massillon for offside took the ball back to the 12. With second down and seven to go Pellegrini flipped a pass to Jasinski who was downed on the Akron one-yard line. Mastriann plunged once and it was a Massillon touchdown. He place-kicked for the extra point.
Early in the second quarter Mastriann fumbled and Akron covered on the Tiger 15-yard line. The Irish threat, however, was soon erased. The visitors could get nowhere, either by running or passing and Massillon took the ball on downs on its 15. Mastriann and Pellegrini engineered two first downs on line plunges and end sweeps and then Wallace took off the wraps and began to run. With the ball on Massillon's 40, Wallace dashed wide around end and when he was brought down he was 20 yards closer to Akron's goal, the ball resting on St. Vincent's 40. Mastriann hit for nine and once again Wallace found a big opening at left tackle and scampered 23 yards to Akron's seven before being halted by Smith. Once more Wallace hit the left side and this time he was stopped two feet from the goal line. On the next play he went over for Massillon's second touchdown. Pellegrini passed to Willmot for the extra point.
Kammer began to send in some of his reserves but the Tigers were traveling under a full head of steam by now and there was no stopping them.
Akron received and on the first play after the kickoff Glenn Keller intercepted a pass from Schlosser in midfield and dashed 50 yards down the west side of the field on a beautiful run for the third Tiger touchdown. Pellegrini and Gable were among the Tigers who blocked out Akronites who might have stopped Keller's goalward dish. Mastriann's place kick was wide.
A 15-yard penalty for offensive interference cost Massillon a chance for another touchdown a bit later and Akron gained the ball but was forced to punt. By this time Kammer was sending in a steady stream of substitutes and at one time Wallace was back on the line with Williams shifted from center to tackle, but when Willmot intercepted Wilhite's pass on the Massillon 20 the Tiger team went back to its original lineup. Pellegrini hit for 10 as the quarter ended and Mastriann opened the fourth with an eight-yard gain on a spinner. Wallace raced around right end for 18 to Akron's 45. Mastriann hit the line for six but Pellegrini was tossed for a nine-yard loss. Then the Tigers dusted off the old Stature of Liberty play and Wallace grabbed the ball and raced wide around left end for 14 yards and a first down on Akron's 34. A five yard penalty on Akron for delaying the game put the ball on the 29 from where Pellegrini and Jasinski again teamed up for another Massillon touchdown.
Jasinski and an Akron player made a bid for Pellegrini's pass and the ball bounded into he air but when it came down Tom was there to grab it and scampered 15 yards for thescore.
Massillon's entire second team went into the game and Akron threatened when Gauthler grabbed a long pass from Longville and raced to Massillon's 16, before being stopped by Don Stevens. The Tiger regulars were rushed back in and they checked the Irish, taking the ball on Massillon's nine. Pellegrini clipped off a first down. Wallace raced around left end for 18 to his 41 and then Pellegrini passed to Wallace for 15 to the Akron 44. Another Pellegrini to Wallace pass was good for 29 and the ball was on Akron's 15 from where Pellegrini raced around right end for the seventh and final Massillon touchdown.
Nearly every member of the Massillon squad got into the game and all of them came out in good physical condition. Mastriann sustained a slightly injured hip and Keller had a slight cut inside his mouth.
Happy Tiger Team
It was a happy Tiger team that romped in the dressing room after the game. And they had reason to celebrate.
Coach Kammer, while highly pleased with the job his boys had done, was already thinking about something else – that something being next Friday's game at Steubenville.
"The kids did all right tonight, " said Kammer, "but don't forget next week comes Steubenville and that's going to be something different."
Over in the St. Vincent's dressing room Eddie Wentz, capable and affable coach of the Irish, sadly shook his head and wondered what kind of a blitz had struck his team.
"Gosh, I thought we had a better ball club than that," said the Akron coach. "Those boys of mine seemed to be pretty badly scared out there for some reason and nothing seemed to work right."
Well, Eddie, those Tigers were torrid enough to frighten most any foe last night.
And Tigers, keep'em frightened, particularly in Steubenville.
What A Tiger!
Massillon – 46 Pos. St. Vincent's
Willmot LE Kil
Arrington LT Sovach
Tonges LG
Williams C Gaffney
Gable RG
Belch RT
Jasinski RE Gauthler
Keller QB Smith
Pellegrini LH Schlosser
Wallace RH Wilhite
Mastriann FB Latham
Score by quarters:
Massillon 7 20 7 12 – 46
St. Vincent's 0 0 0 0 – 0
Touchdowns: Mastrainn 2, Wallace, Keller, Jasinski 2, Pellegrini,
Points after touchdown: Mastriann 2 (placekicks), Willmot (pass), Jasinski: (pass).
Substitutes: Massillon – Berger, Luke, Heltzel, Webb, Stevens, Pedrotty, Sedjo, Profant, Richards, Ielsch, Cicchinelli, Clark, Slusser.
St. Vincent's – Kelly, Kertesz, Falkensten, Thorpe, Longville, Suscinski, Timma, Raff, Laterza, Cook, Mariola, Mald, Alburn.
Referee – Boone. Umpire – Rupp.
Headlineman – Graff. Field Judge – Shaffer.
Statistics
Tigers Akron
Total first downs 15 7
Yards gained by rushing 263 51
Yards lost by rushing 23 50
Net yards gained by rushing 246 1
Forward passes attempted 15 16
Forward passes completed 7 5
Yards gained by passing 156 82
Passes had intercepted 1 4
Total net yardage passing
and rushing 392 83
Number of punts 1 6
Average distance of punts 14 23
Number of kickoffs 8 1
Average distance of kicks 28 35
Number of fumbles 3 2
Times ball lost on fumbles 1
Number of penalties 7 4
Yards lost by penalties 65 30