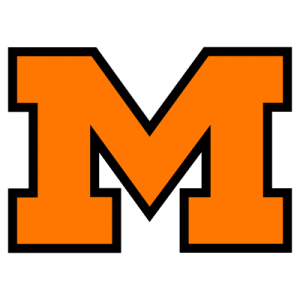 TIGERS PREPARE FOR PORTSMOUTH INVASION
Happy Over Smashing 40-7 Victory at Mansfield Saturday, Washington High Eleven Meets Ohio River Foe Next
By LUTHER EMERY
Spurred on by the 40-7 drubbing they administered to a highly touted Mansfield team Saturday, the Washington high Tigers began preparations today for the invasion of Portsmouth Friday evening and the Booster club at the same time planned a meeting for tonight to sing the praises of their latest victory and to make plans for a special train to New Castle, two weeks hence.
Emerging from the Mansfield game in good condition despite the unfavorable hot temperatures, the Massillon outfit surveyed its injuries and found only a few bumps and bruises. In tip-top shape, the team was on its feet throughout the game, while a fast tiring Mansfield team lapped water.
Cross Goal Six Times
It was a touchdown hungry Tiger outfit that Coach Paul Brown turned loose before 6,000 fans Saturday afternoon. Six times the eleven crossed the Mansfield goal and only nervous fingers and inability to hold the ball prevented them from scoring on two other occasions when fumbles were recovered by Mansfield on its own one-yard line.
The score surprised even the most optimistic Massillon fan who thought he was liberal in picking the Tigers to win by two touchdowns.
The same high class interference that cut a path to victory in the opening game with Cleveland East cleared the way through the jungles of the Mansfield Tygers.
"Look at that blocking that's what's beating us," were words heard continually in the press box as Mike Byelene and little Edgar Herring skirted the ends and cut through tackles. "It's the bet team I have seen play on this field," said Oscar Ruhl, Mansfield sports editor. "It's a better team than Sandusky showed us last year."
And so Mansfield took the defeat graciously, took nothing away from the Tigers, but praised them as a fine football team and admired the spirit of Massillon in sending some 2,000 fans to the game.
Many Massillon Cars
The road between Mansfield and Massillon was one streak of orange and black, before and after the game as cars with banners bearing Tiger heads and trimmed with colored ribbons dashed in and out of Richland County. Two airplanes also made the round trip hop carrying five passengers for versatility's sake. The Tiger band was there too, despite a burned out bearing on the bus and gave a demonstration of letter making between halves that was applauded by fans of both schools. The Mansfield band, fortified by a girls drum corps, making its debut, also drilled and poured fourth music from a corner of the field.
It did not make the Tigers long to prove their superiority. Byelene brought Bill Distl's kickoff back to the 35-yard line and there began a drive that failed to produce a score only because the ball bounded out of Herring's arms on the one-yard line, Distl recovering for the Tygers.
Distl punted the Tygers out of the hole with a 60-yard boot from behind his own goal to Herring who caught it on his own 40 and scampered back to the (unreadable) befpre being downed.
Another forward march began but it ended on the 22-yard line where a 15-yard penalty was inflicted on the Tigers. They tried to pass to make up the loss but Distl intercepted on his 25. Failing to gain but one yard in two downs, Distl punted to Herring who caught the ball on his 38 and returned 10 yards to his own 48.
Tigers Score First Touchdown
Another offensive got underway. Herring cut through right tackle for three yards and Byelene made six on a center plunge. Byelene reeled off 18 to the 25-yard line. Herring made three yards at center and skirted his right end to the two-yard line. Glass and Byelene only moved the ball up a yard but Herring took it over on third down through his right tackle. Glass kicked goal.
Glass kicked off and after Olin had brought the ball back to his 35-yard line; Hallabrin flashed Mansfield's first offensive effort when he made 11 yards at right tackle for a first down on his 46-yard line. That ended the first quarter.
On the opening play of the second period Distl lost what Hallabrin had gained when tackled viciously by Charley Anderson after having taken a lateral pass. Hallabrin only made two yards at center and Distl punted to Byelene who signaled for a fair catch but who fumbled when a Mansfield player tackled him, Mansfield recovering. The Tigers were permitted to keep the ball on their 38.
Herring made three at right end and Byelene went around the left side for a first down on the Tygers' 40. A pass failed, but Herring raced around right end for a first down on the 10-yard line. Glass carried to the one-yard line but fumbled, Mansfield recovering.
Hallabrin made but two yards and Distl punted to Byelene who was downed on the Tygers' 32. Byelene passed over the goal line too high for Anderson to snag. Byelene skirted left end and was tossed out on the 14-yard line. Herring went around right end for a touchdown. Glass' kick was wide, but Mansfield was offside and the Tigers were given another chance. This time Herring sneaked over for the extra point.
Two Plays Net Touchdown
Glass unleashed a powerful kickoff that sailed over the goal and the ball was given to Mansfield on the 20. Two plays netted seven yards and Distl on third down punted poorly to Snyder who raced back to the Tygers' 25-yard line before being tackled. Glass immediately plunged for a first down on the 11-yard line and on the next play Byelene went over for a touchdown, Glass kicking goal.
The Tigers threatened again in the period carrying the ball to the eight-yard line where they lost it after twice passing unsuccessfully over the goal line. The half ended with the score 21-0.
Mansfield flashed its only offensive in the third quarter when each team made a touchdown.
The two Andersons put the Tigers in position for their score. Charley blocking Distl's punt and Junior recovering on the Mansfield 30. Byelene snapped the ball to Odell Gillom for a first down on the seven-yard line. Herring made two at right tackle and Glass plunged through for the touchdown. His attempted placekick for the extra point was wide of the uprights and the score was 27-0.
Mansfield Scores Touchdown
Then came Mansfield's one big effort. Luckie returned Glass' kickoff to the Mansfield 40. Hallabrin grounded a pass. He carried the ball on the second play for a gain of nine yards. He tried it again and failed to gain, but on fourth down, Distl plunged through for a first down on Massillon's 47.
Hallabrin made three yards at left tackle. A pass was grounded. Banks made four yards at right tackle and on fourth down, Hallabrin crossed up the Tigers who were looking for a punt and dashed to the 12-yard line before he was brought down. Hallabrin made two yards and Massillon was penalized five for being offside. That put the ball on the five-yard line. Hallabrin in two attempts made it first down on the one-yard line. Distl failed to gain, but Hallabrin took it over for a touchdown and kicked the extra point. The period ended with the score 27-7.
The Tigers took the kickoff at the start of the fourth period and marched to a touchdown. Herring brought the ball to his 34-yard line. He went around left end to his own 47 and Glass plunged through to the Mansfield 47. Glass lost eight yards when an attempted lateral was smothered. Herring and Byelene immediately carried to a first down on the Mansfield 42. Herring went around right end for 12 yards. Glass failed to gain, but Byelene shot the ball to Anderson for a first down on the 18-yard line. Herring fumbled but Byelene recovered for a nine-yard gain. Byelene made it first down on the six-yard line. Glass hit center for five and Herring went over from the one-yard line. An attempted pass for the extra point was smothered.
Charley Anderson put the Tigers in position for another touchdown right after the kickoff when he recovered a fumble on the 11-yard line. Dick Schrake made a yard at right end, but two passes were grounded by Mansfield and Byelene failed by a yard to make a first down and the ball was lost. Distl passed to Hallabrin for a first down on the Tygers' 18, but three more passes in a row were grounded and Distl punted to Schrake who got back to the 40-yard line. Byelene hurled a pass to Schrake for a first down on the 11-yard line. Mansfield was penalized five yards for holding. Byelene went to the four-yard line and Glass took it over standing up. Schrake plunged for the extra point and the game ended at 40-7 with Coach Brown sending in a complete new team.
The Tigers in their romp made 23 first downs to Mansfield's seven and completed five of 17 passes for a gain of 92 yards. One pass was intercepted.
The Booster club will meet this evening at 7:30 in the Washington high auditorium. Coach Paul Brown will talk over plays used in the Mansfield game and what can be expected from Portsmouth. The club will take steps to charter a special train to New Castle, Oct. 18.
Tigers' Second
Massillon Pos. Mansfield
Gillom LE Luckie
J. Anderson LT Sandel
Wyatt LG Bucher
Snavely C Locke
J. Miller RG Bookwalter
Peters RT Heiser
C. Anderson RE Dials
Byelene QB Hallabrin
Herring LH Distl
Snyder RH Banks
Glass FB Weigand
Score by periods:
Massillon 7 14 6 13 40
Mansfield 0 0 7 0 7
Substitutions:
Massillon – Schrake, lh, qb; Dixon, lh; Lee, c; Pizzino, fb; Harsh, lt; Howard, rg; Greenfelder, lg; Wurzbacher, re; Edwards, le; B. Miller, rt; Herman, rh; Swoger, rt.
Mansfield – Schadek, le; Olin, le; Sturgeon, lt; Davis, rt; Dent, lh; Au, fb.
Touchdowns:
Massillon – Herring 3; Glass 2; Byelene.
Mansfield – Hallabrin.
Points after touchdown:
Massillon – Glass 2 (placekicks); Herring (carried); Schrake (carried).
Mansfield – Hallabrin (placekick).
Officials:
Referee – Bechtel (Wittenberg).
Umpire – Hamm (Kenyon).
Head Linesman – Graf (Ohio State).