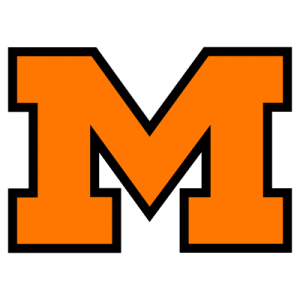 MASSILLON TRIMS ALLIANCE IN FIRST COUNTY TITLE DUEL MUDDY ENCOUNTER
WON BY STEWART OUTFIT, 13 TO 6
Plowing through mud and water in a drenching downpour football warriors of Washington high school last Saturday afternoon plastered a 13 to 6 defeat upon Alliance high in a sloppy gridiron contest on the Mount Union athletic field. Alliance winning their first contest in the annual triangular series with Canton McKinley and Alliance for the scholastic championship of Stark County. The defeat was the first suffered by Alliance this season.
The triumph kept Massillon's string of victories over its county foes unbroken; the orange and black reigning supreme over its rival residing within Molly Stark's domain since 1921 when it shared county honors with Canton McKinley. Saturday was a miserable day for a football game. A drenching rain, that started early in the day, continued without a let-up throughout the greater part of the contest. The downpour finally let up toward the end of the battle when a heavy mist settled over the gridiron and the players, soaked with mud and water, were barely discernible and almost unrecognizable as they sloshed back and forth across the water soaked and muddy field.
But it takes more than rain and mud to halt a football game and keep away rabid gridiron fans. Despite the weather about 3,000 persons witnessed the muddy encounter and a good portion of these came from Massillon. It took only a few plays before the athletes on both teams were so covered with mud that it was almost impossible to tell the players on one team from those on the other.
With a record of four straight victories Alliance was out to trim Massillon if possible. Coach Harry Geltz sent into the fray a big, heavy aggregation of lads who fought hard from start to finish, looking much different than the rather pitiful aggregation which Alliance had in 1924. From end to end the Alliance team was heavy but while good defensively Alliance lacked the offensive power of a muddy field to do much with the stout Massillon line.
BAD WEATHER HURTS
The field and weather made it almost impossible for either team to show to good advantage on offense. The gridiron was slippery and the footing poor and an open type of football was almost out of the question. The battle soon developed into a line plunging affair with both teams failing to gain consistently and doing a lot of punting.
Massillon, walloped a week ago by Akron South, was fighting to stage a comeback and showed a decided superiority over Alliance in offensive strength, making 13 first downs to two for the east enders. Most of Massillon's gains came on off tackle thrusts or plunges through the line with Captain Vince Define and Elwood Kammer bearing the burden of the Massillon attack.
Neither team was successful on end runs, the slippery field making it nearly impossible for either team to conduct a running game with proper interference for the men carrying the ball. Alliance had a good pair of ends in Seigenthaler and Maloney, tall rangy lads, who stopped most of Massillon's attempts to gain around the ends while Storrie and Thomas also played good defensive games for Massillon.
The wet field and the slippery ball made it decidedly dangerous to depend to any great extend upon forward passes or end runs. Both teams did a lot of punting with time being taken out before each kick so that the centers and punters could wipe off their hands in order to get a good grip on the pigskin.
SPECTACULAR DASH
Alliance scored during the first 15 seconds of play and the touchdown resulted in the big thrill of the contest. Alliance's points came after an 80-yard dash down the field by Quarterback Firth who pulled down the opening kick off and ran through the Massillon team for a touchdown. It was one of those plays that are seldom seen but when it does come, furnishes the football fan with a highly spectacular performance.
Alliance won the toss and received. Kammer kicked off and Firth made a lunge for the ball. It bounded out of his hands and skidded toward the sidelines. He chased it, made another attempt to pick it up and missed it again. He tried a third time and succeeded. He tucked the ball under his arms and started down the sidelines. His teammates gave him perfect interference and soon he was out in the open, dashing down the field like a madman with the Massillon team in pursuit and the stands a howling mob. Firth started his spectacular run on his 20-yard line and flashed across the Massillon goal at least 15 yards ahead of his nearest Massillon opponent. Alliance failed to kick goal.
This touchdown raised the hopes of Alliance fans who wanted to see their team come through with a victory over Massillon but their hopes were dashed a few minutes later when the orange and black opened up with a line plunging attack that carried the ball across the Alliance goal. Then the added point after touchdown put Coach Stewart's lads out in the front where they stayed throughout the remainder of the contest.
After Alliance's touchdown Massillon received. Then followed an exchange of punts with Massillon getting the ball on Alliance's 30-yard line. Define went through the line for eight and Kammer followed with five to make it a first down. Kammer tried to pass to McConnell but the play failed and then Define made eight through right tackle but the Alliance defense stiffened and Massillon lost the ball on Alliance's six-yard line.
KAMMER SCORES
Seigenthaler immediately punted and Kammer was tackled on Alliance's 35-yard line. Kammer cracked the line three times for a first down. Massillon was penalized five for offside but Kammer came back with another thrust through the line for a first down, lugging the ball up to Alliance's 13-yard line. Brown then attempted a pass which failed and on the next play, Kammer took the ball on a fake punt formation and went around Alliance's left end, skidding to the goal line before being downed. On the next play he went through the Alliance line for a touchdown and put Massillon ahead by scoring the additional point with a field goal. During the remainder of the first quarter and in the second period neither team was in a good position to score, play mostly being near the center of the field.
Massillon came back in the third quarter with a lot of strength and kept the ball for the most part in Alliance territory, once carrying the pigskin to the Alliance six-yard line but lacked he punch to keep on driving for a touchdown. Two penalties for offside play, however, helped keep Coach Stewart's lads from scoring in this quarter.
Both teams punted frequently hoping that with the ball wet and hard to handle a break of the game, a fumbled punt, might result in putting them in position to score. This break finally came in the fourth quarter but it was a break in Massillon's favor and paved the way for the second orange and black touchdown.
FUMBLED PUNT HELPS
Alliance was making a determined bid for another touchdown as the third quarter ended. It got the ball after a punt on Massillon's 31-yard line and then a pass from Firth to Seigenthaler netted 13, putting the east enders on Massillon's 18-yard line. But Massillon smothered Alliance's attempt to score early in the fourth period and gained the ball on its 15-yard line. A short time later Smith punted from midfield.
Firth fumbled the ball as Thomas and Storrie dashed at him. Thomas leaped at the oval but it slipped from his grasp and continued to bound toward the Alliance goal line. Players from both teams began diving after the elusive ball but finally Paul Storrie pounced on it on Alliance's five-yard line. Then Kammer took a shot at the line but failed to gain.
On the next play Define grabbed the ball and putting all of his strength into his dive leaped through Alliance's left tackle and sailed over the goal line for Massillon's second touchdown. Smith failed in his attempt to add another point on a field goal.
Winning Again
Massillon – 13 Pos. Alliance – 0
Storrie LE Seigenthaler
Kelly LT Debee
Singer LG Boyne
Price C Lindamood
Crone RG Shoemaker
Harris RT Miller
Thomas RE Maloney
Define QB Firth
Kammer LHB Norman
Williams RHB Jones
McConnell FB Glenawright
Score by quarters:
Massillon 7 0 0 6 13
Alliance 6 0 0 0 6
Substitutions:
Massillon – Brown for Williams, Smith for McConnell, Tipton for Crone, McConnell for Smith. Smith for McConnell.
Alliance – Shafer for Maloney, Shivley for Miller, Headly for Shively, Bottomy for Jones.
Touchdowns – Kammer, Define, Firth.
Point after touchdown – Kammer.
Referee – Howells, Sebring.
Umpire – Clark, Sebring.
Head Linesman – Shafer, Akron.