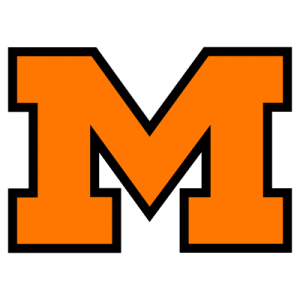 ORANGE AND BLACK BURIES ATHENS ELEVEN 39 – 0
STEWART'S LADS UNCOVER DEADLY AERIAL ATTACK
Football teams turned out by Athens high school may have been regular steam rollers down in that neck of the woods in which Athens displays most of its scholastic football ability but up in this section of the Buckeye domain – well that's a different story. A few good scholastic football teams are turned out in this territory too as Athens learned to its sorrow last Saturday when it sent its high school eleven to Massillon to tackle Coach David B. Stewart's Washington high school aggregation of man eaters in a big battle on the Central Steel field.
The Athens aggregation got a chance to look at a fairly good example of what a modern high school gridiron team should be like, that is when it was not being knocked off its collective legs by the fierce attack of Massillon's orange and black clad demons. All of the foregoing probably is sufficient to bring out the fact that Washington high won. It did and quite convincingly by the rather top heavy score of 39 to 0 chalking up its second victory of the campaign, the first coming a week ago when Akron Central was turned back by a 34 to 0 count.
Early in the game it was quite evident that Athens was in for a neat drubbing – how bad depending entirely upon how ferocious Coach Stewart's lads felt. The local team had heard quite a lot during the past week from its coach and other sources concerning the strength of Athens and its imposing gridiron record so the boys were about ready for most any kind of a game Saturday and they didn't wait very long until they showed Athens what kind of a game they had been taught to play.
The fracas opened with a bang and the dust from the first kick off had hardly settled before King, Massillon's dusky line crusher, ripped through the Athens team for a touchdown, after a series of line plays had carried the ball right up to the visitor's goal post. After that there wasn't much doubt as to which team would win. Athens put up a plucky game, fought so hard that many of its players were put out of commission, one with a fractured leg, but the best efforts of the southern Oho boys were fruitless against the steady and well drilled attack of the orange and black.
Massillon scored one touchdown in the first quarter, two in the second, one in the third and two in the fourth. Athens' only look at the Massillon goal posts came from afar, somewhere in the neighborhood of midfield. The visitors really never threatened except late in the first quarter when two passes carried the ball to Massillon's 20 yard line but there the advance came to a sudden and untimely ending when smothered by the orange and black.
There was no real outstanding star in Saturday's fray for Massillon. All of the players, even the host of substitutes Coach Stewart shot into the melee, played bang up games. The backfield with Kammer, King, J. Price, Borza and Define bearing the brunt of the attack acquitted itself nobly while the line with Captain Bill Edwards playing his regular game of breaking up the enemy's attack, was never swept off its feet by the visitors. P. Smith, who went into the game for King, did some mighty fine playing while Wademan starred on the line.
Probably the most noteworthy thing about Massillon's victory was its deadly aerial attack. There have been some who in the past have said that the orange and black did not pay enough attention to the overhead attack. If they saw Saturday's game they probably are convinced that Coach Stewart and his lads can execute a ground gaining aerial drive. The orange and black showed itself very proficient on the forward passing game, completing 10 or 16 heaves for a total yardage of 150.
Athens also depended largely upon the air route for its gains and worked six of 11 heaves for a total gain of 70 yards.
A forward pass, Define to Price, scored Massillon's second touchdown in the second period while a line plunge by Kammer accounted for the second set of counters in this period. Kammer also scored the touchdown in the third quarter. He scored again early in the fourth period while King made the final touchdown after forward passes had taken the oval deep into Athens territory.
How High Gridders Mopped Up Athens
First Quarter
McKinley kicked off for Athens to Massillon's 20 yard line. Define returned the ball 10 yards. J. Price gained one yard through center. On a fake formation, Define made 20 yards around left end but the ball was called back as time had been called. King made 2 around left end and Define made 4 though center. Athens was penalized 15 yards for holding, giving the orange and black a first down in midfield. Borza made another first down in two smashes at the line. Define tore through left tackle for 8 yards, and Borza ripped off left end, carrying the ball to the 16 yard line. Meighn was inserted into the game for Schmidt in an effort to strengthen the Athenian line. Define made 2 yards and Borza came back with consecutive gains of 2 and 5 yards, giving Massillon another first down on the 5 yard line. King carried the ball to the half yard line, and then took it over on the next play. Edwards attempt to kick goal was blocked.
Score: Massillon 6, Athens 0.
Edwards kicked off over the goal line and the ball was then put in play on the 20 yard line. McKinley made 3 yards through center. Wademan tossed J. Al Jove for a one yard loss. McKinley passed to J. Al Jove for 8 yards and a first down. Carmeicheal carried the ball through the center of the line for 11 yards and another first down. Two drives at the line netted another first down. Wademan threw H. Prichard for a 3 yard loss and an attempt to pass failed. McKinley failed to gain, and then punted to Massillon's 30, J. Price returning 7 yards. Define fumbled the ball, but covered losing 15 yards on the play. King skirted right end for a 10 yard gain. Define then punted to Athens' 20 yard line and Thomas dropped J. Al Jove in his tracks. An attempt through center failed and Wademan then tossed J. Al Jove for a 2 yard loss when the latter took the ball from McKinley on a cross buck. McKinley punted to Massillon's 45 yard line, J. Price returning 10. Borza made 5 yards on two attempts and Define then hit through center for 4 more and first down. H. Prichard intercepted a Massillon pass on the 10 yard line. McKinley passed to J. Al Jove for 25 yards and made 4 through center on the next play. Carmeicheal failed to gain and McKinley again passed to J. Al Jove for another 22 yard gain, putting the ball on the 20 yard line as the quarter closed.
Score: Massillon 6, Canton 0
Second Quarter
Grant was substituted for Borza, who appeared to be weak in blocking passes. Athens attempted a pass but was blocked by Grant. McKinley made a yard through center and then passed to J. Al Jove for a 2 yard gain. Referee Maurer cautioned Athens for stalling. Edwards broke through the line and threw McKinley for a 10 yard loss as the latter was attempting a pass, giving Massillon the ball on the 28 yard line. Grant made 5 yards and Define then punted to the Athenian 40 yard line. The Massillon ends were going down fast under Define's punts and J. Al Jove was dropped before he was able to get a start. Hughes went in for Meighn. McKinley passed to H. Prichard for a gain of 7 yards. Grant blocked an attempt to pass and McKinley failed to gain on a line plunge. He then punted to the 11 yard line and Define returned 15 yards. The orange and black were penalized 10 yards, placing the oval on the 16 yard line. Define punted to the 40 yard line and "Bill" Price dropped Prichard without a gain. McKinley made 2 yards through center and Prichard was stopped without again. Massillon was penalized 5 yards for being offside and Athens was given a first down. McKinley passed to Prichard for again of 5 yards, but Prichard fumbled the ball as he was tackled, and Grant covered for the orange and black on its own 30 yard line. King made 9 yards in two cracks at the line. H. Prichard on the bottom of the pile had to be carried from the field and received a fracture of his leg just below the knee. B. Prichard, his twin brother, took his place. On the next play "Jimmy" Price skirted left end for a gain of 44 yards carrying the oval to the 20 yard line. King went through center for 4, but Massillon was penalized 5 yards for being offside. King hit left tackle for 4 more, and Define went at the same spot for 3 more. On the next play he failed to gain. It was fourth down with the ball on the four yard line. Define dropped back, took the ball and started on a run along the left side of the line. He snapped a pass a short distance to Price who crossed the goal line as he caught the ball. Edwards added another point. Stewart sent a string of substitutes into the fray, P. Smith taking King's position, Kammer for Define, Hise for Halco, and J. Smith for Reis. McKinley kicked to the 10 yard line, Smith returning the pigskin 30 yards to the 40 stripe. Agler took Thomas's place and Gump went in for W. Price. Smith punted to the Athens 40. An attempt to gain through the line failed, and McKinley punted to P. Smith who was downed on his own 45 yard line. Price hit right tackle for 4 yards and then took a pass from Grant which netted 7 more and a first down. Price made 6 around left end, and then was relieved of his duties by Brown. Grant made 5 yards and a first down. Kammer added 6 more. A double pass failed to gain and Brown then passed to Agler for a gain of 15 yards, putting the mole skin on the 3 yard zone. On the next play Kammer carried the ball across for the third touchdown of the game. Edwards kicked goal.
Dewald took McCarthy's place and Waymiller took Wademan's tackle position. Edwards kicked to the 12 yard line and Al Jove was stopped without return. An attempt to break through the line failed and McKinley punted to mid-field, Smith returning 8 yards placing the ball on the 42 yard line as the half ended.
Score: Massillon 20, Athens 0.
Third Quarter
At the start of the second half, Wademan took Waymiller's position. King went in for Brown, McCarthy for Dewald. Reis for Hise and Borza for P. Smith. Massillon kicked off to the 20 yard line, Al Jove returning 10 to the 30. McKinley made 6 through left tackle and B. Prichard got 3y around left end. Al Jove made 4 more and registered a first down for Athens. McKinley failed to gain through the line. He made y yard on his next attempt. A pass was grounded and McKinley then punted out of bounds on the Massillon 23 yard line. King made 8 around right end and Grant hurried a pass to Agler for 28 yards. Borza muffed a pass from center and lost 10 yards. Neil went in for Baker and Baker took Al Jove's position in the backfield. Grant punted to the Athens 20 yard line, Baker returning 6. McKinley then returned the punt to mid-field, Kammer running the ball back 9 yards, before being downed. Two passes failed. With fourth down and 10 yards to go, with the ball on the 38 yard line, Borza shot around left end for 13 yards and a first down. H. Prichard intercepted Grant's pass on the 22 yard line and McKinley immediately punted the oval to the Massillon 42 yard line, Kammer bringing the ball back 22 yards.
King made three yards through right tackle. Borza and Kammer hit the center of the line for 6 yards more and Kammer then made a first down through the same spot. Grant then hurried a pass to King that was good for 11 yards and placed the oval on the 15 yard zone. Borza made 6 yards through the line and Kammer 1. King made 4 around left end for a first down and Kammer carried the ball across on the next play. Edwards missed the kick. Meighn went in for Hughes and Define took Borza's place. McKinley kicked to Define on the 5 yard line and Vince returned the ball 15 yards. He made 6 more on the next play and Kammer skirted right end for a 20 yard gain. Grant made 2 yards and time was called for McCarthy who injured his arm. Grant passed to Gump for a 15 yard gain as the third quarter ended.
Score: Massillon 26, Athens 0.
Fourth Quarter
W. Price took Gump's place and Halco went in for McCarthy. Grant made 5 through right tackle. Edgeworth took Wandia's place. Kammer made 10 yards on two bucks at the line. E. Al Jove intercepted a pass of Grant's on the 30 yard line. McKinley punted to Athens 45 and Define returned 5 yards. King made 2 yards and Define 2 more on smashes at the line. Borza took the ball to the 1 yard line. Kammer fumbled and then covered without a gain. Kammer then took the ball across from the one yard line. Edward's kick was blocked. Price took Kammer's place in the lineup. McKinley kicked over the goal line. With the ball placed in play on the 20 yard line King made 9 through right tackle. Edwards made a poor pass, losing 10 yards. Define kicked to midfield and Baker returned 4 yards. McKinley punted to the 20 yard line. Define returning 15 yards. King lost 6 on a fumble. Define passed, 25 yards to Price, and on the next play duplicated the stunt for another 25 yard gain. Define passed to W. Price for 8 yards and then shot a pass to Thomas for 12 more. Price made 2 through center and King carried the ball across the line for a touchdown. Edwards added the extra point. Dewald went in for Wademan, P. Smith for Define, Williams for W. Price and Brooks for Thomas. Athens substituted Williams for J. Al Jove and Thompson for Carmeicheal. Brown for J. Price, Schmidt for Miller. McKinley kicked to Smith who returned the ball 25 yards. He made first down on the next play on a dash around left end. Grant's pass was intercepted and the game ended with Athens in possession of the ball in mid-field.
Final score: Massillon 39, Athens 0.
Poor Athens
Massillon – 39 Pos. Athens – 0
W. Price LE Brown
McCarthy LT Baker
Reis LG Schmidt
Edwards C Wandas
Halco RG Miller
Wademan RT Benefield
Thomas RE E. Al Jove
J. Price QB J. Al Jove
King LH H. Prichard
Define RH Carmeicheal
Borza FB McKinley
Score by quarters
Massillon 6 14 6 13 39
Substitutions:
Massillon – Grant for J. Price, P. Smith for King, Kammer for DeFine, Hise for Halco, J. Smith for Reis, Agler for Thomas, Gump for W. Price, Brown for J. Price, Dewald for McCarthy, Waymiller for Wademan, Wademan for Waymiller, King for Brown, McCarthy for Dewald, Reis for Hise, Borza for P. Smith, Define for Borza, W. Price for Gump, Halco for McCarthy, J. Price for Kammer, Dewald forWademan, P. Smith for Define, Williams for W. Price, Brooks for Thomas, Brown for J. Price.
Athens – Meighn for Schmidt, Hughes for Meighn, B. Prichard for H. Prichard, Neil for Baker, Baker for J. Al Jove, Meighn for Hughes, Edgeworth for Wandas, Williams for E. Al Jove, Thompson for Carmeicheal, Schmidt for Miller.
Touchdowns – King 2, Kammer 3, J. Price 1.
Point after touchdown – Edwards 3.
First downs – Massillon 20.
Athens 7.
Time of periods – 15 minutes.
Referee – Thompkinson, Akron.
Umpire – Maurer, Wooster
Head Linesman – Bast, Massillon.