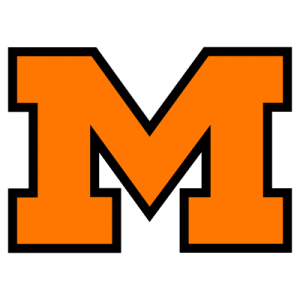 Orange And Black Turns Back South In Classy Battle
Gridiron warriors of Washington high school last Saturday afternoon gained revenge for a defeat administered to the local team last year by Youngstown South when they trimmed the Mahoning County eleven on the Pearl street gridiron by a score of 17 to 6. But even though the orange and black colors floated victoriously the triumph was only achieved after one of the hardest fought battles ever staged on the local lot.
To defeat the Warriors from Youngstown Coach Stewart's protégés were forced to play "heads up" football throughout. The youthful Tigers soon discovered that South meant business and their afternoon was a decidedly busy one. The invading troupe played fast and hard and displayed one of the best developed aerial attacks ever uncovered by a visiting high school team.
It was South's forward passing that for a time swept the Massillon aggregation off its feet and made it appear as if the Orange and Black were due to have its colors lowered. But when South had worked the ball within the shadow of Massillon's goal posts by a rapid fire aerial attack early in the first quarter the local gridders stiffened their defense and kept their goal line uncrossed, the visitors' six points being gathered on two drop kicks.
Massillon's points resulted from two touchdowns and a goal from placement. The Orange and Black depended upon off tackle bucks and end runs for its gains, attempting but one forward pass during the entire struggle. With Hess and Jamison running the ends and Rosenberg smashing through the South line the local team was able to gain more ground than its opponents.
South showed a fast and aggressive eleven. The steel town troupe used rapid fire tactics in its attack. The visitors used a quick working shift from which it either attempted forward passes, ran the ends or sent its back through the line. It was this shift formation which made its forward passing attacks so successful.
Massillon's aggressiveness in the first quarter swept South off its feet and before the visitors realized the battle was on the Orange and Black had hung up its first touchdown.
Just six plays were run off before Hess sneaked through the visiting team for Massillon's first set of counters. The Orange and Black received and the ball was downed on Massillon's 31-yard line. On a trick formation Captain Hess skirted South's right end and a 50-yard gain being forced out of bound of South's 31 yard line. This play came so quickly that it almost demoralized the visiting eleven. On three plays Hess and Rosenberg had negotiated another first down and on the next play Hess went over for a touchdown. He kicked goal.
It looked as if the local eleven were due to hang up a score. But this fear was soon dispelled when South gained possession of the oval. Massillon kicked off to the invaders after scoring its touchdown and then South opened up its aerial attack and carried the ball from its 20-yard line to Massillon's 20-yard mark before its attack was halted. With Jacobs, a southpaw heaver, on the passing end, the South gridders worked three out of four forward passes in rapid fire order and almost in the twinkling of an eye had worked the oval deep into Massillon territory.
But with the ball on Massillon's 20-yard mark, the Orange and Black rallied and held the visitors. Then Shull dropped back to the 25-yard line and by a neat drop-kick from the side of the field sent the ball between the uprights for South's first set of counters.
Massillon received and before the quarter ended Hess, Ulrich and Jamison had worked the ball to South's 31-yard line. Here the visitors fought stubbornly and Massillon was held, but Captain Hess dropped back to the 30-yard line and gave the Orange and Black three more points by a kick from placement. During the remainder of the quarter neither team was able to come within scoring distance.
South received to open the third period and was forced to punt, Hess being downed near midfield. On a double pass formation Jamison, skirted South's right end for a 40-yard gain, placing the ball on South-s 18-yard line. Then Rosenberg and Hess began a steady pounding of the South line with the result that Rosenberg soon carried the ball over for Massillon's second touchdown.
South received and once more started a march towards Massillon's goal line by uncorking its aerial attack. The first pass brought a first down and then Jacobs heaved to Shull who eluded a group of Massillon tacklers and started towards Massillon's goal line but he failed to pass Hess, the last Massillonian in his way, and was brought to earth after a 25-yard gain. With the ball on Massillon's 30-yard line South's efforts to register a touchdown by the forward pass route failed and after two overhead attempts had been batted down Shull dropped back to the 28-yard line and called his toe into action, his second drop-kick also being successful. The quarter ended with South in possession of the ball.
It was not until the fourth quarter that Massillon was called upon to give its greatest display of offensive strength. After Hess' third attempt to score by a field goal had been blocked the rival elevens exchanged punts and then Jacobs once more called its southpaw whip into action and heaved a long pass to Kennedy who was brought to earth by Boerner after a 40-yard gain. This gain took the ball to Massillon's 20-yard mark. Instead of depending upon its overhead attack South reverted to line plays but Masillon's line held stubbornly with the result that after four attempts South had failed to make the necessary yards and Massillon gained the ball on its five-yard line from were Hess immediately punted out of danger. From then on until the end of the game the battle was waged in mid-field.
Massillon made 16 first downs to 10 for South while each team punted six times. South attempted a total of 26 forward passes, 15 of which were completed. Ten failed and one was intercepted. The visitors worked four forwards in the first quarter, three each in the second and third quarters and five in the fourth. Massillon's only attempt to score by the air route in the third quarter failed.
Massillon's defense in stopping line plays was first class but the Orange and Black was hard pressed in its efforts to stop South's forwards. Hess, Rosenberg and Jamison were the offensive stars. Ulrich, halfback, played brilliantly, but was forced out of the game early with a badly wrenched left knee. Potts also was injured.
Sweet Music
Youngstown South – 6 Pos. Massillon – 17
Gallaher LE Lyons
Spong LT Synder
Gints LG Pflug
Barrett C Roth
Williams RG Rutherford
Walsh RT Nelson
Fiasco RE Jamison
Jacobs QB Resenberg
Shull LH Hess
Kennedy RH Ulrich
Marrie FB Potts
Scores by quarters:
Youngstown South 3 0 3 0 – 6
Massillon 7 3 7 0 – 17
Sweet Music
Substitutions: Massillon – Hax for Ulrich, Bishop for Potts,
Boerner for Pflug, Potts for Bishop, Kallaker for Rutherford,
Wendling for Potts, Haverly for Roth.
Youngstown South – George for Gints, Gints for George,
Daley for Gallagher.
Massillon scoring: Touchdowns – Hess and Rosenberg.
Goals after touchdown, Hess 2.
Goal from field, Hess.
Youngstown scoring: Goals from field, Shull 2.
Referee – Connor.
Umpire – Bietser
Headlinesman – Blackburn
Time of quarters – 15 minutes