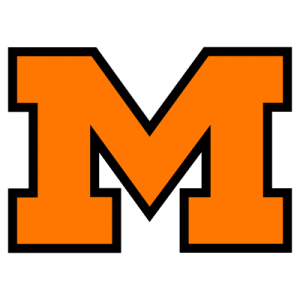 M. H. S. Keeps On Winning, Beating Alliance 25 to 0
Finding the defense of its opponents easy to penetrate, Massillon high's crack orange and black eleven Saturday afternoon defeated Alliance high 25 to 0 on Mount Union's athletic field, Alliance. It was Massillon's eighth straight victory and the team's goal has not yet been crossed.
Massillon's first touchdown came in the first quarter, when McLaughlin bucked the ball over from the two yard line. He missed goal. Alliance then received and was held for downs. The east enders kicked and Massillon gained possession of the ball on its 38 yard line. A series of line plunges and end runs brought the ball to the four yard line from which Hollinger carried it over. McLaughlin kicked goal.
In the second quarter Alliance brought the ball from its 45 yard line to Massillon's five yard line in a series of line plunges with Fullback Bauman carrying the ball. Massillon's line braced at this point and four attempts to pierce the orange and black defense failed and Massillon came in possession of the ball on its five yard line. Stultz immediately kicked out of danger.
Massillon's third set of counters came in the third quarter when Roderick scooped up an Alliance fumble on its five yard line and romped across the goal for the third touchdown. Goal was missed. Hollinger carried the ball over in the last quarter for the final points of the game.
Alliance played well on offense but was poor on defense. Massillon gained considerable ground on end runs and seldom used the forward pass. Poor decisions by the officials marred the contest.
More Massillon than Alliance rooters witnessed Saturday's contest. Nearly 75 automobiles made the trip to the east end city and at least 300 local fans saw the game.
Bauman played a star game for Alliance while the entire Massillon team put up a great fight.
STILL GOING
Massillon – 26. Pos. Alliance – 0.
Harrold le Hupp
Archbold lt Fifer
E. Stultz lg Reese
Bischoff c Segel
Graybill rg Gove
H. Stultz rt Eckis (c)
Houriet (c) re Hawkins
Hollinger qb Hoch
Zorger lhb Mills
McLaughlin rhb Longacre
Roderick fb Bauman
Touchdowns – Hollinger 2, McLaughlin 1, Roderick 1
Goals after touchdowns – McLaughlin 2
Substitutions: Massillon – Stoner for Archbold, Zepp for E. Stultz, Johnson for Graybill, Converse for Roderick, Graybill for Stoner, E. Stultz for Zepp, Zepp for Bischoff.
Alliance – Davis for Hoch.
Referee – Vaughn
Umpire – Hendershot
Head linesman – Boerner
Timers – Coleman and May
Time of quarters – 15 and 12-1/2 minutes.