Massillon mauls Woodrow Wilson
By WILLIAM R. SANDERSON
Independent Sports Writer
With the mismatch between the Massillon Tigers and Youngstown Woodrow Wilson Redmen obvious from the start, among the Tigers priorities was keeping their key players healthy. No such luck.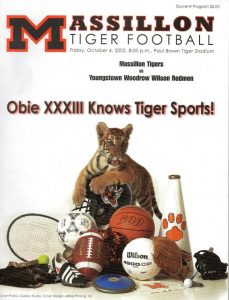 An injury to senior running back Terrance Roddy ‑ Massillon's second leading rusher this season cast a shadow over the Tigers 74‑0 victory over Wilson on Friday night at Paul Brown Tiger Stadium.
Massillon was closing in on its first touchdown of the game after receiving the opening kickoff when Roddy hurt his left knee on a carry that put the ball on the three‑yard line. After lying on the field for a minute, he limped off the field with assistance and didn't return.
"We're thinking it's a knee sprain," Massillon coach Rick Shepas said. "We don't know. We, won't know until we get it looked at."
The Roddy injury comes one week after the Tigers top rusher Ricky Johnson limped off the field in the second half of the Mansfield game after aggravating his sprained ankle.
Aside from the injury to Roddy, the Tigers, now 6‑1 on the season, pretty much had their way with the 0‑7 Redmen.
For one thing, Shepas wanted to see a more disciplined performance from his team He wanted his squad to eliminate some of the penalties that have been problematic over the course of the first six weeks of the season. The Tigers only committed two infractions for 10 yards.
"I think our guys did a good job," Shepas said. "They had a good week of practice and they played very enthusiastically instead of playing to the level of their opponents and that's a credit to them."
Another focus of Friday night's action was the Tiger passing game. Despite the sheets of rain that fell throughout the first half of the contest, Massillon was able to get some work done in that area as well.
Starting quarterback Matt Martin played the first half and completed nine of his 10 passing efforts for 127 yards and two touchdowns before giving way to junior Shane Walterhouse and sophomore Brian Morningstar who split the quarterbacking duties in the second half. Devin Jordan led the receiving efforts with four catches for 92 yards and a touchdown.
"We had a great game plan from our coaches," Martin said. "The line blocked very well and I had a lot of time. The receivers caught the ball well in the wet weather and the backs ran hard. It was a total team effort."
Prior to the injury, Roddy had set up the initial touchdown of the game with a run of 20 yards. After the injury, junior Tuffy Woods stepped right into the breach and looked very impressive. After finishing off the first scoring drive from three yards out, he quickly scored again on Massillon's next possession.
Following a Billy Relford punt return to the Wilson 27, Woods carried for 26 yards before scoring on the next play on a 1‑yard run.
After the Tigers sent Wilson three and out again, junior quarterback Steve Hymes lined up as a running back and scored from 22 yards out on the first play of the drive. That was set up by another strong punt return by Relford.
After rushing for the first three touchdowns, the Tigers scored the next couple through the air. Martin hit A.J. Collins for a 15‑yard touchdown pass that made the score 26‑0 after the extra point kick by Max Shafer.
After a blocked punt gave the Tigers the ball on the Wilson eight, Martin threw a 10‑yard touchdown pass to James Heischel. A two‑point conversion on a pass from Relford to Woods made it 34‑0 at the 6:03 mark of the second quarter.
Martin finished his day off with a six‑yard touchdown pass to Jordan at the end of the second quarter to make the score 41‑0 at halftime.
Even after mass substitutions in the early going of the second half, the Tigers not have much difficulty continuing to dominate. Shepas was pleased with the performance of his backups. "In that second half I thought Eric Smith made some nice hits," Shepas observed.
"Tomar Pettis did a real nice job on defense. Andrew Pullin ran the ball well and Walterhouse and Morningstar did a good job at quarterback." Pullin raced in from 15‑yards out for one score early in the third quarter. Walterhouse scored on another 15‑yard run and Pullin broke another scoring run from the Wilson 45 to make it 61‑0 after three quarters.
"I saw the hole open up and I just took it," Pullin said of his 45‑yard jaunt. "I hope that I'll get to play a little more next‑week and hopefully I'll be able to produce the same way."
With Roddy possibly sidelined, that may indeed be the case. Pullin finished with 90 yards on 10 carries to lead the Tigers' ground game.
The defensive backups got into the act as well as Pettis, a sophomore, sacked the quarterback for a 18‑yard loss and later dropped a Wilson running back for a fouryard loss.
"I had to pinch to the outside and there was the opening," Pettis said of the sack. "I rushed in on the quarterback and I don't think he even saw me at first."
Pettis proved he could do it on offense to with a 17‑yard run with 1:06 to go in the contest and Gavin Pedrotty intercepted a Wilson pass ran in the final score as time expired.
As badly as his team was outplayed by the Tigers, Wilson coach Dan DiGiacomo was proud of his team for not quitting. Even late in the game, the Redmen exhibited enthusiasm after making a play.
"They played for 48," DiGiacomo said. "We asked them to give all they had for 48 minutes and they did that."
The garne marked the first start for Tiger linebacker Shawn Crable, who had seen some time against Mansfield after returning from foot surgery. After the game, the defensive stalwart said he felt fine.
"I was just happy to be back on the field," Crable said. "I didn't feel any pain. I was getting a little restless, but they held me out for the right amount of time."
Massillon 74­
Wilson 00
M W
First downs rushing 14 1
First gowns passing 4 0
First downs, by penalty 1 0
TOTAL first downs 19 1
Net yards rushing 251 ‑18
Net yards passing 141 20
TOTAL yards 392 2
Passes attempted 12 15
Passes completed 11 4
Passes Intercepted 0 1
Punts 0 5
Punting average 00.0 29.2
Fumbles/Lost 4/0 2/1
Penalties 2 2
Yards penalized 10 15
Massillon 19 22 20 13 74
Wilson 00 00 00 00 00
SCORING
M ‑ Woods 3 run (Kick failed)
M ‑ Woods I run (Shafer kick)
M ‑ Hymes 22 run (Kick failed)
M ‑ Collins 15 pass from Martin (Shafer kick)
M ‑ Heiscel 10 pass from Martin (Woods pass from Relford)
M ‑ Jordan 6 pass from Martin (Shafer kick)
M ‑ Pullin 15 run (Smith kick)
M ‑ Walterhouse 15 run (Smith kick)
M ‑ Pullin 45 run (Kick failed)
M ‑ Pettis 17 run (Smith kick)
M ‑ Pedrotty 63 interception return
INDIVIDUAL STATISTICS
Massillon rushing: Pullin 10‑87, Roddy 4‑34, Pettis 5‑32, Hymes 2‑31, Woods 3‑29, Walterhouse 4‑19, White 2‑12.
Wilson rushing: Benjamin 5‑11.
Massillon passing: Martin 9‑10‑126 3 TDs, Morningstar 2‑2‑15.
Wilson passing: Sims 4‑14‑20 INT.
Massillon receiving: Jordan 4‑92 TD, Collins 1‑14 TD, Woods 2‑12, Gates 1‑12,
Helscel 1 ‑10 TD, Smith 1‑3.
Wilson receiving: Jones 3‑12.