Tigers capitalize on Panther Miscues
For 21 ‑0 win in season opener
By ROLLIE DREUSSI
Independent Sports Editor
"You can't make five mistakes and play Massillon," Perry coach Joe Demaree said.
"You don't have to look for any particular mistakes, we made them all tonight," Massillon coach Mike Currence said.
The end result, however, was a 21‑0 season‑opening win for Currence and his Tigers Friday night before 16,454 fans in Paul Brown Tiger stadium.
Both the Panthers and Tigers had "opening game jitters," as Currence called them, with Perry turning the ball over six times and Massillon four times.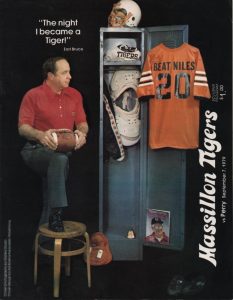 The Tigers took two of those turnovers and turned them into touchdowns, helping them record their second straight opening‑game win over the Panthers in as many years.
"We were lucky they made mistakes," Currence said of the Perry miscues. "We fumbled and we dropped passes. You can't sustain a drive when you drop passes. How many drives of ours were stopped when the pass was there and we dropped the ball?" Currence asked rhetorically.
"You can't run my kind of offense and drop passes. We live by the pass, and when we need it on third down, we've got to have it. We dropped about six to eight passes that were crucial tonight."
Outside of that, Currence was pleased with his team's defensive effort, which forced most of the Perry turnovers.
"I think our defense played exceptionally well tonight, except for the penalties. I wasn't satisfied with that. We let them sustain drives a couple of times with penalties."
But Currence was especially displeased with his offense, and he didn't hide the fact.
"I'm not satisfied with anybody on our offense. Now, I've got to give some credit to Perry's defense. I don't want to take anything away from those guys, they've got a great group of juniors. They're much better than last year (when Massillon won 27‑6).
"Their offense is better. It may not have looked that way tonight, but they're very explosive. Our defensive line is just much better than last season. We're quicker and we get to the ball better. I thought we did a good job of containing (Perry quarterback Dave) Fach," Currence said.
Demaree was even more upset about his team's mistakes.
"They've got a good ball club," he said of Massillon. If you fumble once against them you're going to be in trouble."
The Panthers fumbled four times and lost all of them and also had two passes intercepted. Massillon fumbled three times, but lost only one, and had three passes intercepted.
"Our defense was on the field the whole night," Demaree noted. "But our kids stuck in there and hit, they never gave up. Our defense did a good job, but you can't stay on the field the whole night.
"But you can't take anything away from Massillon," he added.
Both teams played well on defense, but the Tigers' defense gave their offense better field position – something Currence said he hoped it would do ‑ and the Tigers were able to take advantage of it.
The Tigers started the ball rolling ‑ literally ‑ when halfback Bill Burkett fumbled on the third play of the game with Perry's Don Gregoire recovering.
Perry returned the favor on its first play when Monty Wise fumbled at midfield, with the Tigers' Dave Geschwind recovering.
The Tigers didn't muff this opportunity, as they drove 50 yards in six plays with Sam McDew taking it the last three yards for the touchdown with 9:59 left in the first quarter. Jeff Fry booted the extra point for a 7‑0 Tiger lead.
The drive was highlighted by a 36‑yard pass, from quarterback Bill Scott to wide receiver Greg Evans on first down. It gave the Tigers a first down at the Perry 14 yard line.
The two teams exchanged punts, and Perry started a drive at its own 20. They got a first down at the 31, but Greg Grimsley fumbled on the next play and Tiger safety Jamie Schlegel recovered at the Perry 34.
The Tigers drove to the three yard line, and on fourth and one, Demaree sent in big Carl Birone, the Panthers 6‑1, 265‑pound tackle.
The Tigers tried to run over him but he plugged the hole, forcing McDew to go outside where Mike Daniels made a hard hit at the four yard line, stopping the drive.
The Tigers took over at their own 42 following a Perry punt and 10 plays later Bill Beitel ran inside left tackler on a one‑yard touchdown play. Fry converted for a 14‑0 Tiger lead with 7:39 left in the half.
Mistakes highlighted the rest of the second quarter, with Tiger linebacker Kevin McClelland intercepting a Fach pass, Tiger defensive end Tom Mummertz recovering a fumble and Panther defensive back Dan Douglas intercepting a Scott pass.
The Panthers took the second half kickoff and promptly fumbled the ball back to the Tigers on first down, with. Jim Blogna recovering at the Perry 40 yard line.
Scott hit Marty Guzzetta with a 30‑yard pass down the right sideline ‑ with ‑the senior wide receiver making a fine catch.
With a first down at the Perry 10, McDew carried seven yards, Beitel picked up two more and Scott sneaked over from the one with 9:47 remaining in the third period. Fry's kick was good again and Massillon led 21‑0.
More mistakes followed. Wise intercepted a Scott pass, and following an exchange of punts, the Panthers started a drive at their own 19 yard line.
They kept the ball on the ground, and moved it out to Massillon's 43 yard line, where the drive stalled. On fourth down, Fach went back to punt, but a high snap from center sailed over his head, and Geschwind tackled him at the Perry 35.
The Tigers gave up the ball on downs, and Perry started another drive at its own 22.
Fach hit Jeff Radsick with a 24‑yard pass, giving the Panthers a first down at their own 46. On second down, Grimsley burst up the middle for 13 yards and another first down.
Perry moved the ball to a first down on the Massillon five when Jim O'Neal swept right end for 10 yards, but they could get no closer to the goal line.
O'Neal was thrown for a two‑yard loss (even though the Tigers only, had 10 players on the field), then Mummertz dropped Fach with an ankle tackle for an eight yard loss back at the 19. On the next play defensive end Mike Hodgson intercepted a Fach pass at the 18 and returned it to the 30.
The Tigers then gave, up the ball when, junior quarterback Dave Eberhart's pass was in­tercepted by Dan Lloyd. Perry ran several more plays and the game ended.
"We've got good kids, tough kids," Demaree said of his players. "They're hurting mentally right now. We're not satisfied, and no loss can ever help you, but we'll start working real hard on Monday to prepare for Friday (when the Panthers will take on surprising Marlington, winner of its first two games).
"This is a good ball game," Demarre said of the Tiger‑Panther series, which will run for at least two more years. "It's good for the community, and I think we represent the Federal League well."
One bright spot for the Tiger offense was the running of fullback Sam McDew. He gained 88 yards in 16 carries (5.5 average), but he also fumbled the ball once, though teammate Mark Kircher recovered.
"Sam looked better than in the three scrimmages," Currence observed. McDew dislocated his thumb during the game, but tiger team doctor A.R. Furnas put it back in place for him on the sidelines.
Quarterback Bill Scott completed 9 of 18 passes for 128 yards and two interceptions. Greg Evans caught two passes for 43 yards, Bill Burkett hauled in three for 20 yards, Bill Beitel had two for 14, Marty Guzzetta had one for 30 and Sam McDew had one for 22 yards.
The Tigers, will open their All‑America Conference schedule next Friday when they entertain Alliance (1‑1). Perry opens its Federal League season when it travels to Marlington.
MASSILLON 21
PERRY 0
Mass. Opp.
First downs – rushing 10 7
First downs – passing 3 2
First downs – penalties 2 2
Total first downs 15 11
Yards gained rushing 146 135
Yards lost rushing 20 43
Net yards gained rushing 126 92
Net yards gained passing 149 60
Total yards gained 275 152
Passes attempted 25 10
Passes completed 9 3
Passes intercepted by 2 3
Yardage on passes intercepted 12 24
Times kicked off 4 1
Kickoff average (yards) 45.0 43.2
Kickoff returns (yards) 26 64
Times punted 3 4
Punt average (yards) 44.3 34.0
Punt returns (yards) 0 0
Had punts blocked 0 0
Fumbles 3 4
Lost fumbled ball 1 4
Penalties 7 3
Yards penalized 75 42
Touchdowns rushing 3 0
Touchdowns passing 0 0
Touchdowns by interception 0 0
Misc. touchdowns 0 0
Total number of plays 65 54
Total time of possession 23.42 24.18
Attendance 16,454
MASSILLON ‑TOP RUSHER
McDew ‑ 88 yards on 16 attempts.
PERRY 0 0 0 0 0
MASSILLON 7 7 7 0 21
M ‑ Sam McDew 3 run (Jeff Fry kick);
M – Bill Beitel 1 run (Fry kick);
M – Bill Scott 1 run (Fry kick).