Massillon bounces back
By CHRIS EASTERLING
Chris.Easterling@IndeOnline.com
A year ago, the Massillon Tigers often turned to their seniors to lead the way when the going got tough. That approach worked well enough to help the Tigers reach the state championship game.
Coming off of a disappointing loss to Moeller, the Tigers once again turned to their seniors to right the ship as they navigated their way through the treacherous seas created by a rugged stretch of the schedule. And those seniors – specifically, but not exclusively, Brian Gamble and Andrew Dailey – served as a rudder for the ship as Massillon returned to the even keel of victory on Saturday night, coming from behind to knock off nationally-ranked Arizona power Hamilton 35-26 in front of a boisterous Paul Brown Tiger Stadium crowd of approximately 10,500 in the final game of the Herbstreit Challenge.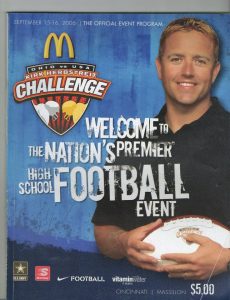 "When you have seniors who show that kind of leadership and take charge on the field and make plays," said Tiger coach Tom Stacy, whose team is 3-1, "and these two guys (Gamble and Dailey) just made plays all over the field, that's a big key. We had seniors do it last year, and these guys are just taking over. That was a big win.
"We needed that win. That was a very good football team. They were better than Moeller. They were faster, they were very well coached. It's a really good win for us."
Gamble, who garnered game Most Valuable Player honors, did it on both sides of the ball. On offense, he rushed for 159 yards on a season-high 35 carries with a 1-yard touchdown plunge in the first quarter, as well as a 10-yard touchdown reception which pulled the Tigers to within 17-14 just before halftime. He later added a 21-yard touchdown reception midway through the fourth quarter to give Massillon a 35-20 lead.
Just as big was Gamble's defense, most notably a key interception which set up the late second-quarter touchdown. The senior safety grabbed the overthrown pigskin and returned it to the Husky 20, and three plays later, quarterback Bobby Huth found Gamble, who found the end zone for the score with eight seconds left before halftime.
"I think the quarterback and the receiver weren't on the same page, because it wasn't thrown anywhere near him," Gamble said. "It came right to me, I didn't really have to make the play. That was real big, and then punching it in on offense helped a lot."
What also helped the Tigers prevail was Dailey's biggest contribution of the night late in the third quarter, when he stepped in front of a Hamilton pass and returned it 20 yards for the score. The touchdown and subsequent extra point gave Massillon a 28-20 edge with 1:25 left in the third quarter.
"I just read my keys real tightly," Dailey said. "I just broke down. The guy was actually going to try to get outside of me, so I just turn and ran and saw the ball thrown and I just grabbed it."
And helped the Tigers grab a stranglehold on the momentum.
"I thought two plays in the game were big," Stacy said. "Our score (by Gamble) right before halftime was big and then Andrew's interception. I think those were the two big keys in the game.
"These guys (Dailey and Gamble) both were instrumental in one each. Again, big-time players make big plays, and these guys are what did it for us last year, and they're doing it for us this year."
They needed to, because Hamilton came out ready to give Massillon all it could handle. After the Tigers – set to a 66-yard halfback pass from Gamble to Sheegog on the first play of the game – jumped on top 7-0 just under two minutes into the game, the Huskies came right back and scored on their first play as Kerry Taylor – who had 11 catches for 181 yards in the game – caught a 66-yard pass of his own for a touchdown to tie it at 7-7.
"All it was was an assignment mistake and something that can be corrected," Gamble said of the Hamilton score. "That was all it was. We knew that if we just read our keys, it won't happen again. They made some other big plays, but not enough."
Hamilton would push the lead to 17-7 thanks to a pair of second-quarter scores. One was a 27-yard field goal by Brent Blaylock, and the other was an 80-yard run by Nathan Jeffery.
But Massillon, refusing to see a repeat of the loss to Moeller, kept fighting. The Tigers cut the deficit to 17-14 prior to halftime, then took the lead for good with 8:43 left in the third quarter when Sheegog hauled in a 29-yard touchdown pass from Huth.
Huth showed no effects of the helmet-to-helmet hit which knocked him out of the Moeller game. The senior completed 15-of-24 passes for 175 yards and three touchdowns.
"It was Midwest football," said Hamilton coach Steve Belles, whose team dropped to 2-1. "It was pound it and make the throws that you had to. I thought the quarterback did an extremely good job of just hitting the quick out routes tonight. I thought that was real key. He let his receivers do some damage out there after they caught it, and we didn't play quite tight enough in some of our coverages."
Now, Massillon turns its attention to another rugged test, this one coming at Mentor Friday night. The Cardinals suffered their first loss of the season Saturday, falling to St. Ignatius – the Tigers' Week Six foe – 27-14.
"I think Massillon is going to have a very good season," Belles said. "I don't think what you saw against Moeller is indicative of how good this team could be."
Massillon 35
Hamilton 26
Massillon 7 7 14 7 35
Hamilton 7 10 3 6 26
SCORING SUMMARY
M – Brian Gamble 1 run (Steve Schott kick)
H – Kerry Taylor 66 pass from Brad Gruner (Brent Blaylock kick)
H – Blaylock 27 field goal
H – Nathan Jeffery 80 run (Blaylock kick)
M – Gamble 10 pass from Bobby Huth (Schott kick)
M – Bryan Sheegog 29 pass from Huth (Schott kick)
H – Blaylock 27 field goal
M – Andrew Dailey 20 interception return (Schott kick)
M – Gamble 21 pass from Huth (Schott kick)
H – J.T. Dixon 4 pass from Gruner (run failed)
INDIVIDUAL STATISTICS
Massillon rushing:
Gamble 35-159 TD; K.J. Herring 5-33; Tommy Leonard 4-12.
Hamilton rushing:
Jeffery 3-82 TD; Justin Salum 1-49; Covaughn Deboskie 4-14; Taylor 1-11; Tony Sims 5-10.
Massillon passing:
Huth 15-24-175; 3 TDs, Int; Gamble 1-1-66.
Hamilton passing:
Gruner 18-31-250 2TDs, 2 Int.
Massillon receiving:
Sheegog 5-116 TD; Gamble 4-43; Trey Miller 2-27; Brendon Baker 1-11.
Hamilton receiving:
Taylor 11-181 TD; Dixon 3-28 TD, Sims 1-30; Deboskie 1-4.