Tigers take no prisoners at Fremont Ross
By TRAVIS MCCOWN
Independent Sports Writer
Massillon fended off an early Fremont Ross attack and responded with 70 unanswered points in its 76‑6 win over the Little Giants Friday night at Fremont.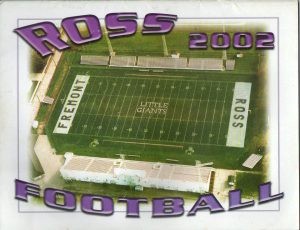 The Little Giants took their opening possession deep into Tiger territory after a 35‑yard completion from senior quarterback Chad Clark to sophomore wideout Terrance Jones. The play set the Little Giants up at the Tiger 9‑yard line.
The Massillon defense set the tone for the game by turning back the Little Giants on four consecutive plays, giving the ball to the Tiger offense for the first time.
"Fremont moved the ball well," Massillon coach Rick Shepas said. "They got down there and the defense really turned the momentum for us."
Quarterback Matt Martin led the Tiger offense on a four‑play, 91‑yard drive capped by a 63‑yard touchdown strike to Devin Jordan. On the play Jordan shot through the middle of the field and Martin laid the ball in his hands on the run. Jordan then broke a tackle, avoided another and was off to the races. Jordan finished the game with 101 yards receiving on four catches and the one score.
On Fremont's second possession, the Tiger defense again over powered the Little Giants with a blocked punt by linebacker Brock Hymes. The ball died on the 29‑yard line, leaving a short field for the Tiger offense. The offense again made short work of the Fremont defense, scoring in four plays on a Ricky Johnson two‑yard scamper.
Two plays later junior cornerback Billy Belford would strike, intercepting a Chad Clark pass at the Fremont 47‑yard line. Massillon drove but was stopped for the first time of the night.
The defense picked up the offense as senior linebacker A.J. Collins, subbing for the injured Shawn Crable who twisted an ankle in practice late in the week, forced Clark to fumble on the next play giving the ball back to the Tigers.
Johnson ran up the gut for his second score of the night on the first Tiger snap, making the score 21‑0 Massillon.
The Tigers would lose a score on their next possession when they fumbled the ball into the end zone and the Little Giants recovered.
On the ensuing drive, Massillon senior defensive back Jamaal Ballard would find the end zone when he returned an interception 40 yards for a 28‑0 Tiger lead.
Senior running back Terrance Roddy would find pay dirt with 3:36 left in the half on a 6‑yard run. "I thought I was in on the touchdown," Roddy said. "But coach told me to get out there and get it back. I ran my hardest and got in."
Senior tight end George Pribich finished the scoring in the half on a 7‑yard pass reception from Martin.
In all, the Tiger defense allowed Fremont's offense only 149 yards in the game. Meanwhile Martin, Jordan and Johnson amassed 364 yards in the first half, on their way to a 42‑0 halftime lead.
The Massillon offense finished with 409 yards rushing and 249 yards passing on the night.
Lost in the offensive explosion were scoring plays that were taken away by penalties in the first half, four in all. "We have had a problem in the past with penalties," Shepas said. "We are going to take a look at the tapes and see just what happened."
Johnson and Roddy both lost touchdowns to holding penalties in the first quarter. Relford lost two punt returns to offsetting penalties in the second. Relford returned a punt for 60 yards only to be negated by offsetting penalties.
I was so fired up," Relford said. I would have liked to have those touchdowns, but I knew we would get them back. Our team blocked well on the ones that were called back and I knew we would get another shot."
The second half was marred by what appeared to be a serious injury to Fremont junior defensive back Jonathan Franks. The game was delayed 15 minutes as Franks was put on a stretcher and driven away in an ambulance.
Franks had feeling in his arms and legs and was taken to the hospital for precautionary reasons.
Collins sacked Clark in the end zone for a safety, the first score the second half.
Martin connected with Stephen Ashcraft to make the score 50‑0 and the Tiger first team offense and defense were finished for the evening. A game like this one gives us a chance to build our depth," Shepas said. 'We got some younger players in with some first teamers and got a look at how they would perform."
Junior quarterback Steve Hymes came off the bench and rushed for 93 yards including a 41‑yard score.
Junior running back "Tuffy Woods rushed for two touchdowns in the fourth quarter on a 5‑yard scamper and a 65‑yard burst.
Fremont Ross would get on the board with 6:30 left in the game on a 70‑yard touchdown run by sophomore running back Charles Jones.
Woods returned the ensuing kickoff 75‑yards for a touchdown to round out the scoring for the night.
The biggest concern for Coach Shepas in the game was penalties. Massillon racked up 109 yards on 13 penalties.
"In this type of game those kind of things are going to happen," Shepas said. "It was sloppy, but we are going to put this one in the books as a win."
Massillon will now get ready for Akron Garfield next week at Paul Brown Tiger Stadium.
Massillon 76
Fremont Ross 6
M R
First downs rushing 15 2
First downs passing 8 2
First downs by penalty 0 1
TOTAL first downs 23 5
Net yards rushing 409 98
Net yards passing 249 51
TOTAL yards 658 149
Passes attempted 20 10
Passes completed 14 3
Passes intercepted 0 2
Punts 1 7
Punting average 39 25.3
Fumbles/Lost 1/1 1/1
Penalties 13 7
Yards penalized 109 34
Massillon 21 21 14 20 76
Ross 00 00 00 06 06
SCORING
M ‑ Jordan 63 pass from Martin (Shafer kick)
M ‑ Johnson 5 run (Shafer kick)
M ‑ Johnson 2 run (Shafer kick)
M ‑ Ballard 40 interception return (Shafer kick)
M ‑ Roddy 6‑yard run (Shafer kick)
M ‑ Pribich 7 pass from Martin (Shafer kick)
M ‑ Safety, Collins tackles running back in end zone
M ‑ Ashcraft 45 pass from Martin (Kick failed)
M ‑ Hymes 41 run (Kick failed) M ‑ Woods 5‑yard run (Shafer kick)
M ‑ Woods 65‑yard run (Shafer kick)
R ‑ Jones 70 run (Run failed)
M ‑ Woods 75 kickoff return (Kick failed)
INDIVIDUAL STATISTICS
Massillon rushing: Johnson 12‑131 2 TDs, Hymes 5‑93 TD, Woods 4‑76 2 TDs, Roddy 7‑55 TD, Pullin 6‑39, Dahlquist 330.
Ross rushing: Jones 6‑83 TD.
Massillon passing: Martin 14‑20‑249 3TD.
Ross passing: Clark 3‑10‑51 2 INTs.
Massillon receiving: Jordan 4‑101 TD, Ashcraft 5‑97 TD, Roddy 1‑20, Pribich 215 TD, Caprita 1‑14.
Ross receiving: Jones 1‑35.