Stymied
Tiger 'D' dominates second half
By JOE SHAHEEN
Joe.Shaheen @ IndeOnline.com
Each team's first possession of the second half told the tale as the Massillon Tigers rallied from a seven‑point deficit to defeat the Akron Garfield Golden Rams 24‑14 in front of 9,900 fans at Paul Brown Tiger Stadium Friday.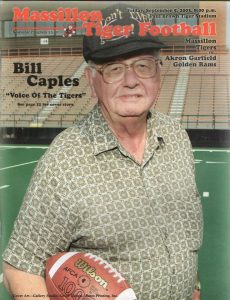 The game was knotted at 14‑14 when Garfield took the second half kickoff, marched to midfield, then ran into a brick wall wearing a black jersey imprinted with the No. 7. Tiger inside linebacker and co‑cap­tain Brock Hymes sniffed out a Garfield reverse for a two‑yard loss on second down, then shot a gap and took down sophomore sensa­tion Chris Wells for another two‑yard loss on a third down shuttle pass to force the Rams to punt.
"That first drive in the second half is always im­portant," Brock Hymes explained. "It's always important to stop them and take the starch out of them a little bit. We were getting pretty excited when we got that stop. We knew we had something there."
With quarterback Steve Hymes directing the attack, Massillon then zipped 62 yards in eight well‑orchestrated plays. Tiger junior Ramon Kelly capped off the drive with a 10­-yard touchdown run around right end for a 21‑14 Massillon lead with just under five minutes to play in the third quarter.
Garfield never got beyond its own 35‑yard line the rest of the night as the Tigers improved to 2‑1 with undefeated Findlay set to invade Massillon next Friday night.
Early on it appeared the Tigers might be in trouble as Garfield rushed the football for 205 yards in the first half. But the Rams found the going much more difficult after the band show as Massillon's defense limited them to 26 yards on the ground in the third and fourth quarters.
"In the first half we were playing an odd front and they were running to our minus side," explained Tiger coach Rick Shepas. "We had one less player and we didn't have much safety support.
"In the second half we went to more of a cover‑two look with corner support. We kept our safeties close enough where they could be a factor in the run game. We just didn't want them to bust any long runs."
Garfield coach Bob Sax thought the Tigers were ripe for the picking when he called for the reverse and then the shuttle pass on the Rams' first possession of the second half. It didn't work out that way.
"We really thought the reverse was going to hit," Sax said. "On the shuttle pass, the weak side line­backer (Hymes) snuck through and we didn't pick him up. If we take care of that guy, it was go­ing to be huge."
Massillon's go‑ahead touchdown drive be­gan with two Steve Hymes‑to‑Brett Huffman aerials that picked up 22 yards. Three Caleb White runs accounted for 17 more yards, be­fore a Hymes scramble and a sprint around left end set up Kelly's scoring run.
On the evening, Steve Hymes meshed on 10 of 15 passes for 113 yards and a touch­MES down. It was his best passing performance of the young season and Sax admitted the Tiger signal caller was better than he expected.
"We were giving them some things out there be­cause we really felt (Steve Hymes) wasn't going to go out there and pick us apart," Sax said. "We were playing too far off some guys and I was impressed with him. He really made some nice throws."
Shepas liked everything he saw of his first‑year quarter­back, except the two throws Garfield picked off.
"If Steve would have pro­tected the ball in a couple of other situations, he would re­ally have had a solid game for himself," Shepas said. "He did improve and that's what we want him to do. Remem­her he's really a first‑year starter. But he protected the ball pretty well right up until the end there. But we're get­ting better and we're trying to do things he can do well."
White and Kelly split the running back duties for Mas­sillon, combining for 103 yards in 17 carries. The pair clearly had more running room than in the season's first two games.
"We got better up front," Shepas said of his offensive line. "We made some person­nel adjustments up front. We tried to keep people fresher. We got a little bit of a rota­tion going and we got one week better."
Leading 21‑14, Massillon had an opportunity to really put some distance between itself and Garfield when the Rams were forced to punt from deep in their own terri­tory after a muffed kickoff. But on first down from the Garfield 45, the center snap went over Hymes head lead­ing to a 16‑yard loss. One play later, Hymes dropped a quick kick over the Rams' second­ary. It rolled dead at the 11-­yard line and Garfield never could regain field position.
"We were pinned near our end zone the entire second half," lamented Sax. "They had field position on us and that quick kick really caught us by surprise. They pinned us back down inside the 10 and they were bringing guys. I didn't want to fool around down there in our own end.
"Massillon made some ad­justments at halftime and they did what they needed to do in the second half and we didn't. They came out in the second half and they wanted it more than we did."
Garfield broke on top 7-0 with an 18‑play, 80‑yard scor­ing march that ate up over nine minutes off the game clock. It was a drive that would have made Woody Hayes proud, as the Golden Rams lined up in the full house T‑formation and sim­ply pounded the football at Massillon. No single play broke for more than eight yards.
Wells capped the drive for Garfield when he went over his left guard, bounced off the pile and then reversed direction around right end for a 7‑yard scoring run. Justin Gibson added the point after at 11:26 of the second quarter.
Massillon came right back and appeared to be ready to score when a pass went off the hands of the intended Tiger receiver and was intercepted by the Rams' Erique Dozier at the Garfield 7.
The Rams got one first down but were forced to punt. A high snap from center rolled free inside the 5‑yard line. Just as the Garfield punter was about to pick up the pigskin, it was batted from his grasp by Tiger senior Jameel Lemon and Kelly picked it up in the end zone for a Massillon touchdown. Max Shafer's point‑after kick was true and the game was tied at 7‑7 with just under six minutes until halftime.
Garfield responded quickly. Two first downs gave the Rams the ball at their own 42. From there Wells ‑ who rushed for 127 yards in the first half ‑ went off right guard and tackle, bounced to the outside and was off to the races for a 58‑yard touchdown jaunt. Gibson converted and the Rams led the Tigers 14‑7 at 3:34 of the second quarter.
Massillon rode the right arm of Hymes to tie the game. The senior hit Ryan Schindler for 11 yards, then following White's 14‑yard run ‑ hooked up with Huffman along the right sideline for 25 yards to the Garfield 12. One play later, Hymes sprinted left and found Brad Hauser open in the end zone for six. Shafer tacked on the extra point and it was a 14‑14 game at halftime.
Massillon 24
Akron Garfield 14
Garfield 0 14 0 0 14
Massillon 0 14 7 3 24
SCORING
G ‑ Chris Wells 7 run (Gibson kick)
M ‑ Kelly fumble‑recovery (Shafer kick)
G ‑ Chris Wells 58 run (Gibson kick)
M ‑ Hauser 11 pass from Hymes (Shafer kick)
M ‑ Kelly 10 run (Shafer kick)
M ‑ Shafer 32 FG
INDIVIDUAL STATISTICS
Massillon rushing: White 10‑65, Kelly, 7‑32, 1 TD
Garfield rushing: Wells 16‑143, 2 TD
Massillon passing: Hymes 10‑15‑113, 1 TD
Garfield passing: Cowans 2‑8‑6
Massillon receiving: Huffmann 4‑52, Schindle 4‑49, Hauser 1‑11, 1 TD
Garfield receiving: Brown 1‑8


Brock Hymes