The History of "The Game"
Published October, 2018
Revised December 2018
Revised November 2019
Revised December 2020
Revised October 2021
Revised February 2022
Revised March 2022
Revised December 2022
Introduction
No high school football rivalry in the nation can claim the extraordinary tradition of Massillon vs. Canton.  The rivalry has festered for over 100 years.  It's bigger than a family feud and it's more intense than a street fight.  In fact, it's almost akin to going to war.  And the success or failure of each team' season is often based on its outcome.
There is a sense of pride and purpose and the game spills over into every walk of life.  The players celebrate each victory and vow to avenge any loss the following year.  Such is the intensity of the competitiveness that exists between the Massillon Tigers and the Canton McKinley Bulldogs.  For there is no love lost between them and the two schools really do hate each other.  But they have also earned each other's respect.  For it takes two great teams to make a great rivalry.
"It was bigger than anything I did in college as a player," said former Massillon player and Washington Huskies Head Coach Don James.  "As a coach, the excitement, buildup and preparation compares to the Rose Bowl." (1)
But it's also intense.  A game that brings out the best in the players.  "All I know is that you have a bulldog on your helmet and I have a tiger on mine.  And I don't like you," said former Massillon player Ellery Moore. (2)
To outsiders, it's difficult to comprehend how mature adults can become so enamored by a simple game played among high school teenagers.  Perhaps one has to grow up with it in order for it to really make sense.  Or is it simply the thrill of watching local boys being thrown into the fire and emerging at the end of the day as young men.  But no apologies are made; no forgiveness expected.  For it's the greatest high school sports happening each and every year in this hotbed of high school football.
Destiny defines the players who participated in this grand affair and they carry the outcome with them for rest of their lives.  Their stories are heroic, their deeds memorable.  And they will live forever in the hearts of generations to come.
Here is the story of the greatest high school football rivalry in the nation.
Why the Game is So Big
Massillon and Canton are situated a mere eight miles apart, with both located in Stark County of Northeast Ohio, considered by many to be THE place for high school football.  So it's natural that they would play each other every year, from the early days of the sport to present day.  There have been 132 meetings, with few Ohio teams matching this duration.  Some of the challengers are:
Troy and Piqua: 139
Dover-New Philadelphia: 121
Bellaire-Martins Ferry: 117
Ironton-Portsmouth: 117
Wooster-Orrville: 112
Lorain and Elyria: 109
But longevity alone does not make a rivalry great.  There are many other factors involved.
The two teams have combined for 36 large-school Ohio state championships and 11 national championships.  In fact, prior to the playoffs (which began in Ohio in 1972), many times the outcome of the game has decided the state championship, as it was not unusual for both teams to enter the contest undefeated.
Massillon's 932 victories are more than any other school in Ohio.  And McKinley ranks second with 865.
It was a spin-off from the inaugural days of professional football when the Massillon Tigers and the Canton Bulldogs met regularly on the gridiron.  And when the local pro teams dissolved, the rivalry transferred itself to the high school teams.
Other than Ohio State-Michigan, there are no big college rivalries in Ohio, so it's easy to grab the spotlight.
Both teams own a good share of victories: 75 for Massillon and 53 for Canton.
Many players and coaches involved have gone on to stellar college and professional careers.  In fact, fifty Massillon players have been drafted into the NFL, accounting for 13 Super Bowl championships.  Five participants have gone on to become head coaches in the NFL.  In addition, Massillon/Cleveland Browns/Cincinnati Bengals Coach Paul Brown and Canton McKinley/Cleveland Browns player Marion Motley have been enshrined into the Pro Football Hall of Fame.

Balloon Launch Prior to 2005 Massillon-McKinley Contest

The show is big!  Crowds of 20,000 or more.  The Tiger Swing Band and the Bulldog Marching Band, with their pregame and halftime shows and musical support throughout the game.  The student mascot wearing a real tiger head and skin.  The balloon launches when the teams come out.  The rabid support provided by the students' "Village Idiots."  The fireworks after the scores.  The live tiger and bulldog mascots.  The all-morning tailgating.  The special guests.  The sports souvenir shops doing a thriving business during the week of the game.  And the players performing at an intensity level far exceeding that found in other matches.

Prior to the age of television it was the biggest show in town.  Now, electronic media adds to the excitement, bringing the game to an even larger audience.  There are live radio, television and internet broadcasts, interviews and newspaper stories throughout the week leading up to the game and occasionally national TV exposure on major networks.  Throughout its history, coverage has evolved with the technology.
Both towns share a common blue collar culture that evolved from hard-working immigrant families.  And that culture intensifies the toughness in the fight.  "Their way to have that toughness demonstrated was manifested by the game of football," said former Ohio State Coach Jim Tressel.
Traditions are passed down through the generations, with many descendants of descendants participating in the game.
There are a great number of non-sport activities surrounding the week, such as blood and food drives and joint gatherings of the two teams.  Both schools hold bonfire rallies the night before the game and Massillon hosts a parade through the town attended by thousands.
For Massillon fans, there is always the feeling of being the underdog, with McKinley, the larger of the two schools, seemingly garnering the best players from multiple school districts (there were four high schools in Canton prior to consolidation).  Wins became extra special.
"I've been around a lot of football, great football," said former Massillon assistant coach Nick Vrotsos.  "But there is a certain feeling you got.  Goose bumps.  I still get them every time we play McKinley." (2)
"How many times in our lives do we have a chance to be a part of something great," said former Massillon and OSU player Jim Houston. (1)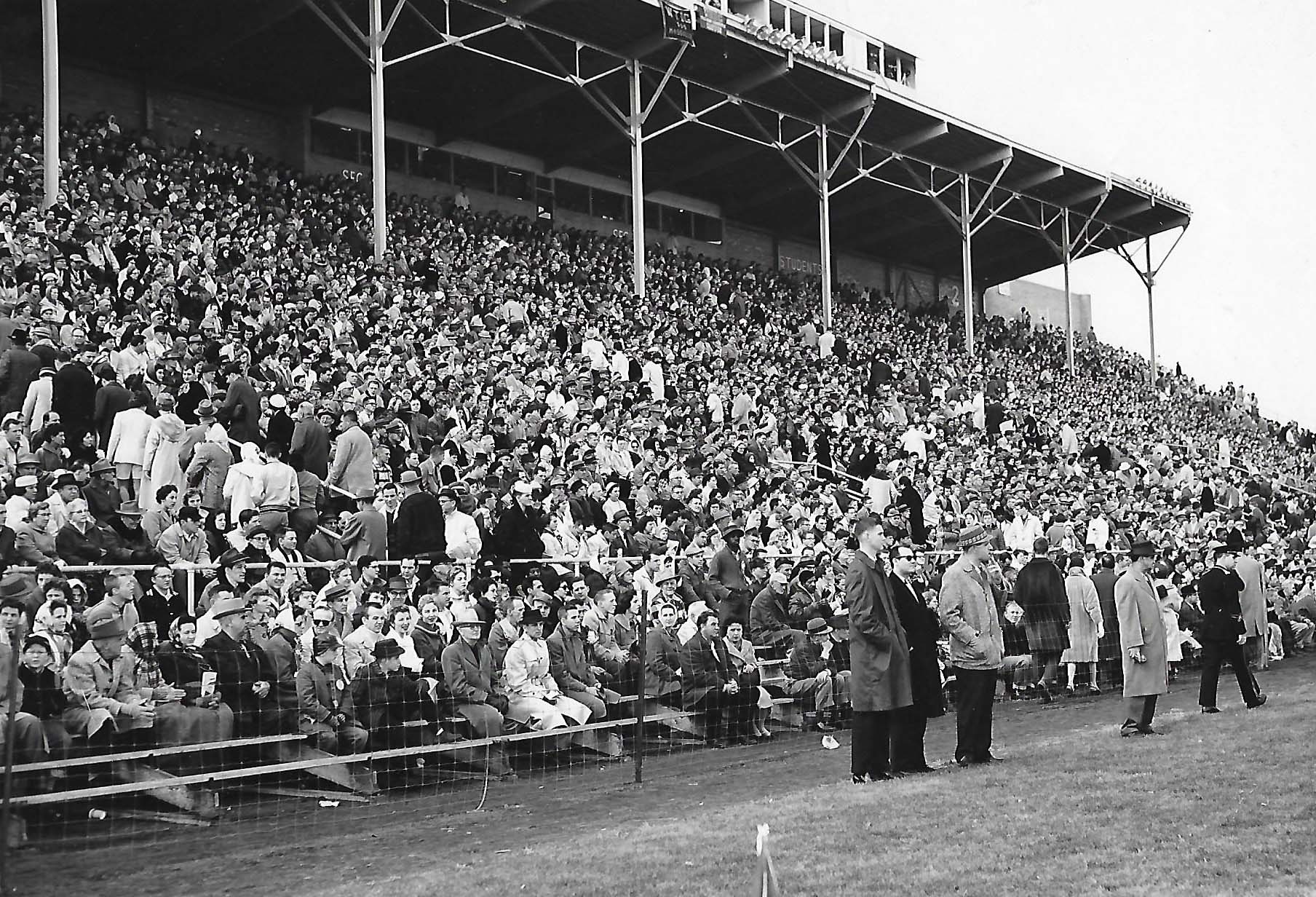 "Time has always stood still in Massillon for what was important in that community," remarked former Tiger head coach Rick Shepas.  "What was important in the Massillon community was the well-being of the football program." (2)
"For our communities to be part of what I call the most relevant high school sporting event in our country, that is really special," said former Canton McKinley quarterback and current Las Vegas Raiders head coach Josh McDaniels. (2)
"I'm not exaggerating when I say the game, to me, was as big as the Ohio-State Michigan game or an NFL championship game," remarked Chris Spielman, who played football for Massillon, Ohio State and the Detroit Lions.  "The rivalry took on even more meaning for me because I was from Canton, but I went to Massillon." (1)
"It's a strong rivalry.  Both sides take it seriously.  And they both want to win.  And I can tell you that this is a good thing," summed up Cincinnati Bengals owner Mike Brown. (2)
By the Numbers
Series Started: 1894
Number of Games Played: 133
Wins by Massillon: 75
Wins by Canton McKinley: 53
Ties: 5
Massillon Points Scored: 23,022
Canton McKinley Points Scored: 1,758
The Start of the Rivalry
Oddly, the Massillon-McKinley rivalry has its roots in commerce, not sports.  In the 1800s the Ohio-Erie Canal, used to transport farm goods and commodities to market, was routed through the center of Massillon and thus the town became the hub for commercial activity in Stark County.  But several years later the railroad had replaced the canals and due to some deep pockets in the area, the tracks were run through Canton.  Suddenly, Canton became the hub and eventually the county seat.
The rivalry then moved to sports, when each town entered the professional football arena, competing as the Tigers from Massillon (1903-1919) and the Bulldogs from Canton (1905-1919).  Such was the intensity of the competition that in order to gain an edge Massillon's team "raided" the pro team from Akron for players and also signed Notre Dame's head football coach Knute Rockne as a player.  Financial support for this endeavor was provided by local businessmen.  In order to keep pace, Canton also loaded their team with out-of-town professionals and signed Jim Thorpe from Carlisle Indian Industrial School as their star running back.  This effort made the two teams tops in the country for several years and created quite a showcase.
From 1903 through 1907 the Tigers compiled a record of 41-1-2 and captured five national championships, with two of the title games coming against the Bulldogs.  Canton achieved success a few years later, in 1916 through 1919, winning three national championships with a record of 27-1-2.  And the games between the two teams were classics.
But by 1920, Massillon could no longer keep pace economically with the fast-growing sport and they disbanded their team.  Canton lasted just a couple of years longer.   With their demise, the rivalry was now solely owned by the high schools.  Thus was born the Massillon-Canton rivalry that we know today.
The Early Years (1894-1909)
It was in November of 1894 that the two teams met for the first time, at Canton's Pastime Park.  The Canton "Varsity Club" (later the Canton Athletic Club) won that encounter 16-6 and also won the rematch 12-8 at Massillon's Russell Park in front of 200 fans paying 15 cents a ticket.  Canton would go on to win the next nine games until Massillon managed a 0-0 tie in 1907.  The following two games also went Canton's way.
But the Tigers turned the tables in 1908, winning by the score of 12-6.  All three touchdowns were scored during the final eight minutes of play and all were the result of fumble returns.  Massillon also stopped the Bulldogs' frantic effort to tie the score when they were held at the two yard line as time expired.  The Tigers followed that up in 1909 with a pair of wins by scores of 12-6 and 6-2.  It was also the first year that Massillon scheduled a full 10-game season.
Canton owned the series up to that point, 13-3-1, but suddenly a rivalry was born.
The Start of the High School Rivalry (1912-1931)
After a 2-year hiatus covering 1910 and 1911, the series was ready to take off.  Starting in 1912, they began to play each year and have maintained that relationship until the present day, a span of over 100 years.
Through 1917 it was Central High School that was on the Canton end of the rivalry.  This changed in 1918 when the new Canton McKinley High School opened.  But all of the games, regardless of school name, factor into the overall series record.
During the period 1912-1931 and prior to the arrival of Massillon's Paul Brown and McKinley's Jimmy Aiken, both teams fashioned some outstanding seasons and played many fierce games between each other.
The Tigers were unbeaten in both 1916 and 1922, downing the Bulldogs by scores of 16-9 and 24-0.  Also, one-loss seasons were posted in both 1915 and 1924, with the 1915 loss coming at the hands of Canton when they returned a fumble 88 yards for a touchdown and converted the extra point.  Meanwhile, the Bulldogs recorded one-loss seasons in 1920, 1926 and 1927, beating Massillon in two of the three years.
Massillon coaches John Snavely (1914-19) and Dave Stewart 1921-25) were each 4-1 versus the Bulldogs.
Two of the more famous players to emerge from the rivalry at that time were Massillon's Harry Struhldreher and Canton's Edgar "Rip" Miller, who was the captain for the 1920 Bulldog team.  After high school, both ended up playing for Knute Rockne's 1924 national championship team at Notre Dame.  Struhldreher was the quarterback and a member of the legendary "four horsemen," while Miller was one of the "seven mules."
With Massillon holding an 11-6-2 edge during that era and the overall series standing 19-14-3 in favor of Canton, the stage was now set for some of the greatest Massillon-McKinley games ever.
The Paul Brown Years (1932-1940)
With the Massillon and McKinley programs on the verge of success, yet suffering through dismal seasons in 1931, both hired new football coaches in order to regroup their football fortunes.  For McKinley, it was Jimmy Aiken, who would coach four years and compile a fine 32-7-0 record.  Later, he would become head coach of The University of Akron (19-7-1), the University of Nevada (38-26-4) and the University of Oregon (21-20).  But more importantly for Canton, Aiken beat the Tigers three times out of four tries.
Aiken was followed by Johnny Reed, who only lost seven games during his 5-year career in Canton and posted four 1-loss seasons.  But five of those seven losses were to Massillon's Coach Paul Brown.
Massillon hired the 24 year old Brown out of Severn Prep, Maryland.  Brown stayed in Massillon for nine years and compiled a record of 80-8-2, capturing six state titles.  He also coached in nine Massillon-McKinley games, second only to Mike Currence (1976-84).  But his tenure got off to a rocky start when he dropped his first three games to McKinley and was outscored in those games 61-6.  Adding misery to the story, his 1934 team had entered the game unbeaten and unscored upon, only to see Canton, which was also unbeaten, dominate with a 21-6 victory and capture both the state and national championships.
Those three losses almost cost Brown his job.  In fact, it nearly ended the series with Canton, when powers-to-be in Massillon suggested it was enough.  Fortunately, both schools met in the following off-season and agreed to continue. (3)
Brown turned his fortunes around the next year by beating McKinley 6-0 behind star running back Bob Glass, who scored the lone touchdown on fourth down at the three.  Brown's team finished the season 10-0 and he captured his first state title.  By the time he left, he had compiled a streak of six consecutive victories over the Bulldogs, with a scoring margin of 112-18.  His final game was played in 1940, with both teams entering the fray unbeaten.  McKinley scored first, recording the only points surrendered by the Tigers that year.  But Massillon tallied the next 34 and ran away with the victory.  Brown left the following year to become head coach at Ohio State University (18-8-1),  winning the national championship in his second year there.
"I think when all of history is written, it will be hard to keep Paul Brown out of the top one or two or three spots in the history of coaches of football," said Jim Tressel. (1)
The Dominance Swings West (1941-1971)
 Paul Brown laid the foundation for successful Massillon football and after his departure the Tigers went on a tear, dominating the Massillon-Canton series for the next 31 years.  The Tigers' record during that time was 21-8-2 and they outscored McKinley 610 to 331.  Included in that run were a 7-game winning streak (1948-1954) and a 9-game winning streak (1957-1965).  Massillon also captured 15 state titles and five national titles.  In addition, the all-time series record between the two teams swung in favor of the Tigers.  All of this could not have happened without the leadership of several outstanding coaches, such as Bud Houghton, Chuck Mather, Tom Harp, Lee Tressel, Leo Strang, Earle Bruce and Bob Commings, all of whom went on to become head coaches in college.  The contests were also characterized by huge crowds, which averaged nearly 22,000 per game.
The year 1970 brought perhaps Massillon's greatest team since Coach Paul Brown.  Led by future Iowa University Coach Bob Commings, the Tigers compiled a record of 10-0, outscoring the opposition, 412-29, and capturing Massillon's last A.P. Poll State Title.  In the final game that season, Massillon defeated previously unbeaten Canton McKinley, 28-0.
Meanwhile, the Bulldogs had great seasons in 1955 and 1956, both times winning the big game and capturing the state title.  Some of their better coaches were Bup Rearick, Ron Chismar and Don Nehlen.
There were many outstanding head coaches during this period.  But there was one assistant coach that really made his mark.  Carl "Ducky" Schroeder, who played fullback for the Tigers in 1923 under Coach Dave Stewart, was hired by Chuck Mather in 1948 to coach the offensive line.  He would stay in Massillon for 23 years.  During his span, Schroeder was instrumental in helping the Tigers to an 18-5 record over the Bulldogs.  He was also a part of 13 state and five national championships.  Today, the Carl "Ducky" Schroeder Outstanding Offensive Lineman Award goes annually to a deserving Massillon player.
On To Present Day (1972-2022)
Many times the winner of the Massillon-McKinley game was either voted the state champion by the Associated Press or had a marked influence on who was eventually crowned.  But the year 1972 signaled the introduction of a post-season playoff to determine the Ohio state champion.  However, this sudden change did not diminish the significance of winning in the great rivalry.   And many fans will tell you that achieving victory in the finale was more important than qualifying for the playoffs, citing the large crowds, media attention and bragging rights that overshadowed that of any playoff game.  No one asks a former player what their playoff record was.  But they will ask how they fared in the Massillon-McKinley game.
From 1972 to the present (2022) the series between the two teams has been played on a more even level, with Massillon winning 34 games and McKinley winning 23.  During this period, the Tigers scored 1,060 points and Bulldogs 969, with more than half of those games decided by a touchdown or less.
Both teams also maintained superiority over much of the competition.  Massillon qualified for the first-ever playoffs and would go on to capture 15 regional playoff championships.  Six times they advanced to the state finals, but lost each time.  McKinley grabbed nine regional champions and made it to the finals six times, winning three.
The playoffs gave the two teams an opportunity for rematches and this happened on six occasions, with even larger crowds in attendance, owing to the use of college stadiums.  The rematches and attendance numbers are noted below:
1980 – McKinley won the first, Massillon the second at Canton Fawcett Stadium (22,751)
1994 – Massillon won the first, McKinley the second at the Akron Rubber Bowl (29,110)
2001 – Massillon won both, the second at the Akron Rubber Bowl (21,203)
2005 – McKinley won the first, Massillon the second at the Akron Rubber Bowl (16,111)
2009 – McKinley won the first, Massillon the second at Akron's Infocision Stadium (13.121)
2012 – Massillon won both, the second at Kent State (11,172)
But perhaps the greatest Massillon-McKinley game was the 100th game in the series which occurred in 1994.  So important was the interest that both ESPN and Sports Illustrated covered it and former Green Packer quarterback Bart Starr (Pro Football Hall of Fame Inductee) tossed the coin before the kickoff.   And fittingly the game did not disappoint, becoming one of the most exciting high school contests ever played.  Tied at 35 the end of regulation, the Tigers won dramatically in overtime 42-41, in front of a capacity Paul Brown Tiger Stadium crowd of 19,125.  The two teams combined for over 700 yards of offense and neither led by more than a touchdown throughout.  But a missed extra point in overtime became the difference.  McKinley would get its revenge in the playoffs two weeks later, winning 27-20.
In 2015, Canton's Fawcett Stadium was replaced by Tom Benson Stadium.  In the last game played at Fawcett and, with construction underway, the visitors' stands had been demolished and all of the fans were situated on the home side of the stadium.  By 2017 Benson was completed and the game went on as normal.
Student enrollments in the two schools peaked around 1972, but this time period also signaled the start of a gradual decline in both enrollment and football roster size.  Today, Massillon's enrollment has been reduced by about a third and as a result the school has dropped a level in playoff assignment, from Division 1 to Division 2.  McKinley, on the other hand, was able to keep pace with the numbers for a while when the Canton City Schools closed two of their four high schools in 1976 and then consolidated to a single high school in 2015.  Today they maintain their status as one of the largest schools in the state.  Regardless, achieving success in the playoffs today has become much more difficult, owing to the domination of the parochial schools, which coincided with the start of the playoffs.  Five regional championships have been captured by in the past ten years, in 2009 by Massillon in Division 1 and in 2017, 2018, 2019 and 2020 by Massillon in Division 2.  None by Division 1 McKinley.
The Undefeateds
Every Massillon-McKinley game at the time it's played seems like the biggest game ever, such is the intensity of the rivalry.  Some teams wrapped up undefeated seasons and either claimed or were awarded state titles.  Others advanced to the state playoffs on winning notes with the anticipation of great success to come.  Still, several teams salvaged their seasons by knocking off previously unbeaten opponents or winning in spite of being decided underdogs.  But certain games were indeed considered the most significant of them all, especially when both entered the fray unbeaten.  Here is a rundown of those games.
1934 – Massillon was unscored upon and McKinley had surrendered just two touchdowns.  The game drew 20,000 fans (the stadium was enlarged from 10,000 to 22,000 for the game), setting an all-time attendance record for the state of Ohio.  Canton won 21-6 and laid claim to both the state and national championships.
1936 – Massillon beat Canton 31-0 and subsequently claimed the state championship.  McKinley's Johnny Reed suffered his first loss as a coach in 45 games.
1938 – Déjà vu.  Massillon won 12-0 and captured its fourth consecutive state title.
1940 – Paul Brown won his final game as a Tiger coach over McKinley, 34-6, winning his sixth consecutive state title.  His next stop was Ohio State.
1942 – Canton upset Massillon, 35-0, snapping the Tigers' 52-game unbeaten streak.
1943 – The Tigers got revenge, winning 21-0.
1955 – McKinley captured the state title with a 13-7 victory over 8-0-1 Massillon.
1964 – Entering the game, Massillon was first in the state poll with a 9-0 record and was coached by future Ohio State head coach Earle Bruce.  McKinley was second in the state with a 9-0 record and was led by future West Virginia head coach Don Nehlen.  McKinley took a 14-0 lead into the fourth quarter only to lose 20-14.  Massillon finished first in the state and second in the nation.
1970 – First in the state Massillon won convincingly 28-0 over 8-0-1 and third in the state Canton McKinley.  The Tigers would maintain its ranking following the game and also finish second in the nation.
 2005 – Massillon's bid for an undefeated season was foiled by, 38-8.  But the Tigers would turn the tables three weeks later, winning 21-3 and later advance to the Division 1 playoff state championship game.
Snatching Victory from Certain Defeat
The Massillon-McKinley rivalry has brought some of the most exciting games to high school football.  Nothing can be as memorable as watching a last minute score that propels the team to victory.  Here are the Top 6 come-backs in in the game's history:
1964 – Both teams entered the contest with 9-0 records, with Massillon ranked first in the state and McKinley second.  The Bulldogs had opened up a 14-0 halftime lead and held that into the fourth quarter.  With Tiger quarterback Steve Kanner out with leg cramps late in the game, junior Dave Sheegog came in and engineered one of the greatest comebacks in Massillon history.  The first score came at the 10:11 mark of the fourth quarter when Jim Lawrence went over from the one to cap a 40-yard drive, making the score 14-6.  After regaining possession at their own 39, the Tigers again drove to the end zone, with Bob Hewitt going in from the one.  Sheegog then scored the two extra points to tie the game at 14 with 3:32 left.  The Bulldogs failed to move and Sheegog returned the punt 33 yards to the McKinley 17.  On 3rd and 7, Sheegog faked the handoff and sped toward the end zone, eluding several tacklers along the way, and managed to just cross the goal line with just 54 seconds left.  The score gave the Tigers a 20-14 win and the eventual state title.
1974 – Canton McKinley was unbeaten and headed toward a certain bid in the playoffs, whereas Massillon was struggling through a 5-4 season.  But the Tigers would have none of that underdog talk as they opened a 14-0 halftime advantage.  Only, McKinley flexed its muscles in the second half with two touchdowns and a 25-yard Roch Hontas field goal to assume a 15-14 lead with just 73 seconds left.  Little time left to turn the tables.  But Massillon did just that.  Three down-and-out passes from Greg Wood to Eddie Bell less a quarterback sack advanced the ball to the McKinley 33 with just 13 seconds left.  Somehow on the next play Wood avoided the blitz, stepped to his side and unloaded a long pass to Eddie Bell, who beat his defender and caught the ball in the end zone for the game-winner.  For Tiger fans, pandemonium ensued.  But for the Bulldogs, the loss eliminated them from playoff contention (only one team from each region qualified in these early years of the tournament) and it was New Philadelphia that took their place.
1978 – Massillon was unbeaten entering the annual fray and needed a win over McKinley to keep the streak alive and capture first place the All-American Conference.  The Bulldogs, however, had other plans and dominated play throughout most of the game, leading 10-0 deep into the fourth quarter.  But that's when Massillon quarterback Brent Offenbecher went to work, completing 9 of 9 passes in the final frame.  Rolling to either his left or right in the run-and-shoot offense, he effectively utilized his wide receivers to move the ball down the field, alternating between down-and-outs and inside slants.  The two needed scores eventually came from receptions by Curt Strawder, the latter score being set up by a Tim Reese interception.
 2001 – In a back and forth, highly-charged contest, Canton McKinley (7-1) entered the fourth quarter with a 26-22 lead over Massillon (8-1), which was led by OSU-bound quarterback Justin Zwick.  But a 27-yard run by Robert Oliver, the Tigers' only score of the second half, gave Massillon the lead for good with just a couple minutes remaining.  However, with the game still in the balance, McKinley drove to the Tiger 18 yard line and on third down heaved the ball toward the end zone.  But Massillon's Craig McConnell stepped in front of the Bulldogs' Reggie Conner at the last moment to intercept the pass and preserve the win for his team.
2011 – One of the most exciting finishes ever in the Massillon-McKinley rivalry came in Game No. 122.  Four touchdowns were scored in the fourth quarter, two by each team.  With just 1:13 remaining and Massillon trailing 16-14, Alex Winters rambled 43 yards to give the Tigers a 20-16 lead.  But the Bulldogs came right back and drove 74 yards to the end zone, aided by the accurate passing of quarterback Tyler Foster, who completed all three of his passes for 65 yards.  Foster then scored the winning points, going over from the three with just nine seconds remaining.
2015 – The teams traded scores for three and a half quarters and McKinley was clinging to a 24-21 lead, deep in its own territory.  On third and five from its own 30, Bulldog quarterback Dominique Robinson under great pressure threw a desperation pass that was intercepted by Massillon's Dakota Dunwiddie, who returned it for a score.  The PAT gave the Tigers a 28-24 lead with 3:14 left in the game.  One more defensive stop and it would be Massillon's win.  But Robinson, having a "career day" with his running and passing, led his team to victory, scoring the winning points with just 20 seconds left.  It was a 12-play, 69-yard drive in which Robinson completed 4 of 7 passes for 47 yards, including a fourth down conversion.  He also ran one yard for the winning score.
Notable Coaches in the Game
Several coaches from both Massillon and McKinley had stellar high school careers that propelled them to collegiate and professional head coaching positions.  Two of these coaches provided perhaps the most intriguing matchup ever in the series when in 1964 Earle Bruce of Massillon faced off against Don Nehlen of Canton McKinley.  Massillon won that day, 20-14.  These two coaches would meet again in 1987 when Bruce's Ohio State team defeated Nehlen's West Virginia team, 24-3.
Massillon
Paul Brown                         (1932-40) (Ohio State, Cleveland Browns, Cincinnati Bengals)
Bud Houghton                    (1941, 1946-47) (Akron)
Chuck Mather                     (1948-53) (Kansas, scout for Chicago Bears)
Tom Harp                            (1954-55) (Cornell, Indiana State)
Lee Tressel                         (1956-57) (Baldwin Wallace)
Leo Strang                          (1958-63) (Kent State)
Earle Bruce                           (1964-65) (Tampa, Iowa State, Ohio State)
Bob Seaman                       (1966-68) (Wichita State)
Bob Commings                  (1969-73) (Iowa)
Lee Owens                         (1988-91) (Akron, Ashland)
Rick Shepas                       (1998-2004) (Waynesburg)
Canton McKinley
Jimmy Aiken                      (1932-35) (Akron, Nevada, Oregon)
Ben Schwartzwalter           (1941) (Muhlenberg, Syracuse)
Don Nehlen                        (1964) (West Virginia)
Ron Chismar                      (1965-69) (Wichita State)
The most wins in the series by a coach were by Canton McKinley's Thom McDaniels (a career high school coach), who holds the record with eleven.  He also coached in the most games with 18.
Massillon
Mike Currence                   7-3 (1976-84)
Nate Moore                        7-1 (2015-22)
Chuck Mather                    6-0 (1948-53)
Leo Strang                          6-0 (1958-63)
Paul Brown                         6-3 (1932-40)
Jason Hall                           6-3 (2008-14)
Canton McKinley
Thom McDaniels                11-7 (1982-97, 2014)
The Record Setters
Throughout the history of the rivalry, nearly every game has been decided by outstanding team effort.  But occasionally, an individual's play would stand out that, as far as fans were concerned, was deemed to be the deciding factor in the outcome.  Below are many but not all of those players.
Massillon Quarterbacks
Justin Zwick (2001) – Two games were played in 2001, including one in the second round of the playoffs.  Both were won by the Tigers, by scores of 29-26 and 35-19.  Combined, Zwick completed 40 of 58 passes (69%) for 484 yards and five touchdowns, with just three interceptions.  In the playoff game, Justin led his team to a 35-7 lead by the end of the third quarter and coasted home for the win.  He later played for Ohio State.

Massillon quarterback Kyle Kempt hands the ball to Ryne Moore in the 2011 Massillon-McKinley game.

Kyle Kempt (2012) – Two games were played in 2012, including one in the second round of the playoffs.  Both were won by the Tigers, by scores of 37-29 and 28-19.  Combined, Kempt completed 27 of 49 passes (55%) for 462 yards and five touchdowns, with just one interception.  Kyle's 52-yard TD pass to Gareon Conley (Ohio State) with two minutes left in the first half of the playoff game gave Massillon an insurmountable lead.  Kempt later played for Oregon State and Iowa State.
Aidan Longwell (2017-19) – Longwell (Kent State baseball) was the starting quarterback for three consecutive years and led the Tigers to victory in rivalry game, with scores of 16-15, 24-17 and 24-14.  Combined he connected on 32 of 51 passes (63%) for 357 yards and three touchdowns.  Longwell ended his Massillon career as the all-time leader in passing yards, touchdowns and completions.
Willie Spencer, Jr. (1994) – It was in the 100th game of the rivalry where Spencer showcased his athletic abilities, running and passing to lead the Tigers to a 42-41 overtime victory.  Willie completed 6 of 13 passes for 103 yards and two touchdowns, while running for another 94 yards and a touchdown on 12 carries.  The two biggest plays were a 62-yard flea-flicker TD to Victor Redrick and a timely quarterback option pitch to Redrick for the winning touchdown in overtime.   Spencer later played quarterback for Akron and wide receiver for Tiffin and the Chicago Bears.
Bobby Huth (2005) – The Tigers lost the regular season encounter with Canton McKinley, spoiling a quest for an undefeated record.  But a rematch during the playoffs went Massillon's way as Huth led his team to a 21-3 victory.  In the latter, he completed 9 of 11 passes (82%) for 121 yards and a touchdown, with just one interception.  Huth would eventually quarterback his team in the Division 1 playoff state finals, where Massillon lost by a touchdown to Cincinnati St. Xavier.
Brent Offenbecher (1978) – Entering the contest 8-0-1, Massillon needed a win over Canton McKinley to secure an undefeated season.  But the situation was dire with the Bulldogs holding to a 10-0 lead midway through the fourth quarter.  That's when Offenbecher went to work, connecting on all nine passes for two touchdowns and a 13-10 victory.  For the game, Brent completed 17 of 20 passes (85%) for 176 yards and two touchdowns, with no interceptions.  The previous year he led the Tigers to a 21-0 upset over the unbeaten Bulldogs with a 7 of 9, two-touchdown passing effort.  Offenbecher would later play for Wake Forest and Ohio State.
Massillon Running Backs
Travis McGuire (1991) – It was arguably the most amazing performance ever by a participant in this long rivalry.  Carrying the entire offense on his shoulders, McGuire (Ohio State) rushed for a game high and all-time Massillon record 302 yards in 36 carries and scored five touchdowns to lead his team to a 42-13 victory and a spot in the state playoffs.  For the year, Travis gained 1,976 yards in 13 games and scored 164 points.  "You always think about having that big game against McKinley growing up, playing in the yard," said McGuire.  "You know, as a kid you pretend the game's on the line, you're on the two yard line, you're Chris Spielman (Ohio State/Detroit), something like that.  But to rush for 300 yards in front of that many people, and score five touchdowns.  To gain 300 yards in the biggest game of your life, it's kind of overwhelming."
Jamir Thomas (2018) – Thomas rushed 35 times for 269 yards and scored two touchdowns in a 24-17 win, assuring his team of an undefeated season.  Asked about the effort, Jamir said, "Because this is the last Massillon-McKinley game I ever get to be a part of, it's just unbelievable.  I love my team."  Jamir started four years for the Tigers, three as running back, and set career records for rushing attempts, rushing yards, rushing touchdowns, all-purpose yards and total points scored.  He also tied the record for total touchdowns scored.
Homer Floyd (1954) – In front of a packed house at Tiger Stadium, Floyd rushed 28 times for 263 yards, which stands as the third all-time Massillon record for this game.  He also scored two touchdowns in leading his team to a 26-6 victory and a seventh straight triumph over the Bulldogs.  When asked after the game how he felt, Homer said, "Fine. The boys sure blocked swell for me today.  I couldn't have run without them."  Floyd later played for Kansas and then professionally for the Edmonton Eskimos.
Ryne Moore (2012) – A second-round playoff game at Kent State University against the Bulldogs went the Tigers way by the score of 28 to 19.  Not to be overshadowed by the passing of quarterback Kyle Kempt (Oregon State/Iowa State), Moore partially stole the show with a career day performance, rushing 37 times for 227 yards and two touchdowns, including a long run of 62 yards.  In this one, Ryne had an uncanny ability to, depending on the initial response of McKinley's opposing linebacker, either run inside the tackle or cut it outside in order to gain the maximum yardage.  Moore later played for Walsh College.
Art Hastings (1960) – Playing an all-around game against the Bulldogs, Hastings was an unstoppable force, rushing 14 times for 213 yards and scoring four touchdowns on runs of 15, 29, 51 and 5 yards. His effort help Massillon defeat McKinley, 42-0.  During his high school career, Art rushed for over 2,400 yards and scored 220 points.
JT Turner (2008) – If ever there was a player that completely took over this rivalry game it was JT Turner.  On offense, JT rushed 28 times for 208 yards and scored a touchdown.  On defense, he recorded 6.5 tackles and forced a fumble.  But he ultimately led by example throughout the game and the players followed with a similar effort in defeating McKinley, 17-0.
Massillon Wide Receivers
Devin Jordan (2001) – Justin Zwick-to-Devin Jordan was a special combination and it showcased itself at the highest level during the regular season matchup.  Jordan hauled in 10 passes for 154 yards, including a 36-yard touchdown, in helping his team to a 29-26 victory.  Devin later played for Ohio State and currently coaches receivers at Ohio State.
Bruce Spicer (1984) – In a losing effort, Spicer was one of the bright spots, catching 11 Mike Scott passes for 104 yards.  During the season, Bruce led the team with 54 catches for 583 yards and returned four punts.  He was also named All-Ohio.
Rameir Martin (1989) – Martin was the favorite target of quarterback Lee Hurst throughout the season and this continued against Canton McKinley.  In this one, Rameir caught nine passes for 110 yards and a touchdown.  His 21-yard leaping TD catch opened up a 21-7 second quarter lead for the Tigers and essentially put the game away, the final score being 24-7.  Martin later played for Bowling Green.
Curt Strawder (1978) – During a 13-10 comeback victory, Strawder caught eight passes for 91 yards and two touchdowns.  For the season, he recorded 42 passes for 553 yards and four touchdowns.  Curt later played for Wake Forest.
Jayden Ballard (2019) – Ballard caught nine passes for 114 yards and two touchdowns in helping the Tigers to a 24-14 victory over Canton McKinley.  His 3rd down, 79-yard grab from quarterback Aidan Longwell with 1:18 remaining in the game sealed the win for the Tigers.  Ballard currently plays for Ohio State.
Massillon Special Teams
Larry Harper (1970) – A wingback on the Massillon's state championship team, Harper returned the opening kickoff 94 yards for a touchdown in a driving rainstorm.  The score propelled Massillon to a 28-0 victory over previously undefeated Canton McKinley and No. 1 in the final state rankings.  Harper played for Miami of Ohio.
Mark McDew (1967) – After the Tigers took a 14-7 third quarter lead following a safety, McDew returned the ensuing kickoff 91 yards for a touchdown.  Massillon eventually held on for a 20-15 victory and second place finish in the final state poll.
Keyshawn Watson and Deonne Harper (2015) – Both players returned record kicks for touchdowns in the same game.  Watson returned the opening kickoff 96 yards and Harper took back a kickoff 89 yards to give the Tigers a 21-18, 3rd quarter lead.  However, McKinley eventually captured the victory.
Massillon Defense
Stefan Laury (2011) – Laury recorded 9 solo tackles, 4 assists and 6 tackles for loss in a 23-20 setback.
Brian Gamble (2005) – In the regular season game, Gamble (Illinois) had 9 solo tackles, 2 assists and 1.5 tackles for loss in a 38-8 defeat.
Dillon Cowan (2012) – In the regular season game, Cowan had 8 solo tackles, 5 assists and a sack in a 37-29 victory.
JD Crabtree (2012) – In the playoff game, Crabtree recorded 8 solo tackles, 5 assists, 3 tackles for loss and 2 sacks in a 28-19 win.
Jamir Thomas (2015) – Just a freshman, Thomas led the Tigers on defense with 7 solo tackles and 8 assists in a 30-28 loss.
Jamaal Ballard (2002) – Ballard did his share in helping Massillon to a 34-17 victory by intercepting three Bulldog passes.
Chris Spielman (1981-83) – Spielman was a mainstay at middle linebacker for three seasons, with his outstanding play inspiring his teammates to a pair of victories over McKinley and an appearance in the playoff state finals.  During his final two years he recorded 182 tackles and 84 assists.  He also scored a pair of touchdowns against the Bulldogs from his running back position, including the game winner in 1982.  Spielman later played for Ohio State, Detroit Lions, Buffalo Bills and Cleveland Browns.
Massillon Memories
Dave Sheegog (1964) – A substitute quarterback, Sheegog engineered the Tigers to three fourth quarter touchdowns to pull out a 20-14 victory and a state championship.  Sheegog later played for Kent State.
Greg Wood (1974) – Having lost an early 14-0 lead, Wood threw a 33-yard pass to Eddie Bell for the winning touchdown with just seconds remaining.  The 20-15 victory knocked off previously unbeaten McKinley and eliminated them from playoff contention.
Elwood Kammer (1925) – Kammer set a Massillon-McKinley record at the time with 39 carries in a losing effort.  Kammer played for Grove City College and later returned to Massillon to take assignments as assistant coach and then head coach.
Jamir Thomas (2017) – Thomas broke Elwood Kammer's rushing record with 42 attempts, gaining 124 yards and scoring a touchdown in a 16-15 victory.
Mike Scott (1984) – Scott set a record for pass attempts with 48 in a loss to the Bulldogs.  For the game he completed 23 passes for 244 yards, with two interceptions.
Canton McKinley Quarterbacks
Dominique Robinson (2015) – Robinson (Miami of Ohio) had a career day against Massillon, rushing 18 times for 50 yards and two touchdowns and completing 20 of 42 passes for 272 yards and a pair of TDs.  He also scored the winning touchdown on a 1-yard rush with just 20 seconds left in the game to give the Bulldogs a 30-28 victory.
Tyler Foster (2011) – Foster quarterbacked the Bulldogs to a 23-20 win using both his arm and his legs.  On the ground he rushed 26 times for 34 yards and a touchdown.  And in the air he was 13 of 20 for 144 yards and a pair of TDs.  He also scored the winning touchdown with just nine seconds left.
Eric Glover-Williams (2012) – Glover-Williams (Ohio State) was a thorn in the side of the Tigers every time he touched the ball.  But he was never able to beat them.  In spite of that, he posted some very good numbers in the two games he played in 2012.  Combined, he completed 29 of 57 passes for 387 yards and four touchdowns.  He also rushed 47 times for 174 yards and two touchdowns.
Kyle Ohradzansky (2009) – Ohradzansky Lafayette College) connected on 8 of 11 passes for 133 yards and two touchdowns to give the Bulldogs a 35-21 victory over Massillon.
Nap Barbosa (1955) – Barbosa ran for 61 yards and scored a touchdown in leading his team to a 13-7 victory over previously undefeated Massillon.  McKinley also finished 10-0, winning the state title.
Canton McKinley Running Backs
Morgan Williams (2005-06) – In 2005 Williams (Toledo) rushed 39 times for 239 yards and scored four touchdowns in a 38-8 regular season victory.  Williams returned in 2006 to rush 29 times for 160 yards in a 10-7 loss.
Adrian Brown (1995) – Brown (Youngstown State) gained 229 of his team's 244 yards rushing and scored all three touchdowns in a 24-21 win.
Michael Doss (1998) – Doss (Ohio State/Indianapolis/Minnesota/Cincinnati) rushed 14 times for 155 yards and scored four touchdowns in leading his team to a 42-20 victory.  McKinley went on to capture the playoff state title.
Jeff Richardson (1986) – Richardson rushed 19 times for 141 yards and scored two touchdowns in a 23-6 win.
DeMario Rozier (1997) – Rozier (Kent State) rushed 23 times for 141 yards and two touchdowns.  The Bulldogs won 27-14 and then later won the playoff state title.
Kinta Mitchell (1994) – Mitchell scored four touchdowns in a 42-41 loss during the 100th game.
Marion Motley (1936-38) – Motley was one of the most prolific running backs in Canton McKinley history, averaging 17 yards per carry his senior year.  He lost only three games in high school, but all three were to Paul Brown's Massillon teams.  Brown played for Nevada later signed Motley to play for the Cleveland Browns, followed by Pittsburgh.
Canton McKinley Wide Receivers
Shaquille Perry (2015) – Perry caught seven passes for 117 yards in a 30-28 victory.
Jeff Richardson (2012) – During two games that year, Richardson caught seven passes for 161 yards and scored a touchdown.  Both efforts came in losses.
Canton McKinley Defense
George Tabron (2006) – Tabron recorded 11 solo tackles, 5 assists and 2.5 tackles for loss in a 10-7 defeat.  The total tackle points of 13.5 was the highest mark for either team since defensive records were kept.
Reggie Young (2017) – Young had 9 solo tackles, 2 tackles for loss and one sack. But his team lost 16-15.
Doak Walker (2014) – Walker had 8 solo tackles, 5 assists and 3 tackles for loss in a losing effort, 31-12.
James Smith (2013) – Smith recorded 9 solo tackles and 4 assists in a 34-7 loss.
Jalen DiCenzi (2012) – In a playoff game at Kent State, DiCenzi had 8 solo tackles, assists, 5 tackles for loss and 3.5 sacks during a 28-19 loss.
The Victory Bell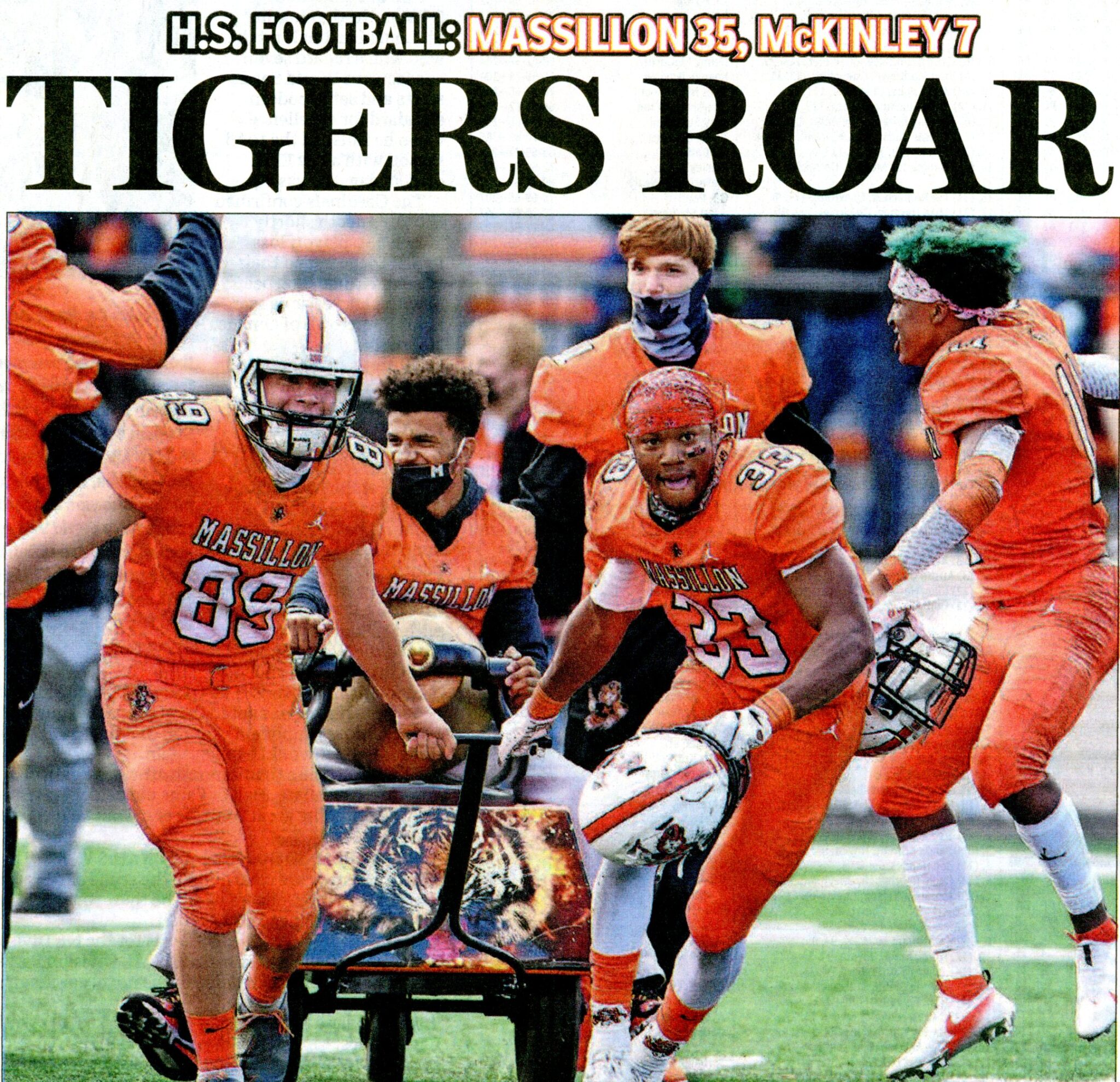 The "Victory Bell" is awarded annually to the winner of the Massillon-McKinley regular season game.  It was originally a component of Locomotive Engine No. 922, which was owned by the Wheeling and Lake Erie District of the Nickel Plate Railroad.  In 1957, after 2,000,000 miles of service, the engine was retired and the bell was then donated to Massillon and McKinley as a trophy going to the winner of the annual rivalry game.  Massillon won that first contest 25-7 and kept the Bell for nine consecutive years before the Bulldogs finally had a chance to see it in 1966.
Game Crowds
The Massillon-McKinley game annually draws near-capacity crowds, something that few other high schools can match.  With it being the last regular season game and contested on a Saturday afternoon for better crowd control and availability, plus the tremendous local interest leading up to it and during the game itself, it can be compared on a smaller scale to the Ohio State-Michigan game.  It's just different in every scale.  Earle Bruce, who coached at both Massillon and Ohio State, summed it up best when he said that there was more pressure to win at Massillon than at OSU.
The game experienced large crowds as early as 1922 when 6,000 fans packed Massillon's Jones Field.  But by the mid-1930s it became apparent that the smaller Massillon and McKinley venues were just too inadequate to support the game.  So, as part of President Franklin Roosevelt's Works Project Administration (WPA), Massillon constructed 14,500-seat Tiger Stadium, which opened in 1938, and Canton built 15,000-seat Fawcett Stadium, which opened the following year.  Immediately, both were filled to capacity when the big games were held.  Through later renovations, the capacity of Tiger Stadium was increased to 22,000 using temporary endzone and track seating and the capacity of Fawcett Stadium was increased to 23,000.  Today, Tiger Stadium has been reduced to 16,884 owing to smaller, permanent end zone capacity and elimination of track seats.  Fawcett Stadium was replaced in 2015 with Tom Benson Hall of Fame Stadium and has a capacity of around 23,000.
But the largest crowd ever to witness a Massillon-McKinley game wasn't at either stadium.  It was at the Akron Rubber Bowl in 1994 when a playoff rematch drew 29,110 patrons.
At present, an estimated 1.6 million fans have attended the rivalry games.
Side Shows
 As big as the game is, it was not unusual to see some quirky events overshadow it.  Here are a few examples:
1938 Tiger Flag (Gift of Massillon Tiger Football Booster Club (2014.39.212) Collection of the Massillon Museum)

Stolen Flag – At the end of Paul's Brown's coaching tenure in Massillon, an avid fan constructed a 15' x 8.5' applique flag to celebrate Brown's achievements.  On the flag was stitched a running tiger and the years in which Brown won state championships, later adding the same award by Bud Houghton.  The last time the flag was seen was in 1942 when it flew from a flag pole during the Massillon-McKinley game, the day the Bulldogs snapped Massillon's 52-game win streak.  Dr. David Leffler, a student at the time, informed police that after the flag was removed from the flag pole, it was ripped from his arms by a "Canton fan."  When the thievery went public, the deviant panicked and moved the flag to Youngstown, where it was eventually hung on the wall of a local lawyer.  It took a long time to locate the flag, but in 1987 its whereabouts were finally discovered and the flag then promptly returned without penalty.  Following refurbishment, it now hangs proudly in the athletic wing at the high school.

Two Games in 1963 – Not since 1909 did the two teams face each other twice in the same season.  It was not originally planned that way, but Canton McKinley's 1962 season was canceled due to the Ohio High School Association's allegation of illegal recruiting.  So, in order to recover lost revenue, the teams scheduled two games the following year, the first in Massillon and the second in Canton.  Massillon won both, by scores of 24-20 and 22-6.  Later they would meet twice six times as dictated by the state playoffs.
The Snow Game – Fans of the game woke up on that Saturday in 1977 to a winter storm that dumped seven inches of snow throughout the area.  Most wondered if the game would even be played.  But with a concerted effort by both schools, the Fawcett Stadium grass was cleared and the game proceeded as scheduled.  Fans were left to remove snow and ice from their seats and then braved the 20-degree temperature.  The Tigers won that day 21-0, knocking off the Bulldogs from the ranks of the unbeaten.  McKinley did, however, advance to the playoff state finals.
Double Seats – Prior to the 1934 contest in which both teams entered the fray unbeaten, some ambitious entrepreneur printed and sold a duplicate set of tickets (4).  Surprised fans overwhelmed the stadium and ended up alternating sitting and standing throughout the game.  No culprits were found.
Las Vegas Gets Involved – It was not unusual in the 1970s and 1980s to see Massillon vs. Canton McKinley listed with the college schedule on their betting sheets for the week.
Trivia
Massillon's record at home in the series is 34-25-4. McKinley's home record is 27-37-1.  Massillon holds a 4-1 edge at neutral sites.
Canton McKinley holds the longest winning streak in the series at eleven, coming in 1894-1906. Massillon has the second longest streak at nine, in 1957-65.
The Tigers' largest margin of victory came during a 42-0 victory in 1960. The Bulldogs' largest was in a 46-0 win in 1900.
Each team has been held scoreless 23 times. Massillon was last shutout in 1996 by the score of 21-0.  McKinley was last shutout in 2008, 17-0.
Nine times the teams entered the fray when both were unbeaten. The Tigers won six of these contests.
The two teams faced each other in a rematch in the state playoffs six times, with Massillon winning five.
The first televised Massillon-McKinley was in 1955.
Since 1932, Massillon has won 41 of 47 games when they scored first; McKinley, 28 of 46.
Massillon is 2-0 against Canton McKinley in Benson Stadium.
(1) USA Today Sports, November 3, 1993
(2) "Timeless Rivals," Timeless Rivals Film, LLC, Brainstorm Media, Inc. and Dave Jingo Media
(3) "Paul Brown," by Andrew O'Toole, Clerisy Press, 2008
(4) "A Century of Heroes," by Scott H. Shook.  Massillon Memories Publishing Company, 2010
(5) The Independent (selected photos)
(6) The Beacon Journal (selected photos)
Written by Don Engelhardt
Gary Vogt, Mike Riordan and Eric Smith contributed to the story.