Massillon rallies to knock out Boardman
Chris Easterling – The Independent
MASSILLON Massillon threw the first punch. The Tigers threw the last one as well.
In between, they endured more than their share of body blows from a Boardman team that had no intention of letting its No. 7 seed define what kind of football team it really was. However, the final blow thrown by Massillon was enough to help it keep on playing, as it rallied for a 28-23 win in Friday's Division II Region 7 quarterfinal at Paul Brown Tiger Stadium.
"You just keep swinging," said Massillon coach Nate Moore, who picked up his first playoff win at the school, while ending the program's three-game postseason losing streak.
With just over nine minutes remaining, that streak looked like it may well be on its way to continuing. Boardman went in front 23-14 on quarterback Mike O'Horo's 5-yard touchdown run with 9:19 left.
Then the Tiger offense, which had mustered just 50 total yards over its previous seven combined possessions, came alive. A passing game that had just 74 yards through three quarters exploded for 118 in the final 12 minutes.
On Massillon's next two possessions after the Spartans opened up the two-score lead, it came up with touchdown passes from Aidan Longwell to Austin Kutcher, a 36-yarder with 8:40 remaining, and to Dean Clark, a 19-yarder with 5:46 left.
Kutscher's catch, part of a seven-catch, 104-yard night, pulled the Tigers within 23-21. Clark's catch — one play after he nearly pulled in a pass in the end zone — put Massillon ahead to stay.
"We had great practices all week," said Moore, whose team will play Ashland in a regional semifinal next Friday at a site to be announced. "For some reason tonight, the shots weren't falling. They just weren't. But if you play hard and keep swinging, hopefully you have a chance to win the game in the fourth quarter. That's what happens."
Longwell, who was 6-of-9 for 118 yards with the two scores in the fourth, finished the game 13-of-25 for 192 yards with the two touchdowns and one interception.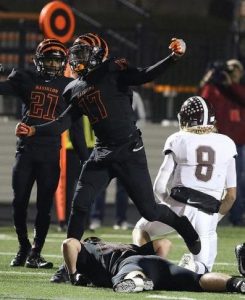 It took all of 16 seconds for Massillon to throw the first punch of the game. Tyree Broyles took the opening kickoff virtually untouched to the end zone for a 91-yard touchdown return and a 7-0 Tigers lead.
"We actually thought that if they kicked it to Tyree, that we would take it to the house," Moore admitted.
It was a lead that lasted less than two-and-a-half minutes. After Jujuan Forte brought back the subsequent kickoff 55 yards to the Massillon 35, Boardman took a quick six plays to traverse that distance for the game-tying score.
Maurice Pickard did the honors for the Spartans, scoring on a 7-yard run with 9:22 left in the first quarter. Tommy Fryda's point-after kick squared it at 7-7.
Massillon's response was almost as fast as Boardman's. The Tigers took all of 2:19 to go 57 yards in eight plays, with Jamir Thomas running it in from the Spartan 6 for a 14-7 lead after Klay Moll's PAT kick with 6:56 remaining in the first quarter.
With three touchdowns in the first 5:04 of the game, it seemed like a shootout was on the way. Except that it would take just over 14 minutes of clock time — and six combined possessions between the two teams — before another score.
Boardman would end the scoring moratorium with an 8-yard touchdown run by O'Horo with 4:47 remaining in the first half. The Spartans, though, missed the PAT kick to keep the Tigers in front at 14-13.
Massillon, after scoring the first two times it touched the ball, was limited to just 60 yards on its final five first-half possessions. Boardman, meanwhile, was held to 50 yards on its four non-scoring drives in the first half.
Boardman would take the lead on the opening drive of the second half. Fryda's 36-yard field goal just sneaked over the crossbar to cap a 14-play, 52-yard drive to make it 16-14 Spartans.
O'Horo's 5-yard touchdown run with 9:19 remaining made it 23-14 Boardman. O'Horo finished with 48 rushing yards on 17 carries, while throwing for 89 yards while completing 12-of-21 passing.