Tigers fully tuned for big test vs. McKinley
By STEVE DOERSCHUK
Independent Sports Editor
The Massillon Tigers have lost exactly two McKinley tuneups since 1932.
It was obvious by 8:15 p.m. Saturday that the 1988 get‑ready game Would follow the old pattern.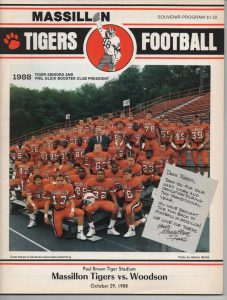 Informed of the Tigers' amazing record in pre‑McKinley games, head coach Lee Owens smiled wryly and said, "That doesn't have anything to do with scheduling, does it?"
Well, it just might.
The Woodson High team from Washington, D.C., that fell to the Tigers 46‑12 was stocked with talented players.
"We could put eight or nine of them to good use," one Massillon coach said on the sideline while watching the carnage.
Talent not withstanding, Woodson lacked numerous aspects of the Massillon machine that have made football here what it is ‑ which is pretty darned good, even if it's not what it once was.
"I've been coaching for 26 years, and that's probably one of the best teams I've ever seen," Woodson head coach Bob Headen said.
The Tigers led 40‑6 at halftime, by which time junior running back Lamont Dixon had done most of his damage in a night that included 104 rushing yards in only seven carries, with touchdown runs of 10, 29 and 53 yards. Senior fullback Jason Staf­ford rushed 12 times for 97 yards, giving him 875 yards on the year. He scored two touchdowns.
Stafford said he is at "95 percent" in his recovery from a pulled ham­string.
Quarterbacks Lee Hurst and Jamie Slutz combined to complete 10 of 13 passes for 90 yards.
The Tiger defense almost could have passed for an offense, based on the amount of time it spent in the Woodson backfield. Warrior play­ers were thrown for 56 yards in losses.
Both teams ran 46 plays. Therein the similarities ended.
The Tigers pronounced them­selves fully tuned for Saturday's 2 p.m. game against McKinley at Paul Brown Tiger Stadium. The fans are ready, too. Hundreds of them were lined up outside the Ti­ger Stadium ticket office this morn­ing at 7, 30 minutes before the win­dow opened. Tickets were to be sold through 4 p.m. today.
The Tigers and Bulldogs both en­ter Saturday's showdown (the Ti­gers lead the series that started in 1894 50‑38‑5) with identical 6‑3 re­cords. This is the result of McKinley having been stunned 9‑6 Saturday night at Fawcett Stadium by Cen­tral Catholic.
Jeff Mayle, a lineman who helped open gaping holes for Dixon and Stafford Saturday, didn't know and seemed not to care what impact McKinley's loss would have on the Bulldogs.
"I wouldn't say we ever root for McKinley," Mayle said. "I just want to help us beat them. The key will be for us to block their speed. Their nose guard, (Lamuel) Flow­ers, is really quick."
Mayle didn't know that Flowers, who made the Stark County coaches' all‑county team last year as a junior, missed Saturday's game because of a disciplinary suspension. Whether he will play this week is uncertain, although fans and coaches from Massillon are presuming Flowers will suit up.
Tiger senior Shawn Ashcraft was surprised by the McKinley score.
"I was hoping we'd both win so we'd both come into the game on a bubble, and we could burst theirs," he said.
Bob Dunwiddie, Massillon's senior defensive tackle/bull offense running back, figures the Bulldogs can worry about themselves.
"I don't think we could be any more ready after beating St. Joseph and killing these guys (Woodson)," he said.
The mood among the Massillon coaches was tense in the locker room after the Woodson game.
Everyone was laughing heartily the previous week, when the Tigers drilled Cleveland St. Joseph 33‑8. Now it was different. It was time to think about McKinley, which has defeated Massillon four straight times.
"There's only one thought run­ning through my mind," Owens said. "There's been only one thought running through my mind all week. I kept getting messed up in practice and I had to catch my­self."
The thought, of course, was beat­ing McKinley.
"That thought has dominated since day one," Owens said.
The 32‑year‑old, first‑year Mas­sillon coach said he had hoped Woodson would give the Tigers a greater challenge in Game Nine.
On the plus side, Owens said, "We were able to play an opponent where it didn't make as much a dif­ference if we looked ahead. We were running things designed for McKinley all week."
Anticipation for the game seems to be at the same level as it has been in past years when both teams en­tered with superior records.
Owens shares that impression, citing "McKinley's streak, a new head coach in Massillon, and the fact both teams have been out­standing somewhere along the line this year."
Behind the scenes is another fac­tor. Owens and Thom McDaniels, the seventh‑year head coach at McKinley, are not the best of friends. McDaniels is miffed that Owens said during the pre‑season that he would not participate in a film exchange between the teams.
As for Massillon‑Woodson, it was not the best of games, although it did feature some entertaining mo­ments before most of the fans began clearing out in the third quarter.
The Tigers drove 41 yards on six plays with their first possession, scoring on a 10‑yard counter play blocked so well Dixon could have jogged into the end zone.
A snap far over the Woodson pun­ter's head set up the Tigers at the 4‑yard line moments later. Stafford scored from 2 yards out and it was 13‑0.
Woodson quickly had to punt, and the Tigers quickly drove to score 57 yards in three plays, the last of which was a 29‑yard blast by Dixon.
It was 20‑6 after one quarter, the result of Woodson benefiting from a tipped ball that became a 40‑yard scoring pass.
The Tigers added touchdowns from Dixon (his 53‑yard explosion), Stafford (on a 4‑yard Hurst Pass), Hurst (on a 2‑yard run) and De­smond Carpenter (on a 3‑yard pass from Slutz).
Running back Kyen Hill was a bright spot for Woodson with 97 rushing yards in 20 carries. Hill, who says he runs a 4.3 40 and is strongly considering playing at Ohio State, enjoyed the trip to Tigertown.
"The hospitality of the people in town was fantastic," he said. "We didn't do well in the game, but they were just ready for us.
"I liked their players. No. 81 (Monte McGuire) … tell him I'd like to meet him again some day. I'd like to shake his hand."
If they meet again, McGuire wants to be able to say, "Hey, Kyen, remember when we played you guys the week before we beat McKinley…"
M W
First downs rushing 12 6
First downs passing 5 3
First downs by penalty 2 0
Totals first downs 19 9
Yards gained rushing 280 157
Yards lost rushing 11 56
Net yards rushing 269 101
Net yards passing 90 93
Total yards gained 359 194
Passes attempted 13 9
Passes completed 10 3
Passes Int. by 1 0
Times kicked off 8 3
Kickoff average 55.6 43.3
Kickoff return yards 65 83
Punts 0 5
Punting average 00.0 27.8
Punt return yards 0 0
Fumbles 2 1
Fumbles lost 1 0
Penalties 4 6
Yards penalized 31 60
Number of plays 46 46
Time of possession 21.07 26.53
Attendance 8,378