Tigers barely break a sweat
By JOE SHAHEEN
Independent Sports Editor
If ever there was a case for the mercy rule in football, it was the Massillon Tigers' 72‑6 demolition of the Washington D.C. Cardoza High Clerks in front of approximately 11,000 fans at Paul Brown Tiger Stadium, Friday.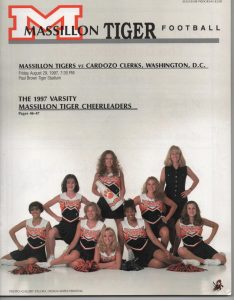 The Tigers jumped out to a 33‑0 lead after the first quarter and were cruising 53‑0 at half­time with junior varsity players on the field the majority of the second quarter.
Cardoza did not cross the midfield stripe until the 7:10 mark of the fourth quarter.
"I don't enjoy games like this," admitted Tigers mentor Jack Rose. "But coming off those scrimmages we had, this was just what we needed."
Massillon scrimmaged Pennsylvania grid powers Penn Hills and Upper St. Clair, and Pickerington this month, result­ing in injuries to several key players including quarterback Tip Danzy, wide receiver Tyrie Clifford and linebacker Jared Stefanko. The latter was a potentially season‑ending knee injury and with defending state champion Lima Senior up next, the Tigers could ill afford a bruising opener.
"I didn't blow any smoke at our players this week," Rose said. "I told them we should win this game easily. We warned them that not playing hard is the easiest way to get injured. Fortunately, the kids listen and we played hard for four quarters."
It was so bad the Cardoza coaching staff asked for six minute quarters (instead of the regulation 12) in the second half. The Tigers, planning to play junior varsity players the third quarter and sophomores the fourth quarter, settled on eight minute periods.
"Actually, I was rooting for them to get first downs in the second half," Rose said.
"We came off the ball real well and did a good Job with our the bounce play and the zone play. We didn't run the option as well as I thought we would. Our quarterbacks were ducking up in there when they should have been kicking it out."
The Tigers marched 61 yards in five plays following the open­ing kickoff. Tailback Christian Morgan gained 29 yards off right tackle on the first play from scrimmage and added 18 more off left tackle on the game's second snap. But a penalty and two negative ­yardage plays set up a third and 20 situation at the Cardoza 25. Quarterback B. J. Burick pitched to Morgan on the option play around left end and the 6­foot‑4, 210‑pound senior cut off a sensation block by wide receiver Clint Dean and scam­pered untouched into the Clerks' end zone.
Josh, Hose boomed the point after kick, nearly hitting the scoreboard, to give the Tigers a 7‑0 lead at the 10:10 mark of the first period.
Cardoza fumbled the ball away on its first snap and Tigers cornerback Jamie Allman fell on the loose pigskin at the visitors' 34. On first down, Burick found fullback Dave Hodgson in the left flat and the senior carried the ball to the 12. On the very next snap, Hodgson, filling in for Stefanko, found a hole over left guard, spun off two tacklers and bulled his way into the end zone.
Again Hose converted and it was 14‑0 with just under nine minutes to play in the opening stanza.
Cardoza got off one snap before turning the ball back over to Massillon. On first and 10 from the 24, following a pass interference on the hosts, Massillon linebacker Brad Dean picked off a Cardoza pass at the 34 and returned it 13 yards to the 21. Burick hit Clint Dean on a quick slant pass for 19 yards and Morgan scored over right tackle on the next snap to put the Tigers up 20‑0 at 7:21 of the first.
Following a Cardoza punt, Tip Danzy took over at quarterback and on fourth and 8 from the visitors' 44 found wide receiver Andy Cocklin wide open along the left sideline. Cocklin snared the ball at the 20 and sprinted untouched into the end zone for a 27‑0 Massillon lead.
Cardoza fumbled the ball away on the first snap of its next series, as the center snapped the ball over the head of the quarterback who was in a shotgun formation. Chris Turner recovered for Massillon at the 15. Two plays later, Danzy pitched to fullback Rico Person on an option around right end and the senior covered the eight yards to the end zone for the touch. The kick failed but it was 33‑0 with 1:37 to play in the First.
"Rico has good hands and he showed he has good speed on that play," Rose noted.
On Massillon's next posses­sion, Burick lofted a pass down the left hash mark that Clifford ran under for a 56 yard gain. Two plays later, Morgan crashed into the end zone from two yards out and it was 40‑0 at the 9:20 mark of the second quarter.
Clifford's speed earned Rose's praise. "He gives us a lot more speed at wide out and that's going to make a difference in the offense this season," Rose said.
Josh Kreider's 39 yard punt return set up the Tigers' next TD, a 9‑yard burst up the mid­dle, by junior Julian Miller.
MASSILLON 72
CORDOZO 6
M C
First downs rushing 8 2
First downs passing 4 5
First downs by penalty 0 1
TOTAL first downs 12 8
Net yards rushing 163 31
Net yards passing 158 104
TOTAL yards 321 135
Passes attempted 6 18
Passes completed 5 11
Passes intercepted 0 3
Punts 0 3
Punting average 0 28.3
Fumbles/Lost 2/0 5/3
Penalties 7 5
Yards penalized 67 25
MASSILLON 33 20 19 00 72
CORDOZO 00 00 06 00 06
SCORING
M ‑ Morgan 25 run (Hose kick)
M ‑ Hodgson 12 run (Hose kick)
M ‑ Morgan 2 run (kick failed)
M ‑ Cocklin 44 pass from Danzy (Hose kick)
M ‑ Person 21 run (kick failed)
M ‑ Morgan 2 run (Hose kick)
M ‑ Miller 9 run (pass failed)
M ‑ Lynn 41 pass interception return (Hose kick)
M ‑ Cleveland 84 kickoff return (kick failed)
M ‑ Lynch 17 run (kick good)
M ‑ Buckosh tumble recovery (kick failed)
C ‑ 2 run by unknown (run failed)
INDIVIDUAL STATISTICS
Massillon rushing:
Morgan 10‑70, 3 TDS;
Lynch 2‑22, 1 TD;
Wagner 2‑19;
Hodgson 1‑12, 1 TD;
Miller 1‑9, 1 TD;
Person 1‑8, 1 TD.
Cordozo rushing:
Belle 10-22.
Massillon passing:
Burick 3‑3‑103;
Danzy 2‑2‑55, 1 TD;
Fichter 0‑1.
Cordozo passing:
Crockett 11‑18‑104‑3
Massillon receiving:
Clifford 1‑56;
Cocklin 1‑44, 1 TD;
Hodgson 1‑28;
Dean 1‑19;
James 1‑11.
Cordozo receiving:
Johnson 5‑45,
Brooks 1‑21,
Belle 2‑9.