BIG FINISH
LATE GAME HEROICS BY OLIVER, McCONNELL LEAD TIGERS PAST PUPS
McConnell's play saves day for Tigers 108th MASSILLON-McKINLEY GAME
By MIKE KEATING
Independent Sports Writer
The Massillon defense bent throughout the game and even broke down on four occasions, but it held up at crunch time.
With arch‑rival McKinley threatening to score in the waning seconds, cornerback Craig McConnell made the game‑saving play.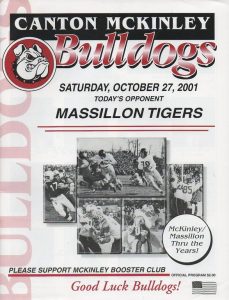 With only 11 seconds left and McKinley just 18 yards from a go‑ahead touchdown, McConnell stepped in front of the intended receiver and picked off the pass, cementing Massillon's 29‑26 victory at Fawcett Stadium Saturday afternoon.
"We tried to put more pressure on their quarterback by bringing people," Massillon head coach Rick Shepas said. "But the real credit goes to Craig. He made the big play,"
The Tigers, who defeated the Bulldogs for the third consecutive year and finished the regular season at 9‑1 with a six‑game winning streak, were in a nickel defense when McConnell made the interception.
"It was a slant pattern," McConnell said. "I just followed my man (Reggie Corner) and played my role in that defense.
"My role was to follow the man (over the middle). I was fortunate enough to get a good jump on the ball and make the play."
McConnell's interception came with six seconds left to play.
McKinley head coach John Miller, whose team finished regular‑season play at 7‑2, admitted there were several reads on the pass that McConnell intercepted.
"Whoever was open, that's who we were going to throw the ball to," Miller said.
Had the pass fallen incomplete, McKinley was going to try and send the game into overtime.
"We were going to kick the field goal," Miller said. "It just didn't work out."
Miller, a defensive back during his playing days at the former Canton Lincoln High, said McConnell made a great read.
"He broke for the ball real well," Miller said. "Give him credit. It was a fine play."
Massillon senior Justin Princehorn, who played safety the first half and linebacker the final two quarters, said he felt as if he was in suspended animation awaiting the outcome of the play.
"I just remember watching the quarterback let go of the ball and it sailing over my head," Princehorn said. "I turned around and saw McConnell break on the pass.
"He made a great play. I remember telling him to just go down and not risk getting hit and losing the ball on a fumble. When he went down, that is when I knew it was over."
McConnell, who finished the regular season with three interceptions, said McKinley did not unveil any different pass patterns than it had shown in any previous games the Tigers watched on videotape.
"We knew what to expect; they just did a good job of executing," he said. "Their receivers ran some good routes and were able to separate from us."
Except, that is for McKinley's final pass play of the game, much to the delight of the Tigers and the dismay of the Bulldogs.
MASSILLON 29
MCKINLEY 26
MAS MCK
First downs rushing 7 17
First downs passing 11 9
First downs by penalty 1 5
TOTAL fit first clowns 19 31
Net yards a rushing 156 255
Net yards passing 245 166
TOTAL yards 401 421
Passes attempted 25 28
Passes completed 16 18
Passes intercepted 2 2
Punts 4 2
Punting average 26 30
Fumbles/Lost 1/1 4/3
Penalties 12 8
Yards penalized 147 76
MASSILLON 7 15 0 7 29
MCKINLEY 12 0 14 0 26
SCORING
MCK ‑ Gilmer 9‑yard run (kick failed)
MAS ‑ Ashcraft 11-yard pass from Zwick (Abdul kick)
MCK ‑ Everett 1‑yard run (run failed)
MAS ‑ Jordan 36‑yard pass from Zwick (Abdul kick)
MAS ‑ Oliver 15‑yard run (Ashcraft pass from Zwick)
MCK ‑ Gilmer 4‑yard run (Campbell kick)
MCK ‑ Abdul‑Zahir 7‑yard run (Campbell kick)
MAS ‑ Oliver 27‑yard run (Abdul kick)
INDIVIDUAL STATISTICS
Massillon rushing: Oliver 13‑94, Johnson 5‑53.
McKinley rushing: Gilmer 22‑170, Huddleston 7‑39, Palumbo 11‑37
Massillon passing: Zwick 16‑25‑245 2 INT, 2 TDs.
McKinley passing: Palumbo 14‑21‑142 2 INT, Huddleston 4‑7‑24.
Massillon receiving: Jordan 10‑154‑1, Williams 2.41, Oliver 2‑14.
McKinley receiving: Corner 7‑61, Abdul Zahir 3‑25, Smith 2‑25.
‑ Statistics courtesy of RICHARD CUNNINGHAM
Tigers sluggish in second half,
But late-game heroics save day
By JOE SHAHEEN
Independent Sports Editor
The Massillon Tigers, shut out for the first 22 minutes of the second half, drove 72 yards in the final three minutes of the fourth quarter and scored on a 27‑yard run by Robert Oliver to pull out a heart‑pounding 29‑26 victory over arch‑rival Canton McKinley in the ‑108th game between the storied Ohio high school football powers.
McKinley, however, appeared poised to at least send the game into overtime with a field goal or even pull out a win with a touchdown after driving deep into Massillon territory with seconds to play.
Massillon senior Craig McConnell ‑ ended the threat ‑ and McKinley's hopes ‑ when he picked off a Bulldogs pass at the 2‑yard line with six seconds left in the contest. The win, the Tigers' ninth on the year, came in front of 23,815 fans on a chilly, gray Saturday afternoon at Fawcett Stadium in Canton.
"I was just watching my receiver and doing what I was taught," said an ecstatic McConnell, though he admitted he could recall few details of his game‑saving play.
Massillon's game‑winning touchdown drive began at its 28 with 2:52 to play after the Tiger defense forced McKinley's only punt of the second half.
Justin Zwick hit Devon Jordan on a crossing pattern for 11 yards on first down. Then Ricky Johnson broke a draw play for 20 more to the McKinley 41‑yard line.
Zwick then completed a short pass to Robert Oliver in the right flat and the senior running back picked his way for 16 yards to the McKinley 25.
Block paved the way
After a 2‑yard loss on first down, Zwick handed off to Oliver on a draw play that went over right guard and broke open. Oliver spun off one would‑be tackler, wideout Joe Jovingo laid a textbook block on McKinley cornerback Tyler Everett near the 20‑yard line, and Oliver read it perfectly to score the biggest touchdown of his memorable senior season.
"Our offensive line did a great job and stepped up when we needed them," Zwick said. "Ricky (Johnson) and Robert did a great job in the backfield along with David Hill blocking and they got us in the end zone.
"Guys have been selling themselves for blocks to get more yards all year long and Joe did that on that play and got us a lot of yards and a big score."
Ironically Jovingo, who a career high six catches for 156 yards last week, had not caught a pass all day long. But his block was as big as any play up to that point.
"I saw Robert coming around the corner," Jovingo said afterward. "I looked up and saw Tyler Everett there and just, went heads up with him. Robert read my block and got into the end zone."
Until final drive, the Tigers had been outplayed in the second half. Massillon held a 22‑12 lead at the break, but McKinley turned an interception into a three‑play, 14‑yard touchdown drive, capped by Shalamar Gilmer's 4‑yard run at 11:29 of the third quarter.
Matt Campbell's extra point was true, and the Bulldogs had cut the deficit to 22‑19.
Massillon ran six plays on its ensuing possession before being forced to punt.
McKinley took over at its 33 and embarked on a 15‑play drive that ate more than seven minutes off the third quarter game clock. More importantly, the Bulldogs found the end zone as Yusef Abdul‑Zahir scored on a 7‑yard cutback run at the 1:06 mark. Campbell's extra point was true, and McKinley was up 26‑22 with all the momentum in the Bulldogs' corner.
Massillon again was forced to punt after a six‑play possession, but junior safety Brian Hill's interception at the 1‑yard line prevented McKinley from going up by two scores.
The Tigers offense remained dormant and was forced to punt. On the ensuing McKinley possession, however, junior linebacker Tony Graves recovered a McKinley fumble to give Massillon life at its 37‑yard line.
Massillon returned the favor with a fumble of its own three plays later and McKinley looked to be in business with possession of the football, a four‑point lead and just 6:01 on the clock.
The Bulldogs advanced from their 33 to midfield, but McConnell made a fine open field tackle on Gilmer that saved a big gainer, and Shawn Crable and Marquis Johnson sacked Palumbo to force the McKinley punt that led to Massillon's game‑winning drive.
"I expected this kind of outcome, but with a 10‑point lead at the half, I thought maybe not," said Tiger coach Rick Shepas. "We came in the second half and made some mistakes offensively. We didn't play very good defense all day.
"You've got two football teams with a lot of athletic ability and a lot of heart. We both represent tradition. Even though we won today, you've got to credit Canton McKinley for an outstanding job."
McKinley got on the board first. The Bulldogs took the opening kickoff and marched down the field, effectively mixing the short pass with a series of Gilmer running plays.
Gilmer tore off a 19‑yard gain on the firs play from scrimmage, then capped the eight play, 69‑yard drive with a 10‑yard touchdown run on a pitch play around right end. The Bulldogs senior running back hurdled a Tiger tackler at the 5‑yard line and bounced into the end zone at 9:31 of the first period. The conversion kick was wide left and McKinley was out to a 6‑0 lead.
The teams exchanged punts, with Massillon eventually taking over at its own 33 after a 15‑yard punt return by McConnell.
Jordan came up big
On the second play of the drive, Zwick hit Jordan for an 18‑yard gain to near midfield for the Tigers initial first down of the game. The senior signal caller then duplicated his throw to Jordan along the right sideline for 18 more to the Pups' 23.
Jordan got open along the left sideline on the next play, and Zwick was accurate with his throw for a 12‑yard pick‑up to the 11. Zwick threw his fifth straight completion on the next snap, finding Stephon Ashcraft open in the end zone for six. David Abdul's extra point kick was true and Massillon assumed a 7‑6 lead at 3:40 of the first quarter.
McKinley was undaunted, coming back to reclaim the lead on its next possession. A 33 yard kickoff return accompanied by a personal foul against the Tigers gave the Bulldogs great field position at their own 49.
A Massillon offside penalty gave the Pups a first down on a third‑and‑two play from the 43. Palumbo hit Abdul‑Zahir for 12 yards on the next play, then Gilmer skirted left end for 14 more to the Massillon 12‑yard line.
A Palumbo scramble netted 8 yards on second down. One play later, Tyler Everett went over right guard for a touchdown. A run for the two‑point conversion failed but McKinley was up 12‑7 with :28 left on the first quarter game clock.
A clipping penalty on the Tigers gave them tough field position on the ensuing kickoff at their own 8, but Zwick struck quickly ‑ hitting Marquis Williams, who made a juggling catch in traffic, for a 38‑yard gain to the 46 as the first quarter came to an end.
Oliver went around left end on the next snap, broke a McKinley tackle at the line and rumbled for 18 yards to the Bulldogs' 36.
Right down the middle
On the very next play, Zwick ‑ off a fine play‑action fake ‑ threw a perfect strike to Jordan running a deep post pattern for a touchdown. Abdul's kick made it Massillon 14, McKinley 12 at 11:21 of the second period.
The Bulldogs fumbled the ensuing kickoff and Markeys Scott recovered for the Tigers. Massillon drove down to the 2‑yard line, but McKinley's Charles Minor intercepted a Tiger throw in the end zone to stave off the threat.
Alleman triggered turnover
McKinley proceeded to drive to near midfield on seven plays, but Massillon linebacker Andy Alleman forced a Gilmer fumble, and Justin Princehorn recovered for the Tigers to set up their third score of the day.
A Zwick scramble netted 6 yards on first down. The Ohio State‑bound signal caller then rolled left and hit Jordan for 18 yards to the McKinley 22.
Running out of the power‑I Massillon scored when Oliver gained 7 yards off right tackle, then burst through a big hole over left tackle for a 15‑yard touchdown run at 4:01 of the second period.
Abdul's kick made it Massillon 22, McKinley 12.
The Bulldogs drove to the Massillon 14 with Marc Huddleston taking over at quarterback. But the drive stalled thanks to a pass deflection by Shawn Cable and a Princehorn sack of Huddleston.
A 31‑yard field goal attempt was wide right and the Tigers enjoyed an eight‑point lead at the intermission.
The cushion wouldn't last but Massillon's offense woke up when it needed to and the Tigers will carry a 9‑1 record into the first round of the playoffs Saturday at Paul Brown Tiger Stadium.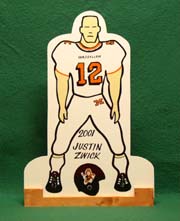 Justin Zwick