Tiger rally fails to Stop 'nightmare'
Irish dominate early, then hold on for win
By STEVE DOERSCHUK
Independent Sports Editor
Was it that the opponent was that hot? Or were the Massillon Tigers simply cold?
At any rate, you thought maybe Jamie Slutz would have been cold as he went in for his first work of the season at quarterback.
"I wasn't cold," Slutz said. "I was ready to play.
"The coach told me to do my best. He said, 'Score some touch­downs.'"
The senior delivered. He fired two fourth‑quarter touchdown pas­ses to junior Troy Manion. He did his best.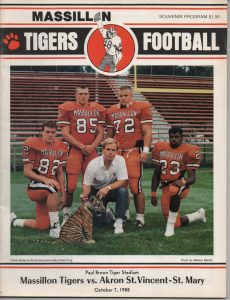 It wasn't enough. Akron St. Vin­cent‑St. Mary did so much in the first three quarters ‑ holding the Tigers without a first down in the first two ‑ that the carryover was a 17‑12 high school football victory.
"We attacked and played as a team," said linebacker Steve Nagy, who helped the Fighting Irish im­prove to 6‑0. "1 wasn't surprised. We've shut down good offenses this season. We've done this before."
If Nagy wasn't surprised, the Ti­gers, 4‑2, were. Their next block­buster game was supposed to be against Cleveland St. Joseph. As it turns out, they have lost two straight heading into next Friday's game at Warren Harding (4‑2), a 14‑6 winner over Niles Friday.
"We were flat," Massillon head coach Lee Owens said, using a word on many lips in the grandstand.
"It was," the coach added, "a nightmare."
It didn't have to be that way. The Tigers recovered a fumble deep in Irish territory on the game's first play from scrimmage. But they couldn't score. The Irish set the tone with defense. Then their offense plowed 78 yards before set­tling for a field goal.
The Tigers' confidence, Owens said, eroded as the drive proceeded.
It may have started as overconfi­dence.
The Tigers may have recalled that the Irish went peacefully in Massillon last year, losing 28‑14. Too, there was the perception that the Irish opponents in '88 had been more a "who's he?" than a "who's who. "
One score that stuck out was St. V's 9‑8 win over Cleveland West Tech. Everyone knows good teams destroy Cleveland public schools teams, right?
"West Tech surprised us," ex­plained David Houston, the Irish quarterback whose father, Jim, started for the Cleveland Browns 1964 NFL championship team after a high school career in Massillon. "They used a shotgun formation the whole night, which they hadn't done before. We weren't ready for it."
They were more than ready for the Tigers.
The Irish had reasons aplenty to be in fighting trim. For starters, they think they can challenge Youngstown Cardinal Mooney and others for the Division III state title (Mooney and St. V collide next week in Youngstown). For clinchers, they have never defeated Massillon.
"I was a junior at St. Vincent when we lost to them in 1947," said 25th‑year Irish head coach John Cistone. "Before this, we were 0‑9 against them all‑time."
Cistone's teams won state playoff titles in 1972, '81 and '82.
"I'd put this win right up there with those," Cistone said.
Every half second or so, the night air around Cistone was pierced with an Irish player screaming at the top of his lungs. The players, obviously, felt as their coach did.
The celebration might have wound up in the other locker room.
The score was 17‑0 and Massillon had launched a drive late in the third quarter when Slutz was sent in to replace junior Lee Hurst.
One reason Slutz wasn't cold was the fact he was the starting quarter­back in the Tigers' practice Wednesday, when Hurst was home with the flu. Hurst practiced Thurs­day, but he was still not himself by game time. His physical problems were compounded by a pulled right hamstring muscle he has battled for a couple of weeks. He spent the postgame in the trainers' room with an ice pack on his right leg.
Owens said the quarterback switch was a combination of physic­al condition and performance.
"We needed to do something," he said.
'The coaches will "take a serious look at both quarterbacks" before deciding who will start at Warren,
Owens added.
Slutz's first work ended with the Tigers running out of downs on the 5.
The Irish kept their 17‑0 lead but got a scare when running back Pe­ter Gori appeared to fumble at the 2. The play, however, had been blown dead at the 11:00 mark of the fourth quarter. That became critic­al because, even though the Tigers forced a short punt moments later and proceeded to drive 23 yards for a touchdown, there was only 7:50 left in the game when they scored.
On second down from the 11, Slutz zipped a pass to the 3, where Manion grabbed it, spun away from two defenders. and scored. A two‑point conversion pass failed.
A holding penalty on St. V's next possession helped the Tigers get the ball back quickly with a punt. They took over at their own 32 with 6:15 left and advanced 15 yards on a per­sonal foul and another 15 on a roughing‑the‑passer call.
Slutz then zipped a pass 10 yards downfield to Marlon Smith, who wheeled and pitched to the trailing Stafford. Stafford raced from the 30 to the 9, and the Massillon grand­stand was jumping.
On the next play, Slutz whistled a pass toward the left corner of the end zone to Manion, who outleaped Rob Wallace at the goal line and went in for another touchdown. A conversion pass attempt again failed, but the Tigers had closed to 17‑12 with 5: 13 left.
Two touchdowns in less than three minutes. It was a ball game again.
But the defense had to hold. The game boiled down to an Irish third­-and‑five from the Massillon 20, set up by a nuclear hit on second‑and­-five by Massillon linebacker David Ledwell. The Irish called a quick trap to running back Chris Littler. It worked, Littler gaining 10 yards.
The Tigers did get the ball back with 52 seconds left, but instead of setting up at the 30, as it appeared they would because an Irish punt was angled toward the sideline away from the return man, the ball took a right‑angle bounce and rolled all the way to 3. From there the Ti­gers ran out of downs.
The Irish ruled the first half. Few Massillon teams have ever been dominated so thoroughly for two quarters.
The Irish led 150‑15 in total yards at halftime. They ran 38 plays to the Tigers' 14 and possessed the ball for 18:18, compared to the host's 5:42.
Yet, the Tigers trailed only 10‑0.
A 78‑yard march yielded only a 31‑yard field goal by Mike Barbetta with 2:14 left in the first quarter.
And it was a break, not a drive, that netted a touchdown. Late in the first half, Tiger punt returner Mark Owens couldn't field the ball, and the Irish recovered on the Massillon 15. Pete Gori's 2‑yard run provided the TD and Barbetta's kick made it 10‑0 with 3:52 left in the half.
Another turnover, this time an interception, set up the second Irish touchdown. Thanks to the pickoff, the Irish had to travel only 26 yards in six plays, with Gori again going in from the 2 and Barbetta adding the PAT kick to make it 17‑0 with 3:23 left in the third quarter.
The 6‑1, 205‑pound Littler finished with 121 rushing yards in 21 carries. The Tigers tried to spring their ace, Stafford, but St. V's ferocious de­fense showed few openings, and held him to 28 yards in 13 carries.'
The Irish have a new offensive coordinator, Dan Pappano, who gives the team a new look. The team ran out of the T‑formation on its first scoring drive but showed several different looks after that. One that was effective sent two wide receivers to either side of the ball, with one back.
"We hadn't done that yet this year," Cistone said. "We saved a few things for this game."
The Tigers now must "try to get the wheels back on," Owens said.
"It's easy to panic, but a lot of times when your inclination is to panic you find that you're not that faraway," the coach said. "If there was anything positive, it was that the guys fought right to the end. But we stopped making progress. We made tremendous progress the first four weeks of the season. Then it stopped. We have to get it back."
ST VINCENT 17
MASSILLON 12
M SV
First downs rushing 3 11
First downs passing 4 2
First downs by penalty 2 0
Totals first downs 9 13
Yards gained rushing 74 195
Yards lost rushing 15 29
Net yards rushing 59 166
Net yards passing 98 56
Total yards gained 157 222
Passes attempted 25 9
Passes completed 9 4
Passes int. by 1 1
Times kicked off 3 4
Kickoff average 39.7 48.0
Kickoff return yards 81 18
Punts 4 6
Punting average 29.8 37.8
Punt return yards 12 12
Fumbles 1 1
Fumbles lost 1 1
Penalties 3 9
Yards penalized 14 86
Number of plays 48 63
Time of possession 16.16 31.44
Attendance 10,058
Individual statistics
Rushing
Mas) Stafford 13‑28, Dixon 6‑15, Hurst 3‑15, Slutz 1 ‑1.
(St. V) Littler 21‑121, Godi 20‑44, Sine 1‑12, Carter 4‑4, Butash 1 ‑1.
Passing
(Mas) Hurst 2‑10‑1 14, Slutz 7‑15-­0 84.
(St. V) Houston 4‑9‑1 56.
Receiving
(Mas) Stafford 2‑48, Manion 3‑24, Spencer 1‑11, Carpenter 1‑7, Smith 1‑5, Harig 1‑3.
(St. V) Gori 2‑23, Palko 1‑23, Litler 1‑10.
St. VINCENT 3 7 7 0 17
MASSILLON 0 0 0 12 12
St. V ‑ FG Barbetta 31
St. V ‑ Gori 2 run (Barbetta kick)
St. V ‑ Gori 2 run (Barbetta kick)
Mas ‑ Manion 11 pass from Slutz (pass failed)
Mas ‑ Manion 9 pass from Slutz (pass failed)