Tigers go cold at Icy Rubber Bowl
Brunswick to take on Pups next
By JOE SHAHEEN
Independent Sports Editor
When it was all said and done, the Brunswick Blue Devils secured a berth in the Division I regional finals against the McKinley Bulldogs the old fashioned way … they earned it.
The Massillon Tigers, beneficiaries of four Brunswick fumbles, could not convert any of the takeaways into points, and dropped a 7-6 heartbreaker in front of 6,839 at the Akron Rubber Bowl, Saturday.
Massillon's speed and quickness was negated by the snow covered and slippery Rubber Bowl artificial turf, and Brunswick established an advantage at the line of scrimmage that finally paid off on its final drive of the evening.
"They have some very strong kids," observed Jack Rose.
We had a hard time moving them out of there, When we did, we got some plays run.
"But you only get so many opportunities They had a couple turnovers that gave us great field position. We didn't capitalize on them. You knew it was going to be a one-touchdown game. We had a chance to get it done."
Brunswick overcame a size disadvantage on both lines to win the game's statistical battle out gaining the Tigers 194 to 123.
"I'd like to think we controlled the line of scrimmage," said Brunswick coach Tom Fasko.
"We did a great job in the second quarter coming off the football and in the fourth quarter as well."
The Blue Devils employed two tight ends and their attack was at its best when it had to be. The Brunswick defense came ….. takeaway, recovering a Massillon fumble at midfield with 6:43 to play and the Tigers leading 6-0.
Tailback Brian Kolin carried the football on five consecutive plays, including a 14-yard burst up the middle, as Brunswick moved from its 48 to the Massillon 25. Jesse Peticca got the football on the counter trey on two of the next three snaps to set up second-and-six from the 10. Then Kohn took the pitch around left end to the two yard line.
Kolin capped off the drive by going into the middle of the line for the touchdown at 2:31 of the fourth quarter. Nick Gargano's conversion kick was good and Massillon's post-season was over.
Easko acknowledged his charges were able to execute on the final game-deciding drive …. field conditions.
"We couldn't afford a mistake at that point," he said. "We couldn't have a penalty. We couldn't have a turnover. We had to execute flawlessly under these conditions. It was a tribute to our offense. And except for one play, our defense played a great game also."
"We were pretty confident coming in," said Kolin, who finished with 73 yards and no fumbles in 18 carries. "We were underdogs for the first time this season and that was motivation."
On the final drive, Kolin knew he was going to Brunswick's featured runner after splitting tailback duties with Dave Harris most of the game.
"We marched on them," Kolin said. "We knew we could. It's just that the cold and wetness really made the football slippery, so you're never sure about your traction out there/"
"We knew we had six-and-a-half minutes left and we said, "Hey, this is it. It's now or never," said Fasco. "Our kids buckled it up, We had some nice runs and we got some great calls from upstairs."
Christian Morgan put the Blue Devils in a comeback mode midway through the third period. Brunswick had buried the Tigers deep in their territory with a punt and a clipping penalty. But on first-and-10 from the Massillon 11, quarterback Ben Hymes checked off to toss sweep around right end.
Morgan broke two arm tackles at the line of scrimmage and was off to the races. Eighty nine yards later he crossed the goal line and the Tigers led 6-0.
But other than that play. Massillon was unable to get any thing going on offense. In fact, when Morgan's 89-yard touchdown jaunt is subtracted, the Tigers had just 44 yards rushing. They also were an abysmal 0-12 on third down conversions and committed six penalties for 45 yards.
Rose was not about to attribute the defeat to the emotional baggage of the McKinley game or the less than ideal field conditions.
"I really thought we had over … had really good practices. Wednesday and Thursday, I really felt good coming into this game except for the fact we had so much flu going through the team that we didn't have everyone together for practices at one time.
"This is northeast Ohio, It's going to be 70 degrees one day and like this the next. We didn't get out on the perimeter with the option. We did run the toss sweep, but we thought we could get to the corner on them. Hey, they played in this, too. They are more of a hammer team than we are, but I'm not going to … .
Massillon had two golden opportunities to convert Brunswick turnovers ito scores. In the first period, the Blue Devils muffed a punt at their 23 and the Tigers recovered. Four plays (including two incompletions and a sack) and minus four-yards later, Massillon turned the ball back to Brunswick on downs.
Brunswick's second gift to Massillon came with 10:52 to play when B.J. Burick fell on another muffed punt at the Blue Devil's 22. Hymes gained eight yards on a second down sneak, but the Tigers again failed to get a first down in four snaps.
"We had our chances," Rose said. "We had our chances …"
BRUNSWICK 7
MASSILLON 6
M Man
First downs rushing 2 11
First downs passing 1 0
First downs penalty 0 0
Total first downs 3 11
Net yards rushing 123 194
Net yards passing 10 5
Total yards gained 133 199
Passes attempted 12 5
Passes completed 2 2
Passes int 1 0
Times kicked off 2 2
Kickoff average 31 36.5
Kickoff return yards 14 0
Punts 6 5
Punting average 32.8 30.4
Punt return yards 1 0
Fumbles 3 4
Fumbles lost 1 4
Penalties 6 4
Yards penalized 45 20
Number of plays 44 52
Time of possession 21:53 26:07
Attendance 5,839
BRUNSWICK 0 0 0 7 7
MASSILLON 0 0 6 0 6
SCORING SUMMARY
Third Quarter
Mass – Morgan 89 run (kick failed)
Fourth Quarter
Brun – Kolin 1 run (Gargano kick)
FINAL STATISTICS
Rushing:
Massillon
Morgan 19-109, 1 TD;
Stefanko 3-6;
Hodgson 2-3;
Hymes 7-4;
Blake 1-1.
Brunswick
Horba 7-37;
Kolin 18-73 1 TD;
Hendricks 6-(-8);
Harris 13-79;
Peticca 2-13.
Passing:
Massillon
Hymes 1-11-18, 0 TD, 1 int.;
Morgan 1-0-0 0 TD, 0 int.
Brunswick
Hendricks 2-5-5 0 TD, 0 int.
Receiving:
Massillon
Morgan 1-16;
Martin 1-(-6)
Brunswick
Peticca 1-3;
Kolin 1-2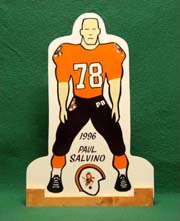 Paul Salvino