Tigers win in rout
Tigers roar to emotional win
Players dedicate game to coach's hospitalized son
By STEVE DOERSCHUK
Independent Sports Editor
The Massillon Tigers spent the week praying for 2‑year‑old Christopher Rose. On Friday, they played for him. Did they ever play. The Tigers dedicated the game to Christopher, hospital­ized son of head coach Jack Rose. Then they went out and clobbered Akron St. Vincent‑St. Mary 44‑0.
"We played this game for Coach Rose and his son," said senior tight end Todd Peters. "They were in our hearts the whole game."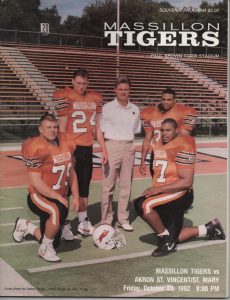 Rose kept an upbeat attitude during a four‑game losing streak that ended last week with a 38‑0 win over Bloomington South. He has done the same thing while Christopher battles congestive heart failure in Akron Children's Hospital.
"I didn't know they had done that (dedicate the game to Christopher) until after the game," Rose said shortly before leaving Paul Brown Tiger Stadium to be with his wife, Denise and son at the hospital. "I appreciate them and the coaches for all they did;'
Rose said medication seems to have improved Christopher's condition, which he developed several months after undergoing open‑heart surgery. "It's been a tough week," Rose said. "It kind of puts this (football) in perspective."
It is difficult to explain why the Tigers, 4‑4, could so thoroughly dominate St. Vincent‑St. Mary. The Fighting Irish are 3-5, but they were competitive last week in a 17-0 loss Youngstown Cardinal Mooney, the team that clobbered Canton McKinley early in the season.
"I guess we're not as good as I thought," said Irish head coach John Cistone. "Maybe playing Mooney and Massillon back to back was too much . this year, anyway. That's the worst we've played since 1970, when Massillon had that great team." Cistone was talking about a 68‑7 loss to Bob Commings' state championship team of 22 years ago. "Massillon," added Cistone, "has an awful big offensive line. They manhandled us on the inside. And (quarterback Mike) Danzy was too quick to the outside for our ends. "Put that together with all our turnovers (two fumbles, three interceptions) and I guess this is what happens."
For the second straight week, the Tigers rolled up a 38-0 lead before the fourth quarter then brought in numerous backups. For the second straight week, they fashioned a shutout. "The defense," noted Rose, "has played well all year."
One of the senior defenders, nose guard William Shahan, said the players never got down during the losing streak. "Coach Rose told us, 'Keep chopping wood … keep chopping wood.' We did, and we're coming up with a lot of intensity. If we keep playing like this the last two weeks, we should do great."
Not all of the Tiger starters took a rest because the game was a blowout. Senior safety/running back Dan Haceknbracht suffered a foot injury in the second quarter and finished the game in street clothes. "It's a sprain," Hackenbracht said. "I'll be all right." Team doctor Robert Erickson said he will examine Hackenbracht this morning. Erickson said the injury is unrelated to the broken ankle that cost Hackenbracht most of his junior year.
Senior Marty Gugov filled in for Hackenbracht and set up two touchdowns, first by causing and recovering a fumble, then by making an interception. "This was a big game for the team," Gugov said. "It was a real great team effort."
The Tigers took the opening kickoff and set the tone early. They drove 62 yards in 12 plays, using four ball ‑carriers on a smash‑mouth march. Danzy sneaked in from the 1 for the touchdown, Jason Brown kicked the P.A.T., and it was 7‑0. The drive consumed nearly half the first quarter.
The defense forced St. Vincent to punt after three plays but an effective punt pinned the Tigers at their own 12. If there was a turning point in the game, it may have been a third‑and‑long completion from Danzy to Peters that went for 21 yards. "We sent two guys deep and one guy over the middle," Peters said. "They can only put so many defenders on so many people. "
Danzy danced to his right on a bootleg and hit the man who crossed the middle, Peters. It was the key play in a 14‑play, 88‑yard march that included a 22‑yard counter‑gap run by Andre Stinson and a 1‑yard touchdown plunge by Hackenbracht. Brown's kick made it 14‑0 with 9:42 left in the second quarter. The drive consumed 6:41.
St. Vincent's next possession ended when Gugov stripped third‑year starting quarterback Josh Zwisler of the ball. Gugov recovered at the Irish 41, setting up a booming 32‑yard field goal by Brown that may have been good from 15 yards deeper. There was 5:30 left in the first half, and Massillon had already dented St. Vincent for as many points as Mooney did in an entire game.
With less than a minute left in the half, linebacker Vic Murray jarred the ball loose from Irish running back Cameron Pooler. Tiger senior Paul Schroeder recovered near midfield.
On third down from the Irish 43, Danzy rolled right and unloaded a bomb to junior Eddie Griffith, who had raced behind a cornerback and a safety. Griffith caught the ball cleanly in the end zone and Brown delivered the kick to make it 24‑0 at the 0:03 mark of the first half.
For the second straight week, Danzy played one series at quarterback in the second half. It was a quick one. Gugov's interception gave the Tigers the ball in the opening moments of the third quarter. Danzy connected with Peters for a 24‑yard touchdown, and Brown's kick made it 31‑0 with 10: 37 left in the third quarter.
The backup offensive players maintained the pace. With 7:22 left in the third quarter, junior quarterback Mike Utterback tossed a 14‑yard TD pass to Leon Ashcraft. Brown's kick made it 38‑0 with 7:22 left in the third quarter.
Ali Dixon scored on a 4‑yard run with 8:56 left in the game to create the 44‑0 final.
Tim Menches' interception in the end zone preserved the shutout.
The Tigers will take on struggling Youngstown East next Friday before playing host to arch‑rival McKinley. "We're on a roll , right now," concluded Peters. "We've got to go after it.
MASSILLON 44
St. VINCENT 0
M St. V
First down: rushing 18 5
First down passing 7 4
First downs by penalty 1 0
Totals first downs 26 9
Yards gained rushing 284 134
Yards lost rushing 7 17
Net yards rushing 277 117
Met yards passing 145 56
Total yards gained 422 173
Passes attempted 12 11
Passes completed 8 5
Passes int. 0 3
Times kicked off 8 1
Kickoff average 49.3 53.0
Kickoff return yards 30 96
Punts 1 2
Punting average 31.0 33.0
Punt return y yards 0 0
Fumbles 2 4
Fumbles lost 1 2
Penalties 2 6
Yards penalized 15 36
Number of play 65 42
Time of possession 27:39 20:21
Attendance 10,497
St. Vincent 0 0 0 0 0
Massillon 7 17 14 6 44
M ‑ Danzy 1 run (Brown kick)
M ‑ Hackenbracht 1 run (Brown kick)
M ‑ FG Brown 32
M ‑ Griffith 43 pass from Danzy(Brown kick)
M ‑ Peters 24 pass from Danzy (Brown kick)
M ‑ Ashcraft 14 pass from Utterback (Brown kick)
M ‑ Dixon 1 run (kick failed)
INDIVIDUAL STATISTICS
Rushing:
(M) Stinson 11‑72, Copeland 10‑54, Danzy 7‑20, Selmetz 1‑6, Hackenbrachl 5‑12. Dixon 6‑26, Ashcraft 4‑7, Arney 5‑61, Riley 2‑26, Hock 1‑3.
(St. V) Pooler 14‑66, Haller 6‑6, Zwisler 3‑(minus)3, James 5‑41, Shenigo, 3‑7.
Passing
(M) Danzy 4‑8‑0 94, Utterback 4‑4‑0 51.
(St. V) Zwisler 3‑8‑1 33, Haller 2‑3‑1 23.
Receiving
(M) Peters 2‑45, Griffith 1‑43, ‑Manson 2‑22, Ashcraft 1,14, Elder 1‑6, Westland 1‑15
(St. V) Pooler 2‑14, Close 1‑19, Frattura 1‑12, Gilbride 1‑11.