Defense plays crusher; Tigers win 32-7
By CHUCK HESS, JR.
Independent Sports Editor
Although there are still eight tough weeks of football left in the 1970 season, the Massillon Tigers gave notice Friday night that they intend to make a determined bid for the state championship.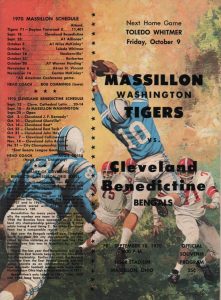 They haven't reached that lofty position in five years, but if they continue to play the kind of defense exhibited in a 32-7 victory over a rugged Cleveland Benedictine team before 12,217 at Tiger stadium, this just might be the year.
* * *
BY COACH Bob Commings' own admission, however, the offense must get better. "We're not consistent enough," he explained.
While the Orangemen's defense was playing 48 solid minutes of crunching warfare, the offense scored 25 points in the first half and only seven in the second. A problem which has plagued them for several years when playing Benedictine.
Had it not been for a miscue by the reserves on a reverse near the end of the game, the Tigers would have had a shutout over Benedictine, something extremely hard to perpetrate on an Augie Bossu coached squad.
"This is the hardest – hitting game I've seen since coming to Massillon," Commings said. "I think the key was that hard hitting. I wanted that shutout for the boys. They earned it."
Players like Tom Cardinal, Bill and Steve Luke, Larry McLenndon, Mike McGuire, Tim Ridgley and Bob Stephan delivered bone-shattering blows at times as the Tigers continued great pursuit and tackling.
Senior free safety Scott Pattinson had himself quite a night with three interceptions and a fumble recovery.
Offensively the story was senior linebacker Mike Mauger behind some fine blocking again as the senior tailback scored four of the Tiger's five TDs – all but one coming on marathon runs. He also kicked two conversions and picked up 210 net yards on 11 carries losing only a single yard.
"He looms as a great threat," Coming commented. "Other teams are liable to key on him."
Bossu added, "Mauger's a fine athlete."
ABOUT HIS team's failure to move the ball, the veteran pilot explained, "We've had the big play in past years, but don't have it this time. When you don't get it, you're in trouble."
Commings complimented his offensive line's blocking and particularly patted right tackle Kirk Strobel on the back. "He must have done a great job with Nunery," Commings explained.
Claude Nunery is a 6-4, 230-pound Benedictine junior tackle through whose territory Mauger did most of his running.
He took off for an 89-yard TD on a pitchout to the left on the first play of the game and with 11:23 remaining; was sprung loose on a block by wingback Bernard Sullivan. The Tigers were penalized for delay on the conversion try, Mauger missed the kick and a procedure penalty was declined.
The Orange and Black took over after a punt late in the first quarter and moved 77 yards in 10 plays for their second score. It was a drive which saw a nifty 20-yard pass from quarterback Dennis Franklin to Sullivan, 16 yards picked up by Cardinal, a 15-yard scamper by Mauger to the five and an unsportsmanlike conduct penalty tacked on to the Bennies, putting the ball on the three-yard line.
Mauger went over off left tackle for the six points with 9:47 left in the second stanza. The Tigers were again nicked for delaying the game and Franklin was stopped on the conversion try.
Forcing the Bennies to punt the next time they had the ball gave Mauger another chance and "The Mailman" delivered again for 70-yards and a score with 6:54 left. This time McLenndon and Art Thompson sprung the key blocks. Franklin's pass to tight end Steve Luke was incomplete, leaving the score at 18-0.
Sullivan recovered a Benedictine fumble on the visitors' 36 and in three plays the bombs went off again – this time in celebration of a 35-yard Franklin-to-Sullivan pass play with "Sullie" going over from the three, as the clock showed seven seconds left in the half. Mauger booted the PAT.
THE TIGERS' final tally came with 31 seconds left in the third canto as Mauger came up with another of his patented special deliveries. This time, going over left tackle, again on a pitch, he traveled 80 yards behind some more excellent blocking. He added the conversion.
The score was set up when Pattinson intercepted a Carl Barile pass in the end zone. Mauger's run came on the next play.
Pattinson had also intercepted on the five earlier in the period and added a 20-yard runback to stop a Benedictine threat caused by Mauger's punt-return fumble on the Tiger 15.
Just before Mauger's last romp, Dick Martanovic had interrupted one of Franklin's option pitches and gave the Bennies a first down on the Tigers' 34. The defense held.
Massillon took over on the 35, Franklin was plastered while passing on the second play. Don Varvo intercepted for a 10-yard run back to the 30. Then came Pattinson's return interception on first down.
Benedictine's only six-pointer occurred when Joe Reccord picked up an errant pigskin on a reverse handoff fumble and scampered 22 yards to the Tigers' 23. Barile hit Dick Koeth on the three off a tip by Reccord and Reccord again for the TD with seven seconds left. Dick Szabo just managed to get the seventh point over the cross bar.
The Washington high gridders will play on the road the next two weeks with All-American conference clashes at Alliance next Friday and Niles, Oct. 3.
BENEDICTINE – 7
Ends – Reccord, Szabo, Koeth, Jindra, Martanovic.
Tackles – Malley, Nunery, Rochford, Hodakievic, Oriti.
Guards – Downey, Lorek.
Center – Bossu
Quarterbacks – Barile, Szollosi.
Halfbacks – Johnson, Moriarty, Vavro, Petruziello, Favorite.
Fullbacks – Fontana.
MASSILLON – 32
Ends – S. Luke, Spencer, Stephan, McGuire, Clary.
Tackles – Ridgley, Strobel, Weirich, Longworth.
Guards – Kulik, Jasinski, Nussbaumer, Sims, Heath, Groff, Graber.
Centers – Studer, Chovan, Gaddis.
Quarterbacks – Franklin, Pattinson, Dingler.
Halfbacks – Mauger, Sullivan, McLenndon, Weise, Thompson, Wonsick, B. Luke.
Fullbacks – Cardinal, Perry, Willoughby, Fletcher.
BENEDICTINE 0 0 0 7 7
MASSILLON 6 19 7 0 32
SCORING
Massillon
Mauger, 89-yard run (kick failed);
Mauger, 3-yard run (run failed);
Mauger, 70-yard punt return (pass failed);
Sullivan, 35-yard pass-run from Franklin (Mauger kick);
Mauger, 80-yard run (Mauger kick).
Benedictine
Reccord, 3-yard pass from Barile (Szabo kick).
THE GRIDSTICK
M B
First downs, rushing 9 2
First downs, passing 3 8
First downs, penalties 0 1
Total first downs 12 11
Yards gained rushing 303 99
Yards lost rushing 14 37
Net yards gained rushing 289 56
Net yards gained passing 67 112
Total yards gained 356 164
Passes completed 3-16 8-20
Passes intercepted by 3 1
Yards on passes Intercepted 43 0
Kickoff average (yards) 6-51 2-48.5
Kickoff returns (yards) 20 87
Punt average (yards) 3-35 7-31.4
Punt returns (yards) 131 0
Lost fumbled ball 2-4 2-3
Yards penalized 10-80 11-14
Touchdowns rushing 3 0
Touchdowns passing 1 1
Miscellaneous 1 0
Total number of plays 53 71
OFFICIALS
Referee – Irwin Shopbell.
Umpire – Steve O'Dea.
Head Linesman – Don Brown.
Field Judge – Ed Steinkerchner.
Back Judge – Tim Murray.
ATTENDANCE – 12,217.