Massillon outlasts Bedford in shootout
Chris Easterling – The Independent
Sep 22, 2017 11:06 PM
MASSILLON – Massillon knew what Bedford was coming to Paul Brown Tiger Stadium for Friday night. The Tigers knew that three years ago when the Bearcats called them up to schedule the game in the first place.
Bedford was coming down trying to make a statement. Instead, it was Massillon which, ultimately, made the statement.
The Tigers showed they could light up a scoreboard as well as the highly-touted and explosive Bearcats. They handed Bedford, the state's No. 9-ranked Division II team, its first loss of the season while winning their fourth in a row with a wild 56-46 victory.
"We needed our offense tonight," Massillon coach Nate Moore said. "It was a great team with great players that we knew was going to be hard to contain. We got a couple of stops, not enough, but our offense stepped up big. We're happy with the 10-point victory."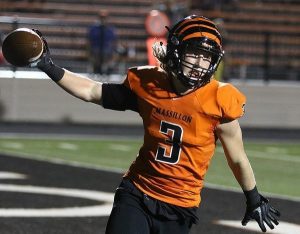 Massillon scored on eight of its first 10 possessions in leading by as many as 26 points after the third quarter. The Tigers took that lead when Aidan Longwell threw the third of his three touchdown passes, this one a 25-yarder to Austin Kutscher with 5 seconds remaining in the quarter.
That was one of four Massillon third-quarter touchdowns which helped turn a 28-22 halftime lead into a 56-30 lead going into the fourth quarter.
While the touchdown pass capped the scoring in the third for the Tigers, it was touchdown runs which were the story of the quarter. Massillon rushed for 126 yards on 20 third-quarter carries, with Zion Phifer scoring on a pair of runs and Jamir Thomas adding a score.
Phifer had 91 of his career-best 196 yards on 10 third-quarter carries. Thomas had 35 of his 99 rushing yards on 10 third-quarter carries.
"We just ran the football," Moore said of the third-quarter burst. "Our offensive line played great."
Massillon finished with 292 rushing yards for the game on 58 carries. The Tigers added 128 passing yards as Longwell was 7-of-10 with two scores to Kutscher and one to Jayden Ballard.
The Tigers needed every one of those yards they gained and each of the points they scored. Bedford showed why its offense was so highly regarded by gaining 476 yards of their own and pulling within 56-46 on the second of a pair of Emmanuel Jenkins-to-Davion Johnson fourth-quarter touchdown passes with 7:03 remaining.
Jenkins was 21-of-36 for 313 yards with three touchdowns and one interceptions. Johnson had 16 catches for 259 yards and two scores.
Kenny Wilkins' fourth two-point conversion run provided the final Bearcat points. Bedford converted five two-point tries, including a Wilkins-to-Jenkins throwback pass.
Massillon couldn't have gone to the best Hollywood scriptwriter and not come up with a better start to the game. Two Bedford possessions, two turnovers; two Tiger possession, two touchdowns.
Logan Anania's interception turned into a Longwell-to-Ballard touchdown pass on Massillon's first offensive play. A Hunter Wantz fumble recovery ended up with a 17-yard Phifer touchdown run for a 14-0 Tiger lead with 8:38 remaining in the third quarter.
Wilkins, though, gave Bedford a 16-14 lead – its lone lead of the game – with a pair of scoring runs as part of his 162-yard rushing night. One was a 65-yard run one play after Massillon went up two scores; the other a 6-yard run five seconds into the second quarter.
Both two-point tries were good for the Bearcats.
Massillon executed a 12-play, 69-yard scoring drive to re-take the lead for good on Thomas' 3-yard run with 7:09 left in the half. Longwell threaded a pass between a Bedford defender's hands to Kutscher for a 16-yard touchdown and a 28-16 lead with 2:39 left in the half.
The Bearcats would get a controversial 11-yard touchdown pass from Jenkins to DeCarleen Townsend as the half expired to make it 28-22. Bedford was flagged twice for penalties after being stopped at the 1-yard line with 2 seconds left in the half.