Tigers roll to fifth win, 49‑7 over Newark
'Laugher' belies players concern for Hendershot
By MIKE HUDAK
Independent Sports Editor
MASSILLON ‑ The most advanced computer in the world would be hard pressed to match the efficiency of the Massillon Tigers Friday night.
The state's No. 2 ranked Class AAA team ran roughshod over the visiting Newark Wildcats in a 49‑6 'laugher,' but there was little joy in the Tiger lockerroom before the contest.
"We wanted to dedicate this game to Scott Hendershot," said Tiger junior Chris Spielman afterwards. "This one was for him."
The Tigers' 55, a junior backup lineman, was not on the sidelines for Friday's game. He was home with his family, his stomach in knots, awaiting news on his 7‑year‑old sister, Dawn Marie, last seen leaving school Wednesday afternoon.
"Scott was right where he should have been tonight," said Massillon head coach Mike Currence. "The team prayed for the little girl's safe return before and after the game. It was certainly something that was on our minds; we were all ready to play tonight."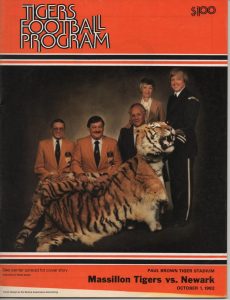 Newark tried to be fancy from the start, as the opening kick was promptly caught and passed across the field to a player stationed on the sidelines, who promptly fumbled the ball out of bounds, a harbinger of things to come for the Wildcats.
Newark mounted one of its best drives on its opening possession, though, advancing to the Tiger 48 before being forced to punt.
The Tigers began on their own 28, marching the remaining 72 yards in just six plays. Jim Bushe, returning to action after a hip pointer cost him most of two games, announced himself healthy by rambling 16 yards on the first play. Three plays later, fullback Tim Sampsel found a big hole and rambled 29 yards to the Newark eight, his longest gain of the year. A play later, Spielman broke through for a seven‑yard touchdown run, followed by the first of seven straight Bronc Pfisterer conversion kicks.
Seconds later, Spielman stepped in front of a Terry Balding pass, recording his second interception of the year; the third was to follow. Less than three minutes after the first Tiger score, Spielman rambled 12 yards for the second.
Newark again was forced to punt, and after a jitterbug return by Gary Conley, the Tigers marched 66 yards in seven plays. After his punt return, Conley kept the ball rolling by grabbing a 30‑yard pass by junior quarterback Brian DeWitz down to Newark's 36. Bushe capped the drive with a three‑yard run with 10:38 remaining in the half.
"Our offense was better tonight because Jim was back with his running and blocking," said Currence. "He looked very strong."
"My hip didn't bother me at all," said the senior speedster afterwards. "I was just too happy to be back on the playing field to worry about pain."
The Tigers actually had to punt the next time they gained possession, a high, spiraling 41‑yarder by DeWitz, the baby‑faced bomber with the leg of steel. But Newark certainly couldn't do anything with the ball, except fumble it away on an option play with the Tigers' Bob Robinson hopping on the loose orb after a 12‑yard loss on the Wildcat eight.
Three plays later, Tiger senior Tom Gruno bulled it over from two yards out. The half ended with the Tigers up 28-0. It was almost 35‑0 ‑ on the Tigers final possession before halftime, Conley found himself unbelievably open behind the Newark secondary but DeWitz's pass just eluded his fingertips.
Massillon received the second half kick, with Tom Manion almost breaking it for a long‑gainer before being hauled down at the Tiger 34. Three plays later, DeWitz arched a bomb over a leaping defender and into Conley's hands for a 55‑yard score. Action for Tiger offensive regulars was over for the night.
Tigers roar to fifth straight win.
The quarter ended with the Tigers leading 35‑0. Spielman's diving, fingertip interception which stopped a Newark drive at Massillon's 21 highlighted the remainder of the period. After the theft, the Tigers' regular defense followed the offense to the sidelines as the Tiger backups saw their most extensive playing time of the year.
Early in the fourth quarter, a 38‑yard run by Tom Gruno ‑ his longest jaunt of the season ‑ put the ball on Newark's 15. Senior Mark Smith went the final eight yards with 9:57 left in the game.
The Tigers' seventh TD of the night came after a Mike Gallant interception at the Newark 26 which he returned to the 19. With 7:35 remaining in the game, junior Brian Spicer smashed over the line from four yards out to cap a short, four‑play drive.
Newark finally scored with 4:54 remaining. A 73‑yard drive was finalized by a 14‑yard run by Newark's Tim Dierks. Finishing what they had begun, the Wildcats' kick was off the mark.
Newark fell to 2‑3 with the loss. About the only consolation coach Bill Biggers could find is that his team didn't lose the game in the waning seconds like the previous two weeks.
"That was the worst I've ever been beaten in 11 years of head coaching," said Biggers. "We were embarrassed here tonight, but that's not to take anything away from the Tigers; they're a fine, fine team.
"In the end, it wasn't our mental errors or the crowd that beat us; the Tigers just blew us out plain and simple. They're the best team I've ran across, both offensively and defensively, in a long time."
Now the 5‑0 Tigers must prepare, for Barberton on Friday night. The Magics haven't shown much in the way of wizard‑like powers so far this year, but the Tigers can hardly afford to be overconfident after last year's shocking loss to the tradition‑bound school.
"It's Up To You in '82" is the official slogan for this year's squad, but Spielman always ends his post‑game quotes with a slogan that's just as good: "Tonight's over and done. It's next week's game that matters now."
MASSILLON 49
NEWARK 6
M O
First downs rushing 12 8
First downs passing 4 3
First downs by penalty 0 2
Totals first downs 16 13
Yards gained rushing 249 73
Yards lost rushing 13 44
Net yards rushing 249 73
Net yards passing 119 73
Total yards gained 368 146
Passes attempted 16 23
Passes completed 8 6
Passes int. by 3 0
Yardage on pass int. 11 0
Times kicked off 8 2
Kickoff average 55.4 30.0
Kickoff return yards 23 85
Punts 3 7
Punting average 45.0 35.6
Punt return yards 38 0
Punts blocked by 0 0
Fumbles 2 2
Fumbles lost 0 1
Penalties 4 0
Yards penalized 40 0
Touchdowns rushing 6 1
Touchdowns passing 1 0
Miscellaneous touchdowns 0 0
Number of plays 53 58
Time of possession 24:22 23:18
Attendance 9,414
Newark 0 0 0 6 6
Massillon 14 14 7 14 49
M ‑ Spielman 7‑yard run. (Pfisterer kick).
M ‑ Spielman 12‑yard run. (Pfisterer kick).
M ‑ Bushe 3 yard run, (Pfisterer kick.)
M ‑ Gruno 2‑yard ran. (Pfisterer kick,)
M – Conley 55 yard pass from DeWitz. (Pfisterer kick.)
M ‑ Smith 8‑yard run. (Pfisterer kick.)
M ‑ Spicer 4‑yard run. (Pfisterer kick.)
N ‑ Dierks 12‑yard run, (kick failed).