Tigers rip Perry 22-8
Spielman does it all; Defense does its job
By MARK ESTEP
Independent Sportswriter
MASSILLON – With three of the Midwest's top coaches in the stands, Chris Spielman led the Massillon Tigers to a 22-8 win over Perry in the season opener for both squads.
Ohio State's Early Bruce, Notre Dame's Gerry Faust and Indiana's Sam Wyche were in the crowd at Paul Brown Tiger Stadium as Spielman rushed for 78 yards, caught a pass, threw a touchdown pass, intercepted a pass and ran back a punt 68 yards. He also helped the famed "Tiger Claw" defense keep the Panthers bottled up most of the evening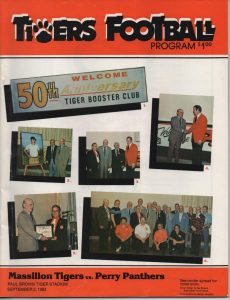 "Chris Spielman is the best all-around athlete I've ever coached," declared Tiger coach Mike Currence. "That punt return was worth the price of admission.
"In an opening game, you can expect to make the kind of mistakes we did," Currence continued. "We need some work with our receivers, but we'll find out what we can do in the next few weeks."
Tiger fans and coaches got a scare with 10:45 left in the second quarter when quarterback Brian Dewitz went down with a knee injury after being tackled. However, the injury turned out to be a strain and Currence said the coaching staff decided not to take any chances with the senior signal caller and replaced him with Bronc Pfisterer.
"You can't be pleased when you lose," said Perry coach Keith Wakefield. "We came here to win, not to keep it close, like some people think. Our kids hung in there but we missed tackles and didn't block very well."
"But we're going to be a good football team."
The Tigers took the opening kickoff and marched down to the Perry 29 in seven plays but Pfisterer missed a 47-yard field goal attempt with 8:54 left.
After holding the Panthers on their first possession, the Tigers drove down to the Panther 5, set up a 50-yard pass from Dewitz to split end Paul Briggs. But Spielman fumbled two plays later and Panther linebacker John Hively recovered.
Perry couldn't get any further than their own 25 and after a punt, the Tigers took over on the Panther 37. On the first play, Craig Johnson swept around left end for the first Tiger TD of the season. Pfisterer booted the extra point.
Perry defensive back Pat McRoberts blunted the next Tiger drive with an interception but the team couldn't capitalize on their fortune. Spielman ran back Ray Williams' punt 68 yards down to the Panther 1 but two penalties and an incomplete pass took the Tigers out of a TD.
The Tigers made it 10-0 with 50 seconds left in the second period on a 27-yard field goal by Tim Sampsel which was set up by Spielman's interception.
On the kickoff, Perry's John Maciag fumbled and Glen Thomas recovered for Massillon on the Perry 29. Three plays later, Spielman took a pitch from Pfisterer and threw a scoring strike to Bruce Spicer to give the Tigers a 16-0 lead with 22 seconds left.
Spielman scored the Tigers' final touchdown on a 10-yard run off left tackle, which capped an eight-play, 56-yaard drive. The PAT attempt was blocked.
Perry's lone score came in the waning minutes of the game when tailback Rod Lemon bulled over from the 1 to avert a shutout. The score came on the fifth play of a 47-yard drive. Quarterback Jamie Howell, who relieved starter Don Decker late in the second quarter, ran around right end for the extra points.
Spielman was the game's leading rusher with 78 yards on 12 carries. Johnson gained 71 yards on nine carries. Howell scrambled his way for 47 yards in 12 carries while fullback Wally Buzinski tallied 36 yards on 10 rushes.
"Perry is a much improved ball club," Currence said. "I think everyone knows that. Howell really gave us some trouble."
Both Massillon and Perry play host to Akron City Series teams next Friday. The Tigers host the Garfield Rams (and Charles Gladman, remember him from last year?) while the Panthers open their home season against the Buchtel Griffins.