Tigers rip 'dogs, head for playoffs
By STEVE DOERSCHUK
Independent Sports Editor
When the final gun sounded, it seemed as if Steve Studer was shot out of it.
Within seconds of the finish of Saturday's 42‑13 Massillon vic­tory over McKinley, Studer, the Tigers' strength coach had sprinted across the field and seized the victory bell that goes to the winner.
He and a pack of cheerleaders wheeled the bell across the Fawcett Stadium grass, to the Massillon side. It took the cheerleaders about 30 seconds to paint the bell orange and black.
"Let's haul that baby home," exclaimed Jeff Thornberry, president of the Tiger Sidelin­ers amid general approval of a celebrating Massillon mob.
Thornberry had been in charge of the "Beat McKinley" parade Friday night. He said it drew a record number of en­tries. He heaved a sigh of relief after the parade was over. It had taken a lot of work.
Beating McKinley and mak­ing the state playoffs pumped a big second wind into him.
"I'll have another parade," he said.
The Tigers rained down a pa­rade of points on the Bulldogs.
It was the biggest point spread in the classic battle in 31 years, dating to Massillon's 42‑0 victory in 1960.
Even Paul Brown's six Mas­sillon teams that beat McKinley never did so by as many as the 29 points that separated the Tigers and Bulldogs Saturday.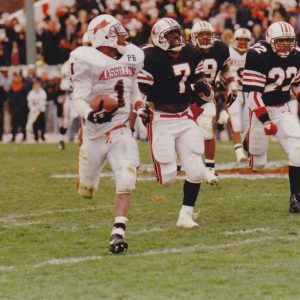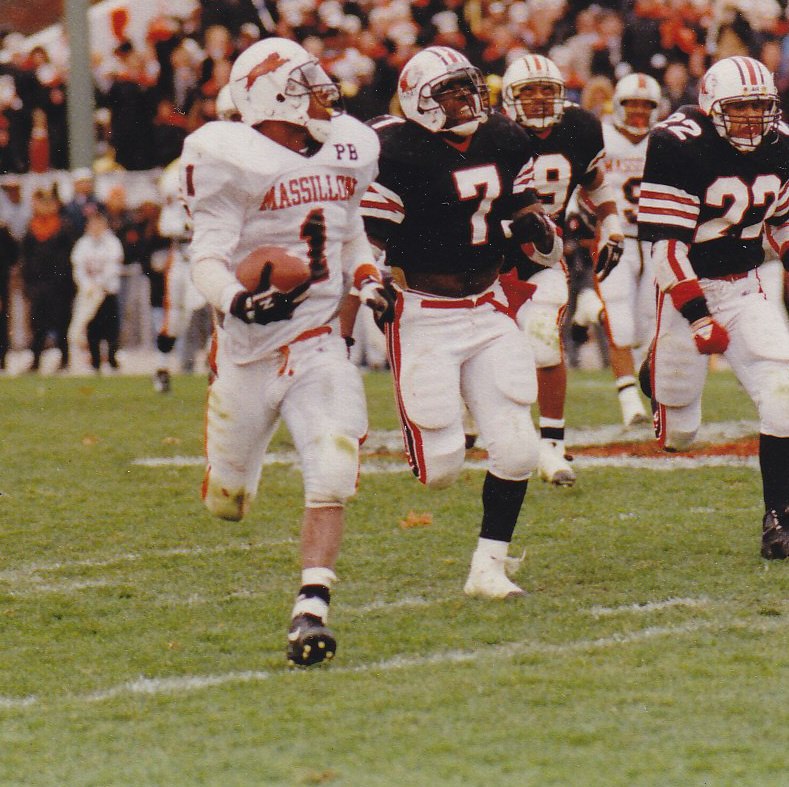 Saturday's game was a page out of the Chuck Mather play­book. Mather, who attended Saturday's game, was head coach of the Tigers when they beat McKinley 33‑0 in 1950, 40‑0 in 1951, 41‑8 in 1952 and 48‑7 in 1953.
The effort of Massillon's offensive line and running back Travis McGuire was second to none.
McGuire scored five touch­downs and rushed for a school record 302 yards. Tiger statisti­cian Richie Cunningham turned in the figure at 299 yards at the end of the game, then went home to review the videotape. He found three more yards and adjusted the figure. It is 302 that will go into the official record books, surpassing the previous record of 263 by Homer Floyd in 1954 ‑ against McKinley.
Tiger head coach Lee Owens improved his record against McKinley to 3‑1.
"Not as good as 4‑0," he said.
But not too shabby, either.
McKinley's Thom McDaniels now is 5‑5 against Massillon.
Massillon linebacker Eric Wright, in his third
year as a starter, is 2‑0 against McKinley at Fawcett Stadium. After­ward, he demonstrated a quali­ty that has made him a team captain the last two years. He did not pat himself on the back for another smashing game. Asked to identify the turning point of the game, he credited a teammate.
"The two interceptions by that man right there," he said, pointing to junior defensive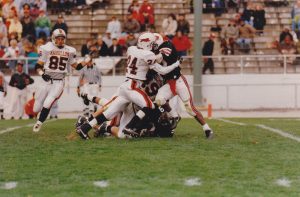 back Eric Woods, back in Mas­sillon, in the Tiger locker room.
Season holders get first shot at tickets
Akron Ellet will be the Massillon Tigers' opponent in the first round of the Ohio high school football playoffs.
Ellet, 9‑1, will take on Massillon, 8‑2, at 7 p.m. Saturday in Fawcett Stadium, where the Tigers mauled McKinley 42‑13 two days ago.
Game manager Dan Brooks of Canton City Schools said Sunday that the only tickets sold early in the week will be reserved seats.
"Last year, when Massillon played Jackson (in a Division I playoff tilt at Fawcett), we gave both schools 11,000 tickets," Brooks said. "I can't imagine that Ellet will need that many."
All tickets will be $5, Brooks said, adding there will be no discount for students.
Tickets will go on sale Tuesday at Paul Brown Tiger Stadium for season ticket holders who display their green card only. Hours will be 7:30 a.m. through 9 p.m.
Woods helped render McKin­ley's passing game almost harmless.
"We were a little surprised by how little they passed," he said. "We thought they would pass most of the time."
Instead, McKinley's junior quarterback Joe Pukansky completed just six of 13 passes for 40 yards.
"Give credit to our line" for putting some heat on Pukansky, Woods said.
Woods' first interception stopped McKinley's first pos­session of the third quarter and led to a Tiger touchdown that broke open a 21‑13 game. Woods made the pickoff after team­mate Jason Woullard tipped a Pukansky pass headed for tight end Paul Popko.
McKinley had looked like a serious threat to the Tigers ear­ly in the game, scoring on its first possession.
"We were too aggressive on their first series," Woullard said. "We were over‑running the tackles."
The Bulldogs gained 80 yards on their first possession. They picked up just 87 more yards the rest‑of the game.
"We played our base cover­ages most of the game," Woul­lard said. "We just played it well."
Woullard played a full game at "Rob" defensive end after missing most of the previous week's contest with a bruised shoulder.
"Beating McKinley beats a little pain any time," he said.
Massillon's offensive line gave the Bulldogs a beating.
"I think everyone on the line had his best game today," said Ryan Orr, a card‑carrying member of "The Wrecking Crew," as the line calls itself. "We stayed low and did a good job executing."
Orr hopes the Tigers can blow a few more teams out of the water.
"It's just one game at a time, and everybody pulling together, trying for a four‑game winning streak," he said.
Four more wins would make the Tigers state champions.
The Tiger Booster Club will meet at 7:30 p.m. Tuesday in the Washington High gym, and not in the school auditorium where the meetings usually are held.
Studer boys give line
a lift, get kick out of
pounding of McKinley
By STEVE DOERSCHUK
Independent Sports Editor
Nobody enjoyed Saturday's 42‑13 Massillon victory over McKinley more than Joe Studer.
"It was as great a win as any I've ever been a part of as a coach," said Studer, who gave up the head coaching job at Triway High after the 1990 season to become offensive line coach of the Massillon Tigers.
Triway was 8‑2 in Studer's last year there, but trading in status as a successful boss for a job as an assistant made sense to him. He was a senior on the 1974 Massillon team and he bleeds Tiger orange.
Now he knows what it's like to beat McKinley as a Tiger play­er, and as a Tiger coach. What's more fun?
"That's a tough one," Studer said. "My senior year McKin­ley was 9‑0 and we beat them on a last‑second pass from Greg Wood to Eddie Bell. That was the McKinley team with Jap Je­ter and Jonathon Moore. That's a good memory."
Outstanding play by the Mas­sillon offensive line will be a memory that will last for many who saw the 1991 win over McKinley.
"It was a nice game for the line," Studer allowed. "We came off the ball well and we were able to move their line. My hat is off to the young men.
"Of course, there's always room for improvement."
In what areas?
"There was one play for minus yardage against McKinley," Studer said.
Another good game by the line would come in handy Satur­day when the Tigers face Akron Ellet in the first round of the playoffs Saturday.
Ellet has one of the best de­fensive fronts the Tigers will have seen.
"Their tackles are real big so we have to make sure we play low and come off the ball low and gets under their pads," Studer said.
How does Ellet's defensive front wall stack up to the best the Tigers have seen?
"In terms of overall scheme, talent and quickness, Moeller was the best," Studer said. "For flat‑out physical size, Walsh was No. 1. Of course, Akron St V was real strong, too."
Studer took a quick look at the Massillon unit that calls itself "The Wrecking Crew."
Center Scott Chariton (5‑10 215, Sr.) ‑ "His biggest asset is balance. He keeps a low center of gravity."
Strong guard Ryan Orr (S‑10, 250, Sr.) ‑ "A great down blocker, and very consistent … a lot of hip strength."
Strong tackles Brandon Jack­son (6‑4, 300, Jr.) and Mark Mil­ler (6‑0, 245, Jr.) ‑ "Both of them have come a long way since having to step in for Chris (Dottavio). It left us with a big hole when Chris got hurt and these guys have done the job."
Quick guard Matt Williams (6‑1, 215, Sr.) and quick tackle Steve Miller (6‑0, 215, Sr.) ‑"Both have overcome the fact they aren't the size of someone you'd visualize as an offensive lineman. Both have come a long way. They have quick feet and they're technicians with good football sense."
Tight end Greg Paul (6‑3, 215, Sr.) ‑ "When Travis (McGuire) has run the counter Greg has been at the point of attack putting a good block on a guy who's usually bigger than him."
Senior Dan Sciury (6‑2, 250, Sr.), an all‑county performer on defense, started on the offen­sive line last year. Sciury still plays some on offense. He was in there against McKinley when the Tigers used an unusual three‑tackle set.
"Dan means so much to our defense that we've used him sparingly on offense," Studer said. "He's a great student of the game."
Two other seniors have been part of the line's success, be­hind the scenes.
"Seth Aegerter has backed up at tight end and he's on the kick­off return team," Studer said. "Jason Crites backs up at guard and he's also on the kickoff re­turn team. Both of them have put in a lot of hard work."
Studer has received more than a little help from assistant coach Tim Daniels and strength coach Steve Studer.
The Studers, who are brothers, and Daniels all were offensive line starters in col­lege. Steve and Joe hogged the starting center position at Bowling Green for six straight years during the 1970s. Daniels was a big tackle for the Tennes­see Volunteers in the early 1980s.
"The strength program has been real important in what we've done on the line," Joe Studer said. "Steve put these guys through a lot of hard work in the off‑season."
"The training techniques I used at Triway I got from Steve," Joe Studer said. "When I came back to Massillon to coach Steve and I were pretty much on the same page right from the start.
"One thing we've done this year that has helped has been maintain and even build our strength as this season has progressed. A lot of times, a football player will lose strength during the season."
Studer said the key to his un­it's progress this year has been quite simple: hard work.
"The way these guys apply themselves as a group is im­pressive," he said. "They've been so consistent in their effort. They also have a lot of football sense. You don't have to tell them a lot of things twice.
MASSILLON 42
McKINLEY 13
MA Mc
First downs rushing 22 6
First downs passing 0 2
First downs by penalty 0 0
Total first downs 22 8
Yards gained rushing 408 140
Yards lost rushing 4 13
Net yards rushing 404 127
Net yards passing 3 40
Total yards gained 407 167
Passes attempted 3 13
Passes completed 1 6
Passes int. by 2 0
Times kicked off 7 3
Kickoff average 41.3 48.0
Kickoff return yards 78 132
Punts 1 4
Punting average 32.0 26.0
Punt return yards 16 5
Fumbles 1 1
Fumbles lost 1 1
Penalties 3 5
Yards penalized 11 40
Number of plays 63 43
Time of possession 23:17 24:43
MASSILLON 14 7 14 7 42
McKINLEY 7 6 0 0 13
SCORING SUMMARY
M ‑ Eric Wright 18 run (Jason Brown kick)
Mc ‑ Don Martin 1 run (Jack Vincenzio kick)
M ‑ Travis McGuire 14 run (Brown kick)
M ‑ McGuire 11 run (Brown kick)
Mc ‑ Ron Burr 3 pass from Joe Pukansky (kick failed)
M ‑ McGuire 6 run (Brown kick)
M ‑ McGuire 1 run (Brown kick)
W ‑ McGuire 79 run (Brown kick)
INDIVIDUAL STATISTICS
RUSHING
(Massillon) McGuire 36‑302, Wright 6‑46, Mike Danzy 5‑18, Dan Seimetz 3‑10, Falando Ashcraft 3‑7, Nick Moasides 1‑6, Eugene Copeland 3‑5, Marc Stafford 1‑3;
(McKinley) Pukansky 6‑45, Martin 7‑35, Che Bryant 6‑27, Bruce Richards 9‑24, Tremaine McElroy 1‑1.
PASSING
(Massillon) Mossides 1‑3‑0, 3;
(McKinley) Pukansky 6‑13‑2, 40.
RECEIVING
(Massillon) Paul 1‑3.
(McKin­ley) Burr 3‑17, Martin 2‑10, Richards 1‑23.