Tigers awaken at half to corral the Cowboys
By JOE SHAHEEN
Independent Sports Editor
The Cowboys of Youngstown Chaney played like the Cowboys of Dallas in jumping out to a 14‑0 halftime lead over unbeaten Massillon, Friday night.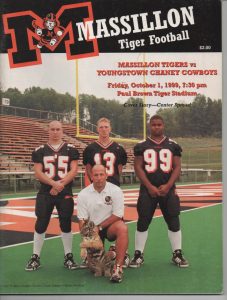 But the Tigers responded to the challenge in the second half with four unanswered scores to secure a 23‑14 victory in front of 8,420 on homecoming night at Paul Brown Tiger Stadium, upping their record to 5‑0.
While Massillon's margin of victory was nine points, the game was very much in doubt with four‑and‑a‑half minutes remaining in the fourth quarter.
The Tigers were clinging to a 17‑14 lead when Chaney began its final march from its 33‑yard line with only seconds remaining in the third.
Fifteen plays and eight‑and‑a‑half minutes later the Cowboys were at the Massillon 15‑yard line, facing a do‑or‑die fourth‑and‑six situation. Chaney coach Ron Berdis eschewed the field goal and went for the drive sustaining first down.
Chaney quarterback Brad Smith, who had made big plays all night long in compiling 134 yards of total offense, rolled to his right and let fly a pass. But Tigers strong safety Jason Jarvis was in the right place at the right moment, breaking up the aerial and breaking the hearts of the Cowboys.
"They lined up in a double wing and it was the first time they'd come out in that formation the entire game," Jarvis explained. "I just read my keys like I was taught to do and came up with the big play."
Chaney coach Ron Berdis couldn't believe Jarvis was in a position to make a play.
"We ran boot keep and they were loaded up to the short side of the field," Berdis recalled. "We tried to slip it in to our wingback to get the first down. But they had their strong safety over to the boundary, almost like they knew the play and we've never run it before. He just made a good play."
There were all too few good plays from the Tigers in the first half and coach Rick Shepas told his team that at halftime.
"We expected this Chaney team to come in here and be scrappy," Shepas said. "We knew they had talent. Our kids weren't into the game early on and I think it showed in the first half. But, like they've done all year long, they were able to turn it up a notch and get it going."
Massillon came out in the third quarter and established its superiority at the line of scrimmage, producing a seven‑play, 61‑yard touchdown drive that featured three straight running plays to the left side behind tackle Greg Dickerhoof and guard Joe Meanor that produced 43 yards.
"It was a shame in the first half that we couldn't move them off the ball," Shepas said. "That's what we talked about doing at halftime. The kids said they could take advantage of our left side and they did."
The Tigers' first score came when Dave Irwin found Rocky Dorsey in the end zone from 10 yards out. Dorsey made a diving catch, his body parallel to the ground when he caught the football.
"I've got to give a lot of credit to the offensive line and to Dave Irwin for putting the ball out there," Dorsey said modestly. "I've dropped a few passes in the past but I just thought about that famous quote, 'Catching a pass is all mental.' You can put all the stick‑um on your hands you want but what it comes down to is pure concentration."'
Brett Marshall's 22‑yard field goal capped the Tigers' next possession and it was a 14‑9 Chaney lead with 5:13 left in the third period.
Massillon's defense then forced the Cowboys into their second straight three‑and‑out possession and the Tiger offense only took six plays to stick the football in the end zone. Jesse Scott took a pitch, exploded through a seam off his left tackle and found pay dirt from 13 yards away to give Massillon its first lead of the night at :26 of the third quarter.
Jesse Robinson added the two point conversion on an end‑around to give the locals a 17‑14 advantage.
Dave Bumgarner closed the scoring for Massillon after Jarvis and the Tiger 'D' stopped Chaney's final drive. The senior fullback capped a seven‑play, 85‑yard drive with a 13yard scoring run to account for the final margin. "We dug down deep and found out what this team was all about," Jarvis said. "We made a decision at halftime we weren't goinq to lose this game and we came back and did it. We faced adversity in the first half and came back and showed we're Tigers."
Chaney came out for the opening kickoff with a greater sense of urgency than the Tigers and established field position before giving the ball up on downs at Massillon's 33.
The, Massillon offense was ineffective on its initial possession, punting after just three snaps and the Cowboys took over on their 41.
On first down, Brad Smith kept the football on a bootleg and skirted around left end for 47 yards to the Tigers' 12.
After two plays netted two yards, Smith made another play. The 6‑foot‑3 junior took a half roll to his right, then found tailback Marcus Patton with a short pass at the Tiger two‑yard line. Patton, back to the goal line, fought his way into the end zone for the touchdown at 7:13 of the first quarter. Chris Jaminet added the extra point and Chaney led 7‑0.
Massillon got one first down on its second possession of the evening but two incompletions doomed the drive and the Tigers again were forced to punt.
Chaney then embarked on a 13‑play drive that began at its own 25. While the Cowboys were unable to put any points on the board with the march, they ate seven minutes off the game clock before giving the football back at the Massillon 27.
Jesse Scott appeared to have lit a fire under his teammates with a spinning, twisting 35‑yard run. But a clipping penalty against the Tigers negated the play and doomed the drive.
Chaney took over at midfield after a Tiger quick kick on third down from the Massillon 14.
Massillon's defense seemed to have found its groove as Chaney appeared to be stalled on third‑and‑eight from the Tiger 37. But Patton took a pitch back from Smith, cut off his right tackle, then spun to the inside at the 25 and sprinted into the end zone for the touchdown.
Jaminet was again true with the PAT kick and the Cowboys led 14‑0 at 5:38 of the second quarter.
The Tigers then launched their first sustained drive of the night, beginning at their own 42.
On second and eight, Irwin found Dorsey for eight yards and a first down along the right sideline. Perry James went off left guard for six yards and a first down two snaps later as Massillon moved to the Chaney 35.
It appeared the drive had stalled when the Tigers were faced with a fourth‑and‑12 situation at the Chaney 37, but Irwin connected on a clutch throw to tight end Jeremiah Drobney, open over the middle at the 15.
Scott got another first down on the next play, ripping off 11 yards off right tackle to the four. On fourth‑and‑goal from the 3, Irwin's pass to Price was complete but the Chaney defensive back pulled him down inches short of the TD.
MASSILLON 23
CHANEY 14
M C
First downs rushing 11 9
First downs passing 6 4
First downs by penalty 0 0
TOTAL first downs 17 13
Net yards rushing 213 207
Net yards passing 104 62
TOTAL yards 317 269
Passes attempted 18 11
Passes completed 10 5
Passes intercepted 0 0
Punts 3 1
Punting average 30.3 12
Fumbles/Lost 0/0 1/1
Penalties 6 2
Yards penalized 56 21
MASSILLON 00 00 17 06 23
CHANEY 07 07 00 00 14
SCORING
C ‑ Patton 9 pass from Smith (Jaminet kick)
C ‑ Patton 37 run (Jaminet kick)
M ‑ Dorsey 10 pass from Irwin (Pass failed)
M ‑ Marshall 22 field goal
M ‑ Scott 12 run (Robinson run)
M ‑ Bumgarner 13 run (Kick failed)
INDIVIDUAL STATISTICS
Massillon rushing: Scott 16‑109, James 9‑64, Irwin 3‑22.
Chaney rushing: Patton 23‑105, Smith 10‑74.
Massillon passing: Irwin 10‑18‑101 1 TD.
Chaney passing: B. Smith 5‑11‑60 1 TD.
Massillon receiving: Price 3‑35, Dorsey 3‑23, Drobney 1‑21.
Chaney receiving: T. Smith 2‑33.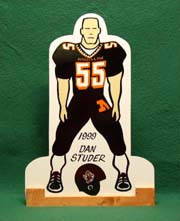 Dan Studer