Massillon runs wild in victory
By JOE SHAHEEN
Independent Sports Editor
Who was that team wearing the orange uniforms and black helmets at Paul Brown Tiger Stadium on Saturday afternoon?
It couldn't have been the same Rick Shepas‑coached Massillon Tigers who won 30 games over the past three seasons by decimating opposing defenses with their Air Raid Attack producing 300‑yard passing games with almost monotonous regularity.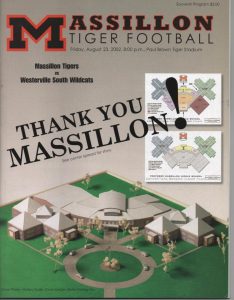 Ah, but it was the Tigers throwing just 12 passes on the afternoon while rushing the football for over 300 yards and four touchdowns in whipping Westerville South 43‑6 in front of 8,530 paying customers, many of whom did not return for the proceedings after Friday's lightening storm postponed the game 18 hours.
Not only did Massillon make a living on the ground, thanks to an offensive line that opened holes for Ricky Johnson (148 yards on just 13 carries) and Terrance Roddy (77 yards on eight carries), the Tiger defense and special teams were outstanding as well in producing one touchdown and setting up at least two other scores.
But it was the Massillon ground game that impressed Westerville South head coach Rocky Pentello. That makes them a better team, running like that, because you have to cover Devin Jordan and you have to cover Ashcraft," Pentello said. "You have to cover both of them and that makes you thin right there. Now when they bring in two tight ends or one tight end, we can't hang with that. Someone down the line may be able to a little, but if he does that, they're a tough team to beat because they're a good running football team."
The Tigers had game planned all week to run the football. When a downpour hit Paul Brown Tiger Stadium at kickoff, it cemented Shepas' resolve to pound the football at Westerville South. "We wanted to get better up front and we wanted to establish a ground game," Shepas said. "That was the focus of our game plan regardless‑of what the weather was going to be like. "It just happened the weather was inclement and we wanted to get that done even more so to protect the football in that driving downpour when the game started.
Johnson, who averaged over 11 yards per carry in less than one half of football, says the Tigers aren't necessarily going to become a conservative offensive football team. "I don't know," Johnson said. "I can't tell you. Our running game worked out better against the defense they were running today. That's why it worked out a lot more. Against most defenses we pass a lot more."
While Shepas was encouraged by Johnson's three‑touchdown afternoon, the Tiger sideline boss was even more impressed with his running back's selfless attitude this day. "We talked before the game today about how it would be great to get two 100‑yard backs," Shepas said. "Ricky had his 148 by halftime and he sat down so Terrance could pursue his 100. Ricky sat down so Terrance could get a shot at it."
"I did volunteer to do that because everybody deserves to get a chance to play if they work hard and Terrance works hard at what he does," Johnson admitted. "He deserved a chance to play and I didn't want to take that from him."
The Tigers received the opening kickoff and moved 65 yards in four plays to take the early lead. Johnson scored at 10:09 of the first quarter on a 30‑yard burst over left guard. He stepped through a Westerville tackle at the 10 and rushed for 54 yards on the drive. Max Shafer tacked on the extra point to make it 7‑0 Massillon.
One of the highlights of the drive was Michael White's 15 yard gain on an end around. "We tried to work everyone into the game plan," Shepas observed. White scored the Tigers second touchdown of the afternoon when the Westerville punter muffed the snap and then had the ball batted from his hands by Massillon cornerback Jamaal Ballard. The ball bounced into the end zone and White fell on it at 8:04 of the first quarter. Shafer's PAT made it 14‑0.
Markeys Scott's fumble recovery stopped Westerville South's ensuine drive at the Massillon 35.
But the Wildcats scored on their next possession when Greg Clark executed a fine play fake and found Alex Ellis running free in the Tiger secondary for a 60‑yard touchdown at 11:52 of the second quarter.
Westerville South got the ball back following a Massillon punt but couldn't move it. On fourth‑and‑one, Shawn Crable swooped in and blocked the Wildcats' punt to give the Tigers the short field. The third of three straight Ricky Johnson running plays got the ball in the end zone on a stretch play around left end. Shafer's kick at 6:15 of the second quarter made it 21‑6 Tigers.
Massillon junior linebacker Andy Zalaiskalns recovered a Westerville South fumble at the Wildcats 26, leading to Shafer's 42‑yard field goal at 3:31 of the second quarter.
The Tigers closed the first half scoring on Johnson's 26‑yard touchdown run through a gaping hole over right guard. The senior running back made a fine cut at the 10‑yard line, leaving a Westerville defender frozen in his tracks. "I just saw how he was positioned," Johnson said. "He was standing still so I just tried to shake him off balance and just jump in the end zone."
Tiger quarterback Matt Martin found Stephon Ashcraft with a 21‑yard touchdown pass just four seconds into the fourth quarter, and Terrance Roddy closed the scoring with a 23‑yard touchdown run up the middle when Martin read a Westerville blitz and checked off to the perfect play.
Still, Pentello cited the Massillon defense as the difference. "Their defense is phenomenal," Pentello said. "It's the defense that makes their team good. When you have great defense you have a chance in every game. All you have to do is ball control on your offense and let the other team break down because you know your defense is good.
"They're better than last year, because they're not one dimensional with pass. I think their running is real good. They're very, very good. And when they run the ball, they're better."
Massillon 43
Westerville South 6
M W
First downs rushing 12 9
First downs passing 4 2
First downs by penalty 0 0
TOTAL first downs 16 11
Net yards rushing 316 10
Net yards passing 61 106
TOTAL yards 377 216
Passes attempted 12 8
Passes completed 7 5
Passes intercepted 0 0
Punts 2 0
Punting average 21 0
Fumbles/Lost 0/0 5/5
Penalties 8 3
Yards penalized 52 20
Massillon 14 16 00 13 43
Westerville 00 06 00 00 06
SCORING
M ‑ Johnson 30‑yard run (Shafer kick)
M ‑ White fumble recovery in end zone (Shafer kick)
W ‑ A. Ellis 60‑yard pass from Clark (Kick failed)
M ‑ Johnson 10‑yard run (Shafer kick)
M ‑ Shafer 42‑yard field goal
M ‑ Johnson 26‑yard run (Kick failed)
M ‑ Ashcraft 21 ‑yard pass from Martin (Shafer kick)
M ‑ Roddy 23‑yard run (Kick failed)
INDIVIDUAL STATISTICS
Massillon rushing: Johnson 13‑148 3 TDs, Roddy 8‑77 TD, Hymes 6‑35, White 2‑33.
Westerville South rushing: Clark‑17-65, Gordon 20‑64.
Massillon passing: Martin 6‑10‑54 TD, Hymes 1‑2‑7.
Westerville South passing: Clark 5-8‑106 TD.
Massillon receiving: Ashcraft 2‑20 TD, Jordan 2‑17, Hill 1‑17, Schindler 1-7.
Westerville South receiving: A. Ellis,1‑60 TD. Zalewski 2‑20
Storms rain on Tigers' Parade
Change will keep band off field
By: R.J. Villella
City Editor
The Massillon Tiger Swing Band won't be swinging today.
The band has been forced to cancel its pre‑game and half­time shows, because too many band members can't attend the rescheduled game, said Chris Smith, swing band director.
Friday night lightning forced postponement of the Massillon Tiger football game against Westerville South. "An Ohio High School Athletic Association rule prevents a foot­ball game from starting or re­suming until one‑half hour, after the last spotted lighting strike," Smith said.
At about 9:30 p.m. officials and Massillon School District personnel decided to reschedule the game for 1:30 p.m. today.
That created a problem for the band Smith explained. Nearly 30 members of the 163‑member band had scheduling conflicts.
"They either had to go out of state, out of town, to work or had other activities," Smith said. "I really can't blame them. We were scheduled to be off this weekend."
The band director schedules the band through December. "We can't do an adequate per­formance with 27 members missing," he said. "Too many critical members are going to be missing and we don't have time to adjust. If this had happened two days ago, we would have been OK, but not at 10 p.m. the night before a performance.
"The bottom line is the kids can't be here and we don't have a band." Smith said "squad leaders and senior band members will attend the game, sit in the stands and perform as a pep band to support the team and rally the fans.
That decision, he said, was made following discussion in­volving Washington High Princi­pal Mark Fortner, Assistant Superintendent Bob Rohrer, band booster officers and the entire swing band. "It was an act of God," Smith said. "I'm sorry there was a thunderstorm. I know the kids are disappointed. "It couldn't be helped. Never in the 17 years I've been associ­ated with the band has there been a situation where a game was (postponed) and resched­uled like this. "We'll be ready to go next week and on Sept. 6 for the next home game."