Tigers' 32-Game Streak Ends
By CHUCK HESS, JR.
As the sense of feeling returns when the dentist's shot of Novocain wears off, so the numbness in Tigertown has subsided today. Players and fans are back to reality.
The 32-game unbeaten streak is gone. Any chance for a third straight gridiron title has been considerably dimmed. So have chances for a fourth straight All-American High School league title.
* * *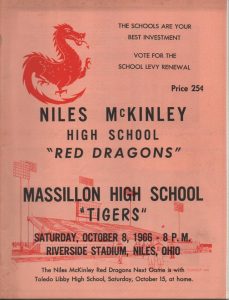 TIGER GRIDDERS have started their preparation for this Saturday's invasion by Altoona, Pa., knowing that despite a last quarter breakdown which cost them a 20-12 loss at Niles Saturday night, they played some excellent defensive football. The Bengals also know the REAL Tiger fans are still solidly behind them as they "Carry on for Massillon."
There is still a lot of football left in 1966. The Washington high eleven still must uphold the honor of Ohio football against Altoona, still has a chance to play spoiler for such
still-undefeated teams as Upper Arlington and Steubenville.
As Coach Bob Seaman put it, "We lost the game but we didn't deserve to get beat. Massillon is still the No. 1 team as far as I'm concerned. I wouldn't want to be the next team to play Massillon."
The game boiled down to a case of some breaks, some poor officiating mechanics and some short-comings on the part of the Tigers. With the season half over, it has become painfully apparent that the Bengal offense is not getting the job done, thereby putting added pressure on the defense. The Tiger defensive secondary is also having its troubles – with pass coverage.
The Niles McKinley Red Dragons took a page out of the Tigers' comeback Saturday night before a capacity crowd of 12,500 at Riverside stadium. The Dragons must be given-credit for being a great team to execute the type of comeback they did.
* * *
THERE IS some question as to whether they actually won the game. Junior end John Ziegler made a desperation diving catch of senior quarterback Bob Leonard's 34-yard down-the-middle pass at the goal line with 38 seconds left.
No official was near the play at the time. From the pressbox, it looked like the catch had been made, but several Tiger players charged field judge John Holzback, hotly debating his ruling of a touchdown.
Niles had taken over the ball on its 31 with 1:36 left. Two passes to Ziegler and an option pitch, which had given the Tigers trouble throughout the night, set up the winning play.
About 5 minutes earlier it had appeared the Obiemen were about to break a 7-year unbeaten home streak for Niles with a 12-0 victory.
Senior linebacker Will Foster and junior halfback Trevor Young had brought Niles senior halfback Martin Henry down on the Massillon one on fourth down after a 53-yard Dragon drive.
But disaster struck with first down on the 12. Tiger Foster fumbled and Niles defensive end Pat Ryan recovered. Leonard passed to senior end Dick Clapp at the goal post with 4:50 remaining. Senior end Lance Cullembine couldn't catch Leonard's pass on the conversion attempt.
* * *
NILES EXECUTED a perfect onside kick as Leonard booted instead of Clapp. Junior halfback Larry Trimbitas grabbed the ball out of the air on the Massillon 42.
Four plays later – after good runs off the option pitch and a handoff by Henry and senior halfback Bruce Simeone, senior fullback Gary Bletsch took another option pitch on first and 9 and went in around the left side with 3:48 showing on the clock. Ron Hallock, a senior reserve fullback, failed to convert on another pitch.
The Tigers could get no further than their 39 on the next series. Harley Dickinson punted out and then came the fateful Niles TD drive followed by Leonard's keeper conversion.
Massillon got another chance on the kickoff but got no further than its 40 as the clock ran out while Bengal players tried frantically to call timeout with 7 seconds left and fans beginning to stream on to the field. The gridiron was the scene of a wild Niles victory celebration at the conclusion of the contest.
It is unfortunate that the Tigers couldn't have capitalized on all of their 3-fumble recoveries in the first period. Sherrett picked one up on the Niles 20. Junior linebacker Ron Ertle got another on the 19 after which Foster capped a 9-play drive, going in over center on fourth and one but the Bengals were in motion and ran out of downs. Senior quarterback Craig Maurer set up the hoped for TD with a 10-yard pass to Sherrett on the right sideline.
* * *
SENIOR co-captain and "monster" back Ron Muhlbach got another Niles fumble on the 8. On the second play following, Foster went through the middle from the one after taking the ball to the one on a pitch right on first down. There was 1:27 left in the quarter as Maurer was unable to hit tight end Tom Liggett in the left corner of the end zone on the conversion attempt.
The Tigers didn't get any further than their 31 until the third period when they punted from the Niles 35 on fourth down. Senior guard Greg Russell downed the ball on the Niles 2. Three plays later a Niles punt rolled dead on the Dragons' 38.
Foster broke through the right side on first down, taking several would-be tacklers with him as he finally got in for the touchdown. Big Will, rapidly becoming one of Massillon's all-time great backs, missed through the center on the conversion but his running
high-lighted the Tiger attack. The clock showed 2:47 left in the period as Massillon led
12-0.
The Tiger defense came to the fore several times in the second period, led by senior linebacker Hoyt Sketon. Senior end Jim Sterling picked up a Niles fumble on the Bengal 7 after senior end John Isoldi of Niles had partially blocked a Tiger punt. But Massillon fumbled right back with Ryan giving Niles control.
Senior end Mike Kraft covered a Niles fumble on the Massillon 19 during the second stanza. Foster intercepted a pass in the end zone and might have been off to the races except he slipped in cutting.
* * *
BOB SHAW, Niles coach, summed up his feelings with, "It was a great victory. I'm real proud of the boys. Bob Seaman deserves a lot of credit for bringing a team here that was supposed to get trounced but which played like the Tigers did. It's a shame what they're doing to him in Massillon."
Massillon's record is 3-1-1, Niles 5-0 and leads the All-American league with Massillon third.
AAHFL STANDINGS
W L
Niles 2 0
Warren 1 0
Massillon 0 1
McKinley 0 2
MASSILLON – 12
Ends – Smith, Liggett, Moyer, Gallion, Sterling, Griffin.
Tackles – Sherrett, Houser, Snowball, Ricker, Campbell.
Guards – Neago, Russell, Porrini, Beiter, Hauenstein, Ertle.
Centers – Senften, Kraft, Sketon.
Quarterbacks – Maurer, Young.
Halfbacks – James, Simon, Fenton, McFadden, Muhlbach, McDew.
Fullbacks – Foster, Moore
Punter – Dickinson.
NILES – 20
Ends – Mille, Clapp, Isoldi, Ryan, Cullembine, Ziegler.
Tackles – Rossi, Bottiglieri, McMahon.
Guards – Santangelo, Costarella, Law.
Centers – Johnson, Catlin.
Quarterbacks – Leonard, Kines.
Halfbacks – Simeone, Henry, Gayonski, Mawby, Trimbitas, Lenham.
Fullbacks – Bletsch, Hallock
Massillon 6 0 6 0 12
Niles 0 0 0 20 20
Touchdowns:
Massillon – Foster 2 (one and 36-yard runs).
Niles – Clapp (13-yard pass); Bletsch (9-yard run); Ziegler (34-yard pass).
Extra points – Niles – Ziegler 2 (run).
OFFICIALS
Referee – Ted Humphrey (Youngstown).
Umpire – Russ Kemper (Cincinnati).
Head Linesman – Al Wildman (Sharon, Pa.).
Field Judge – John Holzbach (Youngstown).
Attendance: 19,500
THE GRIDSTICK
Massillon Niles
First downs – rushing 3 8
First downs – passing 1 6
First downs – penalties 0 0
Total first downs 4 14
Yards gained rushing 143 151
Yards lost rushing 12 18
Net yards gained rushing 131 133
Net yards gained passing 13 159
Total yards gained 144 292
Passes attempted 3 15
Passes completed 2 8
Passes intercepted by 1 0
Yardage on passes intercepted 8 0
Times kicked off 3 4
Kickoff average (yards) 58.3 39.5
Kickoff returns (yards) 53 28
Times punted 6 4
Punt average (yards) 24.8 18.0
Punt return (yards) 0 17
Had punts blocked 1 1
Fumbles 2 8
Lost fumbled ball 2 5
Penalties 4 1
Yards penalized 20 5
Touchdowns rushing 2 1
Touchdowns passing 0 2
Touchdowns by interception 0 0
Miscellaneous 0 0
Number of plays 48 30