Tiger offensive line keys win over Fitch
Massillon 4-1 after wild night
By STEVE DOERSCHUK
Independent Sports Editor
On second thought, don't bring back those lazy, crazy days of summer.
The Massillon Tigers' 23-13 football victory over Austintown Fitch Friday replaced lazy and hazy with wild and woolly, and when the crazy thing was over, the home team had turned its season around on the first day of autumn.
The Tigers had spent the week with a 41-7 gorilla of a loss to Cincinnati Moeller riding on their backs. They spend today savoring a win over the state's fourth-ranked team and carrying a 4-1 record and a mess of computer points into the second half of the season.
Tiger running back Ryan Sparkman, who rushed for 123 yards and two touchdowns, was driven by, among other things, last year's 20-19 loss at Fitch on a last-play field goal, and last week's loss to Moeller.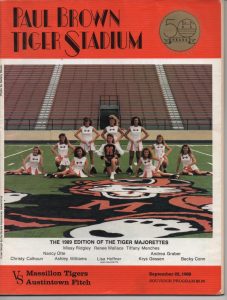 "All I was thinking was strictly paybacks," Sparkman said.
Well, maybe not all.
"We wanted to show people, show our fans, how much pride we have," he said.
Considering the weather – Hurricane Hugo shipped RainStorm Baby Huey to Ohio – there were an awful lot of fans to show.
As a scout named Phil from Warren Western Reserve (Fitch's opponent week nine) said, "Great crowd in this stuff." The count was 9,886 in Paul Brown Tiger Stadium, including a fine following from Fitch.
Most of them came having heard all about this monster offensive line Fitch was supposed to have – and did have.
But Massillon's offensive line was at least as good on this night.
"Our players showed more emotion than they've shown in a long time," Tiger head coach Lee Owens said. "You could see it in our running backs…and our offensive line."
"Our line improved drastically."
Sparkman ran with tremendous heart in the game; yet, he was annoyed when approached by a reporter because he thought he was going to be questioned about his great game.
But when a question about the line came up, he smiled broadly.
"All I have to say about how good our line is is that you saw the proof on the field tonight," he said.
Added quarterback Lee Hurst, "The line executed well. I had a lot of time to throw and a lot of room to run."
Chimed in running back Lamonte Dixon, "The line ran near perfect."
They saw it the way Fitch, head coach David Hartman did when he said, "The key to the game was their offensive line controlling the line of scrimmage."
Tiger tackle Mike Silverthorn said he kept hearing that Fitch had a better offensive line than Moeller.
"We wanted to show that we were as good as them," Silverthorn said.
"We just had to play better and we did. Fitch had a strong defensive line, equal to if not better than Moeller's. It was a tough game."
The Tigers won it by bouncing back from a 6-0 deficit, hanging on for a 9-6 half time lead, and taking control by scoring on the first possession of the second quarter.
Along the way, crazy things kept happening. Among them:
<Trailing 6-0 and facing fourth-and-10 from the Fitch 39, the Tigers lined up to punt. A fake was called from the bench, and center Scott Karrenbauer zipped a short snap to Sparkman, who weaved 18 yards for a first down. That set up Gary Miller's 25-yard field goal.
The Tigers are five-for-five in fake punt situations during Owens' two years here.
<Sparkman gave the Tigers an apparent lead with a 19-yard touchdown run, but the play was waved off by a clipping penalty. It came down to fourth-and-15. Owens had the play for such dire straights – a tricky handoff-pass – but not the right guy. The Tigers practice the play with flanker Troy Manion, but Desmond Carpenter wound up on the field. Carpenter came through, though, taking a short pitch from Lee Hurst, who went out for a pass. Carpenter dumped the ball to Hurst, who dragged a tackler to the 9 for a first down. Sparkman scored three plays later.
<Trailing 9-6, Fitch faced fourth down from the Tiger 7-yard line with nine seconds left in the half. The Falcons played Chinese checkers with the line, lining up far to the left of place-kicker Jeff Wilkins, then shuffling en masse back to normal position as the Tiger defense scrambled to cover all bases. Wilkins, the man who kicked the game-winning 43-yard field goal against the Tigers last year, also happens to be this year's Fitch quarterback. The fake was on. Instead of trying a field goal, Wilkins rolled right and passed incomplete to diving Jim Toto in the end zone. The Tigers had dodged the proverbial bullet.
<Massillon drove to the Fitch 25 after taking the second-half kickoff and faced
fourth-and-10. They went for it – and made it on a 13-yard Hurst-to-Manion pass, setting up the TD that led to a 16-6 Tiger lead.
<Wilkins scored less than two minutes later on a 49-yard run – after almost being
sacked – to make it 16-13.
<Leading by just three points and facing second-and-long after a penalty, the Tigers were in jeopardy of giving the ball back to Fitch's potent offense. The situation got worse for a split second as Hurst threw a rocket to Manion, who slipped and fell on the rain-soaked sand turf. Manion kept his eye on the ball, though, and made a sensational catch from a prone position for a first down at the Fitch 16. Hurst scored on a 5-yard bootleg run five plays later and the Tigers led 23-13.
<Massillon ball. Less than five minutes left in the game. Fourth down on the Fitch 6. Kick the field goal and swell the lead to 13? Tiger coaches debated – and decided to keep doing what they have done most of the year, go for it on fourth down. The call is a pass to the left corner of the end zone. It is intercepted by Wilkins, now playing defensive back. Wilkins runs a marathon for an apparent touchdown.
Moments earlier, an apparent 21-yard TD pass from Hurst to Sparkman was canceled by a penalty. Now it is Fitch's turn. Wilkins' return is wiped out by an illegal use of hands penalty.
"We made a lot of good calls tonight," Owens says later, adding, "and one bad one. I'll take the responsibility for that."
Somebody remembers Wilkins' field goal last year and asks of the interception return, "How long was that nightmare?"
It went 99 yards and, had it stood and been accompanied by a two-point conversion, would have put Fitch within a field goal of a one-point win.
<Wilkins wasn't finished. On fourth-and-12, 88 yards from the end zone, he scrambled and completed a 36-yard pass. Fitch finally died on the Massillon 15-yard line. The Tigers' only punt of the night became the game's final play.
Fitch, 4-1 this season, still leads the Massillon series 3-2. This was the only game not decided in the fourth quarter, although, like the others, it left nobody bored in the final period.
Weather conditions were similar to the '86 game at Fitch when the Tigers lost in heavy mud when Leo Hawkins scored on the final play from scrimmage.
With such games in mind, Owens said, "thank goodness for sand turf and all the people in the community who made it possible to get it installed for this season. It was sand turf that allowed us to play on a good field despite the rain."
Owens said there was another factor helping the Tigers.
"Our fans cheered louder than they have all season and came out in this kind of weather," he said.
"Thank you, fans."
As the fans headed for the exits and awaited next week's invasion by Akron St. Vincent-St. Mary, they seemed in a mood to reply, "You're welcome."
*****
Here's a review of the teams' possessions:
Fitch – Start with opening kickoff on Tiger 23. Drive 77 yards
in 11 plays. Big plays, 19-yard Wilkins-to-Mrakovich
dump pass followed by 20-yard run by Torno. Wilkins
scores on 7-yard bootleg run. Wilkins' kick fails at 6:29
of first quarter.
Fitch 6, Massillon 0
Tigers – Blake returns kickoff to 31. Drive 61 yards in 13 plays to
Fitch 8. Big plays, 16-yard Hurst-to-Harig pass; 18-yard
Sparkman run on faked punt. Miller kicks 25-yard field
goal.
Fitch 6, Massillon 3
Fitch – Touchback on kickoff. Drive from own 20 to Tiger 36
before third-down sack on third play of second quarter
goes for ninus-6 and forces punt.
Tigers – Start on own 36. Drive 64 yards in 13 plays for
touchdown. Big plays, 17 run by Dixon; 10-yard
Hurst-to-Martin pass on third down; 19 TD run by
Sparkman wiped out by penalty; 16-yard halfback
pass from Carpenter to Hurst on fourth-and-15 goes
to the 9. Sparkman scores on a 2-yard run. PAT
kick wide right at 5:20 of second quarter.
Tigers 9, Fitch 6
Fitch – Start on own 34 after kickoff; move to 49 on 12-men-
on-field penalty. Drive 44 yards in 10 plays to 7.
Set up for fake field goal attempt on fourth down
with nine seconds left in half. Wilkins' pass to
Toto incomplete in end zone.
End of first half
Tigers – Blake returns second-half kickoff to 34. Drive
66 yards in 14 plays for touchdown. Big plays,
15-yard Hurst-to-Martin pass; 13-yard Hurst-
to-Manion pass on fourth-and 10; fourth-down,
1-yard run by Sparkman to 3 on fourth down.
Sparkman scores from less than a yard out.
Miller kick good at 7:49 of third quarter.
Tigers 16, Fitch 6
Fitch – Start on own 49 after kick return and facemask
penalty. Drive 51 yards in three plays. Wilkins
scores on 49-yard run. Wilkins kick good at
5:57 of third quarter.
Tigers 16, Fitch 13
Tigers – Start on own 26 after kickoff. Drive 74 yards
in 11 plays for touchdown. Big plays, sliding
13-yard catch by Manion at Fitch 16 on
second-and-15; Sparkman's fourth-down run
of 1 yard for first down to the 5. Hurst scores
on a 5-yard bootleg run. Miller kick good at
0:47 of third quarter.
Tigers 23, Fitch 13
Fitch – Start on own 28 after kickoff. Drive to Tiger
41. Lose ball on McCue interception.
Tigers – Start on own 36. Drive 60 yards in 12 plays
to Fitch 6. Big plays, 26-yard Sparkman
run; 21-yard Hurst-to-Sparkman TD
pass-canceled by penalty; 14-yard Dixon
run. Lose ball on interception by Wilkins.
Wilkins' 99-yard return for TD canceled by
illegal use of hands penalty during return.
Fitch – Start on own 11; drive 77 yards to Tiger 12.
Big plays, 36-yard Wilkins' completion on
fourth-and-12 from the 9. Lose ball on downs.
Tigers – Run three plays and punt for first time in
game. Game ends on Roth punt.
MASSILLON ……………… 23
FITCH ……………………… 13
STATISTICS
M F
First downs rushing 12 11
First downs passing 7 3
First downs by penalty 2 1
Totals first downs 21 15
Yards gained rushing 211 202
Yards lost rushing 17 15
Net yards rushing 194 187
Net yards passing 144 109
Total yards gained 338 296
Passes attempted 24 17
Passes completed 12 7
Passes int. by 1 1
Times kicked off 5 3
Kickoff average 53.8 59.0
Kickoff return yards 89 90
Punts 1 1
Punting average 40.0 45.0
Punt return yards 8 0
Fumbles 1 1
Fumbles lost 0 0
Penalties 6 8
Yards penalized 64 62
Number of plays 70 50
Time of possession 26:04 21:56
Attendance 9,886
— — —
INDIVIDUAL STATISTICS
Rushing
(M) Sparkman 25-123, Dixon 10-56, Hurst 8-11, Ashcraft 2-4.
(F) Mrakovich 10-63, Campbell 9-34, Torno 3-23, Wilins 10-64, Toto 1-3.
Passing
(M) Hurst 11-23-1 123, Carpenter 1-1-0 16.
(F) Wilkins 7-17-1 109.
Receiving
(M) Martin 4-44, Sparkman 3-25, Manion 2-37, Harig 2-17, Hurst 1-16.
(F) Toto 2-55, Tofil 3-26, Mrakovich 1-20, Campbell 1-8.
Kickoff returns – (M) Blake 3-89.
Fitch 6 0 7 0 13
Massillon 3 6 14 0 23
F – Wilkins 7 run (kick failed)
M – FG Miller 25
M – Sparkman 2 run (kick failed)
M – Sparkman 1 run (Miller kick)
F – Wilkins 48 run (Wilkins kick)
M – Hurst 5 run (Miller kick)