By JOE SHAHEEN
Joe.Shaheen@IndeOnline.com
The seven-game losing streak that dated back to last year and the 0-2 start to the 2004 season are distant memories for the Massillon Tigers, who devastated the winless Mansfield Tygers 58-20 to right the ship in front of an estimated 7,500 fans at Paul Brown Tiger Stadium, Friday night. The Tigers did it with a two-pronged running game that featured Caleb White and Ramon Kelly, and a passing game triggered by quarterback Quentin Paulik that accounted for 208 yards and two touchdowns in the first half alone.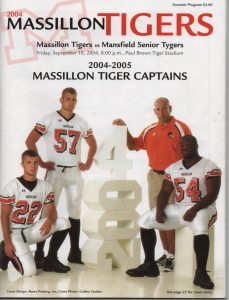 The Massillon defense did its part as well, limiting the Mansfield offense to one first down and minus-6 yards rushing in the first half. The swarming Tiger defense caused six first-half fumbles and recovered four, repeatedly giving the offense a short field with which to work."These are great kids and we've been struggling with injuries," said Tiger coach Rick Shepas. "I think a lot of guys came out tonight and played motivated football. We got that from Caleb White and Ramon Kelly.
They bothran very hard and our offensive line got a little bit better." Quentin Paulik really showed his toughness today. He made some great throws. He managed the team really well."While Shepas sang the praises of an offense that racked up 372 total yards, he acknowledged the tone of the game was established by the Tiger defense, which limited Mansfield's offense to 2.5 yards per snap."We came out tonight and really hit people," Shepas said. "It's a good shot in the arm for our confidence. We're going to get one week better and just go one week at a time." No Tiger team had ever began the season at 0-3, but that's what Massillon faced had it not tamed the Tygers."The way we played against Buchtel and Benedictine was uncharacteristic for the type of kids that we have," Shepas said. "You saw that when they came out tonight and played so aggressively."
Can they build on the win with their first road trip of the season set for next Friday at Findlay? "We'll see," Shepas responded. "We have a long way to go but it's up to them." Massillon's first two touchdowns of the night were set up by the defense. Junior middle linebacker Robert Morris recovered a Tyger bobble on Mansfield's second possession of the game at the Mansfield 9. Two plays later, Kelly went over right tackle for a one-yard touchdown at 6:02 of the first quarter. Steve Schott's point after made it 7-0 Massillon. Not to be outdone, Tiger sophomore Andrew Dailey recovered another fumble at the Mansfield 33 on the visitors' very next possession. Five plays later, on third-and-two from the 10, Kelly went over right tackle, bowled over a Tyger defensive back at the 5, and rolled into the end zone for Massillon's second score of the night. Schott's kick made it 14-0 at 2:47 of the first quarter.The Tigers got excellent field position to begin the second quarter following a Mansfield punt and Troy Ellis' nifty return. On second-and-three from the Tyger 31, Paulik threaded a pass between two defensive backs and into the waiting arms of Dustin Jarvis, who needed just one stride to reach paydirt. Schott's kick made it 21-0 Massillon at 11:04 of the second quarter. On Mansfield's next possession, Tiger linebacker Paul Pribich stripped away the football from a Tyger ball carrier and Massillon was in business at the visitors' 29.
On third-and-10 from there, Paulik rolled left and hooked up with Dailey inside the 5-yard line and the sophomore turned and carried it into the end zone. Schott's kick made it 28-0 Massillon.A 40-yard Paulik to Wayne Gates pass and run set up the Tigers' fifth first half touchdown, a two-yard Kelly run at 6:53 of the second quarter. Schott's boot made it 35-0.An 11-play Massillon drive, extended by a fake punt that turned into a 21-yard Gates to Ellis pass play, was capped by Schott's 29-yard field goal to close the first half scoring at 38-0 with less than a minute remaining until the band show.It only took the Tigers two plays to open the second half scoring after Massillon defensive tackle Ladrekus Burford recovered yet another Mansfield fumble. Kelly's 11-yard run set up White's first touchdown of the game on a pitch play around left end that covered two yards. Schott's PAT made it 45-0 at 10:32 of the third quarter.Alex Dahlquist blocked a Mansfield punt on the Tygers subsequent possession and Dirk Dickerhoof fell on the loose ball in the end zone for the touchdown. Schott made it 52-0 at 8:25 of the third quarter.It was mop-up time after that as most Massillon starters went to the bench in favor of their backups.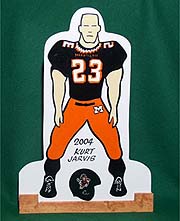 Kurt Jarvis