Start doesn't slow down Massillon dominance at Warren
Sep 13, 2019 9:49 PM
WARREN It's never about the start. It's always about the finish.
Or, more importantly, it's about the final score.
Massillon found itself in its first deficit of the season after Warren Harding turned a literal bad bounce on a punt eventually into a first-quarter touchdown on Friday night at Mollenkopf Stadium. However, by the time the Tigers went into the locker room for halftime, they had once again established control of things.
By the time Massillon got on the buses to head back to Stark County, it had put together its third consecutive win to open the season, this time a 49-7 victory over Warren Harding at Mollenkopf Stadium.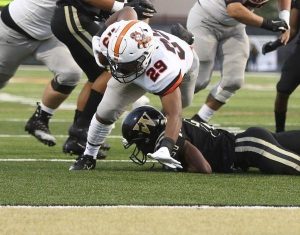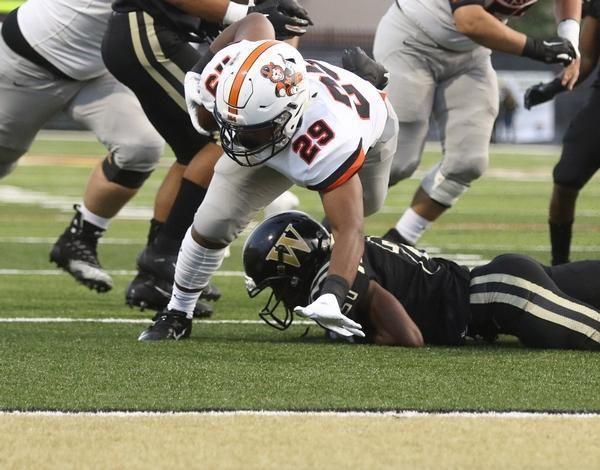 "We've been preparing ourselves for adversity since December, since January," said senior Preston Hodges, whose 48-yard interception return with 39 seconds left in the half gave Massillon a 28-7 lead. "Since when we were in the offseason working out, grinding. We're prepared for the adversity to hit us at any point. We just knew we had to bounce back."
The game was called with 3:12 remaining as lightning began to flash around the stadium. At that point, it was all academic for the Tigers, who take a 3-0 record into next Friday's home game against Penn-Trafford out of Monroeville, Pa.
All three of Massillon's wins have been running-clock situations in the fourth quarter. Although it took the Tigers a moment to get up and running that way on Friday night.
"We faced some adversity and came through it," said Massillon coach Nate Moore, whose team faced a 7-0 deficit after Warren turned a punt recovery into a 35-yard touchdown pass from Eliah Taylor to Ty Artis with 10:10 left in the first quarter. "So, I'm proud of the guys staying true to what got us here and to keep working. I thought we played well."
Even after the quick Warren score, Massillon still needed to get its footing. However, it would turn to the defense first to get a stop to get the ball rolling.
Warren's defense then forced a three-and-out on the Tigers' first offensive possession. The Raiders would take the ball on a 14-play, 38-yard journey to the Massillon 33, but turned the ball over on down there.
That's when the Tigers would catch fire. They would turn their next three possessions into touchdowns – two Zion Phifer runs and a 9-yard Aidan Longwell-to-Jayden Ballard pass – and a 21-7 lead, while their fourth would reach the Warren 20 before a sack and an incomplete pass on fourth down halted the march.
That proved to be no real problem for Massillon, as Hodges stepped in front of a Warren pass at the Raider 48 and raced all the way to the end zone for a Tiger touchdowns. The point-after kick made it 28-7 Massillon with 39 seconds remaining in the half.
Hodges was part of a Tiger defense which limited Warren to just 27 yards on its final 15 first-half plays. The Raiders would finish the game with 160 yards on 49 plays.
"I'm really proud of the guys," Moore said of the defense. "I thought all three levels played well. Obviously, we'll get in there and watch the film and all that stuff, but we feel really proud of the guys and their effort."
The Tiger offense, meanwhile, found its groove both through the air and on the ground after the initial three-and-out. By the half, Longwell had completed 11-of-18 passes for 162 yards and the one score.
Longwell would finish the game 15-of-20 for 200 yards and two touchdowns, moving him within two scoring passes of the career record. He hit Ballard for a 19-yard touchdown strike to make it 35-7 with 3:31 left in the third quarter.
Ballard had seven catches for 94 yards and two scores.
Meanwhile, after netting one yard on its first two runs, Massillon gained 46 yards on its final 12 carries of the half. Both Phifer, who scored on two of his five first-half carries, and Terrence Keyes shared the duties.
Keyes would gain 63 of his 96 yards on his third-quarter touchdown run which gave Massillon a 42-7 lead. Hodges added 50 yards on just five carries, while Phifer finished with 32 yards on six totes.
Reach Chris at 330-775-1128 or chris.easterling@indeonline.com.
On Twitter: @ceasterlingINDE