Defensive dominance set tone for Tigers' regional title
Chris Easterling – The Independent
MANSFIELD Massillon put together another four-quarter defensive performance. Because of that fact, the Tigers find themselves as one of the final four teams remaining in the Division II state football playoffs.
From start to finish, Massillon controled the line of scrimmage on both sides of the ball, and its defense never allowed New Albany to get its wing-T offense going in as it rolled to a 24-6 win in Friday night's Division II Region 7 championship game at Mansfield's Arlin Field.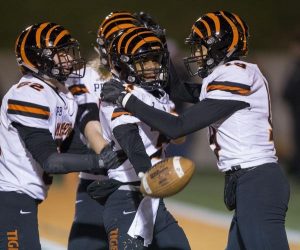 "Our defense played lights out," Massillon coach Nate Moore said after the Tigers won their first regional title since 2009. "We gave up a touchdown on a blocked punt, but our defense pitched a shutout tonight against a really good offense. Flipping from a five-wide (offense) a week ago to a wing-T this week, I'm just really proud of those guys."
New Albany's offense, which was predicated on running the football, never really got up and running against Massillon, which will face Cincinnati Winton Woods in next Friday's state semifinal at Columbus St. Francis DeSales High School. The Warriors rallied to beat three-time reigning Division II state champion Cincinnati La Salle 16-14 on a last-second field goal in another regional final Friday.
To get to that game, though, Moore's team kept the Eagles grounded. New Albany was limited to just 145 total yards, including just 101 rushing yards on 37 attempts.
New Albany's only points came on a 16-yard blocked-punt return by Jack Scharfe with 9:29 remaining. By that point, however, Massillon had run up a 24-6 lead.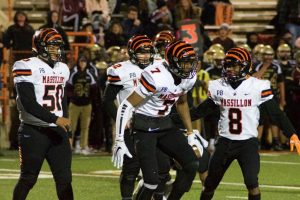 "You just have to tip your hat," New Albany coach Pat Samanrich said. "Tonight, Massillon was just a better team and, you know what, I hope they go win the whole thing for Region 7. I was very impressed with their defensive scheme. It was just guys running down-hill playing together."
Massillon, meanwhile, was running down-hill all night on offense. That is, when the Tigers weren't throwing it down-field as well.
The tone was set from the very start of the game, as Massillon pounded out a 14-play, 72-yard drive to take a 3-0 lead on a 25-yard Klay Moll field goal. While the Tigers ran on 10 of the 14 plays on the drive, they moved to the Eagle 7 thanks to a 41-yard pass from Aidan Longwell to Jayden Ballard.
Longwell finished 20-of-30 for 258 yards passing for Massillon, including a 22-yard touchdown pass to Austin Kutscher with 1:20 left in the third quarter for a 24-0 Tiger lead.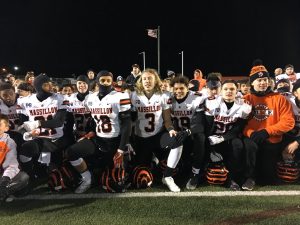 The Tigers, meanwhile, ran the ball 49 times for 231 yards on the night. Jamir Thomas rushed for 130 yards on 33 carries, including a 2-yard scoring run for a 10-0 lead 1:33 into the second quarter.
"We were really balanced," Moore said. "We hurt ourselves with the penalties tonight. I'm disappointed with that. But you have to play through that and keep swinging."
Those Tiger penalties, 12 for 120 yards, were what prevented the game from really turning into an even-bigger rout. Massillon had a touchdown run called back for an illegal shift on its first drive, then had a a litany of flags on one fourth-quarter possession which left it looking at a first-and-41 situation from its own 40.
Those flags, as well as a missed field goal on the Tigers' third possession of the game, were really the only blemishes on the night. Massillon only punted once, although it was blocked and returned for the lone Eagle touchdown.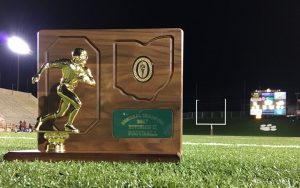 Even those, however, couldn't keep Massillon from its date with a football game on Thanksgiving weekend for the first time in eight years. That, Moore believes, is a credit to the players.
"They just play hard," Moore said. "That's the biggest key. When you get to this level of high-school football, that's what you notice. The teams that get here aren't necessarily the most talented; they're the most disciplined and they just play hard."