Aviators Grounded!
Tigers have too much for Alliance
By MARK LAUTZENHEISER
Independent Sports Writer
For 24 minutes, the Alliance Aviators were living up to the nickname "Black Swarm." But the "Swarm" went south in the second half and Massillon turned a 7‑0 halftime lead into a lackluster 20‑0 win in front of a near capacity crowd at Mount Union Stadium, Friday.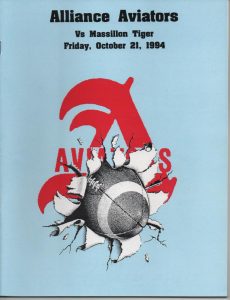 After a sluggish first half, the Tigers got a shot in the arm on the second‑half kickoff. Massil­lon's Nick Pribich lofted the kick down the left sidelines. Alliance Louis Banks rushed over, but his momentum car­ried him out of bounds leaving the ball on the ground at the 22. Massillon's Matt Helm fell on the loose pigskin and the Tigers were in business.
Three plays later, Leon Ashcraft followed the over­powering blocking of the left side of the line and scooted into the end zone from 10 yards out to give Massillon a 14‑0 lead with 10:57 left in the third. It was academic from there on out.
"We had a lot of mental errors tonight. We just weren't sharp," Tiger head coach Jack Rose said. "Last week we play­ed real well, but this week we took a step back. We were play­ing a team that was 1‑6 and could have been 4‑3. They don't play like a 1‑7 team."
Aside from the Alliance mis­cue on the second half kick, things didn't come easy for the Tigers.
Out of the gate, Nate Lewis returned the opening kickoff 39 yards to the Aviator 46. From there, Ashcraft powered over a couple Aviator tacklers for 14 yards. Quarterback Willie Spencer Jr., followed with a 12 ­yard gain on the option around left end to give the Tigers a first down at the 20.
But, Massillon pulled out the gun and instead of shooting down the Flyers, shot them­selves in the foot. A fumble in the backfield, a sack and a four ­yard gain on fourth‑and‑20 gave the ball to Alliance at its own 26.
The defensive stand seemed to ignite the Aviators and espe­cially senior fullback George Cameron. The 6‑foot-1, 220-­pounder rushed six times for 37 yards in carrying his team to the Tiger 13.
From there, the Tigers' de­fense did exactly as its oppo­nents' had, and stuffed the Aviators. Defensive tackle Don­nie Young nailed Cameron for a yard loss on first down and Courtney Herring forced an Alliance back out of bounds three yards behind the line of scrimmage. Following an in­complete pass, Alliance's Ma­rious Rasinar missed a 33‑yard field goal wide right.
The Tigers, taking over at the 15, started slow. However, on ­third‑and‑12, Ashcraft skated around right end on a misdirection play for 38 yards to the Alliance 47. After two short gains, Spencer executed a pic­ture‑perfect option play to the left sideline and 46 yards later the Tigers led 7‑0.
Spencer sprinted left, drew­ the defender, faked the pitch, cut it up and rest was sheer speed to the goal line.
"It was very important to score first," Rose said. "They were playing with a lot of in­tensity and we weren't.
"Willie is so strong. He just shook a tackle … then he's got the speed. He can be devastat­ing on the perimeter."
Alliance did make some noise on its final possession of the first half. After moving the ball 48 yards to the Massillon 19, Rasinar saw his 35‑yard field goal try fail. This time he was well short.
In the first half alone, Massil­lon tallied 118 yards rushing, but 84 of those came on two plays. Alliance ate up 14:19 and managed to out gain their visi­tors 144‑132 in total yards. Cameron was the main man with 74 yards on 13 carries.
From this point, it was all Massillon. The Aviators' first turnover led to Ashcraft's 10 ­yard score. Following the en­suing kick, the Tiger defense held the Aviators on three plays and forced a punt. The snap sailed over the punter's head and he was barely able to get the kick away. Massillon took over on the Alliance 43.
Two Aviator penalties ignited this Tiger drive. Massillon was faced with a third‑and‑11 at the 33. Spencer rolled left and threw incomplete, but he was hit out of bounds and Alliance was hit with a 15‑yard penalty.
On a later third down, Ashcraft appeared to be stuffed just inside the 10, but an Alliance defender grabbed Ashcraft's facemask and the Ti­gers had a first down at the five.
Spencer took the next snap, faked the off‑tackle play to Ashcraft and beat an Alliance defensive back to the corner of the end zone for the score. The point‑after was no good and the Tigers were in control of their seventh win of the season.
"If you would have told me after the first scrimmage we were going to be 7‑1 at this point. I would have laughed," Rose said. "This is the most im­proved football team I have been around. It is the opposite of last year. This team is going in the right direction and is getting better as we go along."
MASSILLON 20
ALLIANCE 0
M A
First downs rushing 10 12
First downs passing 1 2
First downs penalty 2 1
Total first downs 13 15
Net yards rushing 197 144
Net yards passing 14 42
Total yards gained 211 186
Passes attempted 4 115
Passes completed 2 7
Passes int. 0 2
Times kicked off 4 1
Kickoff average 48.0 51.0
Kickoff return yards 45 63
Punts 3 3
Punting average 25.7 30.0
Punt return yards 4 0
Fumbles 3 3
Fumbles lost 1 1
Penalties x x
Yards penalized 61 32
Number of plays 44 50
Time of possession 23.22 24.38
ALLIANCE 0 0 0 0 0
MASSILLON 0 7 13 0 20
SCORING SUMMARY
Second quarter
M ‑ Spencer 46 run (Pribich kick)
Third quarter
M ‑ Ashcraft 10 run (Pribich kick)
M ‑ Spencer 5 run (kick failed)
INDIVIDUAL STATISTICS
RUSHING:
Massillon
Ashcraft 19‑98,
Spencer 7-509,
Lewis 8‑35,
Fraelich 2‑3,
Hiegl 2‑1,
Monler 1‑7,
Turner 1‑3;
Alliance
Cameron 20‑96;
D. Jones 7‑32.
PASSING:
Massillon
Spencer 2‑4‑0 14;
Alliance
Jones 7‑14‑2 42
RECEIVING:
Massillon
Williams 1‑10,
Ashcraft 1‑4;
Alliance
D. Jones, 2‑11,
Banks 1‑7,
R. Jones 1‑6,
Hovanec 1‑5.

Leon Ashcraft