Tigers gird for Mighty Mo with win
By JOE SHAHEEN
Independent Sports Editor
Seven weeks into the 1996 high school football season it has be­come apparent the team that has the best chance of ruining the Massillon Tigers dream for an undefeated season is the Massillon Tigers.
On Saturday evening, the Ti­gers put together a first half of football that included a lost fumble, an intercepted pass, a blocked punt and three penal­ties for 27 yards. The benefici­ary of Massillon's unintended generosity were the Redhawks of Naperville Central, who held a 13‑0 advantage at the inter­mission.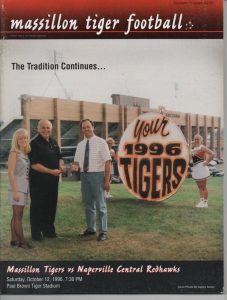 Massillon woke up in the second half. The defense li­mited Naperville to a total of 13 plays in the Redhawks' first four possessions. The offense marched 49 yards for one touch­down and converted two turnov­ers into scores as the Tigers preserved their undefeated re­cord with a 21‑13 victory in front of 11,852 at Paul Brown Tiger Stadium.
Jack Rose did not sound like a man who was going to let his charges savor the win very long. After the game he re­minded them Cincinnati Moel­ler invades this coming Saturday.
"We start getting ready (Sun­day)," Rose said. "Enjoy this tonight because (Moeller week) starts (Sunday)."
Then Rose nodded toward senior co‑captain Eric Light­foot, who returned to the lineup Saturday after being unable to play safety for the last three weeks because of a pulled ham­string.
"Good to have you back (No.) 7," Rose said.
Indeed it was.
Lightfoot, who would save the game in the final minute with an interception in the end zone, ignited the crowd and got the Tigers' juices flowing in the third period with a 59‑yard punt that pinned Naperville back on its own 14. A three‑and‑out series ensued and the Tigers ‑still trailing 13‑0 ‑ took over at midfield with 6:09 remaining in the third period.
Quarterback Ben Hymes hit fullback Nate Hodgson for 17 yards on first down. Two snaps later, Jared Stefanko went straight ahead for seven yards and a first down at the 22. Christian Morgan ‑ limited to 37 yards in 12 first half carries ‑ was bottled up on three straight runs to set up fourth and three. Bu t Hymes kept the ball on the option around left end and dove forward for the first down.
The option worked so well that Hymes ran it again two plays later, this time pitching the ball to Stefanko around right end for an eight‑yard touchdown. Josh Hose tacked on the extra point and it was a 13‑7 game with 2:17 left in the third.
On its ensuing possession, Naperville moved from its 16 to the Massillon 41 where it had first down just seconds into the fourth quarter. But running back D.J. Johnson coughed the ball up on a draw play and Ti­gers linebacker Chris Childs re­covered at the Massillon 46.
Rose went right back to Mor­gan and the lanky junior ran it on five straight plays, chewing up 25 yards to the Naperville 29. Massillon jumped into its pow­er‑I and played option football once again. Eight plays later, Hymes snuck over left guard and into the end zone from less than a yard out. Hose's PAT made it 14‑13 Massillon with 4:47 to play.
"We felt we needed to run right at them to negate their speed," Rose said. "They were just coming off our blocks so well and running down the line to the football.
"We ran the belly series then pulled the ball out and ran the option. Running it out of the power‑I is a better play for us.
"But we were taken aback by, their quickness on defense. And they are a lot bigger than what they had in the program. I think they deflate their weights. They were every bit as quick as Lima Senior on defense and they took better pursuit angles."
The Tigers got an enormous break as they looked to build on their one‑point lead. Matt Stan­ley's kickoff was fumbled at the Naperville 20 and Michael Jab­bar recovered for Massillon.
Rose went to some fresh legs by inserting Elijah Blake at tailback and the senior picked up 15 yards on two quick car­ries. Stefanko then got the call and moved the ball to the 1. Two plays later, Morgan found a seam over right guard for the touchdown. Hose split the uprights to make it 21‑13 with 2:29 remaining.
But Naperville wasn't ready to roll over, not after busing 11 hours just to get to Massillon. The Redhawks moved from their 30 to the Massillon 26 as quarterback Christian Person hit on four of five aerials.
" However, on second‑and‑six with :32 to play, Person looked over the middle into the end zone and let fly. Lightfoot saw the play develop, leaped, tipped the football with his right hand and came down with the in­terception in the end zone for a touchback.
"I was dropping back into coverage, saw a receiver com­ing over and I thought Person was going to throw it to him," Lightfoot said. "He threw it kind of high and I just wanted to try to knock it down. When I tip­ped it, it went up into the air and then it just fell into my hands when I fell down.
"The receivers were all behind me, so I was just trying to tip the ball back toward the quarterback."
With the win, Massillon is 7‑0. Moeller, which crushed Cincin­nati St. Xavier on Friday, is 6‑1. 1 It was hard getting ready for Naperville for the kids because they know what everyone in town is talking about," Rose noted. "They're talking about the Moeller game. We had to overcome that. Now comes Moeller and the kids know what that means."
Rose also noted his team's routine was thrown off by the Saturday date with Naperville. He did not cite that as a contri­buting factor to a lethargic first half that produced just 56 total yards.
"We just weren't playing hard and executing," Rose said. "On film, Naperville didn't look as fast as it played on this turf. They also had a nice defensive' scheme set up. They­ did something different on de­fense on every first down."
Although Morgan was held to 83 yards rushing ‑ his first sub 100 yard game this season ‑ Rose thought his tailback ran better in the second half.
"Christian ran harder the second half," Rose said. "He missed about three cuts the first half or we'd have had some big plays. He just wasn't real sharp and we weren't getting a push at the line."
MASSILLON 21
NAPERVILLE 13
M N
First downs rushing 9 3
First downs passing 1 5
First downs penalty 1 0
Total first downs 11 8
Net yards rushing 143 90
Net yards passing 33 102
Total yards gained 176 192
Passes attempted 12 16
Passes completed 4 8
Passes int. 1 2
Times kicked off 4 4
Kickoff average 48.8 52.0
Kickoff return yards 84 66
Punts 6 3
Punting average 32.5 30.3
Punt return yards 1 3
Fumbles 2 2
Fumbles lost 1 2
Penalties 3 2
Yards penalized 27 10
Number of plays 63 46
Time of possession 28:13 19:47
Attendance 11,852
NAPERVILLE 3 10 0 0 13
MASSILLON 0 0 7 14 21
SCORING SUMMARY
First Quarter
NAP ‑ Nolda 25 FG
Second Quarter
NAP ‑ Nolda 32 FG
NAP ‑ Johnson 27 run
Third Quarter
Mass ‑ Stefanko 1 run (Hose kick)
Fourth Quarter
Mass ‑ Hymes 1 run (Hose kick);
Mass ‑ Morgan 1 run (Hose kick)
FINAL STATISTICS
Rushing:
Massillon
Morgan 26‑83, 1 TD;
Stefanko 6‑28;
Blake 2‑15;
Childs 3‑10;
Hodg­son 2‑4;
Hymes 12‑3, 2 TDs.
Naperville
John­son 20‑68. 1 TD,
Chirumbolo 6‑21;
Pearson 1‑1.
Passing:
Massillon
Hymes 4‑12‑33‑1.
Naper­ville
Pearson 8‑16‑102‑2.
Receiving:
Massillon
Hodgson 2‑21,
Wil­liam 1‑6,
Baer 1‑6.
Naperville
Grotbeck 3‑28,
Lintner 1‑31,
Maloney 1‑30,
Nolda 1‑7,
Chirum­bolo 1‑4,
Johnson 1‑2.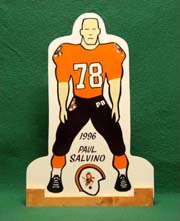 Paul Salvino