Massillon, McKinley Suffer similar fates
Southridge shuts down Tiger attack
By TODD PORTER
Assistant Sports Editor
Stunned silence lingered in the Massillon locker room following the Tigers' loss Saturday ­night.
Late in the fourth quarter, the Tigers were waiting for a break to open the door to victory – as has happened time and time again for Massillon.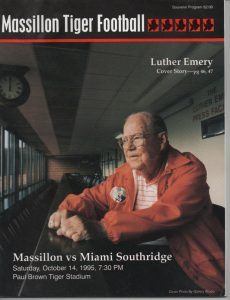 This time, the Tigers didn't get to finish the script. Miami (Fla.) Southridge dotted the i's and crossed the t's in the second half and left Paul Brown Tiger stadium with a 20‑7 win.
Southridge refused to open the door for Massillon to win and ground out a 15‑play drive for the go‑ahead score. Miami halfback Jameel Cook ended the seven‑minute drive when he went untouched into the end zone to put Southridge up 13-7. I think our kids were waiting for something to happen because that is what we've done all year," Massillon head coach Jack Rose said. "But, again, we can't rely on that to win games.
We lost the game for two reasons: No. 1 (quarterback George) Whitfield wasn't 100 percent and we couldn't get him on the perimeter; No. 2, they were much quicker than we were."
Whitfield played with a badly sprained right ankle. "If he's, not ready to go next week, we'll throw someone else in there."
It didn't take long for someone to ask Rose what was inevitably on his mind… A Massillon player asked, "Can we still make the playoffs, coach?"
"I don't know … we have to win all our games … We just have to win," was the reply.
The loss to Miami may have eliminated the Tigers from post season play. If Massillon is to sneak in, it will have to beat McKinley to end the season and get a lot of help from its opponents for compute points.
For the first time this year Massillon will have somewhat of a break. North Park, Ontario, will travel in for Saturday's 7:30 p.m. game. Massillon played the Trojans two years ago and smacked them around 61-3.
Line. Southridge gained 22-yards on its first three plays – all off tackle plays – to get inside the 30. However, the Tiger defense pushed Miami back five yards on third and fourth downs and the Tigers took over.
The first of two crucial turnovers would bite Massillon on its first drive.
The Tigers drove to the Southridge 36, but a fumbled snap allowed Miami defensive end Reggie Brown to recover.
The Massillon defense however adjusted to Miami's speed and shut out the Spartans in the first half.
"I was very pleased with the way our defense played." Rose said. "One of our problems was we weren't able to simulate their speed in practice so we were getting a crash course on the field.
I thought our defense got faster as the game went. I didn't think we were that fast. Once again, they played another ex­ceptional game. We just can't keep asking. them to be on the field like that."
Massillon may have had its finest drive on the season the second time it took the ball over.
It was a 15‑play.drive. that started on the Tigers 26‑yard line and it took 7:44 off the clock. Massillon converted three third ­down plays for first downs and one second­-and‑15 when Whitfield threw a strike to tight end Brett Wiles with Miami linebacker James Sutton in his chest.
"I think this was the most consistent we played for four quarters," Rose said. "They were a very good team."
On that drive, senior tailback Vinny Tur­ner gained 49 of his 129 yards. It was capped when Whitfield rolled left and found Turner wide open in the flat for the score. Josh Hose's point after boot gave Massillon a 7‑0 lead, and that's how the first half ended.
At halftime, though, the Miami brain trust made two key adjustments. The Ti­gers were blitzing often in the first half to try to prevent the Spartans from running outside.
"We have some of the best coaches, around. I'd put them up against anybody," Miami head coach Mark Guandolo said. "We figured we had to get the ball outside on sweeps and options. The sweeps worked."
On Southridge's second play in the second half, quarterback Faraz Ali faked a sweep and handed the ball off to fullback Danny Frith. Frith broke through a hole and didn't stop until he was at the Massillon 11 for a 49‑yard gain.
'It took the Spartans six plays to break into the end zone from 11 yards out. Cook bolted in from a yard out.
After that, it was apparent what Miami's second adjustment was.
"We knew they were going to stick with Turner." Guandolo said. "The kid is a good. running back. We put eight men on the line of scrimmage, sometimes 10 and. he still gained yards. If they were going to beat us they were going to have to throw the. ball."
Miami tacked on a cheap touchdown with eight seconds left in the game. Southridge's Edwin Greene picked off a Whitfield pass and returned it 12 yards for a score.
The Massillon offense was stalled most of the second‑half because of that adjustment. Turner carried 33 times, but was held to less than four yards a carry.
Luther Emery, whose picture was on the cover of Saturday's game program, was honored before the game for his many con­tribution to Tiger football. Emery, former sports editor and editor of The Independent, covered the‑team for more than 40 years, including the glory years of his friend, the late Paul Brown. From helping start the Tiger Booster Club to steering state and national media focus on the Tigers; Emery has been a key builder of the Tiger tradition.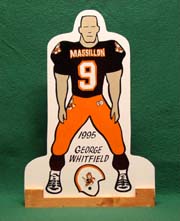 George Whitfield