Tigers' ground game rips Woodrow Wilson
Oliver, Johnson top century mark
By JOE SHAHEEN
Independent Sports Editor
On.a damp and dreary night at Paul Brown Tiger Stadium, the Massillon Tigers got some valuable work for the first team, rested some injured starters, and rewarded their loyal second‑ and third‑teamers with extended playing time, all while walloping winless Youngstown Woodrow Wilson 56‑8, Friday in front of 5,850 fans.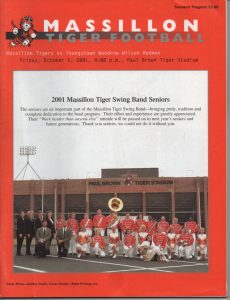 Early in the week, Woodrow Wilson coach, Mark Lyden said he hoped Tiger mentor Shepas would call the dogs off early, conceding that his Division III Redmen had no chance of staying with Massillon, which improved to 6‑1 with the victory. After the game, Shepas took time to console Lyden, who is going to battle each week without many weapons.
"They're struggling," Shepas said of Woodrow Wilson. "There's no other way to say that. They're just struggling.
"We wanted to come out and play solid. We were able to do that on defense. We gave up a couple of plays. But it is unfortunate for them. It's a shame it has come to that for them."
With a heavy downpour drenching the field at the opening kickoff, the usually pass‑happy Tigers spent much of the first half running the football through gaping holes in the Wilson defense and amassing 244 yards and 13 first downs on the ground.
"Justin Zwick called a majority of the offensive plays," Shepas revealed, "and he was unselfish in going to the running game the way he did. We ended up with two 100‑yard rushers tonight."
Marquis Williams set up Massillon's first score with a twisting, spinning 43‑yard punt return that gave his team possession at the visitors 8‑yard line.
0n first down from there, junior running back Rickey Johnson went into the line, juked twice, then shot through a gap and into the end zone. David Abdul's point after made it 7‑0 Massillon at 9:50 of the first quarter.
Tiger defensive lineman Marquice Johnson stopped the next Wilson possession with a fine open field tackle on quarterback Shawn Lane to force the Redmen into a punting situation.
Massillon took over at its 29 after Craig McConnell's nine‑yard return. Rickey Johnson – who finished the night with 136 –yards rushing in just eight totes ‑ ran the football on three consecutive snaps ‑ resulting in gains of 24‑, 15‑ and 19‑yards to set the Tigers up with first‑and‑10 at the Wilson 13.
Three plays and a Massillon personal foul later, the Tigers had second‑and‑goal from the 20. Senior Robert Oliver took the handoff from Zwick and swept around left end. A Wilson defender grabbed a piece of Oliver's jersey at the five-yardline but he tore free and scored the game's second touchdown at 3:18 of the first quarter. Abdul's right foot made it 14‑0 Massillon.
Wilson penetrated to the Massillon 23 on its next possession but turned the ball over on downs at that point.
Oliver ­- who totaled 102 yards in eight carries ‑ wasted little time in adding to his statistics, skirting around right end for 30 yards on first down. One play later Johnson went around the same side for 13 yards to the Wilson 33. Oliver gained 14 more to the 19‑yard line after an incomplete pass.
Then Ryan Boyd went off the left side of the Tiger line, breaking two tackles and bursting into the end zone for a 19‑yard touchdown run. Abdul's boot was true and Massillon led 21‑0 at 7:59 of the second quarter.
The Massillon defense forced Wilson into yet another three‑and‑out series, and William's 13‑yard punt return set the Tigers up at the 50‑yard line.
Johnson put the finishing touches on a very productive evening by taking a Zwick handoff and.attacking the right side of the offensive line.
He broke a tackle at the 37, cut back to the left at the 25 and sprinted into the end zone for a 50‑yard touchdown run. Abdul's kick made it 28‑0 Massillon at 7:59 of the second quarter.
Williams displayed fine balance and athleticism on a 19‑yard punt return that set up the Tigers next tally.
On first down from the Massillon 41, Boyd picked up 10 yards around right end. Then Zwick completed his first pass of the game, after five straight incompletions, lofting a high‑arching throw into Devon Jordan hands in the end zone from 31‑yards away.
Abdul's conversion kick split the uprights to make the Tiger lead 35‑0 at 5:23 of the second quarter.
The Tigers final first half scoring drive was a display of Zwick's passing accuracy.
Starting at the Wilson 46, the 6‑foot‑5 senior hit Jordan along the right sideline for nine, then completed a short pass to Williams who turned it into a 17‑yard gain to the 20.
A scramble netted five yards and Zwick then hit Jordan for 12 yards to the 2‑yard line.
On the next play, Zwick found Williams standing alone in the left corner of the end zone for a touchdown. Abdul tacked on the PAT and it was 42‑0 at the half.
Billy Relford returned the second half kickoff to the Wilson 41‑yardline, giving the Tigers a short field once again.
They took advantage, mounting an eight‑play drive that featured runs of 11‑ and. 13‑yards by Oliver an capped by Ryan Boyd's six‑yard sweep around right end for a touchdown at 7:22 of the third period.
Chris Reinhart tacked on the extra point and Massillon's advantage swelled to 49‑0.
The Tigers final score came on a seven‑play, 30-yard drive capped by Terrence Roddy's one‑yard touchdown dive at 2:08 of the fourth quarter. Max Shafer added the point after.
"We got a chance to play a lot of people and we got a chance to freshen up a little bit," Shepas said.
And with that the coach was off to the Tiger locker room to dry off, warm up and begin preparations for next week's invasion by Fremont Ross, a 10-0 winner over Toledo Whitmer Friday night.
MASSILLON 56
WILSON 8
M W
First downs rushing 18 3
First downs passing 5 1
First downs by penalty 0 0
TOTAL first downs 23 4
Net yards rushing 409 104
Net yards passing 71 33
TOTAL yards 480 137­
Passes attempted 10 10
Passes completed 5 6
Passes intercepted 1 0
Punts 0 7
Punting average 0 31
Fumbles/Lost 5/3 2/1
Penalties 3 2
Yards penalized 37 12
MASSILLON 14 28 7 7 56
WILSON 0 0 0 8 8
SCORING
M ‑ Rickey Johnson 8 run (Abdul kick)
M – Oliver 20 run (Abdul kick)­
M ‑ Ryan Boyd 19 run (Abdul kick)
M ‑ Johnson 50 run (Abdul kick)
M ‑ Jordan 31 pass from Zwick (Abdul kick)
M ‑ Williams 2 pass from Zwick (Abdul :kick)
M ‑ Boyd 6 run (Reinhart kick)
W ‑ West 68 fumble return (S. Lane pass to Jones)
M ‑ Roddy 1 run (Shafer kick)
INDIVIDUAL' STATISTICS
Massillon rushing: Johnson 8‑136, Oliver 8‑102, Boyd 5‑39.
Wilson rushing: Humphries 15‑72, S. Lane 10‑20.
Massillon passing: Zwick 5-10-71 2 TDs, INT.
Wilson passing: S. Lane 6‑10‑33.
Massillon receiving: Jordan 3‑52, Williams 2‑19.
Wilson receiving: West 2‑21
Statistics courtesy Richard Cunningham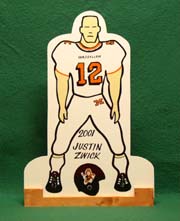 Justin Zwick