Tigers turning focus to Brinson, Bulldogs
Massillon playing for .500 season against rival after familiar nemesis dashes its playoff hopes
INDE STAFF REPORT
In their stirring 15-12 double overtime loss to Warren Harding at Mollenkopf Stadium on Saturday, the Massillon Tigers got a large dose of stellar Raider playmaker Mario Manningham, who scored both Warren touchdowns.
The Tigers, 4-5 on the season and with no chance to reach the playoffs, now have to brace for another of Ohio's best all-purpose players in Ryan Brinson when the McKinley Bulldogs invade Paul Brown Tiger Stadium this coming Saturday for a 2 p.m. kickoff.
Manningham and Brinson are two different players with similar but not identical skill sets. However, Warren and McKinley each utilize their respective superstar at a variety of positions, and get the football in their hands in a variety of ways.
The Tiger defense, which was outstanding in limiting Warren to 223 yards of total offense and holding Manningham to 89 all-purpose yards, saw the Raiders use the 6-foot 178-pound senior as a kick and punt returner, as a wide receiver, on the halfback option pass and, finally, as a running back.
It was in the latter role that the University of Michigan-bound All-Ohioan ultimately did the Tigers in, scoring on a 20-yard off-tackle touchdown scamper on Warren's first snap of the second overtime after MassilIon had taken a 12-9 lead on Steve Schott's 21 yard field goal. McKinley was just as dependent on Brinson in defeating North Canton on Saturday night at Fawcett Stadium. The Bulldog senior scored on runs of 29 and 9 yards, and caught touchdown passes of 51 and 29 yards, finishing with 244 all-purpose yards against the Viking defense.
Brinson is within striking distance of McKinley's single-season rushing record and would like nothing more than to achieve that mark against rival Massillon.
The Tigers, on the other hand, were stung by some of Brinson's post-game comments following last year's humbling season-ending setback at the hands of the Bulldogs and will likely make him the object of their displeasure when the teams meet for the 112th time on Saturday.
Massillon came oh so close to carrying a two-game winning streak and immeasurable momentum into the McKinley game, jumping out to a 6-0 lead over Warren and carrying a three-point advantage into the fourth quarter on a drizzly autumn evening.
The Tigers dominated first-half play, and scored on their third possession of the game when Quentin Paulik hit Wayne Gates with a six yard touchdown pass in the waning moments of the first quarter.
The score was set up by a clutch 11-yard pass reception by Brett Huffman on a third-and-10 play.
An interception gave Warren the short field late in the half and the Raiders tallied on a 25-yard Omar Omar field goal with less than 90 seconds to play in the second quarter to make it 6-3 at halftime.
Massillon forced Warren to punt on its first two possessions of the second half but the Raiders got something going on their third try, marching from their 27 to the Tiger 5 on six plays. On second and goal, Warren's Roger Matlock lofted a pass into the end zone and Manningham (who else?) outfought tight coverage for the catch and a 9-6 Warren lead at 11:05 of the fourth quarter.
Massillon then sustained a 13-play drive, eating up half of the fourth quarter clock in the process. But an illegal procedure penalty after a time out transformed a third- and-5 into third-and-10, and when the Tigers failed to convert, Schott tied the game up at 9-9 with a 32-yard field goal.
Despite a questionable penalty that gave Warren new life near midfield, Massillon would not relent in the game's final minutes, blocking the Raiders' 30-yard field goal attempt with two seconds to play in regulation.
Both teams missed field goals in the first overtime before Manningham's heroics closed out the Tigers.
Statistics can be deceiving but in this case the numbers reflect the close game. Massillon out gained Warren in total offense 226-223 and in rushing yardage 108-90. The Raiders had a 133-118 yardage edge in the passing game.
Tiger special teams held Manningham and his cohorts in check as Warren managed just 26 return yards.
But Warren got all the better of it. when the yellow flags began to fly. The Tigers compiled 77 penalty yards to their hosts' 26.
Warren 15,
Massillon 12
Massillon 6 0 0 3 0 3 – 12
Warren 0 3 0 6 0 6 – 15
SCORING
M – Gates 6 pass from Paulik (Kick failed)
H – Omar 25 field goal
H – Manningham 5 pass from Matlock (Kick failed)
M – Schott 32 field goal
M – Schott 21 field goal
H – Manningham 20 run
INDIVIDUAL STATISTICS
Rushing
Massillon: Morris 11-55, Robinson 11-43, Kelly 11 -33.
Warren: Herron 14-47, Richardson 6-15, Matlock 4-15. Manningham 7-13.
Passing
Massillon: Paulik 14-24-118 1 TD, 1 INT.
Warren: Matlock 11-21-118 1 TD, Manningham 1-1-15.
Receiving
Massillon: Vanryzin 3-27, Kelly 3-23, Huffman 3-23, Jarvis 2-19, Robinson 1 – 11, Gamble 1-9, Gates 1-6.
Warren: Manningham 7-61, Richardson 2-47, Herron 2-10, Rucker 1-15.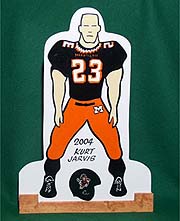 Kurt Jarvis