Tigers Claw East Liverpool 42-0
Bengals Explode For Long Runs To Score 36 Points In First half
By JIM QUITY
Win No. 14 in succession came easy for Washington high school's Tiger football team and Coach Leo Strang Friday night.
Cashing in early, the defending state champions scored five times in the first two periods, then coasted past a formidable but inexperienced East Liverpool eleven, 42-0, before 11,592 fans at Tiger stadium.
It was the first meeting between the two Ohio grid powers and the first start of the year for both.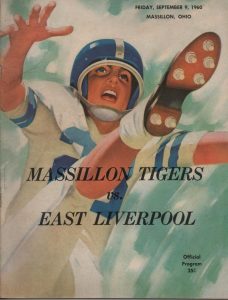 Strang, though quite pleased with the overall performance of this his third Tiger team, called the showing "spotty" and promised a good deal of ironing out would have to be done.
"This is just the type of performance you'd expect for the opening game," Strang said.
For the Potters' Coach Lou Vendetti, the defeat came as no surprise. "We lost to a good team, but learned a lot of football," he said following the defeat.
Vendetti summed the game up thus: "We were just too inexperienced. We could hold them for a few downs, then our inexperience would show and they'd break loose. We have some good kids but they lack the experience because of a cut down in our reserve schedule last year."
* * *
THE CONTEST wasn't at all close after the first eight minutes when the Tigers drove for their first touchdown on a 15-yard run by Quarterback John Larson which climaxed a
63-yard drive.
Ken Dean, who added the PAT on a run, chewed up 35 of the yards on five carries.
Martin Gugov, whose injured knee is again a question mark, supplied the second spectacular of the contest, with a 67-yard touchdown burst up the middle on a perfectly executed trap.
The first great effort came moments earlier when Bob Baker leaped and intercepted a Ken Cunningham aerial while falling to the ground giving Washington high possession on its own 33. Gugov broke away on a handoff from John Larson scoring on the next play with 2:42 remaining in the quarter.
Art Hastings' extra point attempt was stopped short as Washington high led 14-0.
Jim Houston, who terrorized the Potters much of the night form his defensive left end slot, shattered the invaders' first offensive effort. Houston rammed Joe Thompson, after the latter had scooped in a pass from Cunningham, forcing him to fumble. An alert Bob Herring pounced on the ball on the Tigers' 32.
* * *
LARSON then astounded the gathering when he shook loose from a half dozen Potters five yards deep in his own backfield, picked up perfect blocking, and raced 68 yards to score on the first play of the second quarter. Hastings' run for the two-pointer was again stopped.
East Liverpool's offense failed to penetrate Washington high's defense bringing a punting situation. Cunningham booted out of bounds on the Tiger 48.
After one first down, Herring cut across the short side of his line and sped 40 yards for the fourth Washington high score. He added the two extra points snagging a pass from Larson as the Bengals held sway, 28-0.
Herring concluded the first half scoring when he rambled 49 yards on a similar play with 2:12 remaining in the half.
The burst climaxed a 91-yard scoring drive spearheaded by a 23-yard run by Charlie Brown and a 16-yard gain by Hastings, which moved the ball to the East Liverpool 49.
Dean plunged across for his second two-point conversion.
Action slowed to a walk throughout most of the second half before the Tigers put together a sustained 59-yard scoring attack, late in the final quarter.
* * *
FRED PHILPOTT, the workhorse in the Tiger backfield with 84 yards on 12 carries, had an 18-yard gainer in the 13 plays needed to cover the distance. Joe Smith, on his lone attempt of the game, slipped in for the touchdown behind a wall of blockers.
Dean's third attempt for two points stopped short.
Taking advantage of an intercepted pass in the waning seconds of the game, the Potters moved to within five yards of a touchdown as the game ended.
After Baker intercepted his second Cunningham pass, he received similar treatment by the Potter ace. Cunningham returned the interception to the Bengal 40, then tossed incomplete to John Goodballet, but interference was called on the 16.
Given an extra play since a game cannot end on a penalty, Cunningham tossed to Goodballet, who was cut down on the Tiger five.
The Potters most potent weapon was their air attack, which netted 112 yards and six of their seven first downs. Cunningham hit on 11of 20.
In rushing East Liverpool was limited to 45 yards, while the vaunted Tigers put together 488.
* * *
IN TOTAL FIRST downs, Washington high held a substantial 16 to 7 advantage.
A quite weary Leo Strang disclosed in the dressing room following the route that Gugov is again a question mark. "That makes to captains we'll have out," Leo said. He added that the seriousness of the injury won't be known for a few days.
Gugov was helped off the field early in the first quarter but came back to break away for the long scoring run. Reports are that either a ligament is torn or the knee is badly pulled.
There were words of praise for the Tigers' long pass defense but Strang cited the need for work on the short ones.
"We were real spotty, that's all," Strang said.
Pass offense was another sore spot. Of 12 passes attempted, none was completed. Larson did manage to hit Herring for two points after the fourth touchdown.
On the credit side for the Tigers was the great down field blocking and the internal line play. Lawson White-cleared the final barrier on Herring's second touchdown run.
And the line showed extreme speed in opening the path for the backs on the long jaunts.
Of East Liverpool, Strang said they were "not strong enough." He was quite impressed with their quarterback (Cunningham) and their fullback (Goodballet).
* * *
INDIVIDUAL RUSHING statistics credited herring with 96 yards for three carries, Hastings 35 for five, Gugov 67 for one. Dean 50 for eight, Larson 95 for three, Philpott 84 for 12, Brown 36 for three and Smith one for one.
A warm-up session and general check for injuries was planned for this morning at the stadium.
The Tigers' next opponent is Cleveland Benedictine in a home game Friday. Benedictine was idle last night but appears to possess a good deal of weight and experience. Washington high won last year's game 30-6.
Benedictine is the lone non-Stark County school to capture the state football crown since before the days of Chuck Mather. They won the coveted award in 1957 after beating Washington high en route to an undefeated season.
PROPER START
MASSILLON
ENDS – Ivan, Anzalone, Bodiford, Ehmer, Fuchs, Royer, Willey.
TACKLES – White, Spees, Crenshaw, Herbst, Bruch, Farman, Herndon.
GUARDS – Radel, Wells, Whitfield, Houston.
CENTERS – Demis, Strobel.
BACKS – Larson, Baker, Null, Lash, Hastings, J. Smith, Dean, Kurzen,
Philpott, Herring ,Gugov, Heflin, D. Smith, Brown.
EAST LIVERPOOL
ENDS – Geon, Archer, Couch, Standley.
TACKLES – Hall, Smith, Parsons, Myers, Hayes, Bulger, Carnes.
GUARDS – Crook, Musurace, Steinberg, Mays.
CENTERS – Montgomery, Ferella.
BACKS – Cunningham, Goodballet, Thompson, Wolfe, Kraft, O'Neil,
Sparks, Durbin, Douglas, Richardson, Wilson, Oliver.
Massillon 14 22 0 6 42
MASSILLON – Larson, 2 (49-yard run, 15-yard run); Gugov (67-yard run);
Herring, 2 (40-yard run, 49-yard run); J. Smith (1-yard plunge).
EXTRA POINTS – Dean, 2 (runs); Herring (pass).
OFFICIALS
Andy Lindsay – referee.
Clyde Moore, umpire.
Octavio Sirgo – head linesman.
C.W. Rupp – field judge.
STATISTICS
Massillon Opp.
First downs – rushing 15 1
First downs – passing 0 6
First downs – penalties 1 0
Total first downs 16 7
Yards gained rushing 494 63
Yards lost rushing 6 18
Net yards gained rushing 488 45
Net yards gained passing 0 112
Total yards gained 486 157
Passes attempted 12 20
Passes completed 0 11
Passes intercepted by 2 2
Times kicked off 7 1
Kickoff average (yards) 39.1 40
Kickoff returns (yards) 24 92
Times punted 1 5
Punt average (yards) 31.0 29.6
Punt return (yards) 40 4
Had punts blocked 0 0
Fumbles 4 6
Lost fumbled ball 3 3
Penalties 4 4
Yards penalized 50 20