Tigers come up 'half empty'
Massillon rules early but' Bulldogs shift gears late
By STEVE DOERSCHUK
Independent Sports Editor
MASSILLON ‑ They could have opened a Burger King in McKinley territory at halftime. The Massillon Tigers were having it their way.
But the second half was one big McDLT ‑McKinley's defense led to touchdowns.
In the end, the McKinley players were saying, "Hot Dog!" and hoping for extra mustard in the playoffs. The Tigers were left holding an empty bun.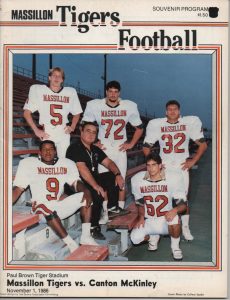 A 6‑0 Tiger lead at halftime dissolved into a 23‑6 McKinley win Saturday before 18,091 fans in Paul Brown Tiger Stadium.
In the history of the series that started in 1894, there may never have been two halves so distinctly different.
So what happened?
"It wasn't a matter of making a lot of changes," McKinley head coach Thom McDaniels said. "Basically, we just played better football."
Maybe there were a few changes.
"In the first half, they were basically trying to power us out of there," said Massillon senior Lance Hostetler, who played linebacker for the first time since junior high because Jerrod Vance was out with a knee injury.
"In the second half, they were giving our linebackers fake keys, trying to mess us up."
Something clicked.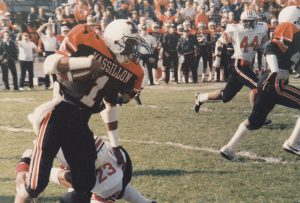 A McKinley offense that was stuffed by the Tigers for zilch in the first half had to be photographed with a zoom lens in the second.
In that first half, the Bulldogs gained 28 yards. On the first offensive series of the second half, McKinley gained 40 yards in its first six plays.
That drive ended when C.J. Harris recovered a fumble for the Tigers. But the mood had changed.
It might have changed back had the Tigers moved after recovering the fumble. Mike Harris rushed for three yards, then Mike Norris bulled ahead for seven. But Jerome Myricks was stopped for losses on consecutive plays, and it was third and 15 from the Massillon 41.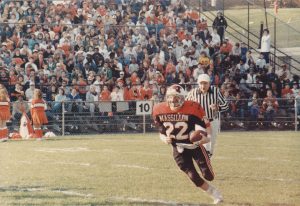 Then came a pivotal play now hidden deep in the game films. Quarterback John Miller dropped back to pass. Under heavy pressure, he dumped a short pass toward the fullback Norris. First glance suggested ‑ and films confirmed ‑ that Norris was knocked away from the ball by an overeager defender who was guilty of pass 'interference.
The pass fell incomplete (Norris would have had to run a long way for a first down, incidentally). No flag was thrown.
Instead of 15 yards and a Massillon first down on the McKinley 44, the Bulldogs got the ball back on a punt.
"That was a key point in the game," Massillon head coach John Maronto said.
Nobody will ever know how things would have gone had the interference call been made. What is known is that McKinley played its best football of the season in the time that was left.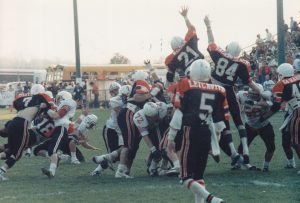 Ken Hawkins' punt sailed to the McKinley 22. Junior tailback Jeff Richardson gained 11 yards on first down. On second down, he took a handoff, made a slight cut to a big hole on the left side of the line, shook loose from a diving Bart Letcavits 10 yards downfield and sprinted away from the pack for a 67‑yard touchdown run.
"We emphasized all week that we needed to stop Richardson from making the big play," John Maronto said.
Talking about it is one thing. Doing it has been another, and not just for the Tigers. Richardson's 141 yards in 19 carries Saturday gave him 960 yards on the season.
Richardson, a 5‑10, 183‑pounder, only needs a sliver of daylight. His presence left the Tigers in a jam, since their chemistry was thrown off by late‑season knee injuries to linebacker Jerrod Vance and defensive back Steve Siegenthaler.
Maronto emphatically didn't want anybody knocking his team's defensive effort.
"Lance Hostetler stepped in and looked like he'd been playing linebacker all his life," Maronto said. "And it wasn't like we were playing chopped liver. We were playing the best team in Ohio."
Richardson's long run and Mark Smith's PAT kick still left the Tigers with just a 7‑6 deficit with 3:04 left in the third quarter.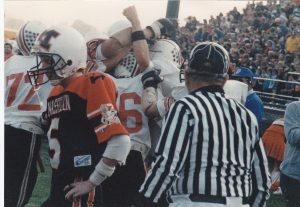 But moments later, Tiger back Mike Harris ‑ another tough‑luck senior whose season was marred by a knee injury ‑ was stripped of the ball. McKinley's Dave Kiesling recovered the fumble at the 14. Four plays later, Richardson scored easily from a yard out.
Even at that, the Tigers weren't in bad shape. Smith missed the PAT kick, and McKinley's lead was 13‑6 with one quarter and 44 seconds left to play.
But the Tigers needed to get back some of the offensive punch they had shown in pounding out a 134‑28 lead in first‑half yardage.
Smith's kickoff left the Tigers with good field position at their own 41, but they stalled in three plays and had to punt.
McKinley took over on its own 28 and put the game away with an 11‑play 72‑yard scoring drive. The touchdown came on third and nine from the 12. Smith, the quarterback, rolled right off a good play‑action fake and found tight end Dan Grimsley wide open in the end zone.
Smith's kick made it 20‑6 with 4:48 left.
Sophomore nose guard Lamuel Flowers set up a 35‑yard field goal by Smith with a subsequent interception.
All the suspense and much of the crowd was gone at that point.
The first half had been so different.
The Tigers took the opening kickoff and started at their own 34. On second and seven, junior quarterback John Miller hooked up with senior split end Shannon Dryden on an 11‑yard completion. That seemed to ignite the offense, which then went on to complete an 11‑play, 66‑yard march that wound up on the McKinley 11 when Miller hit the tight end Hawkins on a nine‑yard completion.
That made it fourth and almost three. Maronto elected to send freshman Lee Hurst on for a 28‑yard field goal try. Hurst connected and it was 3‑0 with 4:44 left in the first quarter.
Midway through the drive, Maronto called timeout after Miller scrambled to recover a mishandled snap, then took a blow to the head. Miller was clearly shaken up, and staggered as Maronto yelled to officials that a penalty should have been called.
But Miller kept playing, and moments later threw a pass which Letcavits turned into a 10‑yard reception.
The Massillon crowd got very loud after Norris boomed the ensuing kickoff to the back stripe of the end zone for a touchback. An incomplete pass, a run for no gain by Richardson, a nine‑yard completion and a punt gave Massillon the ball back on its own 32.
The next three series ended in punts, two of which were snapped over the punters' heads. But both booters recovered and got off kicks that saved disaster for their teams.
McKinley punter Pat Lyons had to chase 10 yards after the ball snapped over his head. But he managed to kick it away to the Massillon 23 midway through the second quarter.
From there, the Tigers drove 77 yards in 10 plays, with Harris setting the tone on a nine‑yard gain. A 17‑yard pass from Miller to Myricks and a 12‑yard run by Miller put the ball on the 17 on first down. But Norris was stopped for no gain, and two passes fell incomplete. The call went again to Hurst. The freshman sent a picturesque boot into a slight breeze that sailed far over the uprights for a 33‑yard field goal.
It gave the Tigers a 6‑0 lead with 2:32 left in the half.
But the second half was another story.
It ended with McKinley's record at 9‑1, good for first place in Region 2 of Division I. The Tigers came in at 7‑3.
The loss saddened the Tigers. But Hostetler, a three‑year starter and captain, advised his teammates to leave on an upbeat note.
"It's been a great time for me at Massillon," he said. "No other team plays under these great conditions. I have the greatest coaches in the world. They really helped prepare me for college. And the greatest teammates in the world."
MCKINLEY 23
MASSILLON 7
M McK
First downs rushing 6 8
First downs passing 4 3
First downs by penalty 1 0
Totals first downs 11 11
Yards gained rushing 112 205
Yards lost rushing 20 14
Net yards rushing 92 191
Net yards passing 59 57
Total yards gained 151 248
Passes attempted 18 10
Passes completed 8 6
Passes int. by 0 1
Times kicked off 3 5
Kickoff average 56.3 48.4
Kickoff return yards 87 27
Punts 4 4
Punting average 33.0 42.3
Punt return yards 7 0
Punts blocked by 0 0
Fumbles 2 1
Fumbles lost 1 1
Penalties 0 3
Yards penalized 0 25
Touchdowns rushing 0 2
Touchdowns passing 0 1
Miscellaneous touchdowns 0 0
Number of plays 52 46
Time of possession 26:37 21:23
Attendance 18,091
MCKINLEY 0 0 13 10 23
MASSILLON 3 3 0 0 6
MAS ‑ Lee Hurst 28 FG
MAS ‑ Hurst 33 FG
McK ‑ Jeff Richardson 67 run (Mark Smith kick)
McK ‑Richardson 1 run (kick failed)
McK ‑ Dan Grimsley 4 pass from Smith (Smith kick)
McK ‑ Smith 35 FG
*****
Individual statistics
RUSHING
Massillon: Norris, 12‑39; Miller 9‑27; Harris 8‑26; Myriscks, 3‑0.
McKinley: Richardson, 19‑141; Kendall 5‑12; Copenny, 1‑6; Gordon, 2‑ 15; Flowers 2‑15.
PASSING
Massillon: Miller, 8‑17‑0, 59 yards; White, 0‑1‑1.
McKinley: Smith, 6‑10‑0, 57 yards.
RECEIVING
Massillon: Myricks, 2 24; Letcavits, 1‑11; Dryden, 1‑9; Hawkins, 1‑8; Wilson, 3‑7.
McKinley: Richardson, 2‑20; Grimsley, 2‑13; Kendall, 1‑10; Smith, 1‑14.
Rivalry grand,
no matter what the score reads
By STEVE DOERSCHUK
Independent Sports Editor
MASSILLON ‑ You could have won $20 million in the Lotto and not been able to buy a better autumn afternoon for Saturday's Massillon‑McKinley football game.
The lovely leaves and the Indian summer breeze would have made Scrooge himself a cheery gent. The housewife sick to death of her old man's sports would have gazed with childish wonder at the sight of the orange sea of spectators rolling against a red sea of the same.
One‑hundred yards of lime‑striped sod and 200 helmeted teen‑agers were washed with a delightful noise that made it all a merry mix, indeed, when Mark Smith of McKinley kicked off to Jerome Myricks of Massillon at a couple of minutes past 2.
Maybe there have been other opening scenes at other Massillon-McKinley games that were as wonderful. If so, they were merely as perfect.
The ending of the 92nd Massillon‑Canton battle was far from a perfect story for the hamlet of Massillon. The final score was McKinley 23, Tigers 6.
But the moral of the story, though stinging with the hurt of defeat to the arch‑rival, was that Massillon people still so desperately want a great team to cheer for.
They had their moments Saturday.
The Tigers charged out of their corner at the opening bell and won the early rounds in a one‑sided mugging.
In one half, junior quarterback John Miller threw twice as many passes as he had thrown in a typical game the previous nine weeks.
In that same half, the lumberjacks on the Massillon line muscled out places for fullback Mike Norris to punch out the yards.
The Massillon defense, despite missing a linebacker who is a candidate for Stark County player of the year, coldcocked the offense of their backyard rivals.
Freshman kicker Lee Hurst delivered like a grizzled veteran.
As the bands marched, Massillon stats man Tom Persell played a tune on his computer, and what came out was 134 yards for the home team, and just 28 yards ‑ and no first downs ‑ for the Canton club.
But the score was only 6‑0, Massillon, and you didn't need a computer to know the game would be won in the second half.
McKinley won it in a hurry.
Flash: A 67‑yard sprint over the left side by Bulldog tailback Jeff Richardson.
Flash: A Massillon fumble seconds later, in the badlands, and a 14‑yard McKinley mini‑march for a second touchdown.
The second McKinley score, a one‑yard run by Richardson with 44 seconds left in the third quarter, was followed by Mark Smith's missed PAT kick.
That kept the score at 13‑6. But the Tigers never threatened again. McKinley scored 10 points in the final five minutes, and Canton had a third straight win over Massillon for the first time since 1934, Paul Brown's third year as the Tigers' head coach.
The game, witnessed by 18,091 in the stadium named after Brown, closed McKinley's deficit in the series to 50‑37‑5.
It also closed the Tigers' season with a second consecutive 7‑3 record.
McKinley is 9‑1 and headed for a Division I playoff game. The Bulldogs will face 9‑1 Groveport Madison at 8 p.m. Saturday in Fawcett Stadium.
Among the many constants in the Massillon‑McKinley game seems to be the fact a Grimsley is always playing for McKinley. This year's Grimsley, junior tight end Dan, says beating the Tigers reinforces the Bulldogs' confidence.
"We went a little bit dead in our only loss (against Youngstown South)," said Grimsley, whose brother John plays for the Houston Oilers. "It was the middle of the season and we'd just won some big games. But we're back up now. There's no doubt in my mind we can win it all."
Thirty‑three seniors on the Massillon team were in a different mood. Their time as Tiger players had run out.
"You can't say too much," Norris said as he walked away in street clothes. "We knew we could have beat 'em. We were playing our game for a while. But it got away."
"There's not much to say," echoed senior co‑captain Bart Letcavits, who spent part of the season sick in the hospital but returned for Saturday's game. "They've been a comeback team all year. They outplayed us in the second half. They deserved to win."
"We played as hard as we could," said senior co‑captain Lance Hostetler. "Nobody let up. Ever."
John Maronto, the Tigers' second‑year head coach, said Hostetler was right about the effort.
"I'm proud of our football team," Maronto said. "We were almost able to come up with the victory. But it was not to be."
Thom McDaniels is in his fifth year as the "tough‑act‑to‑follow" successor of Terry Forbes, the head coach of McKinley's only playoff championship winner, the 1981 team. McDaniels praised his troops for having the guts to win another game with a comeback. The he praised the Tigers.
"They're as good and as tough and as well coached ‑ and you can put that all in capital letters ‑ as any team we've played," McDaniels said.
And you can put this in bold face:
No matter who wins, this is still America's grandest high school football game.
Will Maronto come back?
We move now, to Lesson No. 2 in the Professor Commings School of Rumorintology.
Please sit erect in your chairs. Volunteers to dust the erasers will be taken later.
Lesson No. 1, on which the papers are being graded, was presented last week.
We learned then that the volume of a rumor often is not in direct proportion to the truth contained therein.
It was noted that a particular rumor ‑ "Bob Commings has forfeited his claim to the title The Bald Eagle, and resigned as GlenOak High's football coach" was all over town and half way to Hawaii.
It was further noted that Commings emphatically stated he has not resigned.
Commings, as it happens, is believed to be the father of "rumorintology," apparently having coined the word last month.
The subject of Lesson No., 2 is another football coach, John Maronto.
The fates of Commings and Maronto are indirectly intertwined, insofar as the former was a head football coach in Massillon, and the latter is.
Today's theme actually is a question. How many people must wish a rumor to come true before it becomes a fact?
We have no answers. We can only offer present facts.
Fact is, Coach Maronto is not the most popular man in Massillon today.
His team went 7‑3, and we needn't get into a long discussion of what that means in Tigertown. The team lost to the arch‑rival the other day. You know them. And, his offense was judged too conservative for the tastes of many of the paying customers.
It didn't help that a loss to Commings' GlenOak team was among the three losses, either.
People are talking. You know how it is.
They're talking a lot about THE rumor.
"Did'ja hear? Maronto's going to Michigan to be with Bo!"
Yes, that's the big one. It's all over town, and halfway to Hong Kong.
Refer, now, to lesson No. 1.
The volume of a rumor may not be in direct proportion to any truth therein.
"I've just never thought there were any two ways about it," Maronto said this morning. "We're already getting ready for next season. We'll be in the weight room today. We have a team meeting schedule. We're preparing for next season and beginning to take care of the seniors' needs."
Maronto has heard the rumors. He says he shrugs them off.
"I've never put any thought processes into rumors," he said. "My energy is going into preparing for next season."
Maronto, who has completed two years in the stormy wake of Mike Currence's ouster, sounds optimistic.
"I really believe we'll be back," he said. "I believe we learned some great lessons. The younger players coming in may not be able to exceed the ability of this year's seniors, but I believe they'll have smoother roads ahead.
"It'll be important to make the pieces fit in to form a chemistry. It'll be real interesting to watch. I know everybody coming in is 100 percent completely aware of what our system is all about, what needs to be done to be a Massillon Tiger. There'll be a lot of continuity."
Sounds like John Maronto plans to fulfill the third year of his contract.
If he does, let's give him some room.
Another buyout is the last thing the town needs now.
If he wants to stay, let him work in peace. Disagree all you want I think the coach needs to loosen up his offense, too.
But be aware he works as hard as anybody in Ohio to make his team win. Be aware he's good with kids.
If it's time for him to go after the contract runs out, so be it.
And think about next week's Lesson No. 3. Beating a rumor turns it ugly.